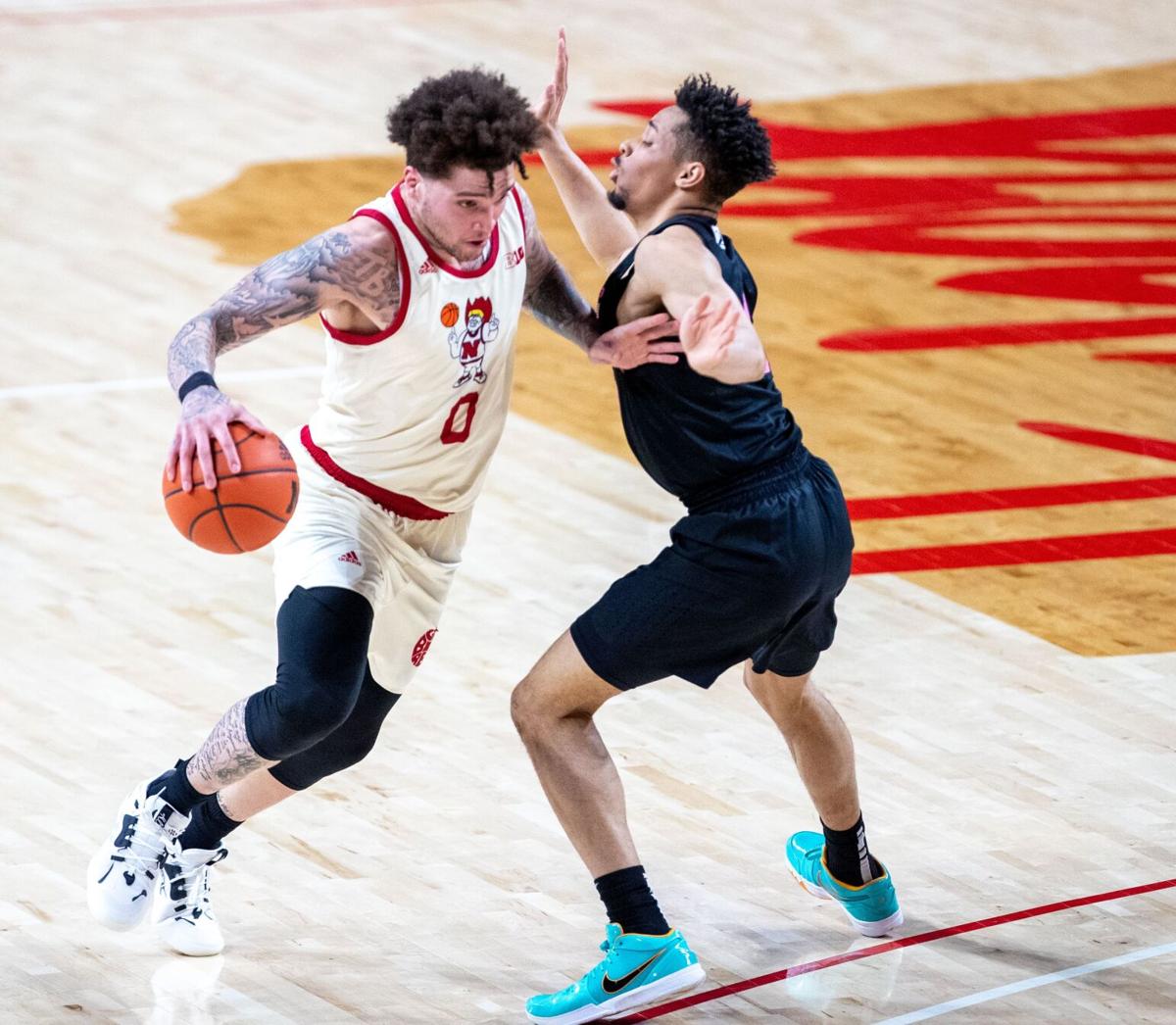 LINCOLN — Teddy Allen can be a man of many buckets and few words.
When asked, after scoring 41 points in an 86-83 loss to Penn State Tuesday night, what the performance meant, Allen didn't mince words.
"Don't mean nothing," said Allen, a light blue mask resting on his chin. "We came up short."
His 41 was the most in Pinnacle Bank Arena history, and just one point short of Eric Piatkowski's school record of 42 points, set during the 1994 Big Eight tournament. Allen, a Boys Town graduate, hit 16 of 24 shots — including 6 of 9 from 3-point range — and all three free throws. He added eight rebounds and six assists in one of the best individual games in school history.
"He was really complete out there tonight," NU coach Fred Hoiberg said. "It was really fun to see him get it going like that."
But it wasn't enough. Penn State, the only team NU has beaten in league play, feasted off Husker miscues and a curious lack of energy to start both halves. The Nittany Lions turned 16 offensive rebounds into 16 points and 18 Nebraska turnovers into 25 points. The small advantage Penn State grabbed with an 11-4 run late in the game was enough to hold off a late Husker charge that included a missed Trey McGowens open 3-pointer to tie. Allen, despite having 41, was the guy who handed off the ball to McGowens.
"I think Trey got a good look, you know?" Allen said. "That was a great look. I'll let him shoot it again; I believe he'll make the next one. We got the look we wanted."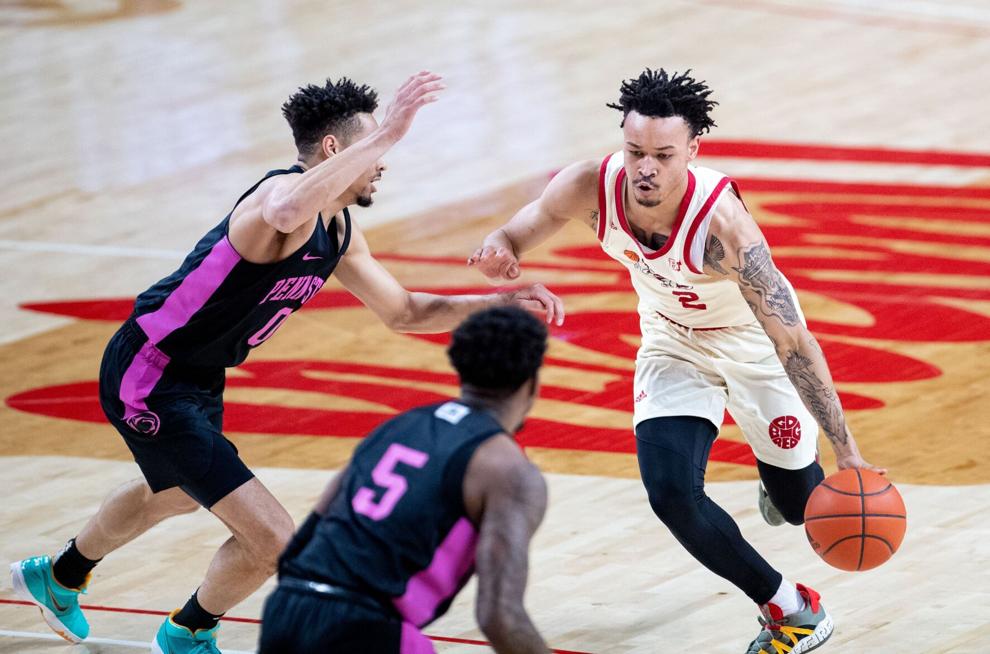 In some ways — Allen, NU's 12 of 25 shooting from 3-point range — it was one of Nebraska's best games. In others, one of its worst.
Hoiberg was particularly frustrated with NU's transition defense, which failed to find PSU guards as they zipped to the rim.
"It wasn't good enough," Hoiberg said of Nebraska's defense. "Transition we got exposed early in the game. I just didn't think the urgency was where it needed to be to win a Big Ten game ... we're one of the best talking teams on the sidelines — you hear it in the chants and all that stuff – but when we get to the floor, for whatever reason, we have stretches where we don't say anything to each other."
Hoiberg essentially benched one of his starters, Dalano Banton, halfway through the game; Banton played just 13 minutes. Allen picked up some of those minutes, playing 38. He was a virtuoso for all of it. Did Allen know, early, he had a hot hand?
"I feel the same way every game," he said. "The ball finds you in different ways some ways, some nights. I kind of took the same approach as always."
Allen carried the Huskers (5-16, 1-13 Big Ten) after Penn State (8-12, 5-11) jumped out to an 11-3 lead behind a trio of 3-pointers from Myreon Jones, who paced the Nittany Lions in the first half with 17 points and finished with 29. But Allen outgunned Jones with aggression and efficiency, hitting 11 of 14 shots in the opening 20 minutes. He scored on three 3-pointers of his own, four of his herky-jerky pull-up shots in the lane, two free throws, two reverse layups, a dunk and a traditional 3-point play that had him gesturing to the sparse crowd of players' family and friends inside Pinnacle Bank Arena.
His 28 first-half points became a school record for one half, surpassing James Palmer's 27 points in the Big Ten tournament. Still, Penn State led 39-38 at halftime because it dominated the boards — 24 rebounds to Nebraska's 13 — and scored eight second-chance points off of 10 offensive rebounds.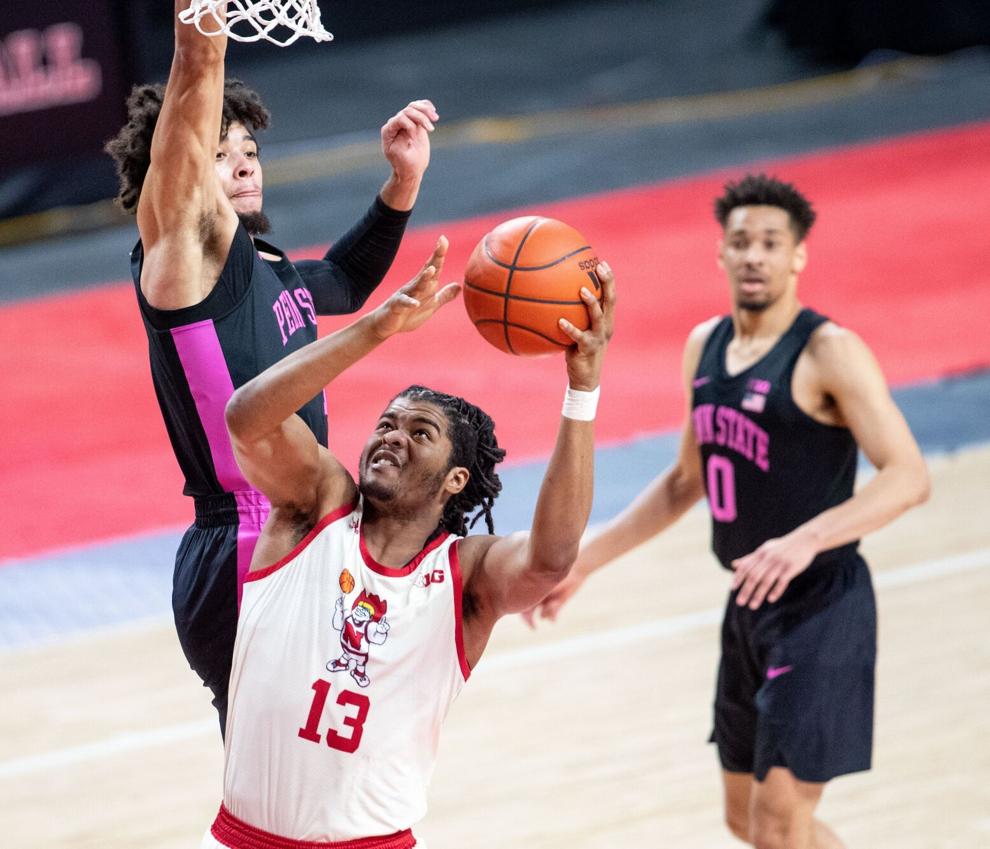 Nebraska grabbed a 48-47 lead on a free throw from McGowens — who scored 17 — with just under 15 minutes left. Cue the nightmare stretch of basketball that has bedeviled NU for the entire Hoiberg era. Penn State retook the lead 12 seconds later on a jumper Myles Dread. McGowens missed a 3. PSU hit a 3 after an offensive rebound. Nebraska's next two possessions were Allen turnovers, followed by Nittany Lion 3s. The 11-0 run forced a Hoiberg timeout.
The Huskers answered in a big way, splashing 3 after 3 — two from Allen, two from McGowens and two from Thorir Thorbjarnarson — to tie the game at 70 with 6:20 left.
Again, Penn State pulled ahead — this time for good — on a wide-open corner 3 from Jamari Wheeler. It started a 11-4 run that gave PSU a 81-74 lead with 53 seconds left. NU scored nine points in the final minute, but McGowens' final shot — wide open after a handoff pass from Allen — faded to the left. The Nittany Lions got the game's final rebound for a 42-29 edge.
Hoiberg said Nebraska had "three options" on the final play. McGowens and Allen were two of them.
"Trey had a good look at it," Hoiberg said. After the game, McGowens return to the court to attempt the shot over and over, with the same sweeping motion to the right side of the hoop and the same hand-off pass.
Had it fallen, Nebraska would have sent the game to overtime where Allen likely would have broken the single-game school record for points and had an outside shot at a triple-double, too. Husker pantheon stuff.
He did not know, when a reporter asked, how close he was to Piatkowski's record. There were multiple occasions where Allen reached the rim and could have forced a shot, but did not, instead passing to Derrick Walker for easy baskets.
Allen's six assists weren't merely a career high. They doubled his previous career high.
"It's just a matter of how the game presents itself," Allen said.
---
Nebraska basketball falls to Penn State