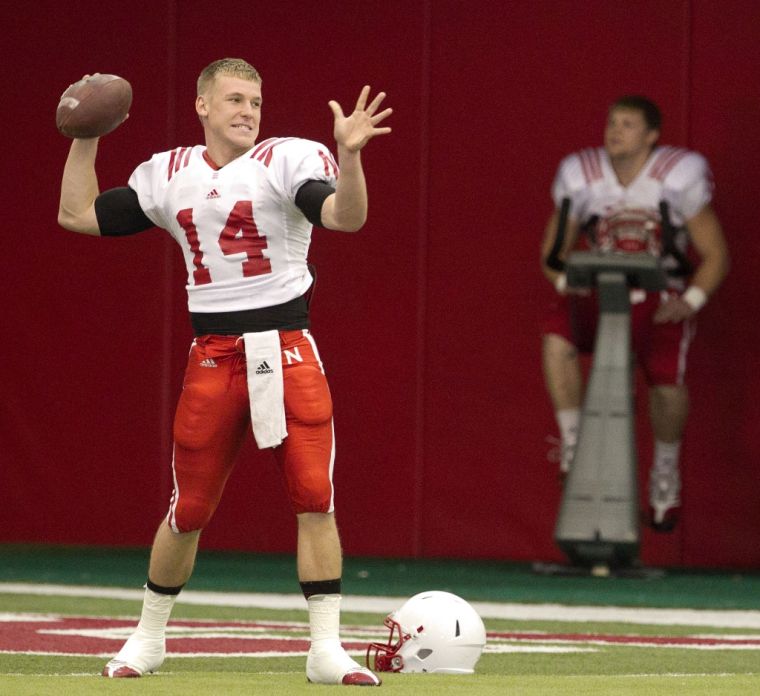 LINCOLN — The old football adage goes: If you have to play two quarterbacks, you don't really have one. Well, the University of Nebraska at Kearney had to use seven last year. It resulted in the Lopers' first losing season in eight years.
Now, they'll look to former Nebraska signal-caller Bronson Marsh to see if they have their one starter for 2013.
It's an opportunity that Marsh — a Millard South graduate who broke the state's 11-man high school record for career passing yards — said he couldn't turn down. He transferred from NU at semester and met Monday with his new offensive coordinator, Andy Siegal.
"I think it's a lot better fit for me," Marsh said. "They run the same offense I did in high school, so I'm really excited to get in there and learn."
Said Siegal: "Does he have a chance to start? You do the math. He's got a chance to compete right away."
Since 2005, UNK averaged eight wins per year at the Division II level before last year's 3-8 record. The Lopers' instability at quarterback was one reason for the slide. Siegal, whose offense averaged 39.5 points and 518 yards in 2011, said he converted wide receivers in search of a viable option.
It's now an opportunity for Marsh, who leaves Nebraska after appearing in two games last year as the Huskers' No. 3 quarterback. A late signee in the 2010 class, the 6-foot, 195-pounder initially began his NU career at safety. But he won the 2011 scout team offense player of the year award as a quarterback, and coach Bo Pelini agreed to let Marsh switch to the position in 2012.
"My experience there was great," Marsh said.
Just not full of playing time. Starter Taylor Martinez and backup Ron Kellogg III both return for their senior seasons, and redshirt freshman Tommy Armstrong drew raves in practice before a knee injury midway through the 2012 season. He's expected to make a full recovery and press Kellogg for the No. 2 job this spring.
Marsh said Armstrong's potential — and that of 2013 recruit Johnny Stanton — "had nothing to do" with his transfer to UNK.
"I love competing and I would like to think I would have played," Marsh said. "But it's hard to wait that long just knowing this opportunity (at UNK) is right here."
Siegal said Marsh's experience in spread, high-tempo offenses at Millard South and Nebraska should make the transition easy. A former assistant offensive line coach at Southern Mississippi under then-coach Larry Fedora, Siegal runs a wide-open, no-huddle attack with Oregon run-game principles. He said Marsh reminds him of USM quarterback Austin Davis, who led the Golden Eagles to 12 wins in 2011.
"He has a good skill-set," Siegal said.
Marsh heads to UNK roughly one year after Grand Island quarterback Ryker Fyfe decommitted from UNK for a shot at walking on at Nebraska.