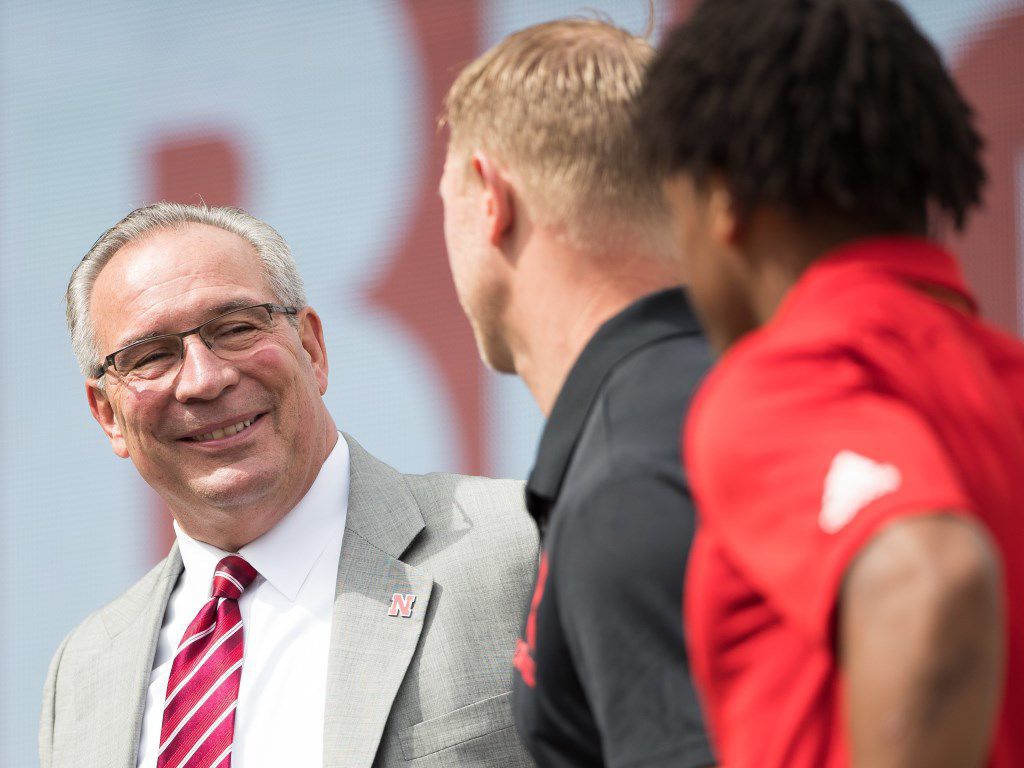 LINCOLN — The opportunity for college athletes to make money endorsing products with their name, image and likeness appears to be one year away.
The NCAA's Board of Governors recommended significant changes — what it called a "modernization" — Wednesday morning to its stance on NIL opportunities that should open the door for student-athletes to seek endorsement and marketing deals that pay them money beyond their scholarship checks and cost-of-living stipends.
In a 31-page report, the NCAA's recommendations included allowing athletes to consult agents as they sign deals to endorse products or run virtual camps using their NIL. The NCAA recommended that no NCAA or school logos be affiliated with the endorsements, and schools should not pay athletes directly for endorsing products.
A conference call with NCAA President Mark Emmert and various board members consistently suggested "guardrails" are needed to regulate this emerging market. Emmert also said Congress should be involved in helping the NCAA navigate and regulate NIL legislation in all three divisions.
Still, the NCAA's recommendations represent a sea change for the organization.
"Throughout our efforts to enhance support for college athletes, the NCAA has relied upon considerable feedback from and the engagement of our members, including numerous student-athletes, from all three divisions," said Michael V. Drake, chair of the board and president of Ohio State. "Allowing promotions and third-party endorsements is uncharted territory."
The NCAA has increasingly embraced allowing NIL rights to student-athletes as a result of public pressure, state legislatures either passing or introducing bills in support, considerable national media advocacy and the rise of marketing opportunities on platforms like Twitter, Instagram and Facebook.
In Nebraska, State Sen. Megan Hunt of Omaha introduced LB 962 during the session. It would have given student-athletes NIL rights starting in 2023. The NCAA plans to vote on a plan by October that will be in effect no later than the 2021-22 academic year.
The University of Nebraska anticipated these reforms months ago.
NU Athletic Director Bill Moos told The World-Herald he vowed to "stay ahead of the curve." The Huskers have already partnered with Opendorse to create the "Ready Now" program. Opendorse is a social media marketing company run by ex-Nebraska football players Blake Lawrence and Adi Kunalic. Nebraska is paying Opendorse $235,500 over the next year to implement its package for its student-athletes.
Just before spring football practices, Nebraska released logos for a handful of players — quarterback Adrian Martinez, cornerback Dicaprio Bootle and safety Cam Taylor-Britt — that were an example of the social media assistance the Huskers can provide their athletes.
"We've been preparing for this moment for over seven years," Lawrence said at the time. "Coach (Scott) Frost and the Nebraska athletic administration understand the time is here to empower student-athletes to prepare their individual brands for future success."
Husker football players will stand to benefit, as will other NU student-athletes. One who will likely miss her window is senior volleyball player Lexi Sun, who has more than 62,000 followers on Instagram and would be a prime candidate to benefit from rule changes if they were going into effect this year.
Sun's favorite candy, for example, is Skittles. Just holding a bag of them in an Instagram post could be worth good money.
"Rules don't allow it, that's just how it's been for four years," Sun said in March. "It is what it is. Hearing about new rules coming up, I know it won't apply to me. But if it could? I think girls at Nebraska would be making a ton of money. We would have a lot of opportunities in that, for sure."
Sun added that Nebraska student-athletes were already "blessed" with opportunities regular students didn't get, such as scholarships, nutrition and, in the case of the volleyball team, all-expenses-paid trips to China and Hawaii for games. Sun said Nebraska athletes shouldn't necessarily be focused on making more money, and she wasn't.
Another Husker volleyball player, Nicklin Hames, is a junior and would benefit in her senior year from rule changes.
"How do you set it so it's equal for everyone is what they're struggling with," Hames said. "The quarterback's probably going to get more than someone else, which I don't care."
Because the endorsements are independent of the schools, student-athletes would in theory become independent contractors, so it's likely a quarterback would make more than a backup tight end under the NCAA's recommendations. The point guard would make more than the last scholarship player off the Husker bench, even as both get the same scholarship check and cost-of-living stipend.
Nevertheless, NU's biggest coaches were in favor of NIL changes.
"Nebraska has always been a leader and an innovator in a lot of things," Frost said. "I think that NIL decisions will benefit us greatly."
Said basketball coach Fred Hoiberg: "I witnessed that first-hand during my time in the league. This is a great resource that the University of Nebraska is providing for its student-athletes. The earlier we can help our young men and women understand the value of their personal brand, the better positioned they will be for whatever professional path they choose."
One aspect of NIL that doesn't seem close to coming back are the EA Sports college football and college basketball video games that were discontinued after 2013. An NCAA board member said Wednesday that because the NCAA's recommendations would require student-athletes to seek their endorsement opportunities separate of school affiliation, it would be hard to bring back a game where student-athletes were compensated because of their school affiliation.
Omaha World-Herald: Big Red
Don't miss a moment of Nebraska athletics.