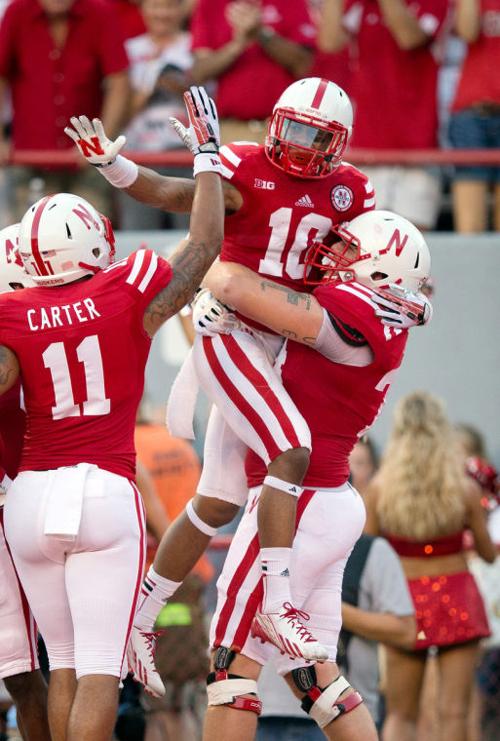 LINCOLN — Jamal Turner wouldn't wish this season any harder. It's already been tough enough.
The junior slot receiver has missed almost all of the Big Ten season with hamstring and calf injuries. The 6-foot-1, 185-pounder practiced Tuesday and said he's ready to return for Friday's game against Iowa.
"I can run on it, I can sprint on it and everything," Turner said of his calf.
He's caught 13 passes for 102 yards and a touchdown this year.
"I was sprinting on it (last week) but, at the same time, it was really painful, and we didn't want to risk popping it like I did the last time," he said. "That's why I was out so long. I had gotten better and I tried to rush it and I popped it."
Turner called this year "the worst season ever" for him.
"It was really depressing," he said.
He credited teammates Alonzo Moore and Kevin Williams — his best friend on the team — with keeping up his spirits.
"Other than that, not many others," he said. "I don't know. I guess I've kind of kept my distance from them. It's been kind of weird."
Turner said he's not sure he'll play against Iowa. He's working behind Jordan Westerkamp with the No. 2 offense.
Fyfe could be backup
Redshirt freshman Ryker Fyfe could be Nebraska's backup quarterback against Iowa if former starter Tommy Armstrong isn't healthy enough to play.
Armstrong, who is questionable for Friday's game, was limited in practice Tuesday. Fyfe earned the promotion because of that, taking reps with the second team.
Offensive coordinator Tim Beck said Fyfe is still making rookie mistakes, especially in terms of reading coverages, but he's often skilled enough to make up for those miscues.
"He throws the ball very well," Beck said. "He can run. He's tough. He's very instinctive."
Fyfe hasn't played since the South Dakota State game on Sept. 21, when he made his debut in the fourth quarter of a 59-20 win. He took 10 snaps.
Senior Ron Kellogg is expected to start at quarterback for Nebraska on Friday.
Position switch helps Santos
The move back to an outside linebacker position has helped increase sophomore David Santos' production, defensive coordinator John Papuchis said.
Santos started the season at middle linebacker, but since the move, he's not been consumed with relaying assignments and adjustments. He's been flying to the football, instead, Papuchis said.
Santos has 17 tackles in the last two games. He now leads the team in total tackles with 77.
"He's just out there running around and playing," Papuchis said.
And on Friday, Santos could find himself matched up against Iowa tight end C.J. Fiedorowicz, a 6-foot-7 target who has a team-high five touchdown receptions this season. But Santos is getting more comfortable in space, Papuchis said.
"He's athletic, and he's faster than you think he is," Papuchis said of Santos, who's 6-foot. "He understands how to put his body in a good position."
Perlman supports A.D.'s approach
University of Nebraska-Lincoln Chancellor Harvey Perlman indicated Tuesday that he supports Athletic Director Shawn Eichorst's decision to withhold commenting on coach Bo Pelini's job status until an end-of-the-season review has taken place.
Perlman spoke about the topic during a radio interview on Lincoln's KFOR-AM, emphasizing that an annual evaluation is standard practice in situations like these. Perlman said he's recognized some "excitement" regarding the future of the football program. But he pointed out that addressing speculation isn't always healthy.
"If we get into the position where after every game we have to say, 'OK, yeah, we still support him — then the one game we don't say anything, everybody's going to draw a big conclusion about that," Perlman said.
Pelini mentioned in an interview with USA Today earlier this month that the lack of definitive support through public channels — especially when rumors swirl and criticism intensifies — can have a negative impact on recruiting. Perlman indicated that Eichorst's silence will be temporary.
"There's plenty of time between a normal process and the end of recruiting season that these issues can be resolved," Perlman said. "This uncertainty doesn't last forever."
Randle may be game-time decision
Papuchis said Tuesday that it was probably too early in the week to know if defensive tackle Thad Randle would play Friday against Iowa.
The fifth-year senior missed the Penn State game because of a knee injury.
"I think that's going to be closer to a game-time decision," Papuchis said. "For me, personally, I'd like to be able to see him play his Senior Day game. It would help our team. But obviously we're not going to put him in a situation he's not prepared to play in."
Randle leads Husker defensive tackles with 23 tackles.
>> Video: The Big Red Today Show, Nov. 26: