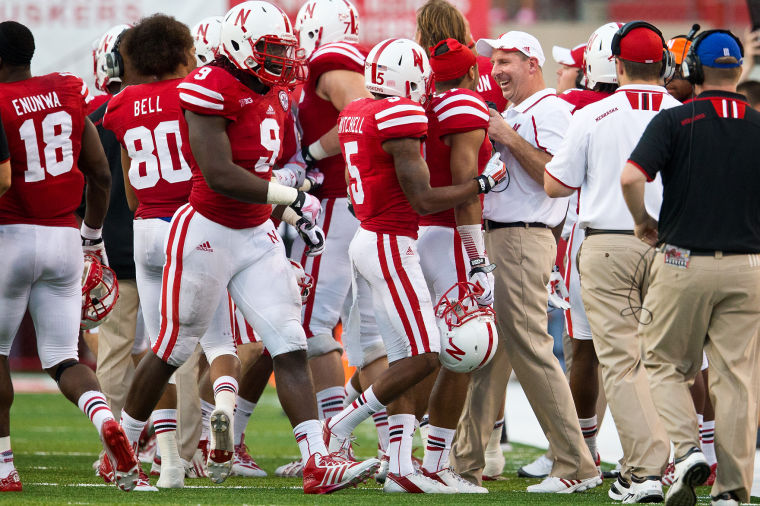 LINCOLN — Nebraska coach Bo Pelini started his Monday press conference wanting to "close the door" on a third-quarter collapse and subsequent 41-21 loss to UCLA.
What he said during the next half-hour opened a window to potentially significant change in his handling of the program.
After a weekend of "soul-searching" and talking to his coaching staff, Pelini said he's responsible for a culture of inconsistent Huskers who may be trying too hard not to lose — instead playing to win — and has a plan to correct that mindset in short shrift as 2-1 Nebraska prepares for South Dakota State this Saturday and the Big Ten season ahead.
"I want our players to get back to having fun again," Pelini said.
As he surveyed the faces of Nebraska players in the second half of the UCLA loss — the Bruins scored 38 straight points — he said he didn't see much energy, but guys who "looked like they saw a ghost." A team too wary of mistakes to make the big plays necessary to slow the snowball and battle through adversity.
"I saw it in their look," he said. "I saw it in their demeanor. I've been around long enough to know it starts with the guy in charge. It starts with me. I understand that. And I'm going to do everything in my power to fix that."
What will he do? Pelini was light on specifics except for revealing a major change before NU players even knew about it: NU will now hold its first practice of the week on Sunday instead of Monday, which will turn into a day off. Former Husker coach Bill Callahan preferred a Sunday practice.
Pelini said he discussed with his staff the pros and cons of the decision, but was set to announce it Monday afternoon to his players.
"I think we can get the same things done on Sunday that we get done on Monday," Pelini said. "It gives them a day to just get away from the whole thing for the whole day. Be a student who can just go to class."
Beyond that, Pelini said he wanted to project an "aura" toward players that freed them from some of the mental errors that he claimed plagued the team in the second half of the UCLA loss. Pelini added that he personally wanted to "start having fun again" and have that trickle down to the team.
Sophomore defensive end Randy Gregory — a newcomer and one of two defensive players to speak Monday afternoon — said Pelini is more laid-back in workouts than he appears to be elsewhere. The media is not allowed to view practices, and Pelini shut off Tuesday pre-practice access after a single session during fall camp.
"He's a lot more fun than what people would think," Gregory said. "So I don't know how much more fun you can get out of him. I mean, I'm having fun just playing football."
In a separate interview, Gregory said "loosening up" practice may help the Huskers.
Senior tackle Jeremiah Sirles — who stood in the back of the media room on the sixth floor of the Memorial Stadium press box listening to a good portion of Pelini's talk — said Nebraska players have enough fun in games and in the locker room. Practice, he said, isn't always fun, but necessary for improvement — and winning.
"When it's time to work, it's time to work, and sometimes work isn't fun," Sirles said.
But does the team try too hard? Nebraska has suffered seven double-digit losses since 2011. Sirles couldn't speak for the defense, but he said the offense can get too worried.
"Sometimes we have 11 guys out there thinking, 'Oh gosh, we have to make something happen,' " Sirles said. "I think there was a little bit of that this weekend."
Pelini said there's pressure to win at Nebraska, where it's "365 days a year of football." He knew, when he returned in late 2007 to replace Callahan, that NU was a "very unique," "special," and "different" place that "can consume you."
He wondered, rhetorically, if the quest to win big in Lincoln had consumed him and if his pursuit of perfection had affected the team.
"I've grown up a lot as a football coach, but have I let the inherent pressures or my drive to push this program to the next level create a culture among our team to not allow them to have success, or not give them the best chance to have success?" Pelini mused. "I would say, at this point, yes, maybe I did do that. Because you're crazy to sit there and try to pound a square peg in a round hole."
Running back Ameer Abdullah said it was a "challenge" to ignore critics or pressure as a younger player. He said the fishbowl of Husker football has actually made him more disciplined in ignoring critics.
"Be a man of integrity," Abdullah said. "Be a person who doesn't respond to criticism all the time. Not because you have just one good game and vice versa. Don't let the outside critics get to you."
If Nebraska can rejigger its psyche and avoid communication problems and mental mishaps that hurt it Saturday, Pelini said, he thinks the Huskers can still make a run in 2013. Pressure chamber and all.
"We're really close," Pelini said. "We have a chance to be a really good football team. At times on Saturday we were a very good football team. It has to be a consistent thing. It has to be an every down thing. It has to be an every game thing.
"A big part of this game — and a big part of athletics — is the mental drive behind it and the focus. Culture is real. A culture around the football team. And who sets the culture? It's the head football coach."
Video: Pelini's Monday press conference