BATTLE CREEK, Neb. — He doesn't know the coaches and players anymore. He doesn't go to games anymore. But occasionally on fall afternoons, Bob Schnitzler gets his football fix.
The barrel-chested 78-year-old steps out his backdoor after a day's work and points his binoculars between the trees that need a trim.
His target: the football field that bears his name. Built in 1987, the home of the Battle Creek Braves lies 200 yards west, between Schnitzler's deck and the new high school. For 20 minutes, maybe half an hour, this town's most prominent resident will sit on his deck and watch drills.
"They don't know I'm doing it."
This series explains what has happened within the state's boundaries since the Tom Osborne era and the new and different ground that Scott Fro…
From his vantage point, if he chooses, Schnitzler can envision nights when Battle Creek was the epicenter of Nebraska high school football. Nights like Nov. 14, 1992.
One of the biggest Class C-1 playoff games in state history. Scott Frost's Wood River Eagles came to Battle Creek. The crowd numbered about 5,000 — five times the size of the town — and strangers had to park a mile away.
Battle Creek had blown out Wood River the year before, but Frost padded his stats against the reserves. This time, Schnitzler decided he wasn't pulling his starters until Frost exited the game.
The Braves were up 67-26 in the fourth quarter, and Frost was running for his life. Finally, Scott's mom — the Wood River receivers coach — told the coach (aka her husband) to throw in the white towel on Scott's high school career.
"Before they kill our whole team," she said, according to legend.
Schnitzler smiles at the memory — and perhaps the irony. Now Frost is responsible for restoring Nebraska football's eminence. And Schnitzler, whose Husker rock and red geraniums adorn his front sidewalk, finds himself rooting not just for Frost's success, but for the days when the Big Red roster was stocked with native sons.
Schnitzler produced more Huskers than any other small town in Nebraska in the 1980s and '90s. Seven lettermen, the same number as Hastings and Fremont, which were 25 times bigger.
"If you were good at Battle Creek," Schnitzler said, "you were playing at Nebraska."
Said Tom Osborne: "Battle Creek, for a town of that size, really produced a phenomenal number of athletes."
Battle "Crick," as Schnitzler pronounces it, was a miniature version of the national powerhouse in Lincoln. And he was the small-town version of Osborne, the offensive guru who found a place he loved and never left. Like Osborne, he retired too soon. Like Osborne, he watched from close range as his beloved program lost its way.
Now, 26 years after the last state title, the purple and gold is coming back. Maybe this time Nebraska can follow Battle Creek's lead.
His first great team wasn't quite good enough.
In 1967, Battle Creek went 9-0 and outscored opponents 318-13. But Columbus Scotus received the mythical '67 Class C state championship — The World-Herald cited Scotus' superior schedule. Schnitzler settled for a night with Bob Devaney.
The Nebraska coach was coming off his worst season in Lincoln. He didn't let it show when he arrived at the old gymnasium for a banquet.
"I can still see him up there on the stage," Lorraine Schnitzler said.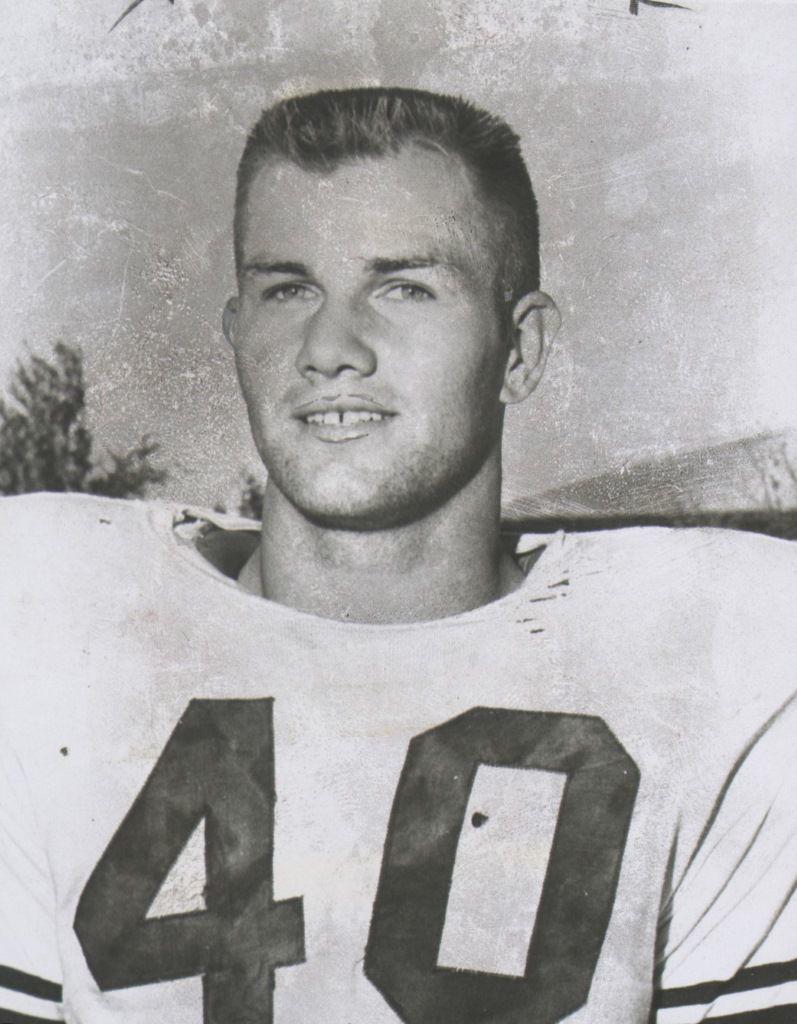 Her husband had come to Battle Creek in 1962, the same year Devaney arrived in Lincoln. Bob, a Humphrey native, was a speedy Wayne State halfback who played his freshman year against Osborne at Hastings College. As a young coach, he quickly established a reputation for toughness.
"I believe that failure is due to not being in shape, so we ran and ran and ran," Schnitzler said. "I never saw them complain. Maybe they were scared."
In shop class, he oversaw construction of the school's first pulley-operated weight machine, with multiple stations. For dumbbells, Schnitzler stuck a rod through coffee cans of varying sizes and filled them with concrete.
"We started lifting weights before Nebraska did," Schnitzler said.
Of course, their biggest dumbbells were hay bales. Battle Creek's official population in the 1970s was 768, but most of its best football players came from farms. Their work ethic was a cut above, Schnitzler said.
In fall camp, players used to ask for three-a-day practices instead of two. Why? "Our dads are killing us."
Schnitzler's most important addition was offensive line coach Pete Kropp, who earned two Bronze Stars in Korea. While his nephew, Tom Kropp, was establishing a reputation as one of the state's best athletes, Pete was trying to find his place in coaching. He got run out of a couple of schools, Schnitzler said.
At Kropp's first practice in Battle Creek, Schnitzler called the team together and everyone obliged except for Kropp and an offensive lineman, who were arguing on the far end of the field. Players hated Kropp until they graduated, Bill Hughes said. Then they couldn't wait to come back and learn from him.
"Life lessons," said Hughes, star tailback in 1972.
Schnitzler and Kropp butted heads — "Schnitzler wanted to pass every once in awhile. Pete thought we should just line up and blow 'em off the line" — but they became best friends. Together they hunted, fished and produced the biggest, meanest lines in northeast Nebraska. In '76, the Braves allowed just three touchdowns in a 10-0 season.
Sign up for Big Red Today news alerts
Get a daily Husker news roundup, recruiting updates and breaking news in your inbox.
Wade Praeuner was not an obvious candidate to start a tradition.
The running back/linebacker didn't make the Class C all-state team in 1978. He made the Shrine Bowl only as an injury replacement. The chances he'd ever crack Osborne's depth chart were slim.
But on the first fall Saturday of 1981 at Memorial Stadium, there was the 5-foot-11, 210-pound walk-on defensive end making his first start.
Once kids back in Battle Creek saw Praeuner in front of 70,000 fans, Schnitzler said, "the floodgates opened."
Robb Schnitzler, a running back turned split end, was next to Lincoln — yes, he was Bob's son. Then another son, Craig, a placekicker. Then Paul Brungardt, a defensive tackle.
Osborne promised walk-ons a scholarship if they climbed high enough on the depth chart. He kept his word.
"Every good football player that I knew wanted to play for Coach Osborne," Bob Schnitzler said.
Back home, Battle Creek won Class C-1 in '81 and again in '86, when it outscored four playoff foes 174-6. The Braves' home-field advantage was overwhelming. At the city park, they squeezed the football field into the outfield of the baseball diamond. Fans were so close to the boundaries they frequently got run over by a running back.
In '87, Battle Creek opened the new stadium behind Coach's house and won a third Class C-1 title. Schnitzler could've jumped to a Class A or B school, maybe even college. He never even changed houses; he built his white ranch in 1971.
He worked yearlong, leading Battle Creek girls basketball to 15 straight state tournaments, including four consecutive C-1 titles. He coached six state championship track teams — four boys, two girls.
"He would push you to the point that you didn't think you could go," said Jeremy Pochop, a tight end/linebacker in '87. "Then he pushed you past it."
Motivation was only part of Schnitzler's gift. Bill Hughes marveled at Schnitzler's ability to watch a football play — two or three seconds of action — and see what all 22 players did. He installed new blocking schemes every week to vex opponents.
"You have to be able to run off-tackle 10 different ways," Schnitzler said.
First down: block the defensive end with an offensive tackle. Second down: hit him with the guard. Third down: smack him with the tight end.
"Pretty soon that defensive player, he's just gonna stand there," Schnitzler said. "Then you have quite the advantage. That's one thing I took from Vince Lombardi. He was kind of my idol."
When the whole defense is preparing for a fourth consecutive off-tackle play …
"Then run counter with the wingback coming underneath," Schnitzler said.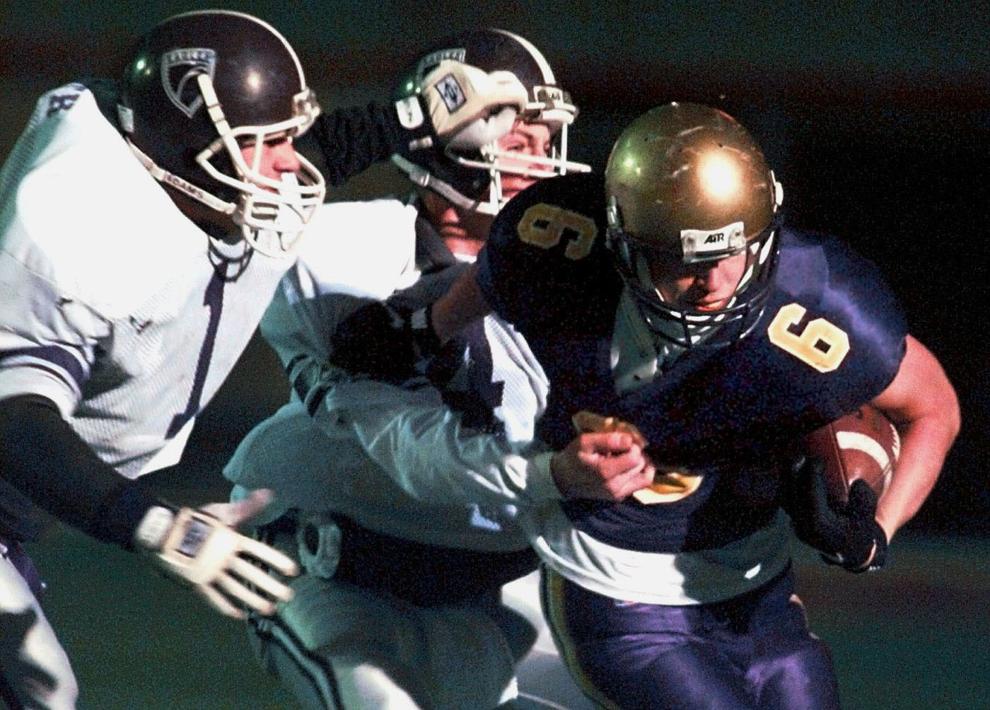 Does all of this sound familiar? Schnitzler didn't just learn from Lombardi — he frequently borrowed ideas from Osborne, Milt Tenopir and Dan Young, who visited Battle Creek annually. And when Schnitzler had a prospect, he made sure to alert them.
"You always pick out coaches who have good perspective and understand what it takes to play at a school like Nebraska," Osborne said. "They'll level with you. They won't embellish and make a player out to sound better than he really is.
"We talked to him not just about his own players, but about players that he saw. He was always pretty much on track."
In 1992, Schnitzler had a conundrum. Which of his Division I prospects should he promote?
Matt Hoskinson got robbed.
Sure, the 255-pound bulldozer earned all-state honors for Battle Creek in 1992 — as a fullback! But Hoskinson had all-state punting skills, too. So did Braves quarterback Chad Tegeler. Schnitzler went into the season with plans to alternate them.
"You could name the score with that football team," Schnitzler said. "It was hard to believe how good they were."
So good that running back Todd Uhlir broke the 11-man state record for career rushing yards. So good that Battle Creek called off-tackle over and over against Norfolk Catholic until a defender asked Hoskinson: "Don't you have any other plays?"
"I think we threw nine passes my senior year," Hoskinson said.
Hoskinson was in first grade when Battle Creek won its first state championship. He was in sixth and seventh grade for two more. He grew up with a defined dream: Play high school football for his grade-school PE teacher, Coach Schnitzler. Then college football for Osborne.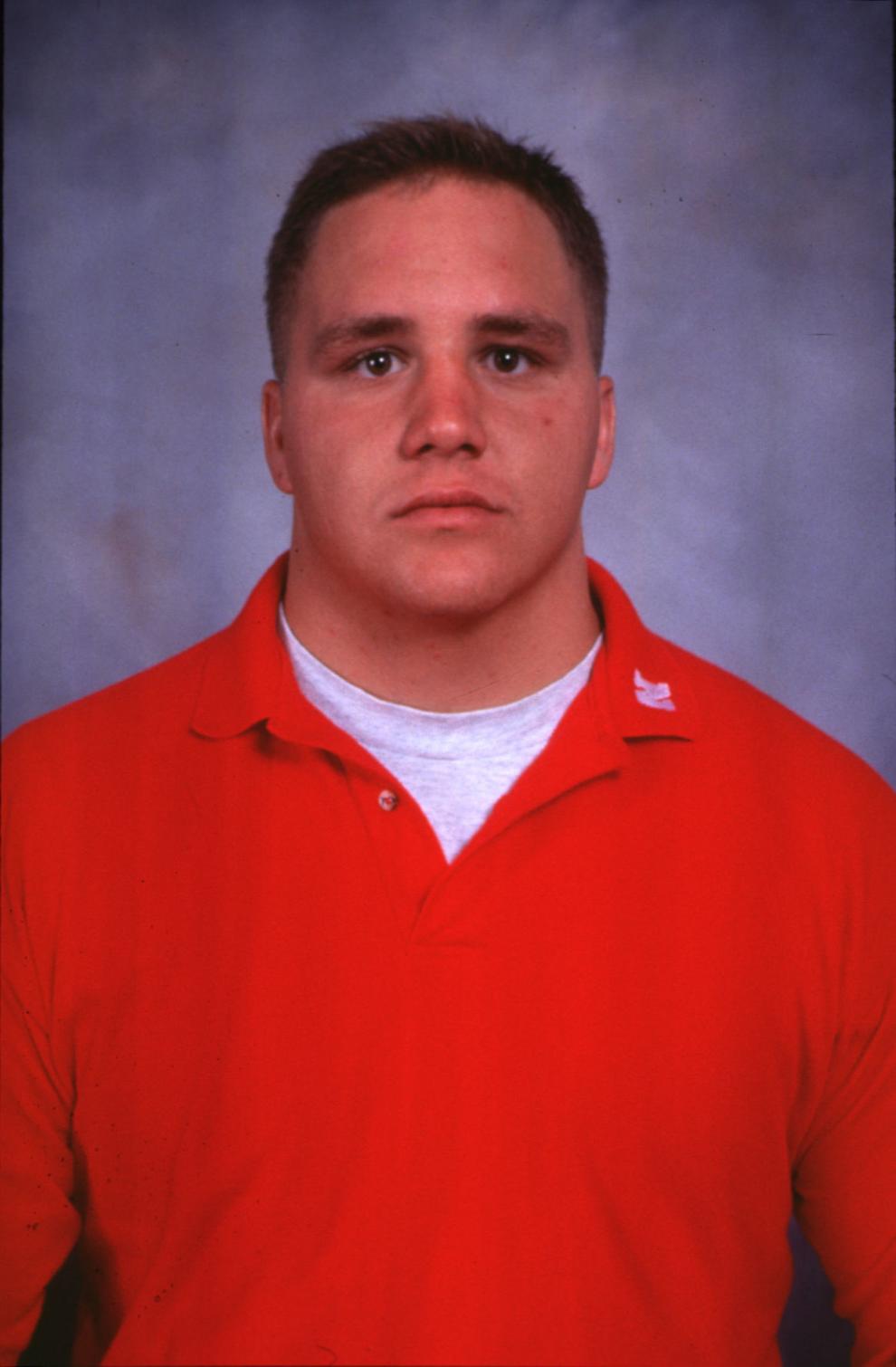 Schnitzler told Tenopir he had three players capable of helping NU — Hoskinson, offensive lineman Jay Korth and Uhlir, who scored a state-record 49 touchdowns that season.
Korth bypassed a Nebraska walk-on spot for a Wyoming scholarship and earned All-Western Athletic Conference honors. Uhlir and Hoskinson — Battle Creek's 460-pound backfield — picked NU.
How many high school fullbacks like Hoskinson transform into guards on a Division I national championship team? That's how good Tenopir's eye was for talent.
On Nov. 14, 1992, Husker coaches were on the road losing a stunner at Iowa State. They missed a heck of a scene that night in Battle Creek. The bleachers were packed two hours before kickoff. Frost ran sideline to sideline, waiting for receivers to come open. They did not. The Braves rushed for 527 yards, a state playoff record. Uhlir had 310 and five touchdowns.
"We absolutely blasted them," Hoskinson said. "It was not a good football game. I make sure to let Scotty know that."
It looked like Battle Creek's dynasty might last forever. Hoskinson and Korth graduated. Another stud offensive tackle, Dave Volk, stepped in. The Husker scholarship recruit anchored three C-1 runners-up (94-96).
Then Battle Creek dropped off the map. After four subpar seasons, including a 1-7 mark, Schnitzler walked away at age 61 with a state-record 293 wins (against 89 losses and seven ties).
He missed it immediately. "I think it's stupid that I retired."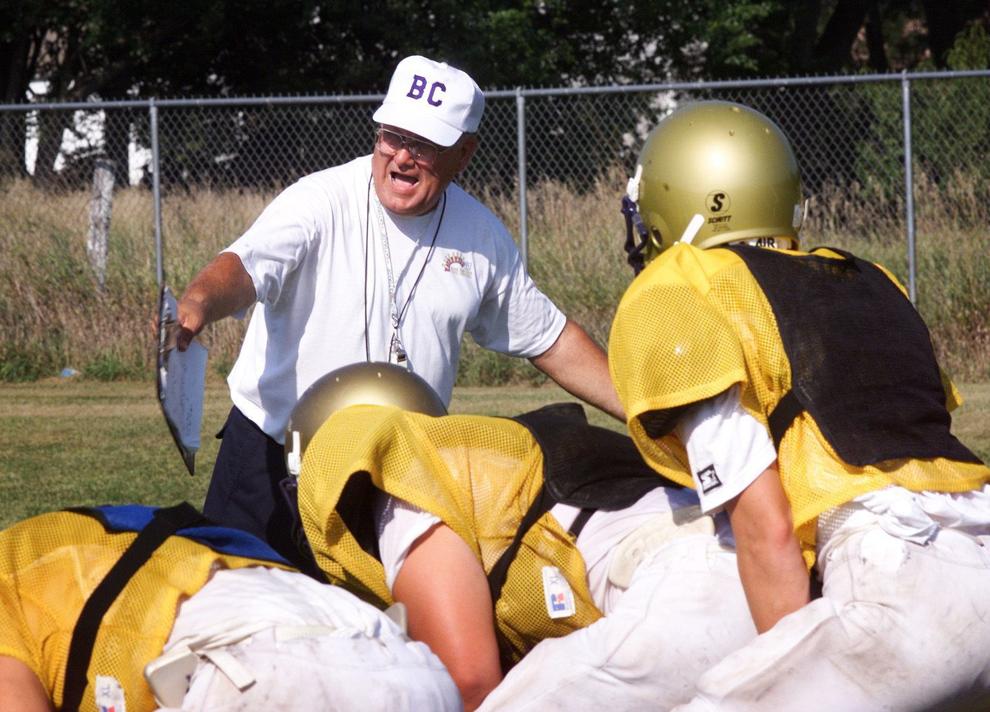 Schnitzler signed up for three years of boys basketball at Lindsay Holy Family, winning another state championship. Then he suffered a heart attack and returned to his roots building houses.
He's probably constructed 80 homes in his lifetime, including about three per year since retirement. As he was pouring footings, Battle Creek lost its foundation.
In the '70s and '80s, most of Schnitzler's players grew up digging fence-post holes. But as farms got bigger, the town became more dependent on Norfolk, 12 miles away. Highway 275 became a four-lane expressway and Battle Creek became a bedroom community, occupied by families who moved in and out without making connections. The grocery store closed. The Purple Pride Cafe, too.
Meanwhile, Battle Creek football slipped further and further from the old ways. Tradition waned. Roster numbers dropped from the low 50s to the high 30s. Weight-room attendance declined. A new head coach swapped off-tackle plays for a passing attack. What happened to hat-on-a-hat blocking?
"Once you lose that identity, it's hard to get it back," former superintendent Jay Bellar said. "Look at what Nebraska's gone through. It's very similar."
From 1981-'96, the Braves made the C-1 state championship game nine times, winning four state titles. From 1997-2012, Battle Creek won one playoff game.
Everyone bore some responsibility, Bellar said, including the kids. "They just thought, geez, we play at Battle Creek. We're gonna be good."
Schnitzler pulls into the garage just before 5 and shuffles into the house, where his wife of 58 years has made dinner. Tough day, he says.
Lately, he's been driving 65 miles to Oakland each day to build a salon on the side of his daughter's house — she's a beautician. The Schnitzlers have six kids and 22 grandkids and 10 great-grandkids; only one lives in Battle Creek.
"We put so many miles on cars."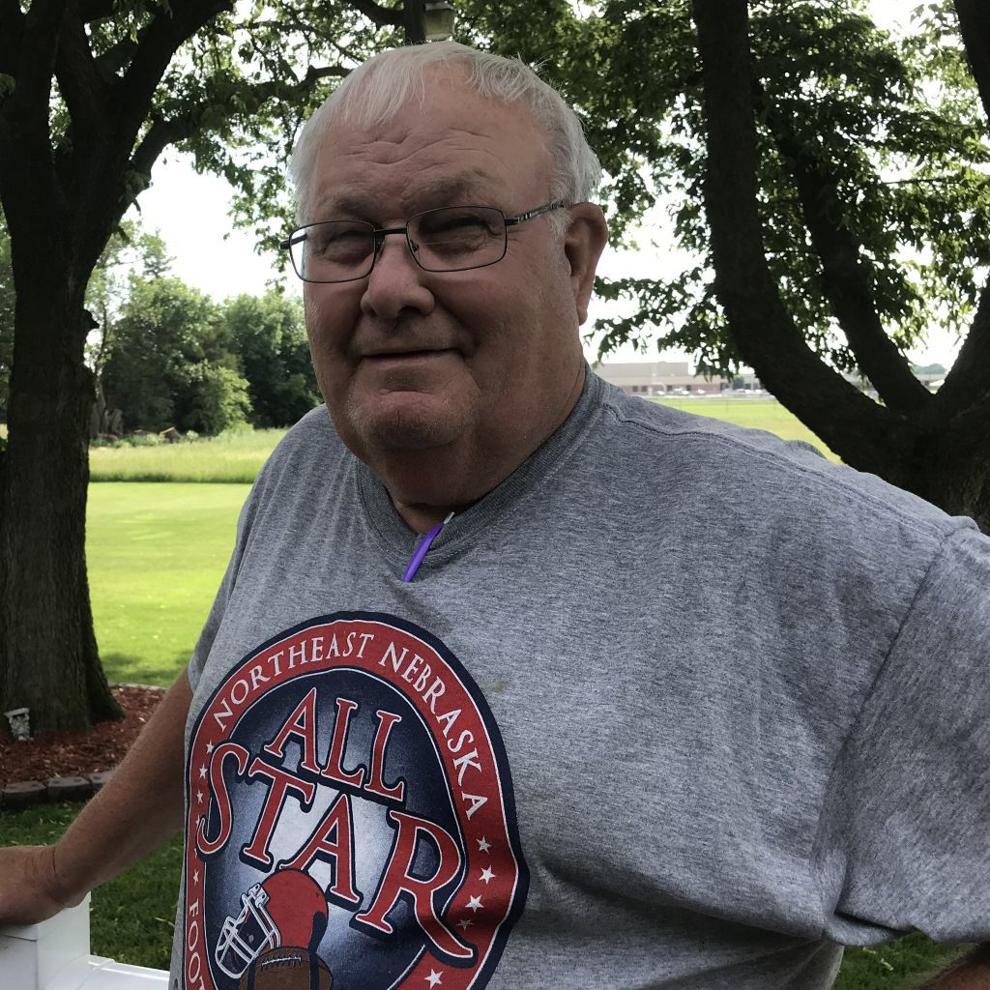 Behind the house sits an old red Chevy pickup, the same one Schnitzler and Pete Kropp took pheasant hunting and ice fishing too many times to count. One night they slept in back when it was 26-below zero.
The old Korean War vet died in 2016 and Bob bought his truck.
"It's only got 100-some thousand miles," he said.
Home is still home and some things haven't changed. His former players know where Schnitzler lives, what job he's working and when he'll be back. They still know how to fill a parking lot on a Friday night, too.
The past five years, Battle Creek football has experienced a resurgence. It isn't 1987 or '92, but the Braves have reached five straight Class C-2 quarterfinals. A young head coach, Andrew Carlson, has restored physical football. Roster numbers are close to 50 again.
"That's the secret," Schnitzler said.
Bill Hughes, the Battle Creek tailback in 1972, operated the clock for decades. During the losing seasons, he used to look down from the press box and see toothpick legs on the sideline. Not anymore. The weight room is filling up again.
Success breeds confidence, which breeds expectation, which breeds tradition. Pretty soon you have a culture. Battle Creek, like the Big Red wrecking ball it emulated for 40 years, isn't what it was. Probably won't be again.
But when a 78-year-old legend steps out to his deck on a fall afternoon and points his binoculars to Bob Schnitzler Field, the future and the past don't feel so far apart.
"I still have pretty good eyesight."
Read the complete 'Homegrown Huskers' series
The "Homegrown Huskers" series spanned 10 days and 23,000 words, relying on interviews with 60 sources and stacks of data. It illustrates the broken relationship between Nebraska football and its feeder high schools. It asks if Scott Frost can restore the model that worked so well for Tom Osborne.
---
Video: Inside the 'Homegrown Huskers' series
Dirk Chatelain describes the inspiration behind this series and the amount of research that went into producing it.