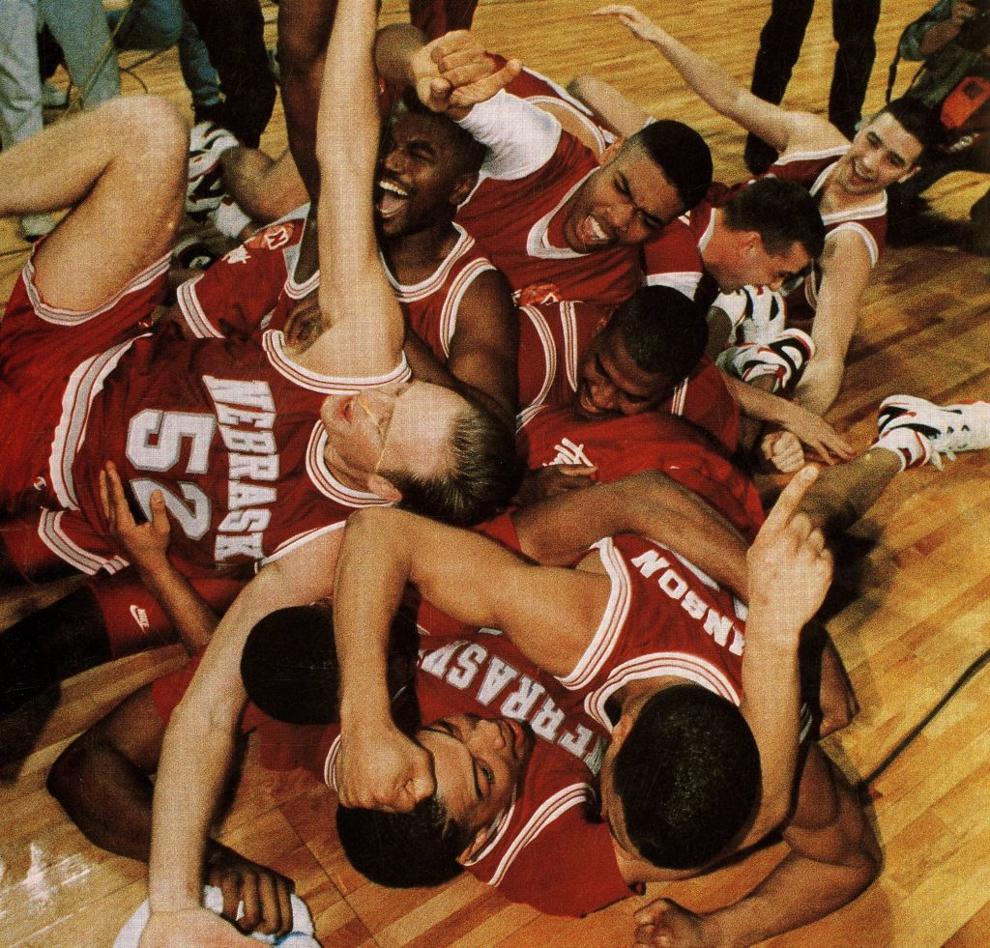 On the morning of the most bitter loss of Danny Nee's career, he walked into the Hearnes house of horrors and cracked up.
The Missouri students harassed the Huskers every time they came to town. Now they had draped thrift-store ties — five inches wide — over the folding chairs on Nebraska's bench.
"It was just hilarious," Gary Novotny said.
Nee had always valued his image — so did his wife. His suits (44-43 long) were sharp, his hair always perfect. But his obsession was ties.
In 1993, Novotny, who'd just opened Gary Michael's Clothiers in Lincoln, pitched a marketing idea: the Danny Nee signature tie collection. He took fabrics to Nee's house, where Danny and Janet picked out their favorites, usually red and black with geometric shapes.
The collection debuted Oct. 15 and for the next two and a half months Novotny sold $48.50 ties like quarter popcorn.
"That Christmas, it was off the wall," Novotny said. "We'd get 125, 150 ties in and they were gone. Every time you picked the phone up, people were ordering not one, not two, but dozens. I'm talking dozens."
A bank or an insurance business would call and buy 50, requesting that Nee autograph the backs. Some days, Novotny's part-time gift wrapper spent eight hours on Nee's ties.
More than two decades later, Novotny commemorates that Christmas — and the most colorful coach he's ever known — with an autographed photo on the store wall.
"We've got the picture of Danny — he's got all of his ties behind him — and he's holding one, waving it like he did when he called plays on the court."
Novotny knew Nee as an eager promoter. He also knew Nee as a vicious competitor. Guess which side came out on March 5, 1994 at the Hearnes Center, the day Norm Stewart, with a little help from Big Eight officials, robbed Nee of far more than $48.50.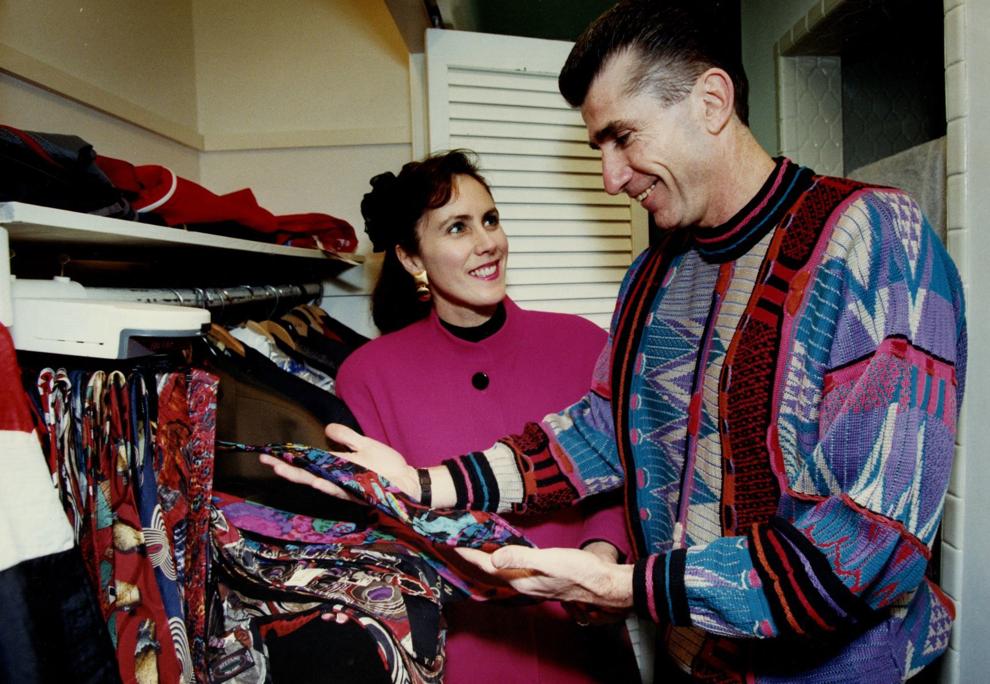 * * *
Rewind three months to Black Friday 1993. Tom Osborne's football team smothered Oklahoma, 21-7. Nebraska's first perfect regular season in 10 years ended with flying oranges and crashing goal posts.
The momentum didn't carry over to the Devaney Center. Two days later, the Huskers lost at home to Texas. OK, just one game. But Nee was coming off a season that left a bitter taste. His "Fab Four" clashed with his veterans, producing another blowout loss in the NCAA tournament.
Plenty of talent returned, but key questions, too.
Before the '93-94 season, Bruce Chubick was walking by Nee's office when the coach called him inside.
"I'm like, oh s---, now what'd I do?"
Nee sat him down and described the predicament: He'd struck out finding a replacement for Derrick Chandler. Amos Gregory had transferred. That left 6-foot-7 Chubick and 6-9 Tom Best in the paint.
Doesn't seem so small today, but this was an era of 7-foot centers who plopped on the block and waited for lobs. Loren Meyer at Iowa State. Bryant Reeves at Oklahoma State. Greg Ostertag and Scot Pollard at Kansas.
What do you think, Bruce? Can you play center?
"I guess I better eat a little bit extra at the training table and lift a few more weights," Chubick said. "We'll be OK."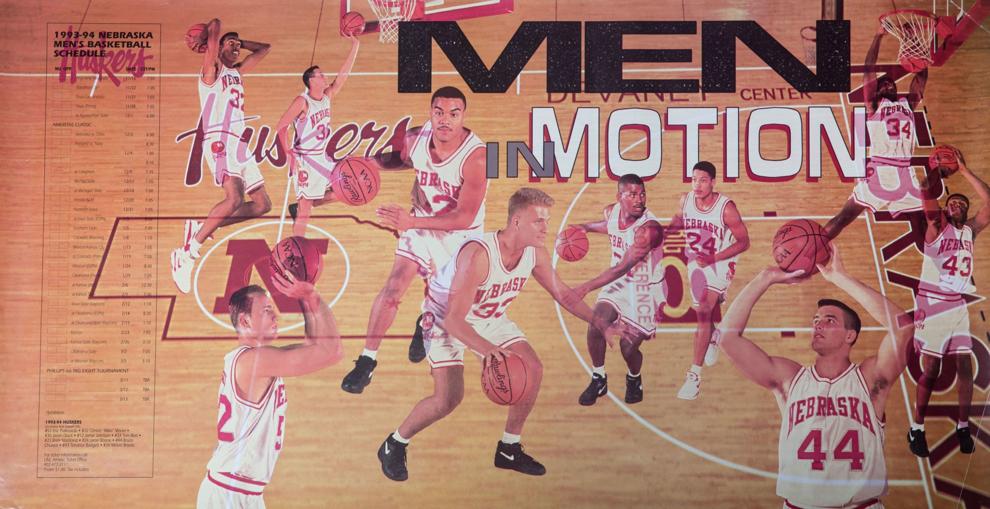 That fall, Nee switched to an "open-post offense," something you'd see today (only without all the 3-point shooting). The Huskers needed to play "like five rats going after a piece of cheese," Nee said.
But after the Texas loss, the Huskers went to Appalachian State and got ambushed. Uh oh. On the way home, Chubick and Jamar Johnson led a team meeting in the St. Louis airport. Chubick channeled his inner Beau Reid.
"Listen, this season's going to go one of two ways," Chubick told them. "Are we about winning games and trying to make the NCAA tournament? Or are we a bunch of selfish bastards that have a sub-.500 record because we can't put our own personal agendas aside?"
The meeting laid the foundation for Nebraska's greatest attribute in 1994: team chemistry. Andre Woolridge was gone. Erick Strickland, Terrance Badgett and Jaron Boone were sophomores. Senior leadership was stronger than ever. And then there was "The Polish Rifle," Eric Piatkowski, who was saving his best shooting spree for March.
Two weeks after meeting at the St. Louis airport, the Huskers upset Michigan State in East Lansing. "That's as happy a locker room as I've ever seen," Nee said afterward.
The joy continued two days later, when NU drilled Florida A&M at the Devaney Center. Basketball was merely a prelude to the evening's big event: a Christmas party at Piatkowski's townhouse off Seventh and Superior Streets.
Nee had told players to stay out of the bars, but this shindig was secret. Invitation only. Blazers and ties — a sarcastic nod to their head coach. Full bar and keg. One of the moms even made food. Everybody was going home the next morning for Christmas break. No worries.
Let Pike take it from here:
"About 11 o'clock at night, all of a sudden the door gets kicked open and here comes Danny Nee with a case of beer on one shoulder and his entire coaching staff and all their wives all dressed up. I'm like, 'Oh s---.' He goes, 'Why the f--- didn't you tell me you were having a party?' I said, 'You told us we weren't supposed to party!' He goes, 'It's Christmas, man. You guys are off for a couple days.'
"I'm not kidding, Danny Nee and his wife and everybody stayed at our house for a couple hours and Danny Nee was doing shots with everybody and saying, 'We're winning the f---ing Big Eight!' People were like, 'Let me take a picture with Coach!' It would've been worse in today's day and age with all the camera phones. I had fraternity brothers grabbing Janet and taking her out and dancing with her in my living room. It was hysterical.
"All of a sudden, there's a knock on the door at like 1 or 2 in the morning and somebody says, 'Eric, the cops are here.' I'm like, 'Oh Jesus.' I'm three sheets to the wind. I go down and open the door and Danny says, 'C'mon, I'll go down there with ya.' So I open the door and it's me and Danny standing there and the cop just starts to smile and shake his head. And he goes, 'Oh my god. This is awesome.'"
The cops issued a half-hearted warning to keep the noise down and the party continued. Not before Nee extended an invitation to Lincoln's finest. 
"You guys want to come in?"
* * *
On New Year's night 1994, Husker basketball players were glued to their TVs just like everyone else, celebrating Byron Bennett's go-ahead field goal against Florida State, then mourning Scott Bentley's game-winner moments later.
They packed up for Ames the next day and beat Fred Hoiberg's team on Big Monday to start Big Eight play. Things were looking good after a 106-67 win over Colorado. This chemistry thing was really working.
Then … Nebraska started its annual January skid. Four straight losses, including a Big Monday home loss to Missouri in which NU fell behind by 28 points. Defense was sluggish. And the outside shooting, which Nebraska needed with no big man, was terrible.
Rock bottom may have come on Valentine's Day at Oklahoma, when the Sooners attempted 49 free throws (to Nebraska's 18). The Huskers didn't give up. Johnson buried a game-tying 3 with 1.5 seconds left and Nebraska scored the first seven points in overtime. Then Piatkowski fouled out and the Huskers collapsed.
Five nights later, they got blasted in Stillwater, 98-80. At 4-6 in conference play, Nee faced three ranked teams in the final two weeks. He needed a minor miracle. Dickie V wasn't walking through that door, so he commissioned the next best thing.
An honors student from Harper Hall named Nathan Meisgeier.
At Midnight Madness 1993, Nebraska hosted a Danny Nee lookalike contest. The winner stomped around the floor, grabbing his tie, throwing his sports jacket, lip-synching expletives. Yes, Nathan Meisgeier had done his homework.
On Feb. 23, two and a half hours before tipoff, the Devaney Center doors opened and 1,000 students got a crash course in organized mayhem. Meisgeier, with a cut-out basketball on his head, walked to mid-court with a microphone and led students through his cue cards and crib sheet. The name of Greg Ostertag's girlfriend. When and how to move your hands when KU shoots free throws. The "left, right, left, right, SIT DOWN!" when a Jayhawk fouls out — Husker players like Melvin Brooks even helped demonstrate.
That night, Meisgeier stood behind the scorer's table and conducted the wildest (and most vulgar) crowd of the year. Nebraska blitzed Kansas. At halftime, the Huskers led 58-34 and coasted to a nine-point win.
Afterward, Roy Williams, stung by his fourth straight loss in Lincoln, paid the ultimate tribute to the crowd.
"Maybe we need that kind of thing at Allen Fieldhouse."
The players welcomed Meisgeier and three friends into their post-game celebration, thanking them for the atmosphere.
"Here we are in the Nebraska locker room, four nerds from Harper 8," Meisgeier said. 
They got the assist. But Nee's No. 1 man was the real star that night. Eric Piatkowski had 33 points and 11 rebounds. And he was just warming up.
* * *
The two-car driveway at 1312 Larkspur Drive in Scottsbluff was dead-flat. Perfect for one-on-one battles. Not so perfect for brotherly love.
Piatkowski learned how to play through fouls from his older brother, Dave, and, when things went south, how to fight in the yard.
The family had moved from Denver to Scottsbluff in the late-'70s. Walt Piatkowski, a former ABA standout, worked for a paper company.
Eric grew up without club basketball, so he traveled to camps all summer. Kearney. Hastings. Wyoming. Toledo, Ohio, where his dad was from. The first day of camp, he always inquired about the hardware.
"If I didn't win every single award, I was very, very mad."
He would've been a Nebraska high school legend, but freshman year his dad moved the family to Rapid City, South Dakota. There Pike joined an AAU team — the Rapid City Rattlers. This was 1986-87 and the circuit was still new, but they packed two vans — coach in one, a parent in the other — and drove to Kansas City, Sioux City and a national tournament. Piatkowski got exposed to the best players in the country.
He received an invitation to Princeton University, home of Sonny Vaccaro's famous Nike ABCD camp. He saw Kenny Anderson and J.R. Rider. Grant Hill was on his team. Dick Vitale spoke to campers.
It would've been natural for a 6-foot-6, 160-pound white kid from the Black Hills to harbor an inferiority complex. To be wide-eyed and intimidated. Pike wasn't.
"I would read Street and Smith Magazine when I was growing up and I would memorize all these guys' names that were supposedly the guys. Ninety-nine percent of the time, they were from New York City, Chicago, all these big cities. And I'm like, 'Well, the only reason I'm not on that list is because I live in Scottsbluff, Nebraska.'
"And when I played against them, a vast majority, I'm like, I'm better than that guy."
At a Wendy's in Jonesboro, Arkansas, he met Gary Bargen and Lynn Mitchem — his first contact with Nebraska coaches. By the time he got home to Rapid City, Nebraska's recruiting letter was waiting in his mailbox.
He chose NU because it was relatively close to home and he wanted to play his freshman year. Upon arriving in Lincoln in the fall of '89, Nee pulled Piatkowski aside and persuaded him to redshirt. Piatkowski spent 1989-90 humiliating the veterans in practice, bombing from 3-point range. Confidence was never, ever an issue.
"I can remember coach Nee screaming at him in practice in '92 and Eric turning around and looking at me with his back to Danny Nee and just smiling at me," Chris Cresswell said. "Like he wasn't even listening. That was a point where I knew the guy had a special mental makeup to go with his ability."
As his scoring average increased, Piatkowski found new sources of motivation. Like the fall of '92 when Street and Smith put Kansas guard Rex Walters on its cover.
"It drove me absolutely insane. I'm like, I am so much better than that guy and I'm going to show him the next time we play. I was going at him every single time I touched the ball."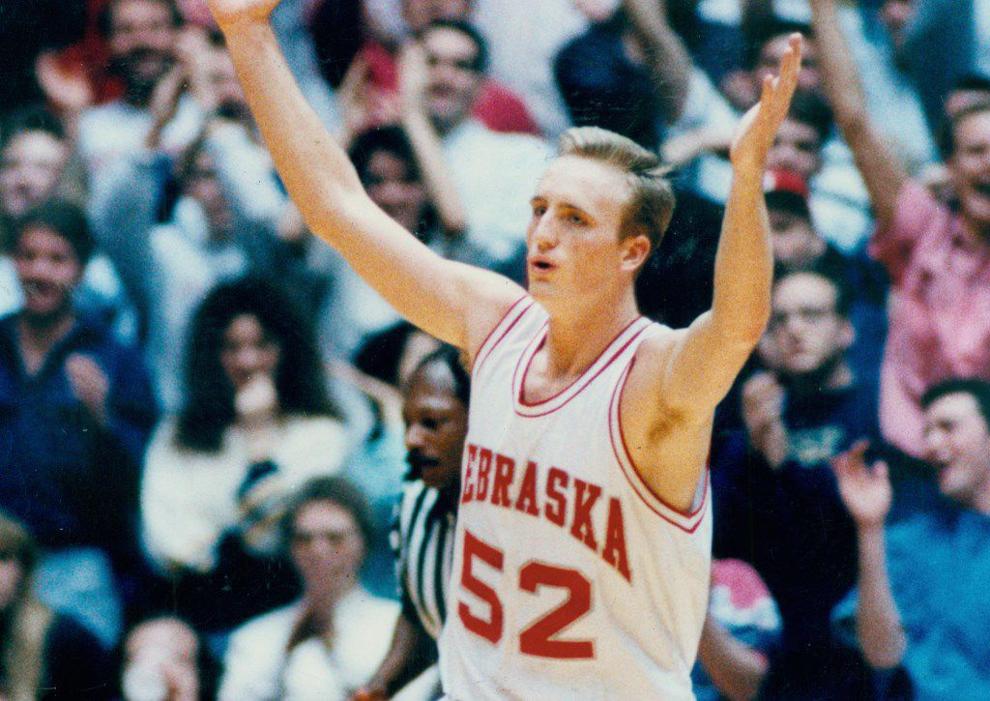 Piatkowski shined as a freshman, struggled as a sophomore, then transformed his game entering his junior year. He got a little help from Don the night watchman.
After dark, Pike drove to the Devaney Center, banged on the door and waited for the security guard to let him in. He cranked music and became an all-Big Eight wing. By '93-94, he wasn't just a spot-up shooter. He attacked the rim. He pulled up for mid-range jumpers. Pike's nickname, given by Coach Nee, took off.
"The Polish Rifle was a little — how do I wanna say it — eccentric," Johnson said. "I think with his dad playing in the NBA, Piatkowski just had an expectation that he was gonna play in the NBA, too. He had a different air about him."
Sometimes on Friday nights, Pike's confidence crossed the line. Johnson remembers being at parties where teammates had to step in and prevent a stranger from taking a swing at the blond bomber.
"But I'll tell you what," Johnson said, "Pike backed it up on the court. He didn't give a damn what nobody said. He could play."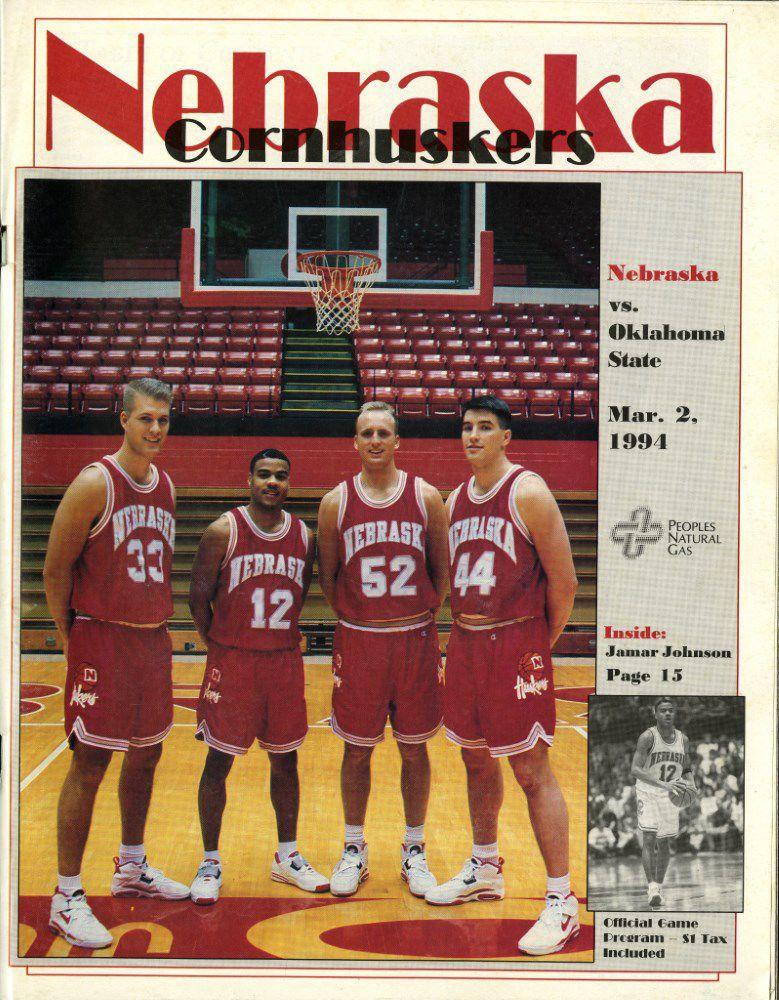 Since Piatkowski and Chubick arrived on campus, Nebraska was 1-8 against the Cowboys, their only win coming at the Devaney Center in '92.
It was a bad matchup. Not only did Eddie Sutton's team defend the perimeter like barbed wire, it had Big Country inside. The defending Big Eight player of the year burned Nebraska in Stillwater, finding open shooters out of double teams — the Cowboys had shot 63 percent.
Now it was Senior Night and Nee switched the game plan. Chubick, giving up five inches and 60 pounds to Big Country, needed to guard him 1-on-1.
On the first possession, another wild crowd went nuts when Chubick converted an And-1 against Reeves. They roared again when Piatkowski buried a deep 3 and pointed to the rafters.
The Polish Rifle outscored Big Country 32-27 and Nebraska won, 89-81. After the final horn, on the same floor where he drained thousands of jumpers in front of 14,000 empty seats and one weary security guard, Piatkowski jumped on the scorer's table and yelled to the sellout crowd.
Good practice for the next celebration.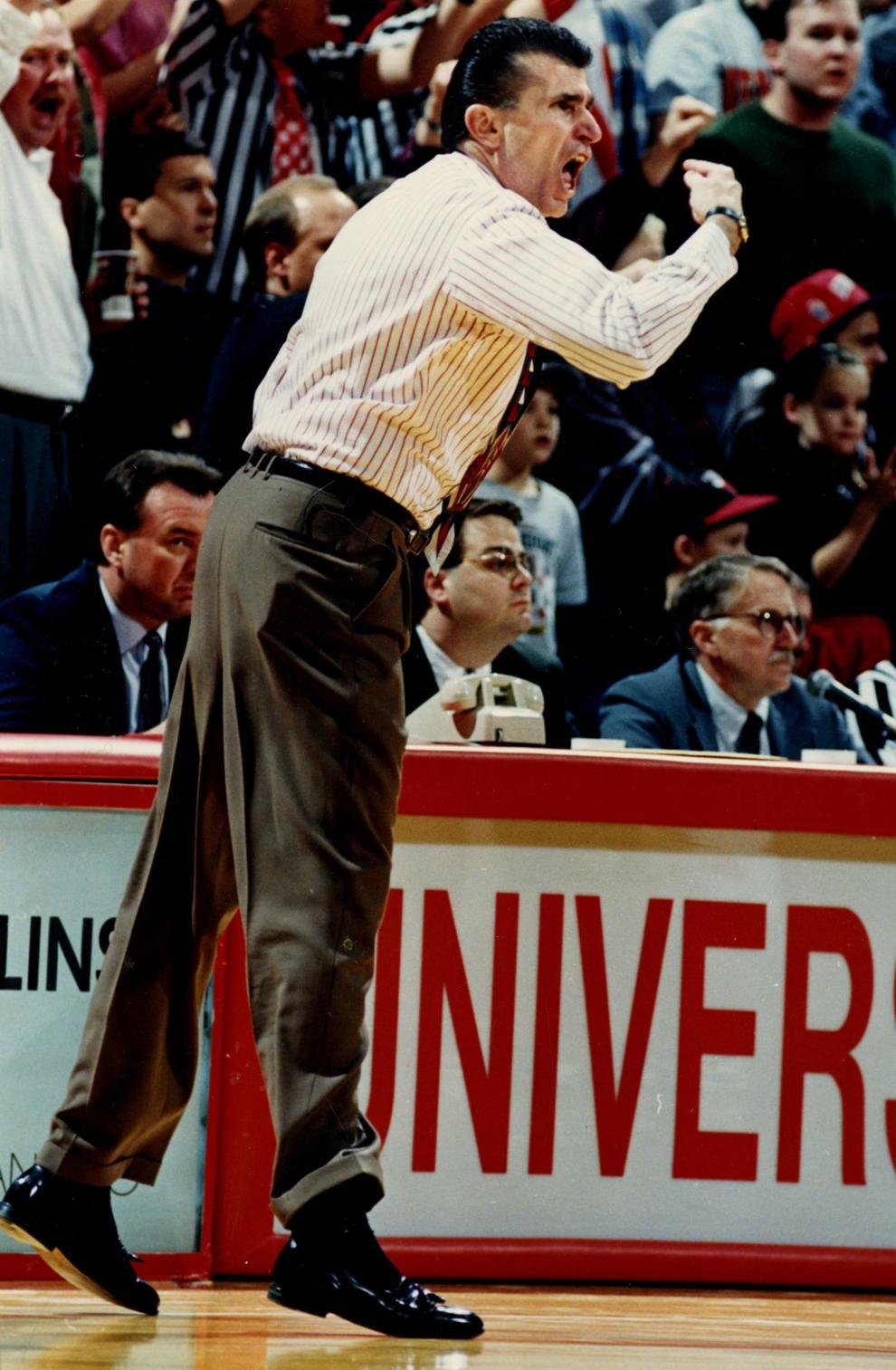 * * *
The Huskers had won three straight and jumped to 7-6 in the Big Eight. Now they had a chance to play spoiler at Mizzou and lock up an NCAA tournament bid.
On the final day of the regular season, Norm's Tigers were on the cusp of the biggest achievement in school history, the first undefeated Big Eight season in 23 years.
The Antlers, dressed in thrift-store ties, brought their A game. So did Nebraska. Nee's teams had produced some elite performances in four years — Creighton in December 1990, Oklahoma State in February '92, any KU game in Lincoln — but their best day might have been at Missouri in '94, which made the final minute so agonizing.
"We got screwed," Tom Best said.
The Huskers led No. 6 Mizzou 78-75 when chaos ensued. Piatkowski inbounded to Boone, who was nudged out of bounds. No call. Turnover.
Two possessions later, Piatkowski hammered Kelly Thames on a fast break. He went for the ball, but officials called an intentional foul.
The most bizarre call came with 16 seconds left. Melvin Booker collided with Strickland in the paint as he made a leaner off the glass. One ref called block; the other called charge. They couldn't agree, so they charged both players with a foul.
Mizzou got the ball back on the possession arrow and Booker scored to take the lead — a mystery foul on Johnson gave Mizzou a three-point play and an 80-78 lead.
Piatkowski, who had 26 points, had one last chance at the buzzer. He launched a 30-footer that spun out.
"There's a picture of it," Stewart said. "Almost all of the ball disappeared in the basket. It was at least halfway down. I just figured, hell, we got beat. About that time, it popped out."
Students stormed the court. Nee stormed up a long ramp toward the locker room, trailed by his son. When dad passed the door and kept walking, 16-year-old Patrick figured he better give him space.
"I probably haven't seen him that upset in my entire life," Patrick said.
Nee eventually returned and tried to bite his tongue in front of reporters.
"You saw the f---ing game!" Nee said. "You write it!"
"I still think about that game to this day," said Chubick, who had 19 points and eight rebounds. "Games like that don't ever leave you. Look, you're on the road, I get it. You're not gonna get a lot of 50-50 calls, but when it's 80-20 your way and it goes the other way? Wow!
On the flight back to Lincoln, the Huskers checked the Big Eight tournament bracket with one question: When do we get to play Missouri again?
* * *
Long before bracketology was a cottage industry, Nee studied standings and schedules, computer rankings and selection committee traditions.
Since NCAA tournament expansion in 1984, no Big Eight team with 17 wins and a .500 league record had ever been snubbed — remember, teams played five fewer games back then. That was the good news. But Oklahoma, another bubble team, had swept Nebraska in '94 and Nee worried a third loss to OU in Kansas City might be the death knell.
Fortunately, Nee's best player had a score to settle. In 1993, Piatkowski put up seven points in a 47-45 first-round loss to K-State and Nee blistered him. No. 52 was a different player now.
"I really thought he was a pro, but all the scouts were (in Kansas City)," Nee said. "That solidified it. ... He was so freaking good. They didn't understand what a well-conditioned athlete he was. Man, the guy could run all day. The bigger the moment, the bigger the game, the bigger the shot, the more Eric wanted it. He never, never shied away."
Back in Lincoln, state legislators joined the masses at downtown Lincoln bars. Husker hoops had gotten so big that lawmakers called a recess on Day One of the Big Eight tournament. On March 11, 1994, they saw a helluva show.
Against Oklahoma, Piatkowski needed just three minutes to match his seven points from the year before. He had 21 at halftime.
"Pike was like Steph Curry," Badgett said. "He was hitting stuff from deep! It was unreal. Just unconscious."
Piatkowski's days of studying his peers in Street & Smith magazine were over. But he still looked for motivation in record books. Before the game, he thumbed through the Big Eight tournament book and stopped on Stacey King's single-game scoring record. He didn't forget.
With 54 seconds left, Nebraska led Oklahoma by two touchdowns when Nee yelled at Nick Joos during a timeout. "What's the record?"
The sports information director wasn't sure.
He had 37. So Nee drew up a play for one more bucket. Pike got the layup with 30 seconds left. The Huskers had knocked out Oklahoma and Piatkowski had matched the Sooner legend. Wait, he wasn't done.
On the final possession, Nebraska could've run out the clock. Instead, Boone threw the ball ahead to the hot hand.
Why not, Pike thought. He let it fly.
Boom. 42, a school record.
Back home in Lincoln, the fan base was buzzing after the 105-88 win. Next up: Missouri.
The Huskers had 20 hours to prepare for the No. 1 seed. Nee was itching for a fight and Stewart didn't make him wait.
Dan Devine, legendary football coach at Missouri (and then Notre Dame), had returned to Mizzou as interim athletic director.
"Dan Devine's a pretty big name. I tried to use him," Stewart said. "Before the ballgame, I told Dan, if you will, sit on our bench and kind of let the officials know you're there.
"So before the game, Danny comes down to me and he says, 'What the hell is going on? What the hell is that?' He points and I look out on the floor and here is Dan Devine with his arm around the official. I said, "Danny, hell, he's my A.D. There's nothing I can do about that."
Nee was hot and he didn't cool off. Nebraska led 40-32 at halftime, but hadn't attempted a free throw. At halftime, Nee complained to official Rick Wulkow and Stewart wasn't having it.
"Danny and Norm are yelling at each other," Joos said. "I mean, they are yelling. Actually, I think they were yelling at Wulkow. Danny started it. And then Norm came up. Rick Wulkow's just standing there with his arms folded and these two guys are just going at it."
The second half was a track meet with 117 combined points. At one point, the pace was so frenetic that color analyst Jimmy Dykes started laughing. The players weren't. A chest-to-chest confrontation between Best and Kelly Thames with 12:46 left produced a technical foul on Best and a 55-54 Mizzou lead. The Huskers could've folded right there.
They responded with a run, sparked by Boone and Strickland. Chubick had 17 and 16. It was no fluke. One week after the robbery in Columbia, Nebraska had dealt Mizzou its first Big Eight loss in more than a year.
At the horn, Nee and Stewart met at mid-court again for a customary handshake.
"Norm walked by and kinda blew me off," Nee said. "I call it touching flesh. I always extended my hand; I always shook hands.
"So I caught him at the press conference. The winning coach goes second in the press conference. So Norm's coming down the stairway and I caught him there. I latched onto his goddamn hand and I wouldn't let it go. I just wanted him to know, you're f---ing with the wrong guy. I'm not afraid of you. He wouldn't look at me.
"I said, 'Oh, you'll f---ing shake hands when you kick my ass, but you won't shake hands when I beat you. That's great, Norm. That's f---ing great.'"
Nee was too thrilled to be angry. The Huskers were 40 minutes from their first solo conference title (regular season or tournament) in several years.
Seventy-eight to be exact.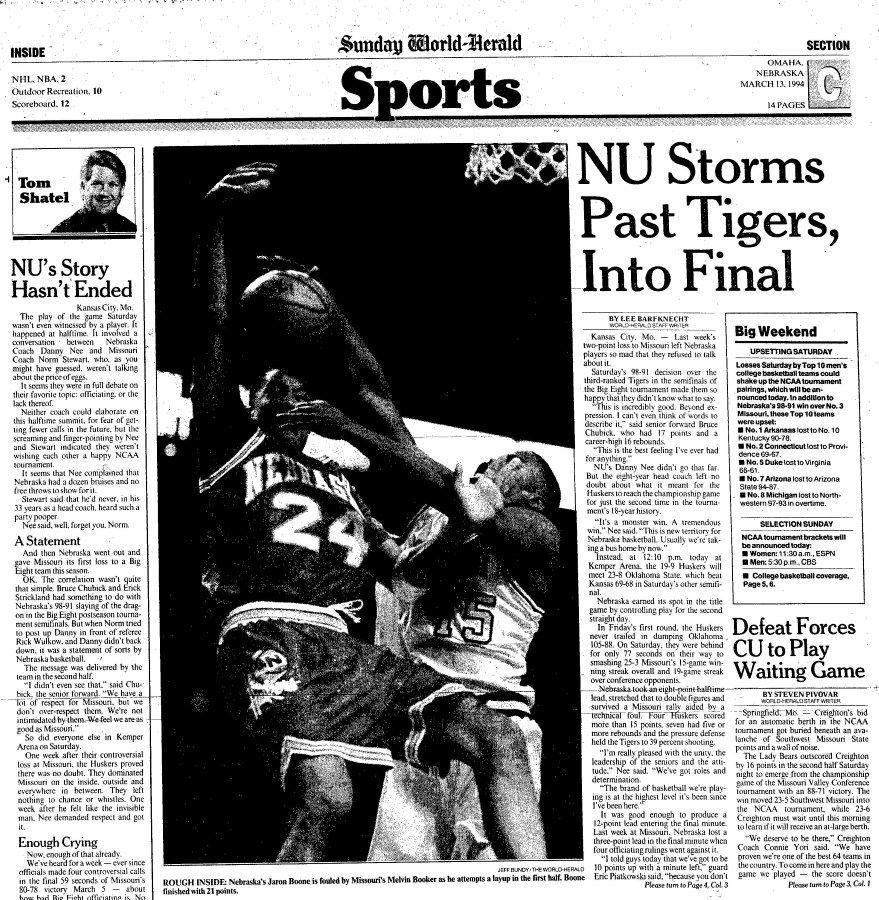 * * *
Strickland and Chubick were sitting around the hotel that Saturday night when the sophomore guard got an idea.
Are you crazy? Chubick said.
No no, Strickland said. I don't want to party. Let's just go hang out. Get our minds off tomorrow. So off they went to Harpo's in Westport. They got heckled by Mizzou fans and ran into King's old roommate, who wondered what they were doing there.
Relax, Chubick said. We aren't drinking.
The guy wouldn't give it up. He was really worried.
Wait a second, Chubick said. You bet on us, didn't you?
Sure enough, the guy had received 8-to-1 odds on the Huskers at the start of the tournament.
How much did you put down?
"Well dude," Chubick said, "we're gonna get you paid."
That night, "Go Big Red" chants echoed through downtown Kansas City. For years, Nebraska was a punchline at the Big Eight tournament — always home for the weekend. Now they were watching their team at peak performance.
As Nee put it, the sophomores were playing like seniors; his seniors were playing like pros. Chubick was grabbing every rebound. Strickland was burying 3s and defending with fury. Boone was rotating from point guard to the wing, directing traffic and making jumpers. Johnson was leading huddles. They pushed tempo at every opportunity, refusing to show fatigue.
What fueled them? Adrenaline or determination? Anger or joy? There was no time to analyze. They had Oklahoma State Sunday at noon.
This one wasn't as pretty. Against Sutton, they never were.
"By the time you get to that point, that last day is almost a battle of attrition," Chubick said. "It kind of becomes a battle of wills. I felt like if it came down to a battle of wills, we were going to win."
Piatkowski's legs were weary — he made just 4 of 16 shots — but the Huskers held Oklahoma State to 35 percent from the field. It was 56-56 with six minutes left, then Boone got two straight steals and Nebraska went on a 15-5 run.
When it was over, the Huskers dogpiled on the court. Patrick Nee hugged his dad at mid-court. Strickland and Boone leaped onto the press tables to salute the crowd. The two most veteran seniors, who listened to the 1990 Wyoming debacle on the radio from their Harper Hall room, embraced.
"Now we have something that we can put our name on," Chubick told Piatkowski, the tournament MVP. "Something that lasts."
The old Big Eight would never be quite the same after that. 1994 was the swan song for Billy Tubbs and Johnny Orr — it felt like losing Norm and Cliff from "Cheers." They were replaced by Kelvin Sampson and Tim Floyd, who reversed Tubbs' and Orr's run-and-gun styles with methodical half-court games.
Two years later, the Texas schools arrived. A brilliant, cohesive three-day family reunion transformed into a four-day slog among neighbors with little in common. But on the second weekend of March 1994, all was right in the Big Eight.
The Huskers had completed Nee's eight-year mission. In the hottest streak of basketball in Nebraska history, he conquered the program he imitated, Oklahoma. He vanquished the program he idolized, Kansas. He solved the program that vexed him, Oklahoma State. He silenced the program he loathed, Missouri.
"This feels like heaven," Nee said.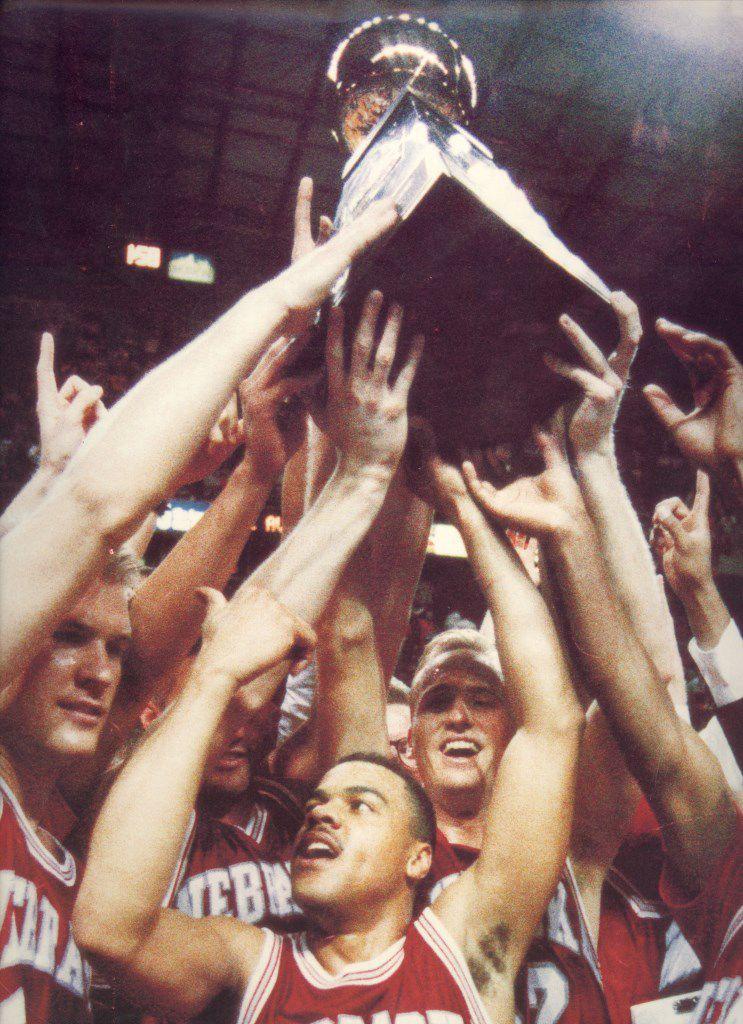 * * *
Johnson came from basketball heaven. Remember?
Gymnasiums across northern Indiana were packed every Friday night. At his high school state championship game, 40,000 fans attended.
His college dream wasn't to find a basketball home at Nebraska. He wanted to bring his basketball home to Nebraska. And now he had.
"There's some players that go to a program that don't do anything," Johnson said. "I didn't want to be that player. ... I wanted to bring something that the university had never experienced."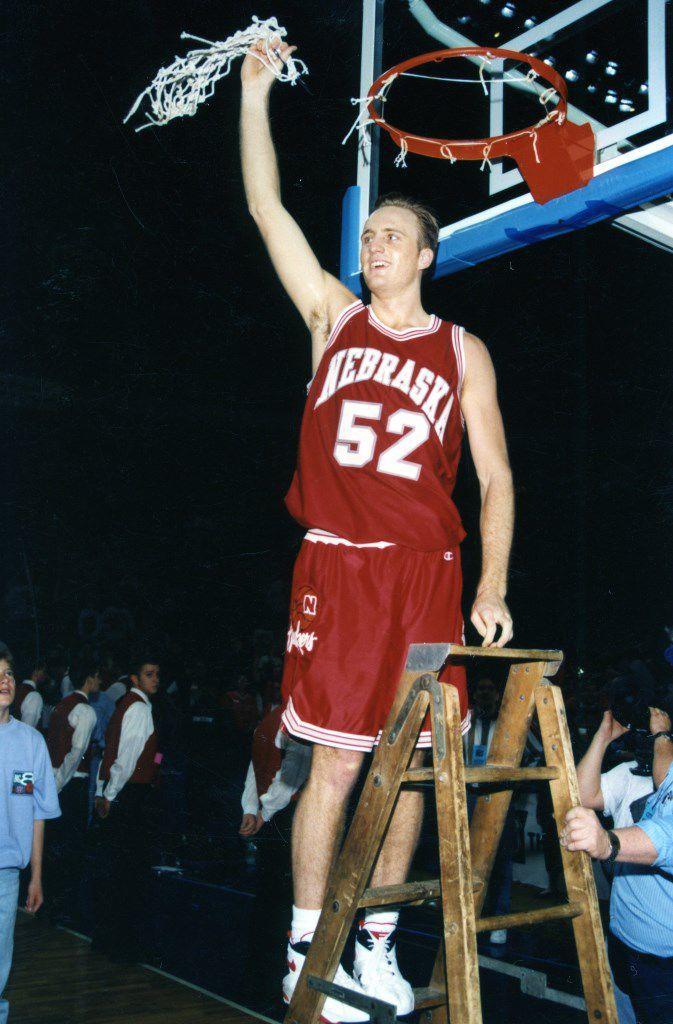 He boarded the bus outside Kemper Arena and rode up I-29 with the trophy in the seat next to him. Up front, somebody grabbed a cellular phone — big as a brick — and shared the team travel plan. Word spread quickly on the radio.
At 6 p.m., at the corner of Highways 2 and 75 in Nebraska City, almost 100 people lined the road, holding homemade signs, including a huge one that caught Nee's eye: "Simply the best."
The bus pulled into McDonald's, where a little boy alerted Nee to the newly released NCAA tournament bracket. The Huskers were a No. 6 seed in Uniondale, N.Y., matched against Penn. Nee thought that sounded great.
An hour later, the sun was setting in front of the Huskers as they entered Lincoln on Highway 2. They saw more cars and more signs. Just outside town, a police escort waited for the bus — "It was the first time I saw police cars with their lights on that I didn't get nervous," Nee said.
He didn't know it, but 5,000 fans had gathered at the Devaney Center. Inside, PA announcer Steve Johnsen warmed up the crowd: "Norm who?"
Fans took the cue: "Sit down Norm! Sit down Norm!"
The bus pulled into the parking lot at 7:15. Johnson led the Huskers into the arena, trophy in his arms, soaking up the cheers.
"It just reminded me sooooo much of Indiana."
Teammates followed him, arms raised. The Devaney Center floor had hosted a gymnastics meet earlier in the day and the hardwood was covered with mats. But next to the bleachers, there was a judges' stage, big enough to hold the team, small enough that Strickland slipped and fell off.
The crash was coming soon enough. The '94 Huskers wouldn't win another game together and Nebraska basketball would never feel like this again. During the next two decades, Danny Nee and the program he built would descend deeper and darker than anyone feared.
But for one day — the first time in anyone's memory — Nebraska basketball had reached the mountaintop. What a view.
The microphone moved from one hand to the next. The Devaney Center roared again and again. Finally, fans heard the raspy voice of a native son who chased his father's footsteps to the continental divide and back; a 23-year-old senior who'd arrived at NU as a 6-foot-7, 195-pound power forward, hit the weights, buzzed his hair and learned to defend 7-footers; a football player in gym shorts who shed his love for the Hawkeyes and came to embody Neebrasketball's grit.
Nobody, Bruce Chubick said, believed this was possible.
Danny's Miracle is an eight-day series about Nebraska basketball in the 1990s. Each day offers a main story covering essential characters, themes and events, but the narrative can't possibly encompass everything. These are the bite-sized nuggets and insights that shed greater light on Danny Nee's program.
Part Seven: The Walkout
Danny Nee teetered on the brink of chaos most of his life. In 1996, he lost control, his players boycotted and his program was never the same. Click here to read Part Seven of Danny's Miracle.