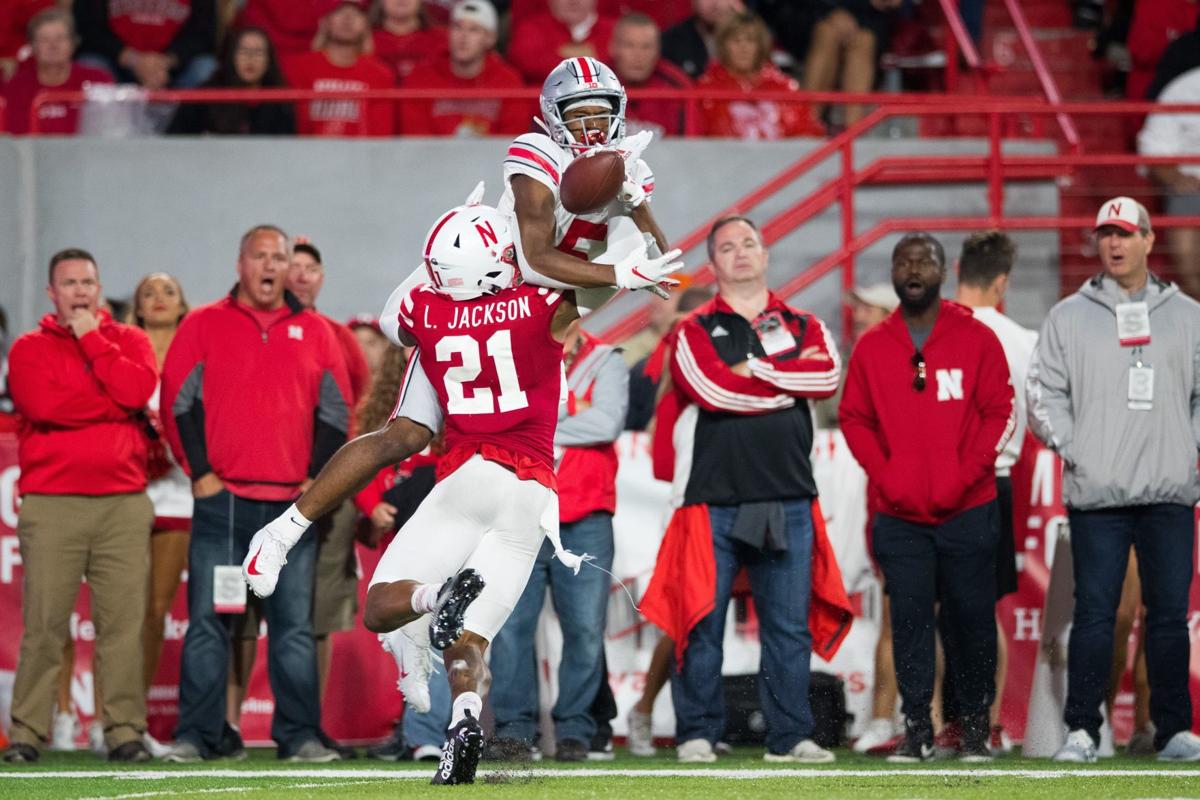 LINCOLN — Inside linebacker Mohamed Barry doesn't usually concern himself much with wide receivers.
This week, he's at full attention.
"No. 6 is an all-around possession type," the Nebraska senior said. "No. 13 is their burner, vertical threat. Very fast. He gets the ball, it's the yards after the catch that matters to him."
No. 7 likes to slide when he catches. Barry's noticed that.
He's talking about Rashod Bateman (No. 13), Tyler Johnson (No. 6) and Chris Autman-Bell (No. 7), the Minnesota trio that's given defenses fits en route to a 5-0 Gopher start.
Nebraska will have its hands full with Minnesota's big, bad receivers. Bateman is 6-foot-2, 210 pounds with 23 catches for 537 yards this year, 23.4 yards per catch. Johnson stands at 6-2 and 205 pounds and has 28 receptions for 350 yards and five touchdowns. He's coming off a 1,169-yard season with 12 touchdowns and is an NFL prospect for next year's draft. And add in Autman-Bell, a 6-1, 215-pound redshirt sophomore who can burn teams over the top, with a 20-yard-per-catch average.
"That's a really strong receiving group," corner Dicaprio Bootle said. "You've got to be really serious and really dialed in this week because if you're not on point, they'll make you pay for it."
So far this year, Nebraska has not completed a pass to a receiver as tall or as thick as any of those three.
The defense hasn't lined up across from anyone that big, either.
"A good group. Make a lot of great plays," defensive backs coach Travis Fisher said. "Can't say more about really two top receivers — Bateman and Johnson — they are some phenomenal football players, can go up and get the football well, catch well with the hands, run after the catch."
Bateman has more than 100 yards receiving in three games this year, including six catches for 177 yards and two touchdowns at Purdue on Sept. 28. He has a catch of 40 or more yards in three of five games.
Tanner Morgan is the Gopher quarterback in place of the injured Zack Annexstad. He's completed 70% of his passes this year for 1,250 yards and 13 touchdowns. About 79% of his completions have found their way to one of those three receivers. Twelve of his 13 touchdowns are to the trio, too.
Part of the Gophers' success comes from the run-pass option. Morgan is given the liberty to read the defense and either hand off to Rodney Smith — 536 yards in five games, 5.4 yards per carry — or hit an open, towering target.
That's led to some bombs. A 73-yarder to Johnson. A 70-yarder to Autman-Bell. A 59-yarder to Bateman.
"They're going to smash you and run some RPOs, they're going to take shots," coach Scott Frost said. "They've been putting up a lot of points."
The Gophers are scoring 35.8 per game, fifth in the Big Ten.
"I mean, it's really, that's not necessarily the receivers, it's really the scheme," corner Lamar Jackson said. "It's defending an RPO team. It's always going to present some challenges."
Notably, trying to keep one eye in the backfield while also covering for a bit longer than usual.
"He's reading somebody each play, he's always riding that thing for as long as he can," Jackson said, "so just gotta stay locked in and just cover your man, cover your man."
Nebraska's defensive stats are a bit deceiving. They're 60th in the country in pass defense, giving up 218 yards per game. But part of that is the amount of plays the Huskers have defended. The 203 passing attempts they have faced are 19th-most in the country, and their 38 passes defended are second-most in the country. The Blackshirts have seven picks, tied for 10th in the country.
Jackson is second in the country in passes defended and third in passes broken up. At 6-foot-3 and 215 pounds, he should stack up well against any of the three receivers.
Bootle — at 5-foot-10 — gives up a few inches.
He's not worried about it. Neither is Fisher.
Not about a few inches of height, a few inches of snow, some wind or big stats from receivers.
"I think we match up pretty good against bigger guys, and I think we match up against smaller guys. It doesn't really matter," Fisher said. "When we get an opportunity to make those plays for the team, we gotta make them."
Photos: Recruits attend Huskers' game against Northwestern