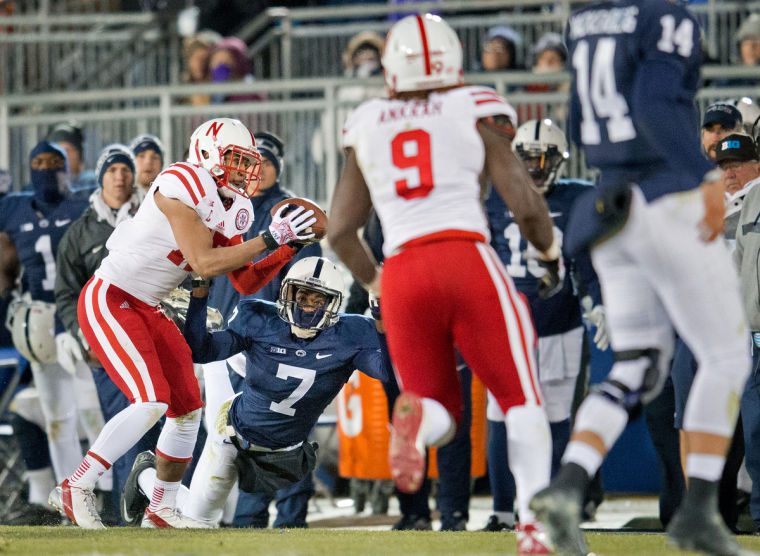 World-Herald staff writers Sam McKewon and Rich Kaipust recap Nebraska's 23-20 overtime win against Penn State with highlights from each quarter.
Ameer Abdullah: The Husker running back busts off a 24-yard run on Nebraska's second drive. Curiously, he heads to the sideline after the run. Nebraska gains nine yards in three plays with Imani Cross and has to punt.
Zach Zwinak: Penn State's top runner blasts for 7, 11 and 10 yards to start the Nittany Lions' second drive. It stalls when PSU gains just three yards on two passes and has to punt.
Jesse Della Valle: PSU's punt returner takes a Sam Foltz punt 25 yards to the NU 40.
Zwinak: Gains 25 yards on his next four carries, running the same stretch play over and over. Zwinak coaxes the Husker linebackers to overpursue before he cuts back into open space. NU is struggling to stop the play.
Christian Hackenberg: The freshman Penn State quarterback hits Allen Robinson for an 11-yard gain to set up a first-and-goal at the NU 4. Two plays later, he executes a perfect play-action fake and finds freshman tight end Adam Breneman for a 2-yard touchdown. PSU kicker Sam Ficken misses the extra point, and the Nittany Lions lead 6-0 at the end of the first quarter.
Ron Kellogg: Replaces an ineffective Tommy Armstrong at quarterback and immediately goes to work, hitting tight end Jake Long on a nice corner route for 15 yards.
Jordan Westerkamp: The NU wide receiver grabs a 15-yarder from Kellogg.
Kellogg: Hits wide receiver Quincy Enunwa for a 27-yard touchdown on a slant pattern. Kellogg quickly and correctly diagnoses Penn State has bungled its coverage and throws to Enunwa before the Nittany Lions can react. The Huskers lead 7-6.
Hackenberg: Executes another beautiful fake and hits Brandon Felder for 19 yards. The drive ends three plays after that. On Penn State's subsequent drive, he overthrows Robinson on what would have been a certain touchdown.
Alex Butterworth: Penn State's punter drops a snap. His subsequent punt is partially blocked by Husker receiver Brandon Reilly and recovered by fullback Andy Janovich at the Penn State 48.
Kellogg: Hits Westerkamp for 14 yards on third-and-9 to keep NU's drive alive.
Abdullah: His lone flaw — fumbling — returns at a most painful time. On third-and-1 from the PSU 3, Abdullah takes a direct snap and gets the first down, but in stretching for the end zone, the ball pops loose. Penn State falls on it in the end zone. Upon review, the play is upheld for lack of video evidence.
Tim Beck: After Abdullah's fumble, the Huskers force a quick punt. On second-and-2 near midfield, Nebraska's offensive coordinator calls two bubble screens to Sam Burtch. Cumulatively, they lose two yards, and the Huskers punt. Nebraska leads 7-6 at halftime.
Kellogg: Swamped on a third-and-long, he doesn't get rid of the ball against a blitz and fumbles. Penn State recovers at the NU 8.
Hackenberg: He's been aces on the play-action fake all day, and he executes another for a 7-yard bootleg touchdown to give the Nittany Lions a 13-7 lead.
Kenny Bell: Answers with his biggest play of the year, a 99-yard kick return for a touchdown. Bell caught the ball at one corner of the field and took off for the opposite corner, outrunning Penn State's defense to the goal line. Nebraska leads 14-13.
Bell: After Nebraska forces a Penn State punt, the Huskers move to midfield. Bell is open on a third-down pass at the Lion 35, but he slips coming out of his break and the ball hits his helmet. NU punts and pins PSU at its own 1.
Hackenberg: Gets PSU right out of jail with a 43-yard pass to Robinson, who narrowly beats cornerback Stanley Jean-Baptiste.
Ciante Evans: Two plays after the long Robinson catch, NU's top defensive back makes Hackenberg pay for a costly forced throw. Evans tips Hackenberg's pass and picks it off just before going out of bounds.
Kellogg: Hits Westerkamp for seven yards on third-and-5, then scrambles for 12 yards to reach the Penn State 28. But the drive stalls when a wheel route pass to Westerkamp is just a little high.
Pat Smith: Nails a 39-yard field goal with the wind to give Nebraska a 17-13 lead at the end of the third quarter.
Jesse James: Hackenberg connects with the Penn State tight end on third-and-3, and James turns it into a 46-yard touchdown to start the fourth quarter. The Lions go back on top 20-17.
Abdullah: The Husker I-back breaks off what appears to be a 62-yard TD run, but Burtch is called for a personal foul for his block late in the run. Nebraska has first down at the PSU 27.
Smith: After the Huskers get stopped just short of the goal line, Smith kicks a 19-yard field goal to tie the game at 20 with 4:29 remaining.
David Santos: Nebraska forces Hackenberg from the pocket on third-and-4 and the linebacker runs him out of bounds at the Husker 38, forcing a PSU punt.
Jordan Lucas: Penn State's chances of forcing Nebraska to punt from its 1-yard line are ruined with 1:16 left when Lucas is called for pass interference while covering Enunwa.
Jean-Baptiste: The Nebraska cornerback gets his hand on a pass for Allen Robinson to foil a third-down throw by Hackenberg.
Ficken: Penn State comes up scoreless on the first possession of overtime as Ficken misses a 37-yard field goal.
Smith: Nebraska gains 5 yards and then gives it back with a false-start penalty, but Smith takes care of it all by kicking a game-winning 42-yard field goal.