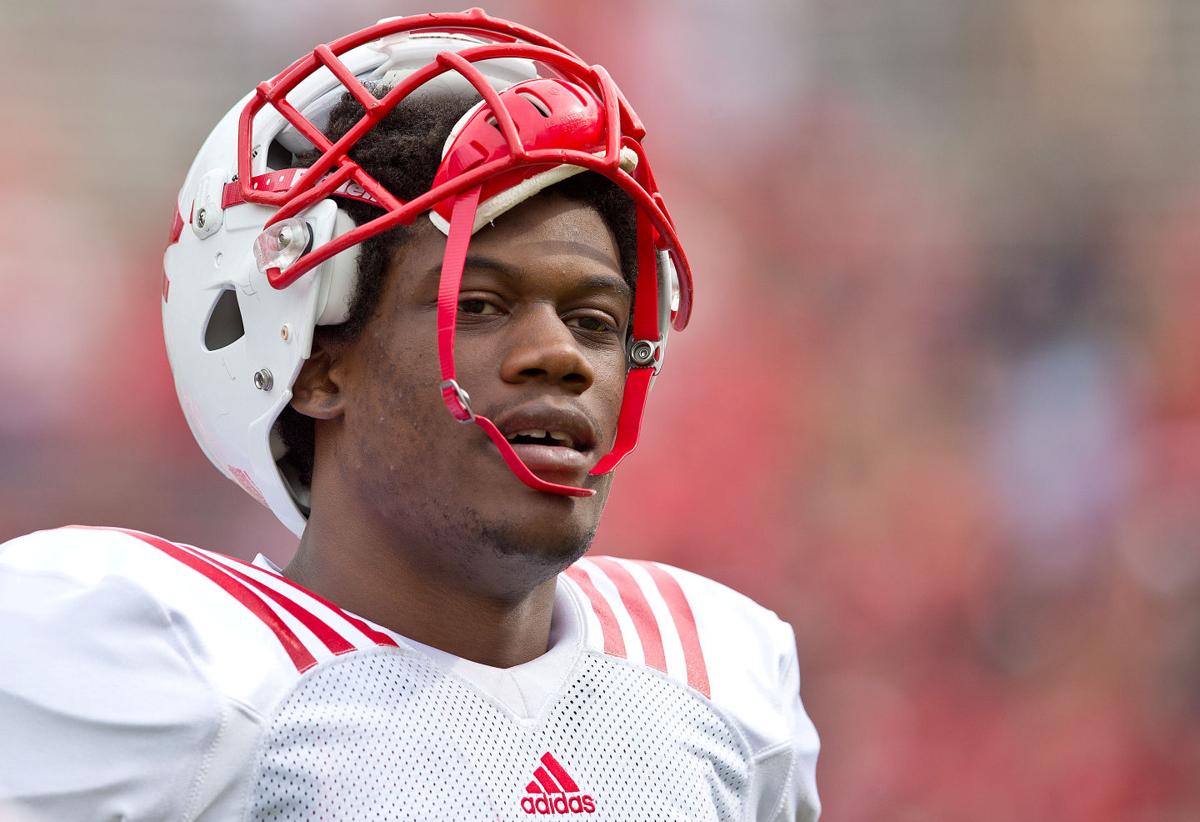 LINCOLN — There was a time several weeks ago when teams picking after No. 10 in the first round of the draft maybe didn't need to invest much into their evaluations of Randy Gregory.
The former Nebraska defensive end likely wasn't going to still be there.
"Everybody's doing their homework, in case he gets to them," NFL Network analyst Mike Mayock told The World-Herald during a recent teleconference.
Some might be scared away by the risk factor when the three-day, seven-round draft starts Thursday night. Gregory may even slip to the second round.
Mayock said that wouldn't happen, though, without most at least giving him a good look-over.
"Trust me, I've had a bunch of teams in the bottom half of the first round going, 'Uh-oh, we gotta be all over this guy from our owner,' because you might have to bring him into this conversation — from owner down to coaching staff, etc.," Mayock said. "And what I think it really becomes, it's an organizational call.
"You've got top-10 talent, and if you're going to pull the string with him at 16 or 32 or 48 — I don't care where — because of the well-known off-the-field issues you've got to get ownership to buy in and you've got to have a coaching staff that understands what they're going to have to do to provide an infrastructure to help this kid succeed."
New Orleans is still considered among the teams most interested, because of its need for a pass-rusher, and the Saints have picks at No. 13 and No. 31. There are 17 other teams with selections in between that have hurried to re-evaluate the 6-foot-5, 243-pounder.
Phil Savage, a former NFL general manager, said teams will have decided by Thursday night where they are comfortable taking Gregory — and perhaps even put it down in writing, so they're more apt to stay with their strategy.
"Every organization from outside the top 10 all the way through the first round — particularly the teams running the 3-4 — really have to debate: 'What happens if he's there? What are we going to do with this hot potato if he lands in our lap?' " said Savage, now executive director of the Senior Bowl.
A month ago, Savage said, many teams didn't have much interest because they didn't figure to have a shot at Gregory. So they "sidled up to other players at that part of the draft" in their research.
That has led to teams looking to spend more time with Gregory than maybe the 15 or 30 minutes some might have gotten at the NFL Combine.
"He's gone on so many visits, and they want to be ready if he does fall to them," said Dane Brugler, draft analyst for CBSSports.com and NFLDraftScout.com. "Teams are doing their due diligence. The Texans, let's say, at 16 … if he falls to them, they're not going to be saying, 'We haven't done our work on him.'"
ESPN draft analyst Mel Kiper said recently that Gregory "looked like a top-five pick" coming off his NU sophomore season in 2013. Gregory declared for the draft after a junior year that was hindered by injuries but still included seven sacks and 16 quarterback hurries.
Though Gregory told NFL.com that there also were two failed tests for marijuana last year at Nebraska, Mayock said he wouldn't necessarily erase Gregory from his draft board.
"I'd be interested enough, if I was a coach and a GM, I'd really want to have that conversation: 'OK, what kind of kid is he really?'" Mayock said. "And, by the way, all my feedback is he's a pretty smart kid."
Mayock also said by learning all you can in predraft research, and outlining a plan, teams can lower the risk percentages "so it's not a 50-50, it's more 80-20."
"Because if we get him later in the first round or the second round, we've got an All-Pro talent that — if we provide him with everything he needs — maybe we get it out of him," Mayock said. "And we mitigate the boom-bust conversation."
Either way, Mayock said he has no clue where and when Gregory goes. The same goes for somebody such as Dorial Green-Beckham, the former Missouri receiver with first-round potential but off-field issues.
"These are the kind of deals where teams keep it real quiet, and they don't let anybody know," he said.
Of taking Green-Beckham for example, Mayock said: "If you think he's Randy Moss some day, how do you feel about passing on him if you have a first-round pick?"
Savage isn't sure on Gregory. His hunch is that the native of Fishers, Indiana, could be "in for a long Thursday night."
Savage said Gregory isn't the only draft prospect with a positive marijuana test — and could even try to explain it away in interviews with teams — but also notes that the timing of his most recent one already has put him in Stage 1 of the NFL's substance-abuse program.
"With Gregory, and any player to test (positive) at the Combine, the question is, 'OK, is he just not aware enough that this is going to happen? Or is this a lifestyle problem?'" Savage said. "And Josh Gordon, going to the Browns, is a recent cautionary tale. The question was if they can keep him on the straight and narrow, but he's basically smoked himself out of the league, so to speak."
Aside from the stress it might cause Gregory and his family and representatives, it should make for good theater Thursday night.
"It's fascinating," Brugler said. "It really is."