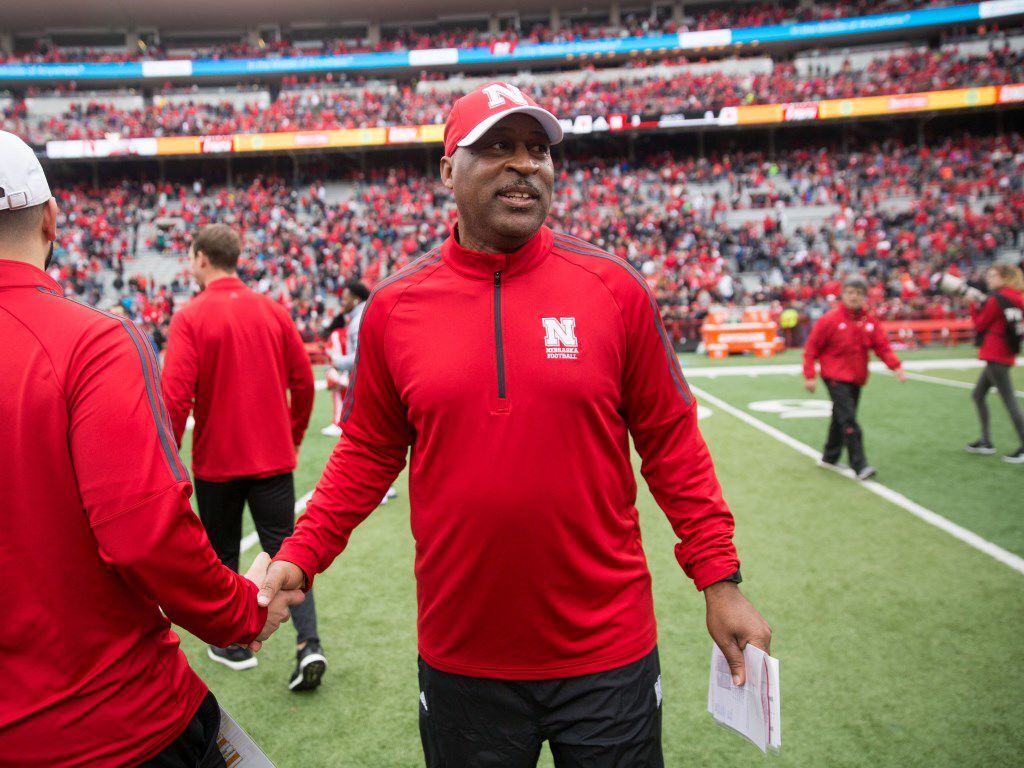 LINCOLN — In early October, Nebraska tight end Jack Stoll and his position coach, Sean Beckton, sounded like men sitting down to a good meal where one of the side dishes got a bigger portion of the plate.
The tight ends are Nebraska's deepest and most experienced position, and new offensive coordinator Matt Lubick is apparently fixing to get that group more targets.
"When Coach Lubick took over offensive coordinator reins, with his experience, one of the strengths of our offensive scheme was utilizing our tight ends," Beckton said.
Monday's commitment from Norris tight end James Carnie — who turned down Iowa and Kansas State to play for the hometown Huskers — underlines Nebraska's commitment to tight end play. NU already had two tight ends in the 2021 class — Council Bluffs Lewis Central's Thomas Fidone and Creighton Prep's AJ Rollins. Knowing that, Nebraska still chose to offer Carnie before the player's self-imposed deadline of Oct. 12 for making a decision.
When that trio arrives they'll join a unit that could be unchanged from this season.
Stoll is a senior, and because of the coronavirus pandemic, he and the rest of the Huskers are getting a free year of eligibility. Arizona State transfer Jared Bubak is also a senior. Austin Allen, Travis Vokolek and Kurt Rafdal are juniors. Chris Hickman, who will flex between receiver and tight end, is a redshirt freshman.
Collectively they could surpass the position's 34 catches last season even though they'll play fewer games. Since joining the Big Ten, Nebraska has surpassed the 40-catch mark only twice with its tight ends — 48 in 2012 when Kyler Reed and Ben Cotton were seniors, and 42 in 2017 when NU threw the ball 38.3 times per game. Husker tight ends had 28 catches in 2018.
Historically, offenses in which Lubick had a significant role — Oregon in 2013-16 and Washington in 2017-18 — the tight end was a frequent pass-catching target. Those six offenses averaged 44.3 tight end catches per season — compared to 29.9 at NU from 2011-19 — with a high of 71 in 2016 at Oregon. At Washington in 2017 and 2018, tight ends had 52 and 50 catches, respectively, despite the team throwing just 26.8 and 28.9 passes per game in those seasons.
Stoll said the tight ends hope to make more explosive plays with some of Lubick's teaching points. NU tight ends need to be at full speed on routes more often, for example, instead of trying to gently find an open spot.
"Turning what could be a throw to the flat for three yards," Stoll said, "into a 15-yard gain because we ended up coming out of our break a little faster."
Tight ends may end up higher in the pecking order, too, with the way Lubick wants his quarterbacks to progress through their options. Often in 2019, quarterback Adrian Martinez searched for deep shots that weren't open while tight ends had room to operate.
Perhaps the clearest sign of Nebraska's future direction, though, is in the 2021 recruiting class. Though Fidone, a top-100 national prospect, can flex out to receiver, he has the body of a tight end at 6-foot-5, 220 pounds. Carnie (6-5, 225) will likely put on some weight once he arrives so he can be more like Stoll or Allen.
And NU is not pulling back on recruiting tight ends for future classes. Beckton has pushed hard on a pair of Bellevue West prospects in Micah Riley and Kaden Helms. Riley (6-5, 228) fits the Fidone/Hickman mold of a flexed-out tight end who can double as a receiver.
Whatever you want to call the jumbo-sized pass catchers, they tend to be available in the Midwest, and they appear to be a larger part of what the Huskers want to do going forward.
The Husker Camp Countdown of Nebraska's most important players
Our Husker Camp Countdown highlights the 50 most important players on the Nebraska football team.