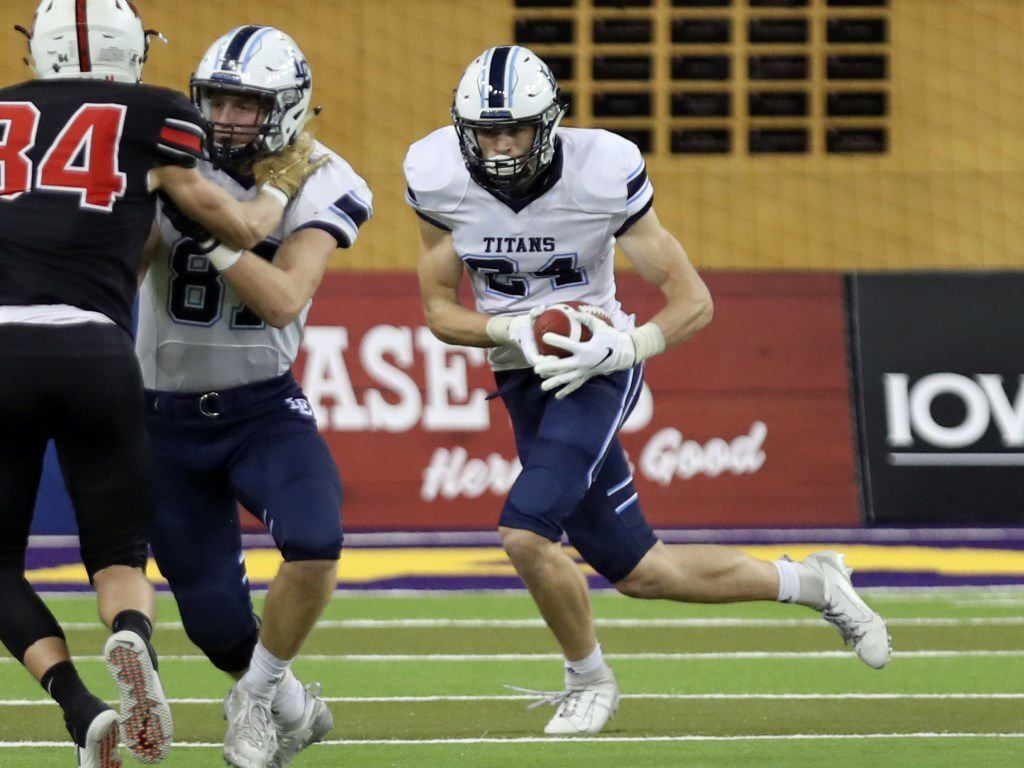 Nebraska received a commitment from Council Bluffs Lewis Central tight end Thomas Fidone. Three takes on the decision of the 6-foot-5, 225-pounder:
1. Two words: Catch radius. Beyond stating the obvious — Fidone is a highly rated prospect; NU beat LSU, Michigan, Iowa and others — you can watch Fidone's tape and immediately be struck by what his speed, wingspan and hand size can do for a college offense.
First, he's fast enough to be flexed out in the slot or even at the edge of the field. He can work against corners and, when he's in the slot, he gets on top of safeties quickly. It's not going to be easy for a linebacker to run with him, and he's bigger than almost every defensive back. At the next level, he'll be the kind of guy defenses have to bracket, which either leaves other guys open or gives Fidone some go-to routes that would be hard to stop.
Fidone adjusts well to the ball when it's in the air, knows when to leave his feet to catch a pass and does good work on wayward passes toward the sideline. As a receiver, he looks the part now.
How much weight will Nebraska want to put on him? Fidone is defined now by his muscles, so good mass is next. He may not need much. Whether he can be an in-line blocker at the Big Ten level will rely on Fidone improving his technique and understanding how coach Scott Frost wants his receivers to block. Fidone loves to work on his craft, so Nebraska is getting one of the best tight end prospects in the nation, and perhaps the country's best receiving tight end.
2. The plan to plunder Iowa of its top prospects is paying off. Because of Fidone's proximity to Omaha, Nebraska always would have pursued him. But the groundwork was laid for Iowa kids to hop across the river and become Huskers by defensive coordinator Erik Chinander, who grew up in Iowa, played at Iowa and coached at Northern Iowa.
Chinander isn't outwardly cocky, but he's long been confident in his ability to leverage longheld relationships on the east side of the Missouri River to Nebraska's advantage. Fidone becomes the fifth prospect from Iowa to commit or sign with Nebraska since Chinander arrived with Frost. That's as many as the Huskers had in the previous 20 years. In the 2021 class, Fidone is the third Iowa prospect, joining Henry Lutovsky and Seth Malcom, and he's the highest-rated prospect of the bunch. One of the guys in that quintet — adding in 2020 recruit Blaise Gunnerson and 2019's Mosai Newsom — is going to pop for an impressive career, and that'll be further proof Nebraska is a good landing spot for Iowa kids, whether they get offers from Iowa and Iowa State.
Remember, too, that two former Hawkeye players — Ezra Miller and Oliver Martin — have walked on with the Huskers.
3. More local tight end commits to come? Nebraska has an offer out to Omaha Creighton Prep's AJ Rollins, who is nearing a decision. And if that one doesn't go NU's way, Norris tight end James Carnie could land an offer, too.
As Frost tweaks his offense over time, it'll be interesting to see how he recruits and uses tight ends. It's one position Nebraska can reliably recruit in the Midwest, since this state and region produce so many.
Even Travis Vokolek, who transferred from Rutgers, is originally from Springfield, Missouri, and his dad previously coached in Nebraska. In the 2022 class, Bellevue West's Micah Riley is a quality tight end prospect with offers from all over the country, and he's not likely to be the last.
In 2021, look for Rollins or Carnie — and maybe both — to be in Nebraska's class before December.
---
Every Super Six since 2006