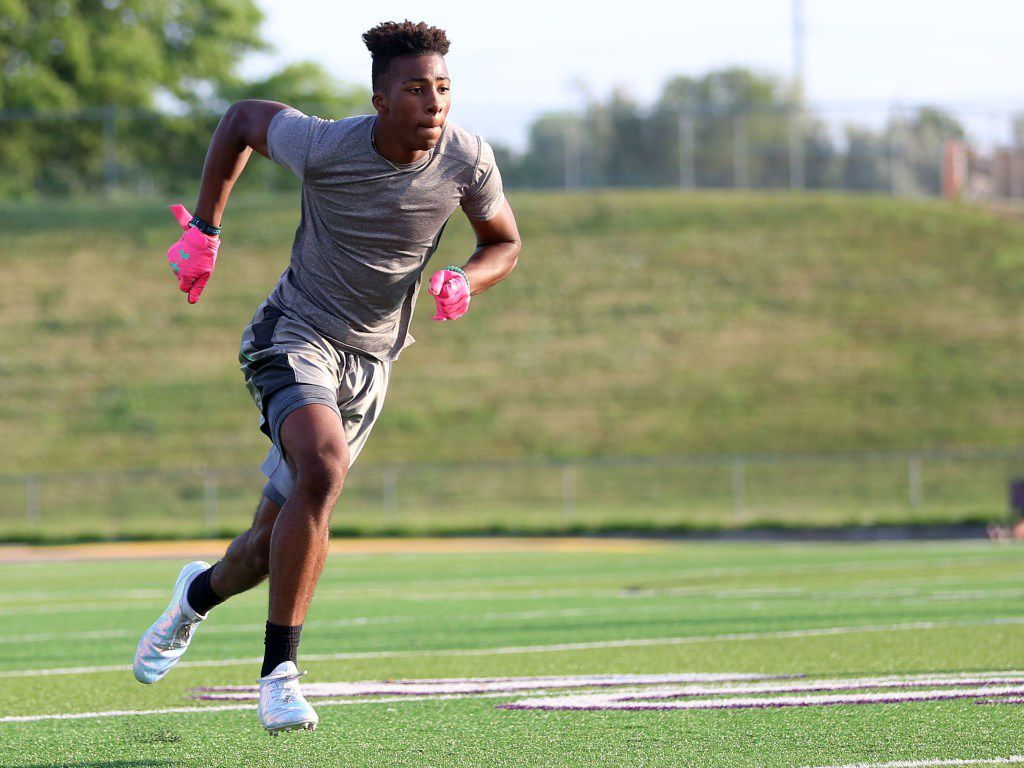 Dae'Vonn Hall was eating lunch Tuesday when his football coach pulled him into a Bellevue West hallway. For a brief moment, the freshman worried he might be in trouble.
Nope. Michael Huffman showed the 15-year-old his phone with the name "Barrett Ruud" on the screen. Nebraska wanted to talk.
The next few minutes are still a blur for the speedy receiver who burst onto the varsity scene with the Thunderbirds this fall. Ruud, an NU assistant who handles in-state recruiting, told Hall that the coaching staff watched his film that morning.
Scott Frost liked his explosiveness. Moments later the 6-foot-2, 173-pound Hall unofficially became the first Class of 2024 prospect to receive a scholarship offer from the Huskers.
"I just stood there," Hall said. "I actually didn't finish lunch."
Hall won't sign a letter of intent for another three years, but his recruiting process is already underway. Iowa was his first offer in September. Since he sent out his freshman film, others like Minnesota, Kansas and Missouri have been in touch.
In six games this fall, Hall made six catches for 104 yards and a touchdown while adding an 84-yard scoring run. The funny thing about both those scores, he said, is they both came via "straight speed." The reception happened as he outsprinted a defender on a deep ball. On a rush to the right side, he followed a few blocks and broke free down the sideline.
Coaches used to tell him to use his speed, but an inside joke developed when he didn't go 100% during every play in practice. "Speed" must be too big a word, coaches told him cheekily, so maybe "fast" would be easier to understand.
"Then every single play before we went in they'd say, 'Run fast. That's all you need to do, is run fast,' " Hall said. "And that's what I did. People say when I play fast, I do really, really well."
Hall said he always felt like he needed to outwork others, even if he already possessed natural athletic abilities. He often reviews his own film after games. He has sought out others who have done what he wants to do, like Clester Johnson — the Nebraska wingback from the mid-1990s whose son is Hall's Bellevue West teammate Keagan Johnson.
Hall also is surrounded by high-level pass catchers every day. Keagan Johnson, a senior, is an Iowa commit. Juniors Kaden Helms (receiver) and Micah Riley (tight end) hold multiple Power Five offers, including from Nebraska.
All are competitive with one another in practice, Hall said. But when they tell him to shorten his route or how to block or how to read a defender, he listens.
"We all want to be No. 1, at the top," Hall said. "Obviously they all have more experience than me, so I take whatever advice I can get from them."
Hall, who also plays basketball, isn't ready to dive into college research just yet — after all, he won't be 16 until April.
But he enthusiastically confirms he grew up a Husker fan in a family full of big ones. He's seen a lot of NU games and remembers all five he's attended. He never celebrated more than when Jordan Westerkamp caught that Hail Mary pass to beat Northwestern in 2013.
Now he's beginning his own football journey. He aims to play hard and do his part to help his team win. He knows ability alone won't get him where he wants to go.
"I work hard to reach those goals," Hall said, "so I can play in places that NFL players and hall of famers have played."
---
Photos: Every Super Six since 2006