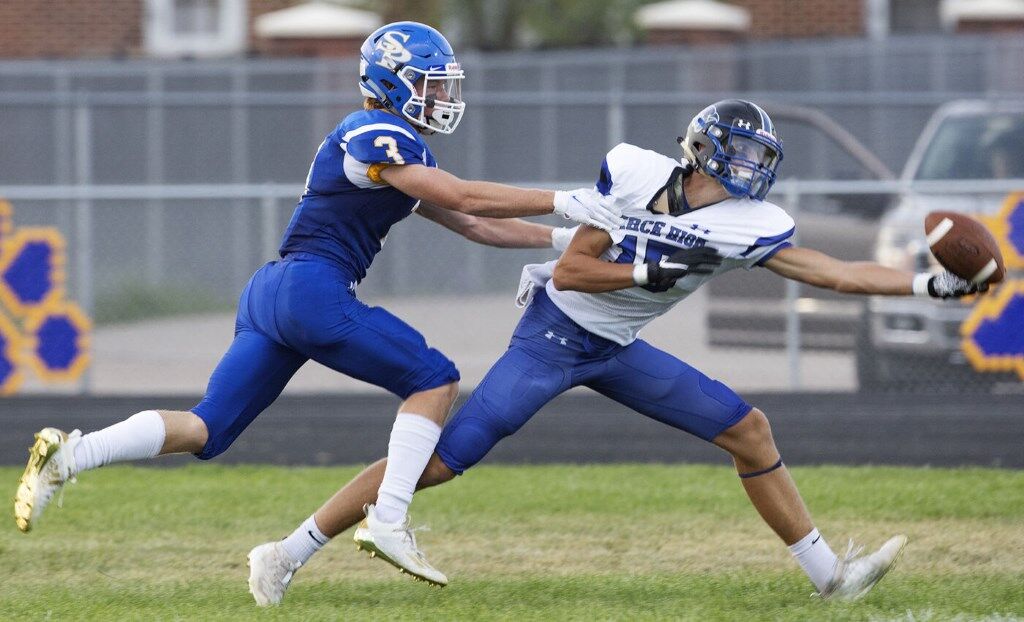 Benjamin Brahmer could have waited, but he wanted to spare everyone the time and drama.
So the state's top-rated pass-catching prospect for the Class of 2023 made his decision known Friday — he's going to be a Husker. He is Nebraska's first 2023 commit, coming one day after the program landed its second 2022 pledge.
"Even if anybody else offered me, I would definitely still go to Nebraska no matter what," Brahmer said. "It was a no-brainer."
The 6-foot-6, 190-pounder also held an offer from Iowa State. The Cyclones were his first in mid-February, and NU followed about a week later. He said other teams have been calling, especially since he began training with former Husker Steve Warren at the Warren Academy in Omaha.
Why commit more than 20 months before he can sign?
Brahmer wanted to avoid the "recruiting rigmarole." Instead of fielding a deluge of daily calls from coaches, he plans to concentrate on family and sports to finish high school.
Brahmer had 44 catches for 747 yards and 10 touchdowns as a sophomore last season for Pierce, the alma mater of Matt Herian. One of the top tight ends in NU history lives about a block from the Brahmers, and they know each other well.
"I see him every day," Brahmer said. "He's excited for me that I'm going to follow in his footsteps. The pride of Husker Nation is just crazy here."
Brahmer also credited his father, Mark, who coached Pierce to the Class C-1 state title in 2020.
Nebraska coaches have stayed in regular communication. In-state recruiter Barrett Ruud makes weekly calls and Scott Frost checks in occasionally.
Brahmer played receiver and tight end last season. He's expected to add as much as 50 pounds when he plays in college, and he's been honing his skills with offseason training.
Brahmer called Frost to deliver the news Thursday. Frost was "very excited," Brahmer said, and certainly surprised.
NU coaches project him, as they do many of their current tight ends, as an athlete who can be flexed out as a receiver and also make a difference as a blocker. Brahmer already knows current NU tight ends Thomas Fidone and James Carnie from training together at the Warren Academy.
"It was kind of a no-brainer because the coaching staff down there and the facilities down there are amazing," Brahmer said. "It's the best decision for me and hopefully we can turn it around by the time I get down there and I can help them out. I'm working hard now for me here in Pierce and down there in the future."
Nebraska has offered three 2023 in-state prospects. The others are a pair of defensive linemen: Lincoln Southeast's Teitum Tuioti — the son of NU D-line coach Tony Tuioti — and Elkhorn South's Maverick Noonan.
I am excited to announce I am officially committing to the University of Nebraska. I want to thank God for blessing me. I want to thank Coach Ruud, Coach Beckton, and Coach Frost for believing in me. I would like to thank my parents, grandparents and sisters for their support. pic.twitter.com/oozxpywt8j

— Benjamin Brahmer (@BenjaminBrahmer) April 2, 2021
---
Our best Husker football photos of 2020