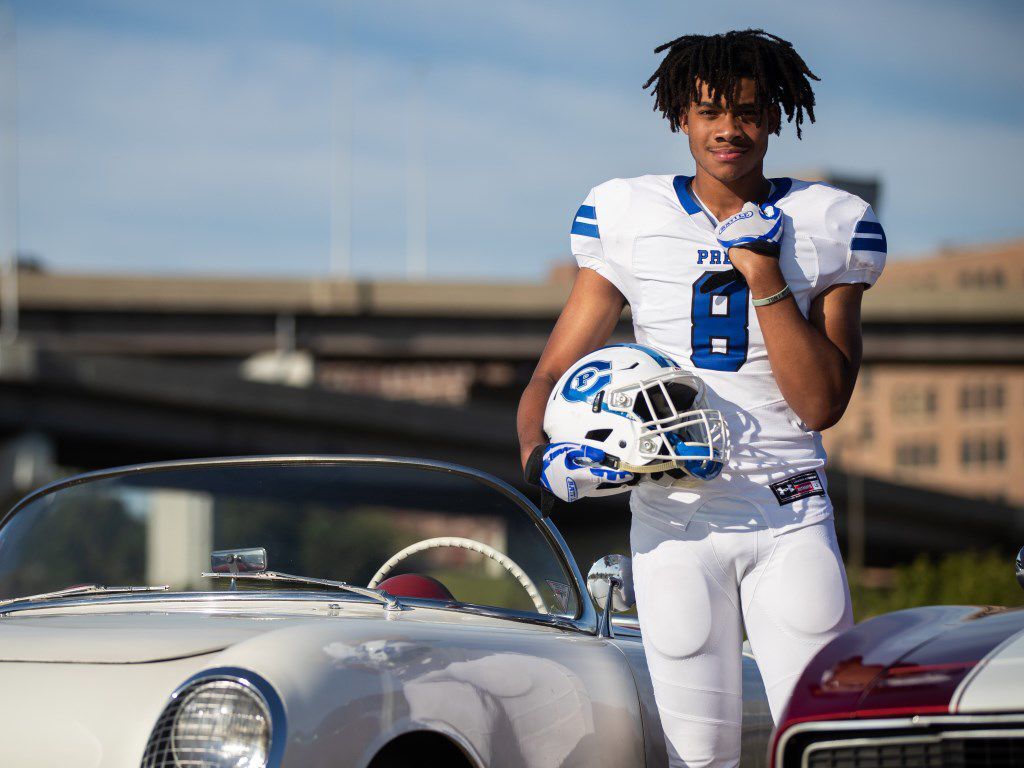 LINCOLN — A layoff can have consequences.
Omaha Creighton Prep, annually one of the best high school programs in the state, played listless offense for a half against Lincoln Southeast last weekend. The Junior Jays threw an interception for a touchdown and gave up another short touchdown drive after muffing a punt. They couldn't run the ball much. They couldn't pass well, either.
And they weren't finding ways to get the ball to one of their top players, Nebraska tight end commit AJ Rollins. He had a single pass thrown his way — which he dropped — in the opening 24 minutes. Prep trailed 14-0.
"Sluggish," Rollins said. "We came out weak."
Prep went on to lose 24-21 to the Knights, who executed a nifty fake punt in the fourth quarter to help seal the win.
But the Jays' offense may have found something in the second half that helps the team — and Rollins — get more chances. He had two catches for 11 yards and a touchdown in the second half after Prep shifted to a spread, up-tempo passing attack that kept the Knights on their heels. As odd as it seemed watching Prep — long known for having big, punishing offensive lines — turn into Texas Tech for a half, quarterback Sam Meysenburg appeared energized as he scrambled and directed traffic, picking from multiple targets.
Rollins liked the tempo and scheme. It may be something Prep (1-2) can keep using.
"I think the coaches see that now," Rollins said. "It's a lot more space to work with, a lot more mismatches to work one-on-ones. I feel like that works for us a lot."
It's been a roller coaster for Prep and Rollins already in 2020. Rollins long had the Huskers atop his recruiting list, but he still wanted to take more visits, which are off the table until at least January due to NCAA rules during the pandemic. Rollins committed to NU last month.
Meanwhile, Prep had the hardest of season openers in a 42-0 loss to Omaha Westside in which very little went right. After a 21-16 win over Papillion-La Vista, the Jays' game against Bellevue West was canceled because of a COVID-positive case. Prep went into a two-week self-quarantine before playing Southeast.
"It's been really crazy," Rollins said. "Myself, I've still been going out, working out, doing what I need to do, staying in shape. You can't just sit in the house. It really showed (last Friday), the first half of the game."
Rollins said he got a little tired playing both tight end/receiver and third-down pass rusher, where he had a deflection, tackle for loss and several quarterback hurries. The 6-foot-6, 220-pound Rollins almost looks like he'd be a good fit for defensive end or outside linebacker in NU's 3-4 defense. Rollins is more of a power rusher, going through the offensive tackle on the way to the backfield, than someone shooting gaps.
He said Nebraska views him as a hybrid tight end/receiver who lines up next to an offensive tackle or moves to the edge of the field as a pass catcher. NU freshman Chris Hickman is the closest comparison to Rollins, though another 2021 Husker commit, Council Bluffs Lewis Central's Thomas Fidone, perhaps fits the prototype best.
Rollins makes for a big target in Prep's offense, and more of the spread, up-tempo attack may help him get more looks.
"I've just got to do what I can," he said. "Keep working. I was mad the first half. I got the ball a little bit. I still feel like I need to get the ball more, but I can't control that. I'm just doing what I need to do."