The "Signee Spotlight" provides all the information you need on the newest batch of Huskers, including rankings, evaluations and a look at how they landed at Nebraska.
Mikai Gbayor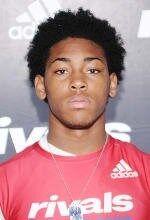 247Sports composite: 3 stars
Other key offers: Indiana, Cincinnati, Ole Miss, Rutgers
How he got here: Nebraska is back in the mix in New Jersey thanks to the return of assistant coach Mike Dawson — the Huskers' primary recruiter in the state. Dawson, inside linebackers coach Barrett Ruud and defensive coordinator Erik Chinander went to one of New Jersey's top programs to find a seasoned athlete who's physically ready to play in the Big Ten. Gbayor had 53 tackles, 29 for loss and eight sacks during his senior year. He's considered by multiple publications to be one of the top players in New Jersey.
Our take: If Nebraska's senior inside linebackers, Will Honas or Collin Miller, don't return for 2021, that position has serious depth issues, and Gbayor may be thrust into the fire quickly. He'd probably hold up well. Physically, he's thick and strong now, and he gets downhill toward ball carriers with speed and violence. There aren't a ton of clips of Gbayor in pass coverage — NU likes to keep both inside linebackers on the field for most third-down snaps — but he's a good blitzer. Where Honas is now, Gbayor can be in a few years — with a couple more to spare after that.
They said it: "He's a student of the game, he dissects film well, he studies opponents, he loves watching football. And that plays a factor in accentuating the attributes he has. He strikes well, he moves well laterally, he has good speed and he plays with passion. And that's important on the defensive side of the ball, more so at linebacker. He'll continue to get better, too. He thrives to get better." — Irvington coach Andre "Smoke" Pierre
---
Signee Spotlights: Get to know the 2021 recruiting class
The "Signee Spotlight" provides all the information you need on the newest batch of Huskers, including rankings, evaluations and a look at how…