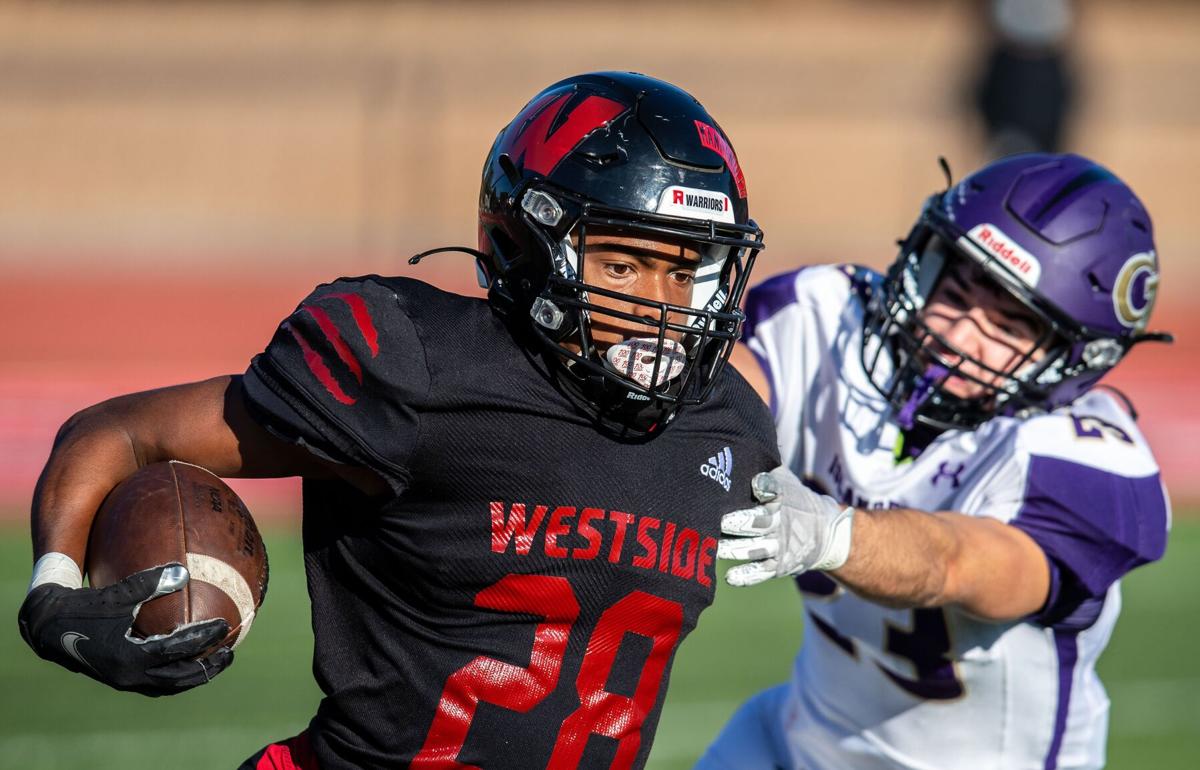 LINCOLN — College football recruiting always brings the mixed metaphors out of the closet.
Most of the hay for Nebraska's 2021 class is already in the barn, having signed in December or committed shortly thereafter. But the Huskers still have a few irons in the fire for Wednesday, which is the start of the second signing period in the cycle.
One of them, Omaha Westside cornerback Avante Dickerson, is the top prospect in the state and will announce his decision on 247Sports' signing day show at 8:10 a.m. He's easily been the quietest prospect in the class, as well, having stayed silent for the past month aside from a tweet that announced his decommitment from Minnesota. Nebraska and Oregon are his other two finalists, and NU didn't wane in its effort to land the 6-foot, 170-pounder.
Should the Huskers win Dickerson's signature, he'd be a big addition to a secondary that lost three defensive backs from the 2020 class when they left the program. Dickerson was slated to sign with Minnesota in December before deciding not to on the early signing day.
"He's just not ready," Westside coach Brett Froendt said in January. "There's nothing more diabolical than that. Everybody wants to put a narrative on it. He just wasn't ready, because he hadn't seen everything yet, and that scared him a little bit."
Minneapolis North pass rusher Davon Townley has Nebraska in his top group as well. The 6-foot-6, 220-pounder is a consensus four-star prospect who was more of a basketball player before his senior season, when his football profile grew. Penn State, Arizona State and Michigan State, among others, are in Townley's top group.
NU will officially sign four-star linebacker Wynden Ho'ohuli on Wednesday — he committed to Nebraska in early January — and several walk-ons who committed after the end of the first signing period.
As of Tuesday afternoon, Nebraska's class of 20 prospects ranked No. 19 on Rivals and No. 20 on the 247Sports composite. ESPN has NU ranked considerably lower at No. 39, in part because ESPN rates Thomas Fidone far lower (271st) than Rivals (35th) or the 247Sports composite (93rd). It's not clear how much signing day movement there will be in recruiting classes, but Dickerson picking Oregon would solidify a top-five class for the Ducks.
Drawing players to Lincoln has not been hard for Frost, who signed the Nos. 21 (2018), 15 (2019) and 17 (2020) classes in the nation, according to Rivals. Player retention has been the issue. Nebraska has had roughly 25 departures — an entire recruiting class — since the end of the 2019 season, including five members of the 2020 class and two stars from the 2019 class, Wan'Dale Robinson and Luke McCaffrey.
But the Huskers have used the transfer portal effectively, adding three to the 2021 team — Montana receiver Samori Touré, USC running back Markese Stepp and Northern Iowa inside linebacker Chris Kolarevic.
Nebraska has two scholarships left to use for the 2021 cycle. If Dickerson and Townley sign elsewhere Wednesday, NU still has the transfer portal and junior colleges to explore.
Where Nebraska's top recruits landed
*Had Nebraska scholarship offer
**Transferred to NU later as a walk-on
Rankings according to the 247Sports composite
1. Avante Dickerson, Undecided*
2. Teddy Prochazka, Nebraska*
4. James Carnie, Nebraska*
5. Heinrich Haarberg, Nebraska*
1. Zavier Betts, Nebraska*
2. Xavier Watts, Notre Dame*
3. Will Swanson, Kansas State
4. Jevyon Ducker, Northern Illinois
5. Isaac Gifford, Nebraska*
1. Nick Henrich, Nebraska*
2. Chris Hickman, Nebraska*
3. Garrett Nelson, Nebraska*
4. Garrett Snodgrass, Nebraska*
5. Ethan Piper, Nebraska *
1. Cam Jurgens, Nebraska*
2. Masry Mapieu, Louisiana*
3. Bryson Williams, Wisconsin*
4. Zach Schlager, Colorado State**
1. Austin Allen, Nebraska*
2. Chris Walker, Nebraska*
3. Jaylin Bradley, Nebraska*
4. Logan Strom, UC Davis basketball
---
Signee Spotlights: Get to know the players in Nebraska football's 2021 recruiting class
The "Signee Spotlight" provides all the information you need on the newest batch of Huskers, including rankings, evaluations and a look at how they landed at Nebraska.