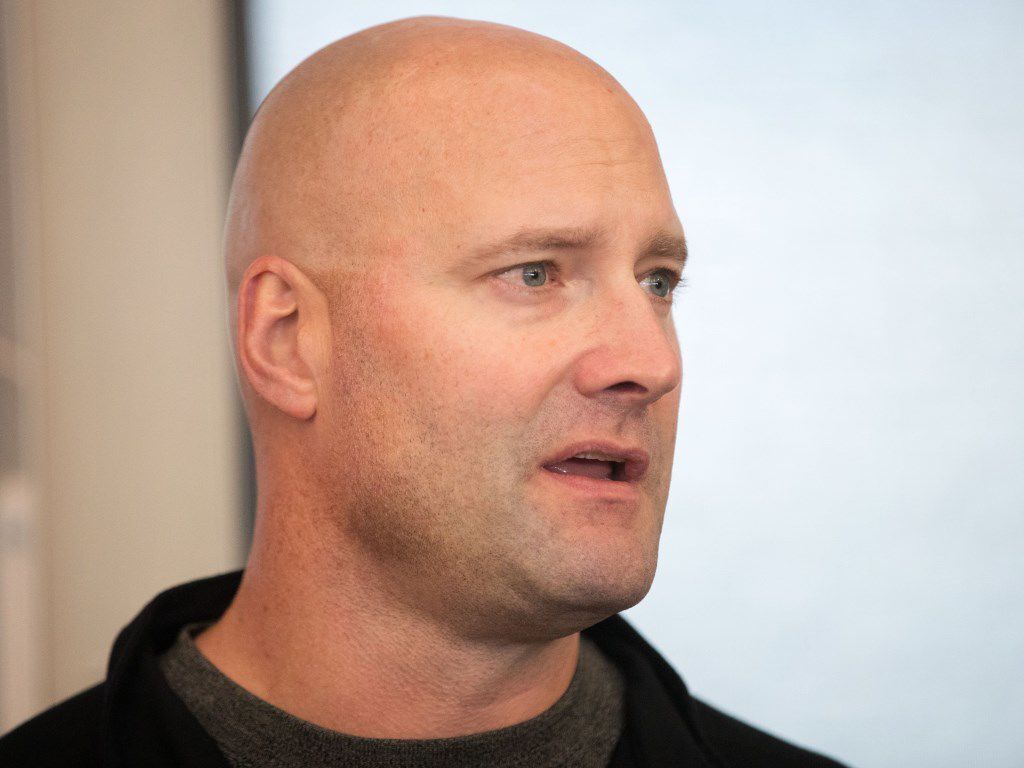 First downs and second guesses and my periodic trip to the Doc:
Rob Zatechka, who was part of one of the best offensive lines in Nebraska history, finally got blocked the other day.
At least it was by a Heisman Trophy winner.
Zatechka, who hangs out on Twitter, offered a measured response to ESPN analyst Desmond Howard last week when the former Michigan star went on a rant against NU.
Of course, Zatechka didn't quite leave it alone. As more news came out about other parents and players criticizing Big Ten Commissioner Kevin Warren, Zatechka tagged Howard as he tweeted them out.
"Then I tried to do one more and I saw he blocked me," Zatechka said. "It wasn't a big deal. He blocked about 90,000 of my closest friends as well."
Howard and a lot of the other hot-take experts out there would do well to listen to what "Dr. Z" has to say these days.
Zatechka is one of the most academically decorated athletes to come through NU. During his senior year in 1994, he was selected to the NCAA's Top Eight honor and received several national awards, including the Draddy and the Walter Byers scholarships.
Zatechka, who played with the New York Giants from 1995-98, finished his med school degree at UNMC in 2008 and took over as staff anesthesiologist at OrthoNebraska in Omaha in 2010.
He knows a thing or two about medicine and football. And while his area is anesthesiology, he's a student of medicine trends and stories — and certainly the coronavirus.
And now he has a vehicle for his opinions: Zatechka does a podcast called "Husker Doc Talk" and his Twitter handle is @DocTalkSports.
Zatechka is not shy about mixing it up in the social media trenches. Last spring, as critics of wearing masks grew, Dr. Z came out firing with medical data on the importance of wearing masks.
So what's his take on the Big Ten and playing this fall? On Monday, I did my own version of "DocTalk."
Start with this: Zatechka says the Big Ten should have waited to call off the season. He says football games are worth a try.
"My issue is we've got some mini test cases," Zatechka said. "Take Nebraska, you had the players operating in this kind of two-thirds bubble since April. Living in the dorms, staying together, eating prepared food, getting tested regularly.
"Hopefully they have enough motivation that they aren't going out and hitting the bars all weekend. They're around regular students in class, but they are getting tested a couple times a week if they're playing.
"So that means you are seeing a team from another state — who are also being tested and in their bubble — for three hours during a game.
"If some of them are carrying the virus, you have an increased exposure there. I'm just not sure it's that large of an increase. How much risk are you taking away by not playing a game? It's just this three-hour snippet on a Saturday you've removed."
Zatechka says his problem with the Big Ten was it called off the season too soon.
"It's not that you canceled, it's that you didn't give it a try," Zatechka said. "Have a full fall camp. Then say we're going to play two games then have a bye week. Then we're going to do a big re-evaluation and decide where we're going from here.
"What happens if you play four games and almost everybody is fine? Well then play four more. You can always cancel the season. We canceled seasons last spring. Creighton got canceled at halftime of a game.
"My son plays for Westside (High). These kids have been doing workouts in some way, shape or form since May. They did a 10-day football camp where they wore masks in the 90-degree heat. They followed the separation guidelines, did popping and running into each other. There were zero positives.
"There's a lot of mini test cases that I think warranted giving the season a try."
On all the medical information out there: "There's some good but there's also a lot of junk, botched info. You take a closer look at it and it's not actually a study.
"There was the myocarditis study that supposedly the Big Ten used. But if you look at it, what they considered normals really skewed the results.
"I'm looking at it from a really conservative approach. Wear a mask at all times when you're out in public. Stay away from large groups. Watch what you're doing. If you're on a team, you have this high level of safety oversight, which I think provides a high level of protection than if you're just Bob the college student."
On the saliva tests: "I think it could help. The problem with these tests is we don't have a lot of data with sensitivity and specificity. If you have it, is it going to pick up? If you test positive, are you actually positive or is the test wrong?
"We have no clue until you've done thousands of them how sensitive and specific it is. But it could be a great screening tool. The day before a game, give the entire team and staff a saliva test and if someone pops up positive, hold them out."
Finally, will there be football in the spring?
"My thought is (COVID-19) is still going to be around in the spring," Zatechka said. "Maybe it's another wave, maybe it drops down a level but it's still there.
"At that point, do you really have risk reduction by playing in the spring? We're all going to be sitting around saying, 'We should have played in the fall.'"
» That said, I applaud Jeff Brohm and any coach willing to put effort into a plan to play winter football.
That's right. Any season that begins around January 1 is not spring football. At least not where I live.
The biggest flaw is Brohm's plan plays 18 games in 10 months. That is not happening, for all kinds of reasons.
I'm still pushing two plans. One, play four conference games this fall with a bye week between each game, and do the same next March and April. Have a league championship game and call it good.
Plan B: Play three nonconference games next March and April, with each school getting two months of practice. This coincides with some Group of Five leagues playing in the spring.
Then, you play nine Big Ten games in the fall.
This accomplishes three things. You get a full season in. You don't push your luck with the pandemic in 2021. And, I still get the Nebraska at Oklahoma game in Norman.
Dr. Z didn't like my idea. And I let him have the last word. He's still bigger than I am.
» ESPN host Mike Greenberg, a Northwestern grad, posted a Twitter poll Monday that asked "If a few schools from the Big Ten or Pac-12 want to play and feel safe doing it, should the conferences allow them without consequences?"
Through the first 11,756 votes, 72.5% said "Yes."
We've come a long way in one week.
» One more and I'm outta here: There was a lot of talk last week about football vs. academics and priorities, etc. It always reminds me of a story.
One day as Nebraska finished practice in Memorial Stadium, there was a huge stream of black smoke shooting into the sky just outside the stadium. It was coming from the adjacent chemistry building.
Coach Tom Osborne looked up at the smoke and said, "If that happened in here, people would be booing."
Omaha World-Herald: Big Red
Don't miss a moment of Nebraska athletics.