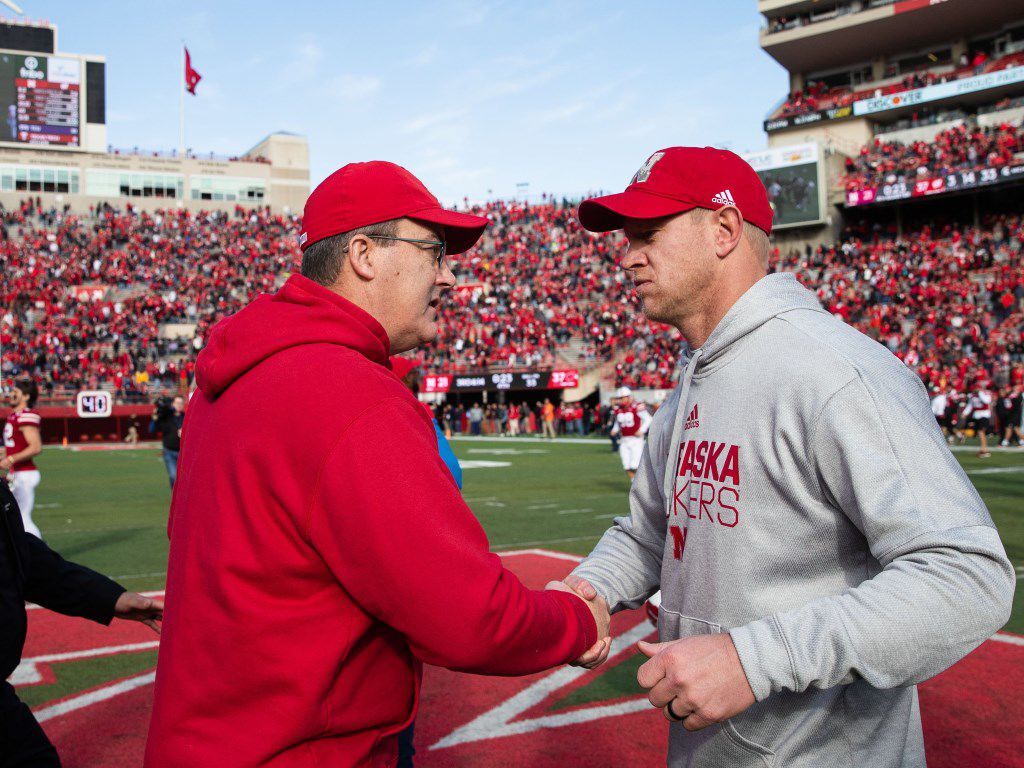 Editor's note: The Huskers' game Saturday against Wisconsin has been canceled and logged as "no contest" after the Badgers announced on Wednesday that it had too many positive COVID-19 tests this week. Read more here.
First downs and second guesses, the stadium cutout version:
» It didn't take long for COVID-19 to impact a Big Ten football game. Or will it?
Wisconsin coach Paul Chryst says he expects Saturday's game in Lincoln to be played. The question is, will it include Badger quarterback Graham Mertz?
Mertz reportedly tested positive for COVID and is waiting results on a second test to see if it was a false positive.
That's according to sources in the Wisconsin media. Chryst would not confirm the report. Wisconsin, like Nebraska, will not comment on positive COVID cases on its team.
Unless something is leaked to the Wisconsin media, Nebraska won't know if Mertz is going to play until Saturday. Husker coach Scott Frost understands.
This does not necessarily make NU's job harder. Mertz played brilliantly in the Badgers' opener against Illinois, but he's only played one game. That's the only film on Mertz.
Besides, Wisconsin is a program and a system, not a quarterback. Frost and defensive coordinator Erik Chinander know what they're facing. The same mashing, downhill-running, efficient machine they see every year.
There's not a lot of mystery here. All Frost needs to know is there's going to be a game and the Badgers are going to be on the other sideline. For Wisconsin, that's usually enough.
» Ohio State coach Ryan Day said he would apologize to Frost for tacking on the late touchdown on Saturday. It's not necessary. Nebraska should want OSU's best shot at all times. It's NU's job to stop them from scoring.
These are two programs that should never apologize for playing hard and playing well.
» Could Kansas be headed to the NU/Lincoln hoops tourney next month?
Stay tuned. ESPN's attempt to hold several college tourneys in a bubble in Orlando has reportedly fallen through because of concerns over health and safety protocols.
Didn't the NBA just hold a three-month playoff there?
That might free up several big-name schools to come to Lincoln. According to the Athletic, ESPN still wants to try to hold the Champions Classic and Jimmy V Classic at other sites.
If that can't be done, then Kentucky, Duke and Kansas will be looking for games the weekend of Nov. 25.
The Blue Devils and Blue Bloods probably won't go to Lincoln. But Bill Self and the Jayhawks might.
» There's a report circulating that if there's a Nebraska-Creighton game, it will be moved to Omaha this year. The rotation means it's supposed to be in Lincoln this season, but reportedly NU wants to host next year, when a full arena may be allowed.
Responding to a text, Creighton Athletic Director Bruce Rasmussen said talks are still ongoing.
» There was another report last week that the Big East will begin its league season the first week of December. The plan apparently would be to get several Big East games in while students are home for break in December and January, then come back with more later in the winter.
That's a good plan. If the Big Ten does the same, maybe we could have Creighton-Nebraska later in the year. I've always thought that would be a fun game over the Holiday Break.
» Okay, let's take some questions from Twitter.
From Matt McGill: "If Mertz is out and (Jack) Coan is already out, does Wisconsin have enough scholarship quarterbacks on the roster to meet Big Ten requirements to play a game?"
I don't know that the Big Ten has such roster requirements, but if it does, a pandemic would be a good time to waive them. Wisconsin's next men up would be redshirt sophomore Chase Wolf and redshirt junior Danny Vanden Boom. As Chryst says, "They're all good. We like them all."
If the Badgers needed to, they could probably play with a running back out of the Wildcat all game.
From Alex Shriver: "Do you believe the Big Ten actively retaliated against Nebraska for our push for football to return?"
As Frost said, the opener at Ohio State was no coincidence. But I believe that was as much a TV matchup as anything.
It worked. The ratings were great.
As for the rest of the first four, you have to schedule Wisconsin at some point, and now the Badgers might not have their top two quarterbacks. The timing might work in NU's favor.
Northwestern, they play 'em every year. Penn State was on this year's schedule, too. Let me ask, who would you rather play, Penn State or Indiana?
These are the teams Nebraska will play every year. As soon as Frost starts winning some of them, the conspiracy talk will go away.
From Jeff Swanson: "What is Omar Manning's status for the game on Saturday?"
Great question. I have no answer. I hope we can get an answer to that on Tuesday from Matt Lubick or Thursday from Frost. As soon as possible is the answer. NU's offense needs big play-making receivers.
From Adam Froemming: "Favorite hot dog toppings?"
These are the hard-hitting questions you get on Twitter. I'm a spicy mustard fan, preferably with chili. I also like BBQ sauce, particularly Gate's, KC Joe's or Stubb's. Never ketchup. Ever.
From Mike Holcomb: "Despite the loss (at Ohio State), does your eye test and the rest of the West change your expectations this year?"
I didn't see Northwestern, Iowa or Purdue play. From what I saw of Wisconsin, I still like the Badgers if Mertz and Coan are playing. Minnesota's offense still looks explosive. Pat Fitzgerald's club might be underrated.
NU's improvement in the offensive line and defensive front seven should keep them in every Big Ten West game. They should not get handled physically. They can play offense with any of them, too. The deciding factors are going to be the things I can't predict: Husker turnovers and penalties.
Based on that history, I can't pick Nebraska to win the division. There's too many teams they haven't beat in a while and they'd have to beat 'em all. But can they knock some off and lay groundwork for the future? Yes. It's time.
» One more and I'm outta here: Heard from one of the greats, former World-Herald Nebraska beat man Tom Ash, on Sunday:
"Is the report out of Chicago true that the Big Ten is considering letting Graham Mertz play anyway and requiring Nebraska's players to wear masks and not get within six feet of him?"