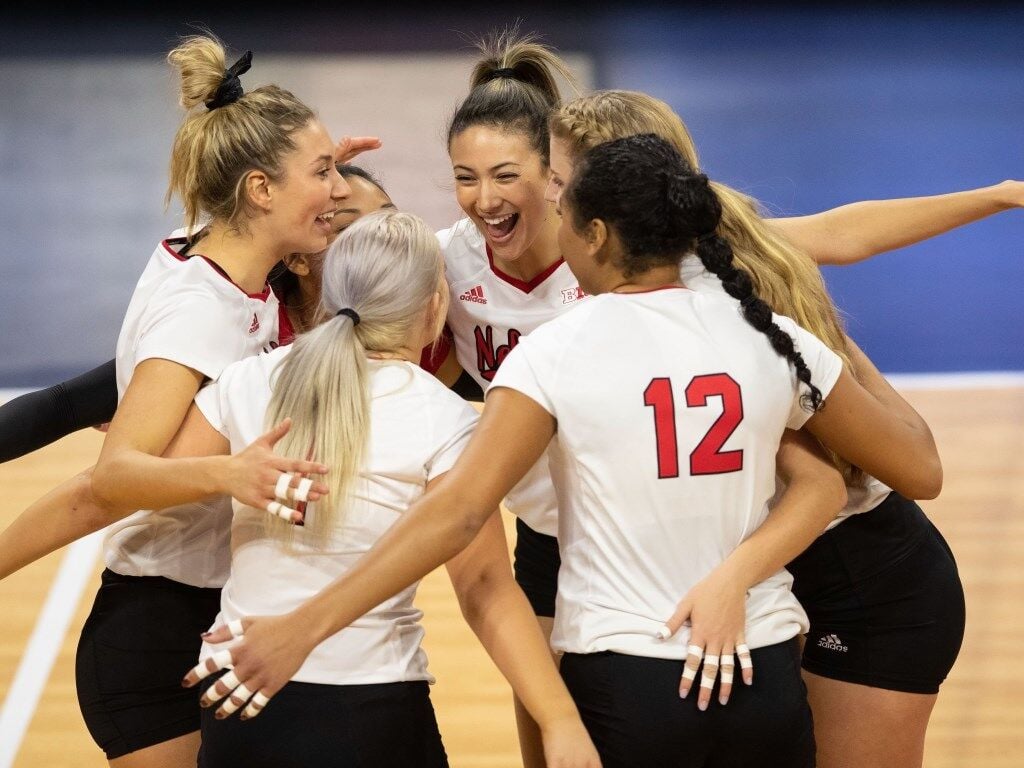 LINCOLN — It's been almost 10 months since the public last saw the Nebraska volleyball team in a competitive match — if you consider an indoor beach volleyball match against Ottawa University competitive.
The Huskers have not played an indoor match for almost 13 months since losing on Wisconsin's home court in the regional finals. Nebraska has since played a truncated beach season and hosted an intersquad scrimmage Nov. 12. NU started practice earlier this month for the delayed 2020 season, which will start Jan. 22 at Indiana.
Nebraska returns every starter from the 2019 team, but it will have a few new faces who could make an impact. In the past year, the Huskers welcomed two scholarship freshmen, one walk-on, a transfer and a new associate head coach. They will also have three members of the No. 1-ranked 2021 recruiting class on campus this semester. Those three are unable to play in matches, but they should provide valuable depth during practice.
Five players are gone from last year's team that reached the regional final for the eighth straight year: Megan Miller (transferred to Northwestern), Anezka Szabo (Kansas), Chen Abramovich (Cal Poly), Capri Davis (Texas) and Fallon Stutheit (UNK).
Let's examine how each position stacks up for the season:
SETTER
Junior Nicklin Hames will still run the show. She needs to continue to improve and let the offense hum. She's capable of running the offense at a high level and has a top-notch bump set. Hames averaged just under 11 assists per set and was named first-team All-Big Ten. If her connections with the middles improve, Nebraska will be difficult to stop.
Last year, sophomore Nicole Drewnick occasionally subbed in to serve and set while a bigger block came in for Hames in the front row. She could play a similar role this season.
Anni Evans is a freshman walk-on from Waverly and will add depth in her first year. Kennedi Orr, the nation's No. 1 recruit in the 2021 class, joined the program for the fall semester and is the future of the position. However, she can't play in matches this spring and is still recovering from a torn ACL in September.
MIDDLE BLOCKER
Lauren Stivrins was a second-team All-American last season after earning first-team honors in 2018. She has the potential to be one of the most unstoppable players on the court. She hit .374 last season, which was down from .421 as a sophomore. The 6-foot-4 senior might be one of the best terminators on the slide attack in Husker history.
The second starting spot is up for grabs. Callie Schwarzenbach returns after an up-and-down sophomore campaign in which she averaged just 1.24 kills per set at a .269 clip, both figures fifth-best among NU regulars. Even though she was hindered by a broken thumb during the second half of the season, the 6-5 junior led the Huskers with 1.11 blocks per set.
Schwarzenbach's competition features two newcomers: Missouri transfer Kayla Caffey and freshman Kalynn Meyer. Caffey finished second in the SEC and ninth nationally with a .408 hitting percentage in 2019. Caffey is only 6-foot and averaged 0.88 blocks per set for the Tigers. She has plenty of experience as a fifth-year junior after redshirting in 2016 and missing 2018 with a medical redshirt.
Many expected Meyer, the first three-time World-Herald prep athlete of the year, to ease into college volleyball. However, during the Red-White scrimmage, she looked like she belonged and more than held her own with six kills on 10 swings without any errors. Meyer has the athleticism to be an elite college player and she might have been helped by the season delay to get more reps and experience in practice.
OUTSIDE HITTER
The Huskers return all three starters at outside hitter after each had solid years last season. On the left side, senior Lexi Sun and sophomore Madi Kubik will likely hold down the fort. Sun improved her hitting percentage from .195 as a sophomore to .270 last season. She led the team with 3.57 kills per set and was a third-team All-American. Sun still has room to improve her game through more efficient termination and passing.
Kubik was the VolleyballMag.com National Freshman of the Year and became one of the Huskers' best players after a shaky first month. She was third on the team in kills at 2.73 per set. Kubik was also third in digs as many teams targeted her in serve receive. If the passing of Sun and Kubik has improved, the Huskers will be much more dangerous.
On the right side, Jazz Sweet showed flashes of strong play and was a spark plug. She brings a powerful left-handed attack and was second in kills at 2.77 per set. She bounced back with a .278 hitting percentage after that dropped to .205 as a sophomore.
Even though she's listed as a middle blocker/outside hitter combo, Riley Zuhn will serve as backup on the outside. She saw limited action in her freshman campaign at both positions and never looked completely comfortable. During the Red-White scrimmage, the 6-5 sophomore played more confidently outside with seven kills. She has the versatility to play anywhere on the front row.
Ally Batenhorst, the No. 3 2021 prospect, will provide depth in practice.
LIBERO/DEFENSIVE SPECIALIST
Kenzie Knuckles started her first career game at libero and never gave up the top backrow spot all season. She improved as the year progressed and was playing her best volleyball at the end of the season. She should hold onto the No. 1 passing position as she enters her sophomore campaign.
The second defensive specialist spot will be settled between senior Hayley Densberger and freshman Keonilei Akana. Densberger primarily appeared as a serving specialist last season, but had a larger role in the passing game in 2018. Akana was a late addition after committing in April. She was previously committed to USC but reopened her recruitment after an offseason coaching change. Akana played outside hitter in high school and has the athleticism to anchor the back row. Redshirt freshman Emma Gabel should provide depth after siting out last year with an injury.
Another heralded member of the 2021 class, No. 10-ranked Lexi Rodriguez, will be part of the practice squad and was the top prep libero in the country last year.
COACHING STAFF
After Kayla Banwarth left to take over Mississippi, Tyler Hildebrand returned as the associate head coach. He will coach blocking and hitting. Assistant Jaylin Reyes will switch his responsibilities to floor defense and recruiting coordinator. After serving as a graduate manager in 2019, Kelly Hunter will be allowed to provide on-court instruction as a volunteer assistant.