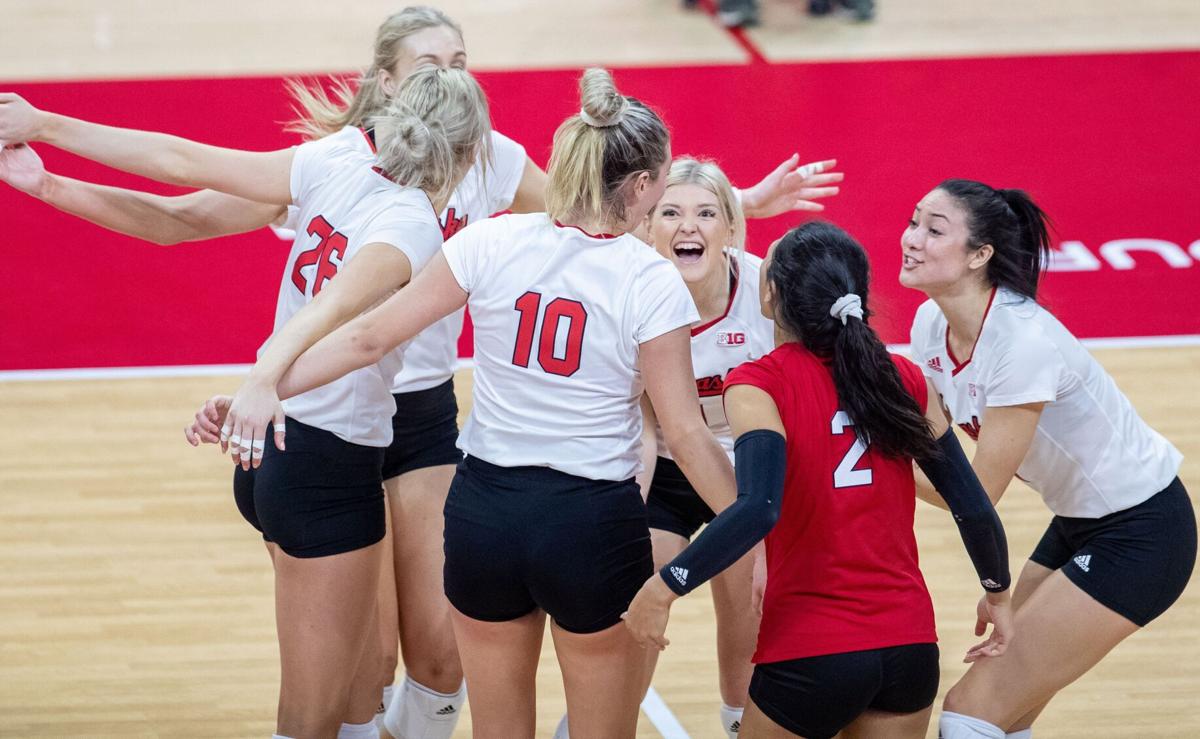 The wait is finally over.
When Nebraska takes the court for its first match in the NCAA tournament Thursday, 19 days will have passed since the Huskers last played. That break, longer than most preseason camps, challenged the team to balance rest and staying sharp as it prepared for the most important matches of the season.
Nebraska, the No. 5 seed in the tournament, will face Texas State, which defeated Utah Valley in four sets Wednesday during the first round.
With such a large gap between matches, coach John Cook said the biggest challenge was keeping players focused on performing their best during the postseason.
"When you're not playing for 19 days it's hard to have some to shoot for. It's just a long way out," Cook said. "So we just try to be really creative and manage these guys and keep them sharp. I spent a lot of time thinking about how to do that, but I feel like we've done a pretty good job."
When the brackets were first revealed, Cook said he would have almost preferred to be unseeded, which would have allowed them to return to action a day earlier and know their first opponent.
But this wasn't the first extended break for the Huskers this season.
Twice matches were canceled after opponents dealt with COVID-19 issues. However, this break was almost a week longer than those pauses.
During the past two weeks, Nebraska players spent more time in the weight room to make sure their bodies were healthy. The Huskers were also strategic with rest and took the weekend of their Penn State matches off and worked in more breaks than usual.
"We've been going since probably August and so it was nice to have a little time off," junior setter Nicklin Hames said. "I think it really made us excited about (the last) week of practice and then going into the tournament."
In addition to the rest, NU changed the structure of practices. The Huskers mixed their drills and changed how they scored practices to add an extra layer of competition.
Senior Lauren Stivrins said the biggest challenge was blocking out all the factors they can't control and focusing on their ultimate objective: winning a title. To help that end, the players and coaches broke down their big-picture goals into daily tasks and outcomes they want to achieve in practice.
"I think the toughest part is just trying to stay focused and keep our eye on the prize," Stivrins said. "It's such a different energy and feeling when you're playing as opposed to coming in and practicing. But I think that our team has done a really good job of staying focused and staying ready."
Because the Huskers spent so much time in their own bubble this season, Stivrins said they developed close bonds and talked about their goals often, which helped the team dynamics.
Looking back, Cook said he's impressed with how his team handled the layoff. He credited the seniors for providing leadership and rising to the challenges in practice.
"They've been here before. They know what it takes," Cook said. "They've done a really good job of really keeping everybody kind of on the same page and moving in the right direction."
NU's veterans will also help deal with the uncertainties of playing in a convention center and everything else. Cook said if they play in matches like they've trained, they will have a good showing in the tournament.
This week, the Huskers faced another challenge after arriving in Omaha on Monday night. They couldn't practice while they awaited clearance after two rounds of COVID-19 tests.
Hames said they planned to hang out in their hotel and play games like Catchphrase, charades and other card games in addition to making TikTok videos. The Huskers also went on a trip to the Henry Doorly Zoo on Tuesday afternoon.
The Huskers' first practice was early Wednesday morning, when they worked out for 90 minutes on the practice courts then for 30 minutes on the court they will use in their second-round match. NU will have a final walkthrough an hour before its match Thursday.
Despite the long wait to play, Stivrins is looking forward to the tournament finally kicking off.