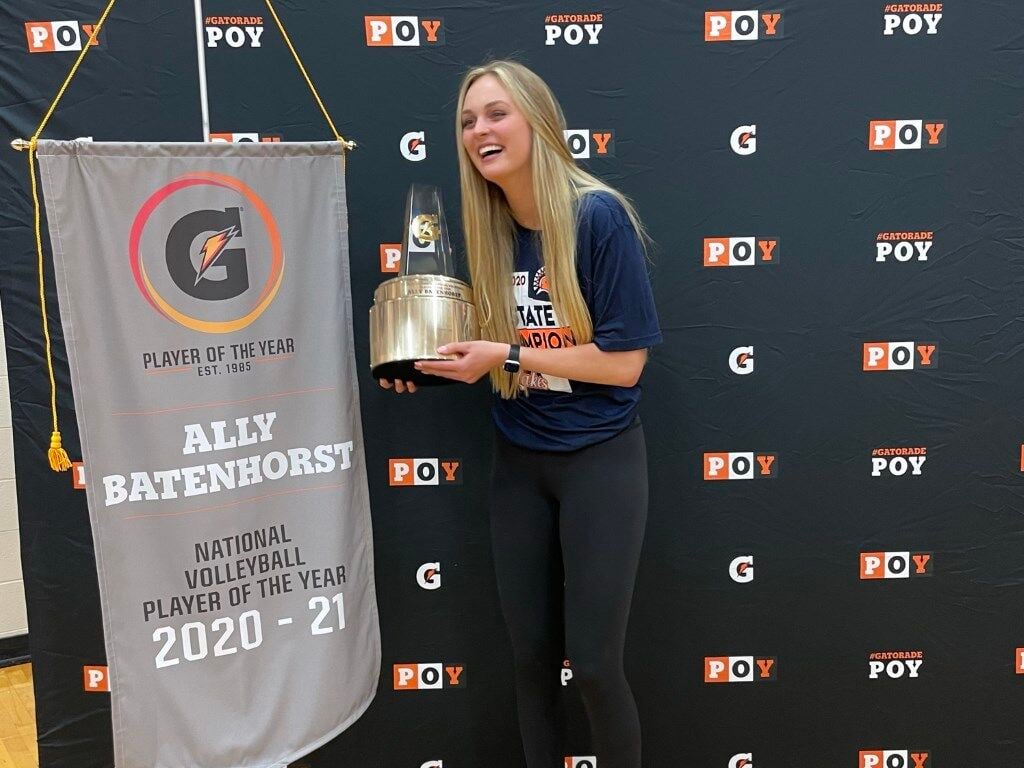 The Batenhorst family is not known for their secret-keeping abilities.
So Ally Batenhorst was caught off guard when they interrupted her Zoom call Wednesday morning to give her the Gatorade national volleyball player of the year award.
Batenhorst, who is a member of Nebraska's vaunted 2021 recruiting class, just thought she was participating in an interview about winning the Texas player of the year award. Then two-time Olympic medalist April Ross joined the call and delivered the news, which was followed by the trophy presentation from her family.
"I was like, 'How long did you know this?'" Batenhorst said. "Usually one of them would have cracked by now. I was completely shocked. I had no clue it was coming. I was shaking, and I started crying. It's just really an incredible feeling."
Batenhorst racked up numerous awards in the past year as the Texas 6A player of the year, MVP of the state tournament and the Greater Houston player of the year. She was named an All-American by Under Armour, VolleyballMag.com and MaxPreps.
The Gatorade award recognizes outstanding athletic excellence, high standards of academic achievement and exemplary character demonstrated on and off the court. A national advisory panel of volleyball experts and sports journalists selected Batenhorst as the national award winner for 2020-21.
Ross, who won the national award in 1999-2000, said she enjoyed breaking the news to Batenhorst and welcoming a new member to the club.
"I'm so excited for her," she said. "I'm obviously always rooting for USC, but Nebraska got a good one and they're gonna be good for a while."
Ross and Batenhorst both also share a connection to Nebraska associate head coach Tyler Hildebrand. He worked with Ross as the director of coaching for the USA Volleyball beach national team program before returning to the Huskers last summer. Ross, who won two NCAA titles at USC, said Hildebrand helped her become a better defender during their time together.
"I think he's an amazing coach," Ross said. "I told Ally like right away, listen to everything Tyler has to say. He's gonna help you become the best you can be. He's a huge asset for Nebraska."
Batenhorst is the fourth NU player to earn national Gatorade player of the year honors, joining Papillion-La Vista graduate Gina Mancuso (2008-09), Mikaela Foecke (2014-15) and Lexi Sun (2016-17).
As a senior, Batenhorst led Seven Lakes High School to a 25-1 record and the 6A state championship. The 6-foot-4 outside hitter averaged 6.6 kills per set on a .335 hitting percentage with 4.3 digs per set.
Seven Lakes won the state championship on Dec. 12, but Batenhorst only had a few weeks to celebrate before she graduated and moved up to Lincoln to begin her college career. Batenhorst couldn't play in matches during the spring semester, but she practiced, worked out and traveled with the Huskers.
Playing in the same gym as college All-Americans was an adjustment, but Batenhorst said the players and coaches were welcoming and helped ease her in.
"It was really cool seeing everyone just be like, OK, I'm part of this team now, and just jump in, do your best and just play your game and not think too hard about it," she said. "It's a really fun environment. Everyone's super positive and working hard all the time."
NU's 2021 class will have four Gatorade state players of the year. In addition to Batenhorst, other winners include outside hitter Lindsay Krause (Nebraska 2019-20, 2020-21), setter Kennedi Orr (Minnesota 2018-19, 2019-20) and libero Lexi Rodriguez (Illinois 2019-20).
After spending a few more weeks in Katy, Texas, with her friends, Batenhorst returns to campus next week to begin summer classes and workouts. She's looking forward to having the whole group in town.
"We've been talking in our little group chat and we're super excited to see each other," she said. "It will be really nice moving into the season having that bond with my class and being really close will be really helpful for us."
---