LINCOLN — Kelly Hunter thought she was just meeting coach John Cook to do an end-of-the-year review of her second season as the Huskers' volunteer assistant.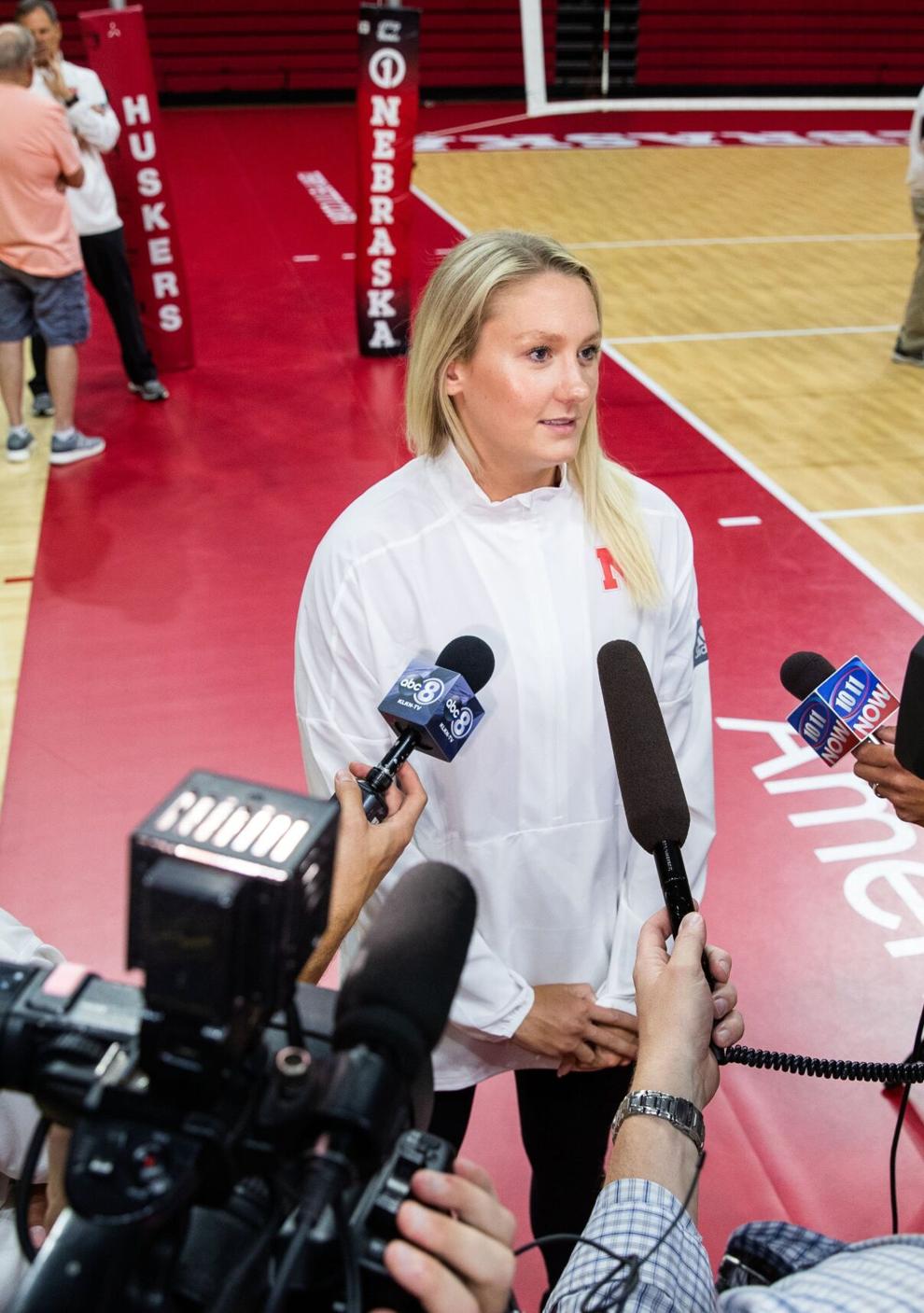 During her drive to the Devaney Center, however, Cook called to ask if she had nice clothes. Her season review just became a job interview, and Hunter was going to be talking to Athletic Director Trev Alberts.
After the get-to-know-you meeting with Alberts and a few other administrators, Hunter met Cook for dinner that night and he officially offered her a full-time assistant position.
"It was a pretty easy yes for me," Hunter said. "It all just happened kind of quick, but it was good."
Along with the promotion of Hunter, Jaylen Reyes will return for his fifth season at NU. He was also promoted to the lead assistant on top of recruiting coordinator.
The assistant shuffle was set in motion by the departure of associate head coach Tyler Hildebrand, who took over the Long Beach State program last week. Reyes said he wasn't surprised Hildebrand returned to his alma mater and called him the most knowledgeable assistant in the country.
"He's like an older brother and I cherished my time working with him," Reyes said.
It was also a big week for Reyes as Cook said he was "putting down roots in Nebraska" with his promotion Dec. 21. Later that day, his girlfriend Kristen Kelsey was named the associate director and recruiting coordinator for VC Nebraska, a club volleyball program in Lincoln. Kelsey was previously an assistant at Northwestern and Michigan State for seven years. Then, two days later, the couple got engaged.
Reyes said it was a "no-brainer" for him to stay at Nebraska.
"It's not every day you get to work with a living legend," Reyes said. "I get to do it somewhere it matters. No place cares more about women's volleyball than Nebraska."
While Reyes said he's had a few discussions about head-coaching possibilities, he's being picky about his career and not going to jump at the first chance to run his own program.
"It's not my time yet and that's OK, "he said. "This doesn't change any of my goals. I still strive to grow as a coach. I still want to be a head coach and hopefully get that opportunity someday."
With Hildebrand departing, Reyes will likely work more with the middle blockers and take on the defensive coordinator responsibilities. Hunter will work closely with the offense, including the setters, outside hitters and passing. However, both said they haven't had in-depth conversations with Cook to map out specific duties.
During the past season as a volunteer coach, Hunter took on more responsibilities developing offensive game plans, figuring out which areas the Huskers could improve and in-game adjustments with setter Nicklin Hames.
For Hunter, the assistant coaching position is her first full-time coaching job, but she's hardly an unknown around the program.
The Papio South grad was a two-time captain and helped lead the Huskers to national titles in 2015 and 2017 as part of four straight Final Four appearances. She also was a two-time All-American and PrepVolleyball.com national player of the year in 2017.
After a brief pro career, Hunter returned to Nebraska in 2019 as a graduate manager. The next season, she transitioned to volunteer coach and filled in for Hildebrand as an assistant during the truncated 2020 beach season while he was working with the Olympic beach volleyball team.
It is also the culmination of Cook's vision for Hunter. Ever since she returned as a graduate manager, Cook has been trying to convince Hunter of her future in coaching.
"Kelly has a presence about her that either you have it or you don't," Cook said in 2019. "Obviously, she has it."
He provided the initial opportunities for her, and Cook has said he gets great joy out of mentoring coaches and that is what fires him up every day.
Hunter said she talked with a few other programs during the last few years about coaching opportunities, but each time there was a new position and challenge for her at Nebraska. The timing of her new job worked out where there are no longer any of her former teammates on the roster and everyone knows her as "Coach Kelly."
"I think just being far enough removed timewise and maturity and confidence in coaching that's all helped a lot," Hunter said. "As I was more fully immersed into it, I figured out that I can't picture myself doing anything else and coaching was the route I wanted to go."
---