LINCOLN — Jody Joel tried to play it cool.
Rumors were flying around Schoo Middle School that Nebraska middle blocker Kayla Caffey was there as a substitute teacher, and Joel, a Husker volleyball superfan, was trying to remain calm.
Caffey was being professional. She was there to work. Joel wasn't going to go seek her out. However, one of her colleagues undermined Joel and had Caffey deliver her an autographed can of her favorite drink, a Diet Dr Pepper, to her classroom during her planning period.
"There was a knock on my door and I went over to open it, and it was her. I was pretty dumbfounded," said Joel, who teaches social studies. "I think, 'Oh my gosh, Kayla Caffey.' I'm literally way too old to fangirl over her."
After the initial shock, they took a selfie and began talking. Joel showed Caffey the back wall of her class, which was covered in Nebraska volleyball posters, and they bonded as fellow teachers.
The reaction was common for Caffey during her time substituting at Schoo during the spring semester. She signed autographs between classes, took lots of selfies and connected with the middle schoolers.
"It's crazy. Everyone knows who I am," the 6-foot middle blocker said. "I just feel really warm and welcomed here in Lincoln. When I go into buildings just at school ... I loved it."
For Caffey, who will be one of five Husker seniors honored following the Penn State match on Friday, being in school has always been part of who she is.
Growing up, Caffey would help her mother, Nicole Fuller, decorate her classroom. Fuller still teaches seventh- and eighth-grade math at John H. Vanderpoel Humanities Academy in Chicago.
Yet, when she got to college at Missouri, Caffey declared nursing as her major with the intention to go into the pediatric field. She quickly learned that nursing wasn't her passion and changed to education at the encouragement of a few of her teammates. She immediately knew it was the right move.
"As I started going into the classroom with the kids, it was just so fun," Caffey said. "I knew that that's what I wanted to do for the rest of my life."
Caffey graduated with a degree in elementary education from Missouri in 2019 and looked into transferring with two years of eligibility left. She ended up at Nebraska, where she's working on a master's in teaching, learning and teacher's education.
After the fall semester, Caffey realized that she missed being in the classroom, which she called her comfort zone, so she signed up to be a substitute teacher with Lincoln Public Schools.
Caffey subbed for about two weeks at Schoo and a couple of LPS elementary schools, but she liked the environment at the middle school. During that time, Caffey has taught science, math, English and P.E. If Caffey stays with middle school, she'd like to teach English or writing.
Even though her endorsement is K-6, and she did her student teaching in second grade in Columbia, Missouri, Caffey said wading into middle school was a different world. However, she quickly settled in and enjoyed the culture and support at Schoo, which fits her desire to teach in a school with a diverse population.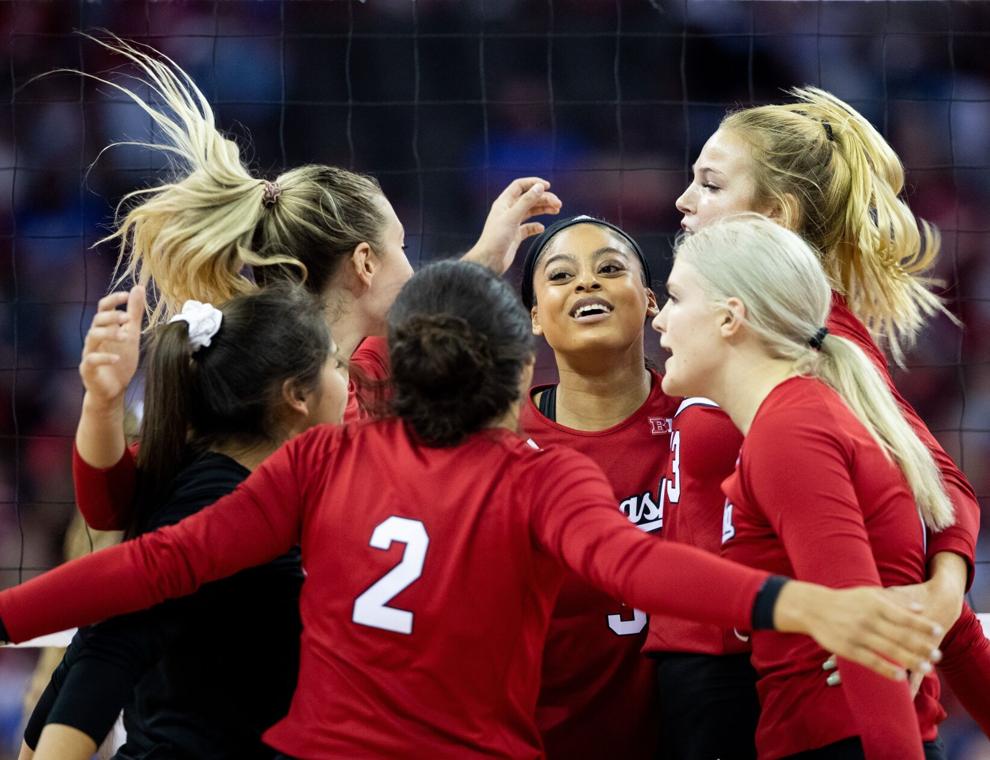 "I was a little scared of them at first because they're different than second graders or first graders, but they were really fun," she said. "After this, I could see myself being in a middle school setting."
Kym Le handles arranging all the substitutes at Schoo and said she was glad Caffey could step in because the district faces a shortage in subs.
"We'd love to have Kayla back as soon as she's done with volleyball," she said. "We enjoyed having her. I'm sure she's gonna make a great educator."
Because she taught during the spring, Caffey didn't just have to teach the students in the classroom, but also several online learners, something she had been exposed to in all of her classes.
While she's not substituting during the volleyball season, Caffey said she looks forward to going back. She's developed relationships with the students and staff, and even donated two pairs of new volleyball shoes to Schoo.
"She did not have to do that. Not a lot of people that age would think of that," said Joel, who is also the athletic director at Schoo. "I just think that's amazing and says a lot about her character."
Caffey joked before the season that her jersey number (No. 3) matches the number of times she's been a senior. During the past two years, Nebraska has become her second home, and she's sad that her playing career could be coming to an end.
She will have plenty of options after this season, including returning for another season or playing professionally. Caffey said she will figure out her next move after the season. Regardless of what comes next, Caffey said she will likely end up in a classroom eventually.
"I have been a senior so many times," she said. "I think that definitely does play a small part in my decision. If I were to stay, I would be 25 next season. That is a big number, but no one's in a rush to go to work."
---