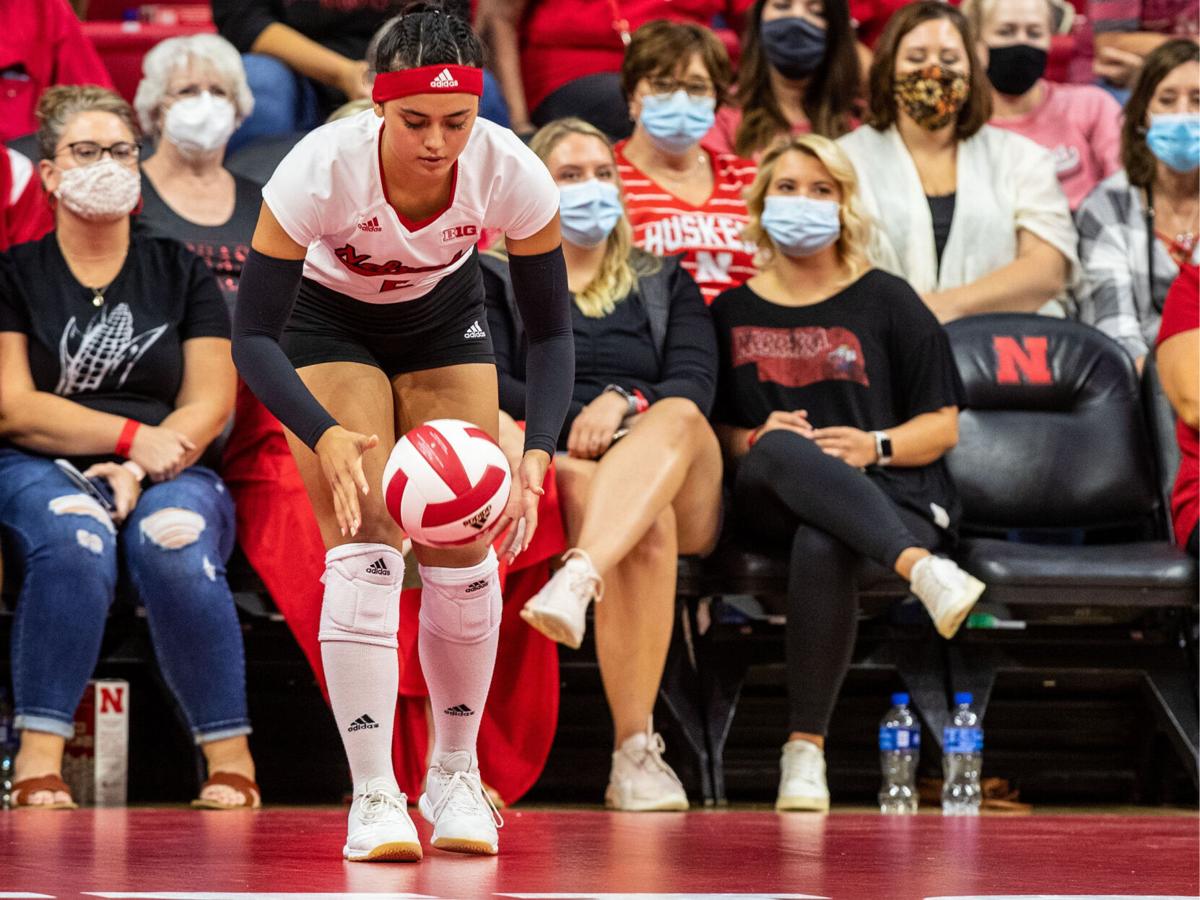 LINCOLN — Michigan State wasn't ready for Keonilei Akana's serve.
The first time the Nebraska sophomore stepped to the end line, the ball dropped in front of the Spartan back row. MSU didn't handle the next four serves much better as the first-touch passes all resulted in out-of-system plays. The Huskers went on a 6-0 run.
To be fair, several teams have struggled with Akana's serve on first look. She aced Penn State, Michigan and Colgate during her first time serving. In all, she's recorded an ace in 11 of Nebraska's 14 matches and has just 10 errors.
Akana's serve has become a weapon for NU as she leads the team with 20 aces this season. NU coach John Cook has called her the Huskers' top server by all their metrics, but the players who have to receive her serves in practice don't need numbers to know how good it is.
"I feel bad for our team and we have to receive her serves," senior setter Nicklin Hames said. "Then she goes to serve (in matches), I'm like, 'All right, here we go. We're gonna be in this rotation for like five or six points.' Then she just goes back and thumps it. ... She's the best server on our team, hands down."
Akana has used her serve to help spark key runs for the Huskers, who play at Rutgers at noon Sunday. In the fourth set against Kansas State, Akana was at the service line when the Huskers scored five straight to take a 20-18 lead.
Against Creighton, Akana served six points in the second set that turned an 18-15 deficit into a 22-18 lead. During that run, she had one ace and forced the Bluejays to burn both of their timeouts.
"Whether we're down or whether we're up, before we serve the ball (Cook) always says, 'Trust it, big girl,'" she said. "We just kind of take that big breath and then we have the confidence from our teammates. Just taking that huge step to being confident in taking that serve, that's huge for all of us."
Akana doesn't use a rocket jump serve that comes in hot, but instead a float jump that much like a knuckleball in baseball relies on deception and unpredictability to throw opponents off.
Junior Madi Kubik said Akana's serve is tough to pass because she keeps her shoulders square to the line, but can go crosscourt without looking to catch players off guard. In addition, she varies the depth of her serve, sometimes with the bottom dropping out.
"We can trust her to go back and she trusts her serve and always gets us in a good position," Kubik said. "We have a lot of faith in her, and I think that helps her to have a lot of confidence in herself, as well."
One aspect that has helped Akana excel is her steady approach to the game. It is difficult to tell whether the Huskers are leading or not based on Akana's body language and facial expressions.
Her father, Brandyn Akana, said that she's always excelled at the mental side of sports.
Both of Akana's parents played sports in college. Brandyn played basketball at BYU-Hawaii, while her mother, Joselyn, played volleyball at Hawaii. Brandyn also coached basketball in college, so the Akana children grew up around athletes and saw first-hand the work and approach it takes to succeed in college. It's paid off as oldest child, Braelyn, is a sophomore volleyball player for Hawaii after redshirting last season, while younger brother Tausili is a top-100 recruit for the class of 2023.
Last weekend, Keonilei got to play in front of her father for the second time this season, as well as Tausili, who was on a recruiting trip to Nebraska. The siblings haven't seen much of each other during the past two years because of their sports schedules, and the Michigan State match was the first time Tausili saw his sister play in college.
"I think that was great because he never experienced a fan base like that and so he even said it was incredible," Keonilei said. "The fans were insane and he just missed watching me play from high school."
Keonilei Akana's serving prowess has earned her the nickname K-Thump from associate head coach Tyler Hildebrand. She worked with Hildebrand during the long offseason last year to refine and improve her approach from the end line, and he wanted her to put more power behind her serves.
Now when Akana talks to her high school coaches, they want to know what she's done to improve her serving. They note that she's improved from her freshman season, when she was second on the team with 21 aces but also had 26 errors.
Akana wasn't a slouch in high school. She was named the player of the year by the Honolulu Star-Advertiser as an all-around player and led her team to a state championship. Now at Nebraska, she's been able to just focus on serving and playing in the back row.
"I think she's only scratching the surface because she's never played back row only," Brandyn Akana said. "You see her back there and her growth. She picked it up so quick, and it showed last year. This being her second year, I think it's just the beginning, and she's only going to get better and better."
---