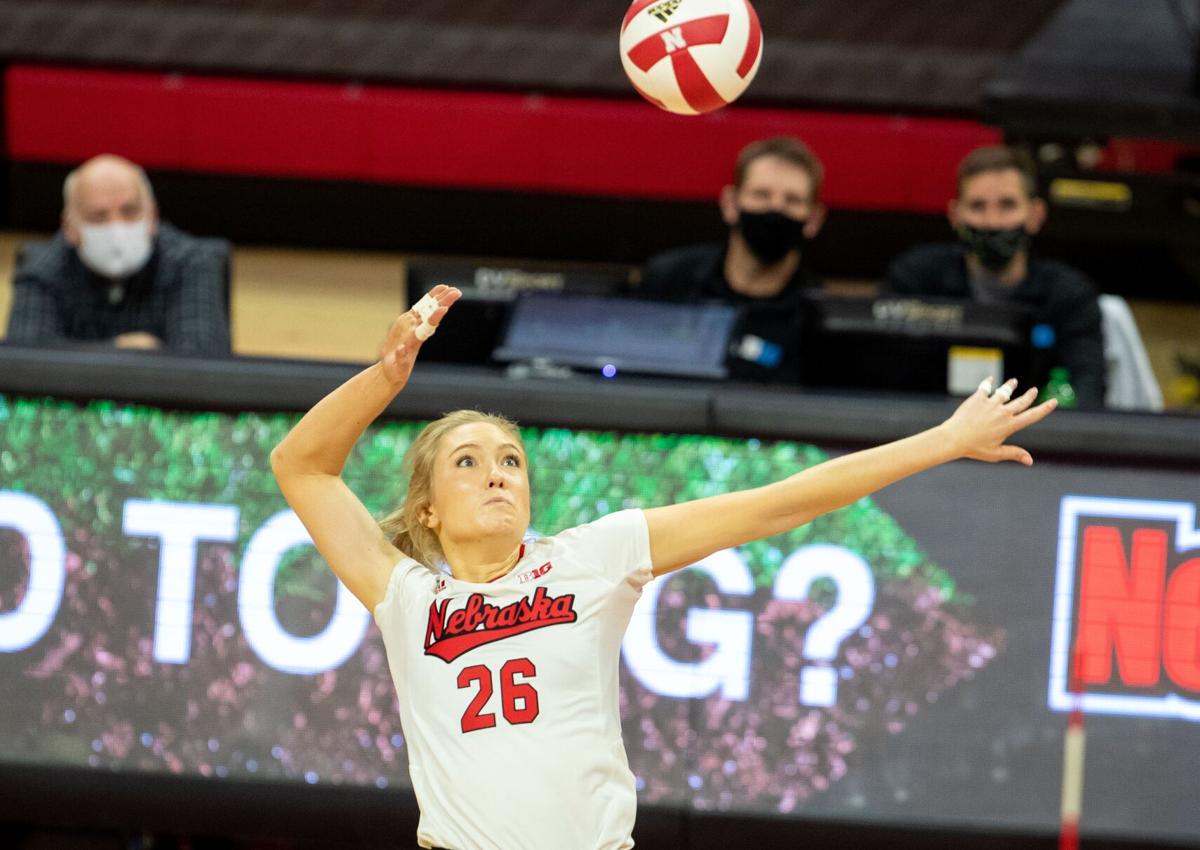 LINCOLN — Lauren Stivrins doesn't buy any talk of a rivalry or hype about how big Nebraska's match is against No. 3 Wisconsin.
To her, this week's showdown against the Badgers is just another game in the No. 6 Huskers' quest to get better and work towards their season-long goals of winning the Big Ten and making a deep run in the postseason.
In fact, the All-American middle blocker seemed a little annoyed about all the questions she received about the importance of the match, which is Wednesday at 8 p.m. at the Devaney Center.
"There's a lot of outside pressure that people like to put on us playing Wisconsin and I don't think that that has any relevance to what actually happens on the court," Stivrins said. "For us, it's just another game and we're hoping to take this from good to great."
Nebraska (16-3) enters the game atop the Big Ten standings at 10-0, while Wisconsin is one game back. This week's matchup is the first of two this season after they didn't play in 2020 when their matches were canceled because of COVID issues in the Wisconsin program.
As of late, the Badgers have owned the series, including sweeping all three meetings in 2019. NU coach John Cook said he hasn't watched film of those losses, which included a season-ending loss in the regional finals, because they are ingrained in his memory.
After losing five straight in the series, the challenge for the Huskers is to find a recipe to defeat the Badgers.
Wisconsin (17-1) has only lost three times since they last played the Huskers: the 2019 national championship match to Stanford, the national semifinals in April to Texas and this season's Big Ten opener to Maryland, when the Terrapins recorded 15 blocks in their five-set win.
Cook said their game plan starts with relying on their strength of serving aggressively and keeping balls up.
"The last several years they've been at the top of hitting efficiency," he said. "They've got a lot of great hitters, and so that gives us a chance if we can serve-block and play defense."
Many of the key players are back from Wisconsin's last two Final Four runs, led by middle blocker Dana Rettke, setter Sydney Hilley, outside hitter Grace Loberg and libero Lauren Barnes, who are all in their fifth year at Wisconsin. They also feature sophomore middle blocker Devyn Robinson, who Cook said was putting up "numbers that are off the charts."
New this year for the Badgers is freshman outside hitter Julia Orzol, who is averaging 3.46 kills per set. Cook said she has a powerful arm, jumps well and brings a lot of international experience from her time with the Polish youth national team.
"They got a lot to deal with but we're excited and let's go see what we can do," Cook said. "This is going to force us to go to another level if we want to compete."
After a few early-season struggles, Stivrins said NU is ready for the challenge on Wednesday. They've matured during the first half of the Big Ten season and improved in nearly every area on the court. However, she said the most important takeaway from the showdown might not be on the scoreboard.
"It would be nice to win, but I just want to see this team get better, whatever that may look like," Stivrins said. "I think we're ready for this challenge and I'm excited to see how we stack up against them."
---