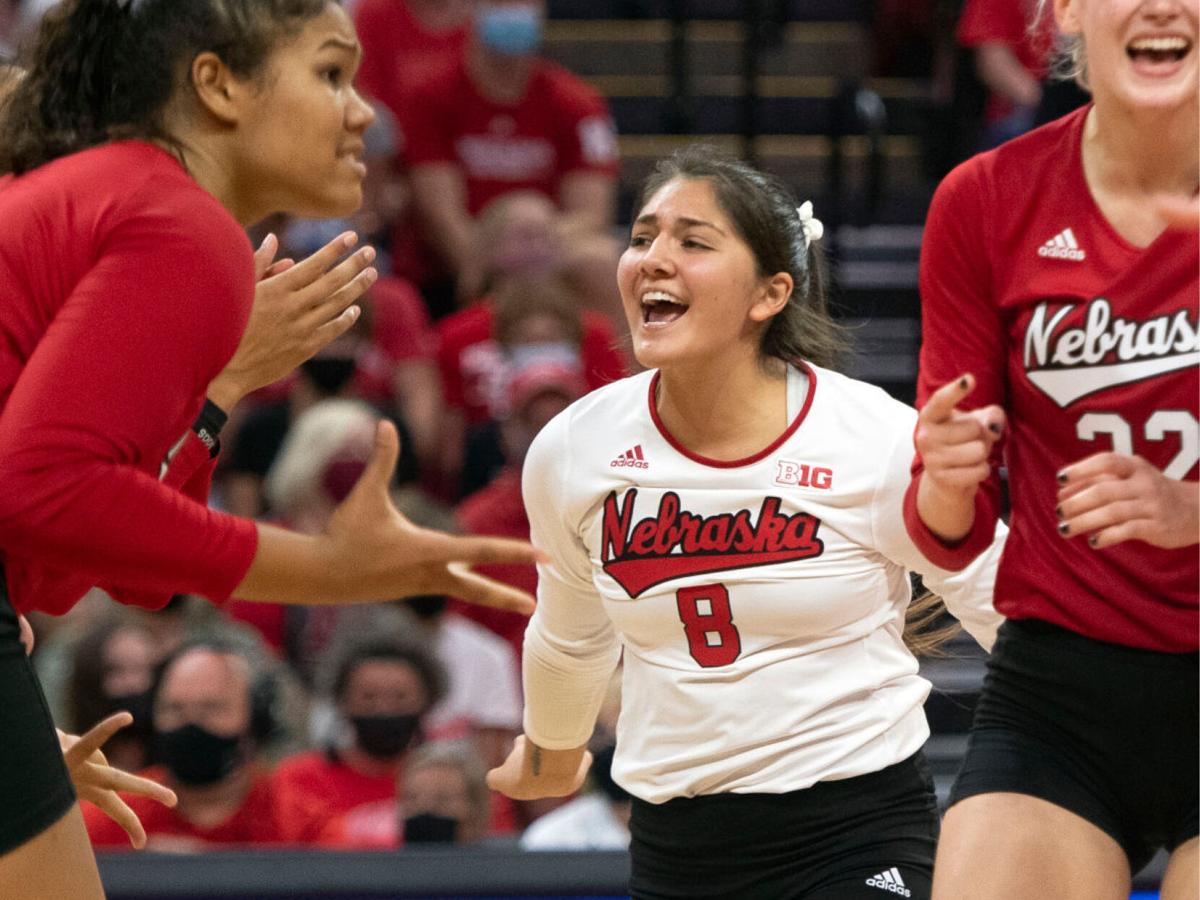 LINCOLN — It didn't take long for Lexi Rodriguez to make a big impression for Nebraska.
The freshman libero was the Huskers' anchor on defense and made several standout digs in her first two college matches.
Rodriguez averaged 5.14 digs per set and has a serve receive rate of 100% in 23 attempts, the second-most on the team. She's also the secondary setter and finished the Colgate match with six assists.
"She's the best passer in our gym by far every day," NU coach John Cook said. "And it's not even close."
Others are taking notice of Rodriguez's solid first impression. She was named the Big Ten co-freshman of the week with Ohio State's Arica Davis.
"Lexi Rodriguez has the widest range of any libero I have seen at Nebraska," former NU coach Terry Pettit tweeted Monday.
The Huskers hit .260 against Colgate and looked solid for most of the match against Kansas State, hitting .278 in the three sets they won.
Nebraska — which moved up one spot to No. 4 in this week's coaches poll — hit .460 in the first set against the Wildcats. The high level of passing was evident as setter Kennedi Orr stood near the net waiting for passes, which allowed the Huskers to run their offense in-system.
"That's a good sign," Cook said. "As opposed to running all over the gym bump setting, which we did a lot of that last year. We got to be pretty good out of system because we've got a lot of practice on it."
NU was betrayed by its passing during the biggest matches of the spring 2021 season, which in turn caused the offense to bog down.
It's still early in the fall season, and the Huskers haven't faced any elite competition, but Cook is encouraged by what he's seen from the floor defense and passing so far.
"When you got eight people that can pass, and your four best are going to play, it helps them focus on passing," he said.
When the Huskers needed to give Rodriguez a break or coaching tips, they could sub in Kenzie Knuckles — libero for the past two seasons — or Keonilei Akana.
The bigger challenge is trying to figure out how to utilize all of Rodriguez's defensive creativity and skills.
"We're very disciplined on defense, and we're trying to decide how we turn her loose a little bit and let her read, because she's so good at reading," Cook said.
Hames ramps up
Senior setter Nicklin Hames is going to practice fully this week, Cook said, after missing the opening matches because of an injury sustained in the Red-White scrimmage.
Hames did a light workout Thursday and continued with rehab, but she is ready to start ramping up in anticipation of playing Friday.
"It's amazing when you see setters come in how fast they heal up," Cook said. "We got to start pushing her (Monday) to see if she can play this weekend. She's chomping at the bit."
Cook said freshmen Ally Batenhorst and Rylee Gray would also be full go this week. Batenhorst participated in practice but was only about 70% healthy. Neither played in the opening two matches with minor injuries, but they're eager to make their debut.
"These guys think they're invincible," Cook said. "We got to go on experience and what's happened in the past and manage it."
Reunion weekend
The Huskers will see a lot of familiar faces this weekend as they host UNO, Georgia, and Arizona State.
Four NU players have high school teammates that play for UNO: Omaha Skutt's Lindsay Krause (NU) and Shayla McCormick (UNO), Elkhorn South's Rylee Gray (NU) and Brilee Wieseler (UNO), Waverly's Anni Evans, Whitney Lauenstein (NU) and Abby Plouzek (UNO), and West Des Moines Valley's Madi Kubik (NU) and Olivia Curry (UNO).
Krause will have another reunion against Arizona State as she will face off against her former setter Allie Gray. Also, Nebraska's Callie Schwarzenbach of Kearney, Missouri, will reunite with Sun Devils freshman Andi Kreiling.
Georgia features Amber Stivrins, the younger sister of NU senior middle blocker Lauren Stivrins. The Bulldogs were scheduled to visit Nebraska last year before the pandemic caused the Big Ten to scrap all nonconference matches.
---