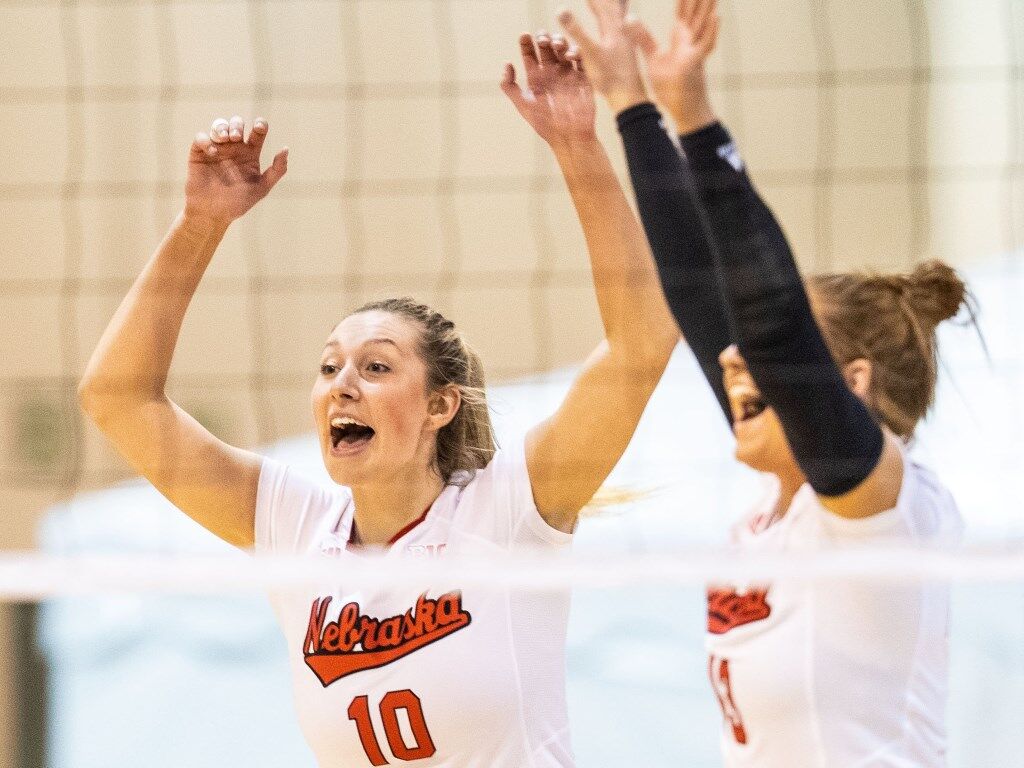 After not playing a match for 19 days, the Nebraska volleyball team was a little amped up to finally play against competition again.
On the first point, sophomore Madi Kubik pounded a swing off an attempted dig into the convention center ceiling and knocked dust and debris onto the court, causing a temporary delay.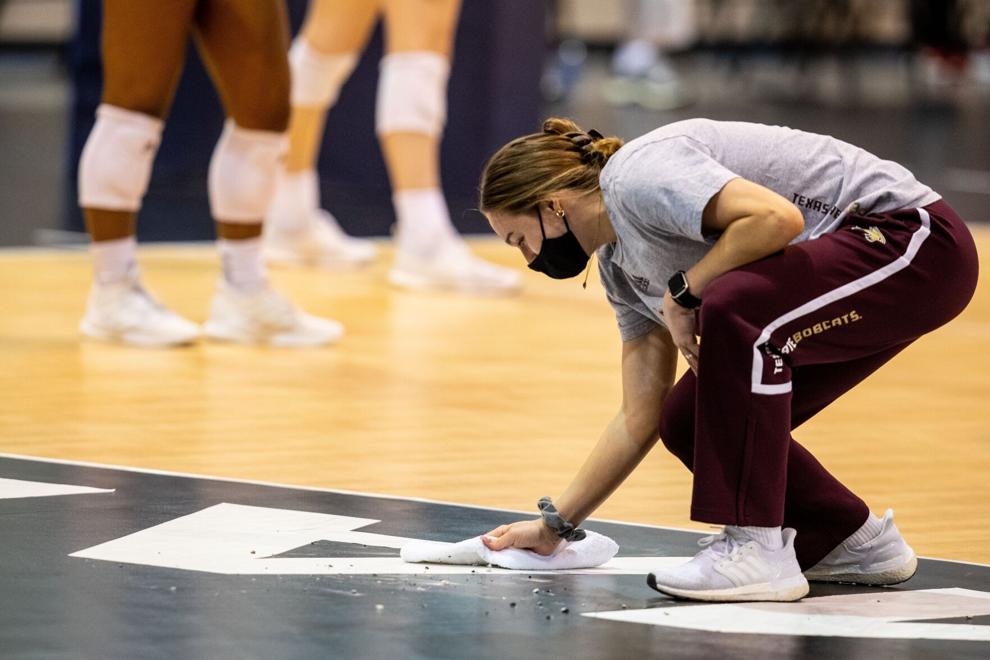 The 6-foot-3 outside hitter led the fifth-seeded Huskers past Texas State in the second round of the NCAA tournament with a 25-18, 25-17, 25-20 win Thursday afternoon at the CHI Health Center convention center.
"We were super excited just because obviously we hadn't played in three weeks, and with our first match being the second round of the tournament," said Kubik, who finished with a match-high 13 kills and a .407 hitting percentage. "It was fun to be back out on the court with my teammates."
The Huskers (15-2) advance to the regional semifinal on Sunday, when they will play No. 12 Baylor, which defeated Pepperdine in five sets earlier Thursday.
Nebraska's offense showed few signs of rust as the Huskers posted a season-best .398 hitting percentage. The Huskers' 50 kills were the most this season for a three-set match.
Nebraska coach John Cook said junior setter Nicklin Hames put hitters in position to make plays as she finished with 43 assists while the Huskers committed nine hitting errors.
"Nicklin did a great job tonight," he said. "They had a lot of one-on-ones, and they should kill a ball (when) they get one-on-one, but of course we have to pass to do that. I thought our passers did a really good job of passing."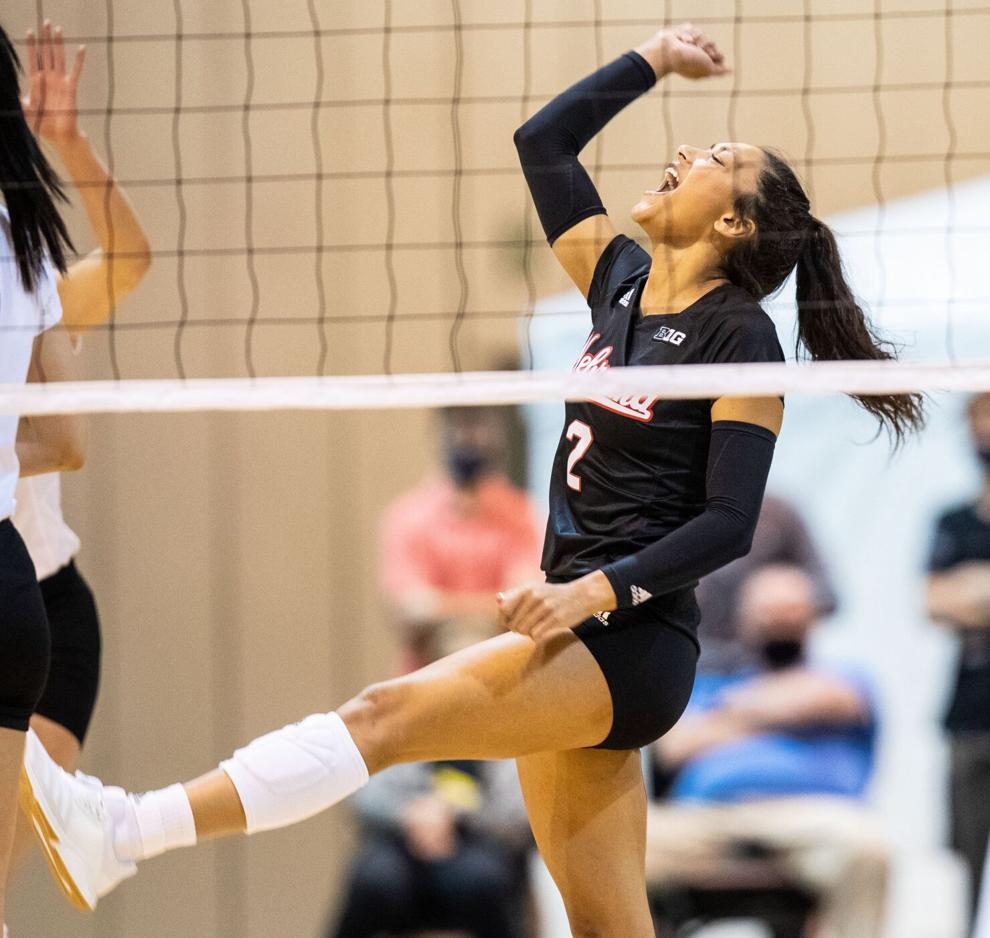 After trading seven sideouts in the first set, NU jumped in front 14-10 with four straight points with Kubik at the service line, including an ace that was sailing long but clipped a Texas State player. The Bobcats (31-9) closed to 21-18, but back-to-back kills from senior Lauren Stivrins started a 4-0 run to close the set.
Kenzie Knuckles continued Nebraska's scoring streak as she served the first five points in the second set. Knuckles finished with two aces and a team-high nine digs.
Nebraska's middle blockers then took over as Stivrins and junior Kayla Caffey each recorded five kills in the second set. Stivrins finished with 10 kills on 14 swings, while Caffey added nine kills at a .667 clip and five blocks.
Senior right side hitter Jazz Sweet finished with a flawless night with eight kills on a .400 hitting percentage. Senior outside hitter Lexi Sun added seven kills with eight digs.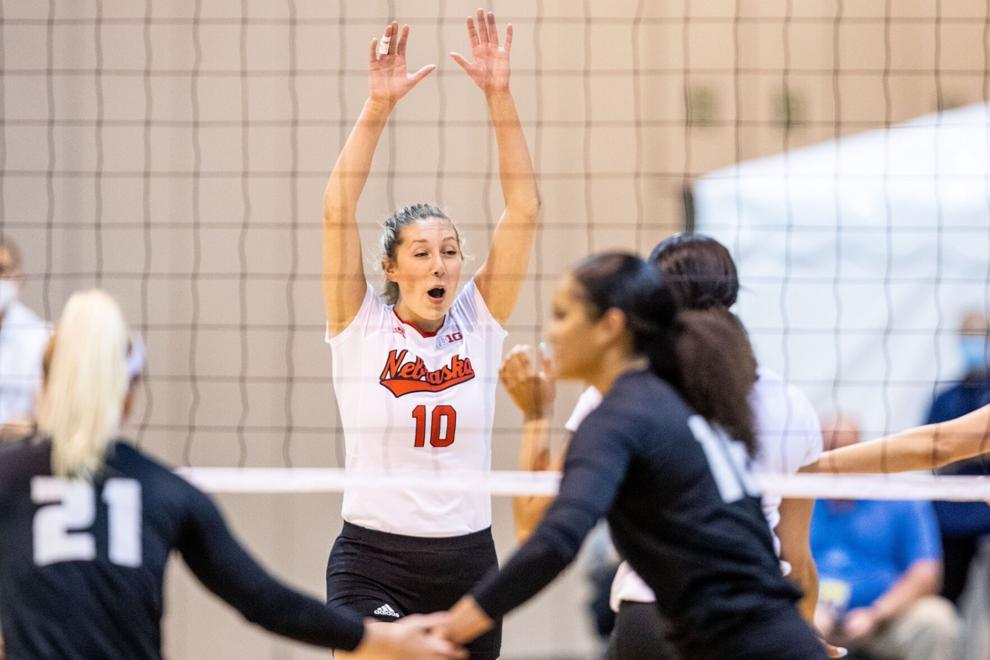 In the third set, Callie Schwarzenbach stepped in for Stivrins and the Huskers didn't miss a beat. The junior middle blocker recorded two kills on four swings. The Bobcats hung around and tied the set at 20-all, but the Huskers closed out the match with the final five points.
Cook said they wanted to rest Stivrins for the last set as NU will need more depth during the tournament. Kubik said the move didn't catch the rest of the team off guard as they knew they might have to play without their senior captain at times to limit her jumps.
"We want her to be out on the floor as much as possible, but we understand that her body and her health have to come first," Kubik said. "As a team, we're mentally prepared for that kind of tournament. Knowing that there might be a third set, where she needs to keep her jumps down like today, and that we need to all step up and bring leadership skills to be successful."
Despite the impressive offensive numbers, Cook said the Huskers looked tentative and like they hadn't played high-level competition in nearly three weeks. He said the defense was a half-step slow as Texas State hit .185, led by eight kills from Tyeranee Scott and Janell Fitzgerald.
"It just felt a little sluggish, a little discombobulated at times compared to my last memory was when we were at Michigan — the second night — we were humming," Cook said. "We just kept encouraging them to work through it. We had three pretty consistent games ... but I see a lot of areas we can be better in."
---