LINCOLN — It only took a few days for the Nebraska volleyball team to see dividends from its annual Dream Team camp.
With the Huskers able to recruit 2023 prospects for the first time in mid-June, they received two pledges from rising juniors the week following their premier summer camp.
Setter Bergen Reilly, the No. 14 overall prospect according to PrepVolleyball.com, and middle blocker Andi Jackson unveiled their commitments on social media Thursday.
Reilly said her decision came together quickly. After getting home from the camp last weekend, she thought about everything she experienced for a day and then called NU coach John Cook on Monday evening to give him her verbal pledge.
"I was planning on going to some other (camps) later on, but after this camp I knew that I didn't want to go anywhere else," she said.
Although she played right side this past season for O'Gorman High School in Sioux Falls, South Dakota, she sets for her club team and projects as a setter in college.
During her sophomore campaign, the 6-foot-1 Reilly helped O'Gorman to the AA state championship playing right side. She recorded 400 kills, 260 digs, 131 assists, 62 blocks and 36 service aces with a hitting percentage of .304. She was named the South Dakota Gatorade player of the year as she led the Knights to a 26-0 season.
During the camp, she talked with NU junior setter Nicklin Hames, as well as Cook and assistants Tyler Hildebrand and Jaylen Reyes. Reilly said the Nebraska coaches liked her skill set, but her calm demeanor and leadership skills were just as important.
She said she liked how close Nebraska is to her home, but the more important factor was the relationships between the players on and off the court and how easy it was to talk to the coaches.
"I could tell the culture there is exactly what I want," she said. "Everyone on the team is like family. They're not just teammates on the court and they talk to each other outside of it. I think that's supercool and that's what I'm looking forward to."
Reilly drew interest from Purdue and Texas and planned to go to camps at Kentucky, Minnesota and Wisconsin, but was ready to shut down her recruitment after her second camp in Lincoln. She also attended a match against Penn State a few years ago and can't wait to play in front of a sold-out Devaney Center.
Reilly said she leaned on the mentoring from her "role model" and older sister, Raegen, who will be a freshman setter for North Dakota State. Bergen said the best advice she got from her sister was to trust her instincts.
Before Raegen went on her recruiting trip to Fargo, she said there was no way she was living in North Dakota, but everything felt like home. Bergen said she had a similar feeling during her trip to Lincoln.
"I trusted my gut," she said. "It just felt so right. So I trusted myself and I went with it. I'm really happy with my decision."
As for Jackson, she isn't included on any recruit watch lists, including Prep Volleyball's Top 150 for 2023, which was last updated in August 2020.
However, she relishes playing the role of underdog, and during the past year, she's put the work in to become an elite recruit on the radar of some of the top programs in the country.
She's increased her approach jump reach by almost a foot to 10-foot-5 and become a dominant player on the court for Diff Volleyball Club, where former Nebraska All-American Christina (Houghtelling) Hudson is the director of coaching.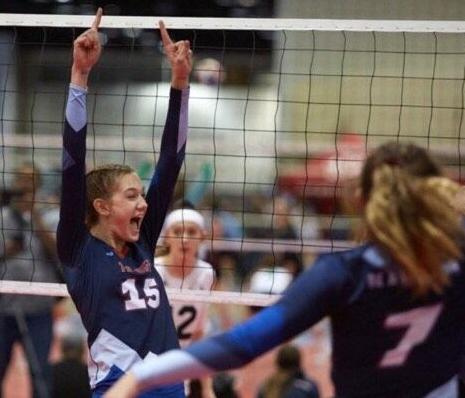 "I just wasn't nearly as good as I am now a year ago, but I really started putting in the work and realizing I wanted to play at a high level in college," Jackson said. "My name is not on a lot of lists, but it doesn't bother me at all. I actually think it's pretty cool that no one really knows who I am and then I kind of come out of nowhere."
On June 15, the first day college coaches could contact 2023 recruits, Cook reached out and offered a scholarship. They've remained in contact during the past month, and Jackson was sold on the pitch. Cook told Jackson he likes her explosiveness and quickness as a middle and her overall athleticism.
Jackson picked Nebraska after also visiting Texas and Baylor. She said she liked the small-town feel and how that's similar to her hometown of Brighton, Colorado, which is a suburb northwest of Denver. She said she also liked the program culture and the school had everything she wanted.
"As soon as I stepped foot on campus, I knew Nebraska is where I wanted to be," she said.
In a 15-match spring season for Brighton High School, Jackson, who is 6-foot-2, recorded 113 kills with a .363 hitting percentage along with 58 blocks.
Both Reilly and Jackson will travel to Anaheim next weekend to take part in the USA Volleyball under-18 training program. They will be part of the group of 24 players hoping to make the 12-person roster for the U18 World Championships in Mexico in September.
Even though they committed on the same day, the dual announcements were unintentional. After meeting at the Dream Team camp and connecting via social media, Jackson was glad to have Reilly in the same boat as her in the 2023 class.
"I already knew I wanted to commit, but it was so nice having someone who was already there," she said. "Knowing someone going through the process with you, it just makes it more comfortable."
---