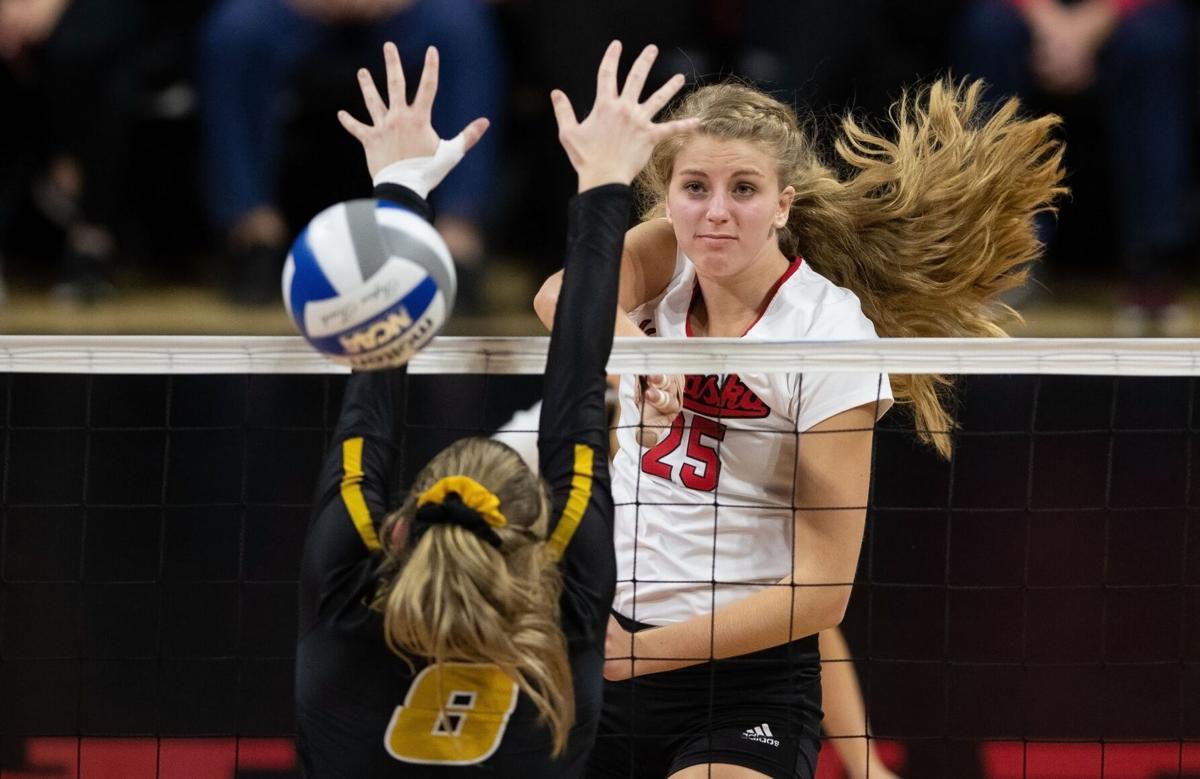 LINCOLN — Before Nebraska took on No. 13 Penn State, Kayla Caffey gave Callie Schwarzenbach a heads up that she wasn't feeling well.
It turned out to be a false alarm as Caffey powered through against the Nittany Lions with nine kills and seven blocks. But the senior middle blocker didn't feel better after the match and missed the next three with a non-COVID illness.
Schwarzenbach, a two-year starter, was ready and stepped in to hold down the M2 position with 13 kills and 10 blocks over the next three matches.
However, Schwarzenbach will likely return to the bench when the Huskers (14-3, 8-0 Big Ten) take on Iowa Wednesday at 7 p.m. NU coach John Cook said Caffey is back to full strength, but Schwarzenbach said she is preparing so she can contribute no matter the situation or timing.
"We always got to be ready, especially when we are watching video, and I make sure I'm still paying attention and know everything," Schwarzenbach said. "Our teammates are really good about hyping each other up, too, whenever we get the opportunity."
This isn't the first time Schwarzenbach has had her role changed for the Huskers. After the Kearney, Missouri, product started all but two matches during her freshman and sophomore campaigns, she saw much less playing time in the spring season after Caffey joined the Huskers as a transfer.
However, she was called up to make four starts, three times to replace Caffey as NU managed her workload. Schwarzenbach also filled in for All-American Lauren Stivrins in the regional semifinal against Baylor, recording three kills and five blocks.
Cook said the players prepare in practice as if they were always starting so he expects them to step up when their number is called.
"They're all rotating in there (during practice) so they all feel confident if they go in," Cook said. "They all get trained the same, so no one person gets more than another. We're training a team and a culture."
Schwarzenbach began this season as a starter as Stivrins worked her way back from back surgery. She appreciated the perspective that Stivrins provided from the bench as they talked about what they saw across the net and offered tips about what shots are open and how to block attacks.
Once Stivrins came back, Schwarzenbach was glad to take a back seat as she wants whatever is best for the team, and having Stivrins on the court helps the Huskers chase their ultimate goals. Now that the roles have reversed, Schwarzenbach is the one offering the tips.
"I was really excited when she got cleared to go back," Schwarzenbach said. "We both know what we need from each other, which is super helpful, so we support each other so much, too."
Schwarzenbach is content with her role whether she is starting or not. She has evolved as a player. She enjoys volleyball more and is much more knowledgeable about the details, which allows her to connect with teammates.
Sometimes, those contributions don't just happen on the court as she is happy to serve as a mentor and instill lessons and build up the culture with the freshmen, whom she called the "babies."
"It's such a fun group to be around, and everyone wants each other to succeed," she said. "There's just so much love and trust. It doesn't seem like we're on edge, it's easier just to go in and have fun."
Nebraska held its position in the top 10, but Creighton dropped five spots in the latest college volleyball rankings. UNO, meanwhile, is in a tie for first place in the Summit League.
Focused on Iowa
Nebraska's match against Iowa might be a battle of opposites as the Huskers are undefeated in the Big Ten, while Iowa (2-16, 0-8) has yet to win a league match. However, Cook said they aren't looking ahead.
After the Hawkeyes, the Huskers have matches against No. 7 Purdue, No. 3 Wisconsin and No. 12 Minnesota.
"It's one match at a time. It's the Big Ten grind," Cook said. "These guys know how tough this conference is. You're just trying to win the next match. Don't worry about anything else."
Kubik honored again
After sharing the Big Ten player of the week honors a week ago, Madi Kubik was the sole recipient of the award on Monday.
The junior outside hitter posted dominating performances against Indiana and Illinois with 35 kills at a .378 hitting percentage in two sweeps.
"It's honestly been really inspiring to watch her, and motivational, too," Schwarzenbach said about Kubik. "She comes in working her butt off for every practice and doing things outside of practice as well to help her game and help the people around her ... we were all super pumped for her."
---