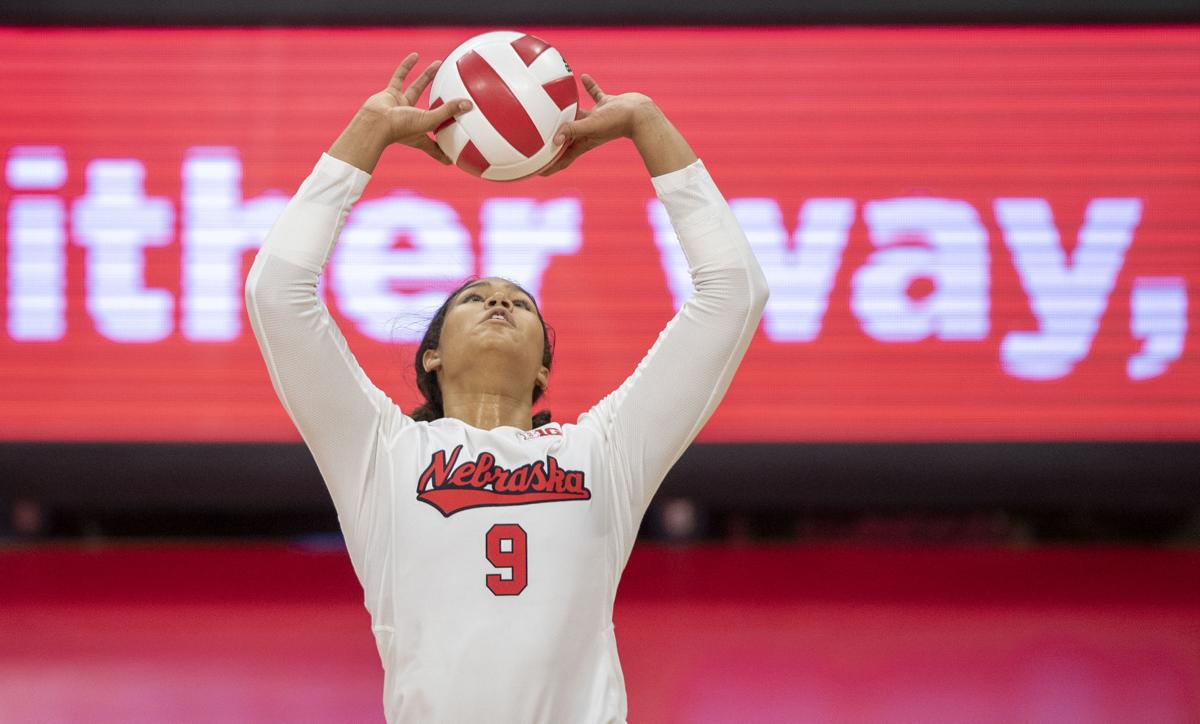 LINCOLN — When Kennedi Orr arrived on campus to start practicing with the team, she received a special setter shirt. It had all the position groups' catchphrases and mottos, and included the player's nickname on back.
The back of Orr's shirt read TBD — To Be Determined.
It's fitting in many ways because when the top-ranked 2021 recruit arrived at Nebraska in January, her future was still in the air. She hadn't played volleyball for several months after a knee injury that fall and was focused on rehabbing after enrolling early.
There was another obvious reason.
"They had the T-shirts ready when I got here and they were like, 'You need one,' but I didn't have a nickname yet, so it was TBD," Orr said. "It was just a combination of not playing volleyball and not having a nickname."
Flash forward to this weekend.
Orr still doesn't have a nickname, but will start to determine her career path. She will share the setting duties with sophomore Anni Evans as Nebraska opens its season at 6:30 p.m. Friday against Colgate at the Devaney Center.
Nebraska's original scheduled opener Friday morning was canceled Thursday, when Tulsa announced it was suspending all team activities because of positive COVID-19 cases and quarantining other players.
Orr's time on the court will come earlier than anticipated after senior Nicklin Hames hurt an ankle during the fourth set of last Saturday's scrimmage. The good news for the Huskers is that she didn't break any bones or tear ligaments.
"I feel ready," Orr said, "especially since two weeks of two-a-days and then this past week, they've really been preparing us."
Last week, Cook said Orr was practicing at 90% as she worked her way back to full strength. Orr said the two-a-days were a grind, but she feels stronger after they scaled back to one practice once school started.
Cook said he doesn't know what system the Huskers will run this week, but they are prepared to run a 5-1 or 6-2, and are comfortable with either setter. During the scrimmage, Orr and Evans played in a modified 5-2 with Orr in the front row and Evans subbing in for the back row.
Though Hames won't be playing, she has advised the other setters on how to handle playing a live match.
"I think both of us are ready to go, and either of those roles, and we're gonna be there and help each other along the way," Evans said.
Evans and Orr bring different strengths.
Evans has an extra year of practice, but she's in the same position as Orr, never playing in front of a Devaney crowd at a match. She also has a connection with freshman outside hitter Whitney Lauenstein after they played together at Waverly.
Evans' level-headed approach helps her run the offense and be a leader on the court.
"Anni just does such a great job of taking control of a team with energy and just being consistent with her sets," Orr said.
Though Orr is less experienced, she plays more physically and has a bigger presence at the net. At 6-foot, she's 3 inches taller than Evans.
Cook says she does things in practice that he hasn't seen other setters do and plays more like a male setter. The Eagan, Minnesota, product has big hands, which allow her to quickly set the ball all over the court from a variety of positions.
"She's got a gift with her hands and what she can do," Cook said. "She can really fling the ball around. It's one of the reasons we wanted to recruit her because I can't remember the last time I saw a setter that could do that in girls volleyball."
---