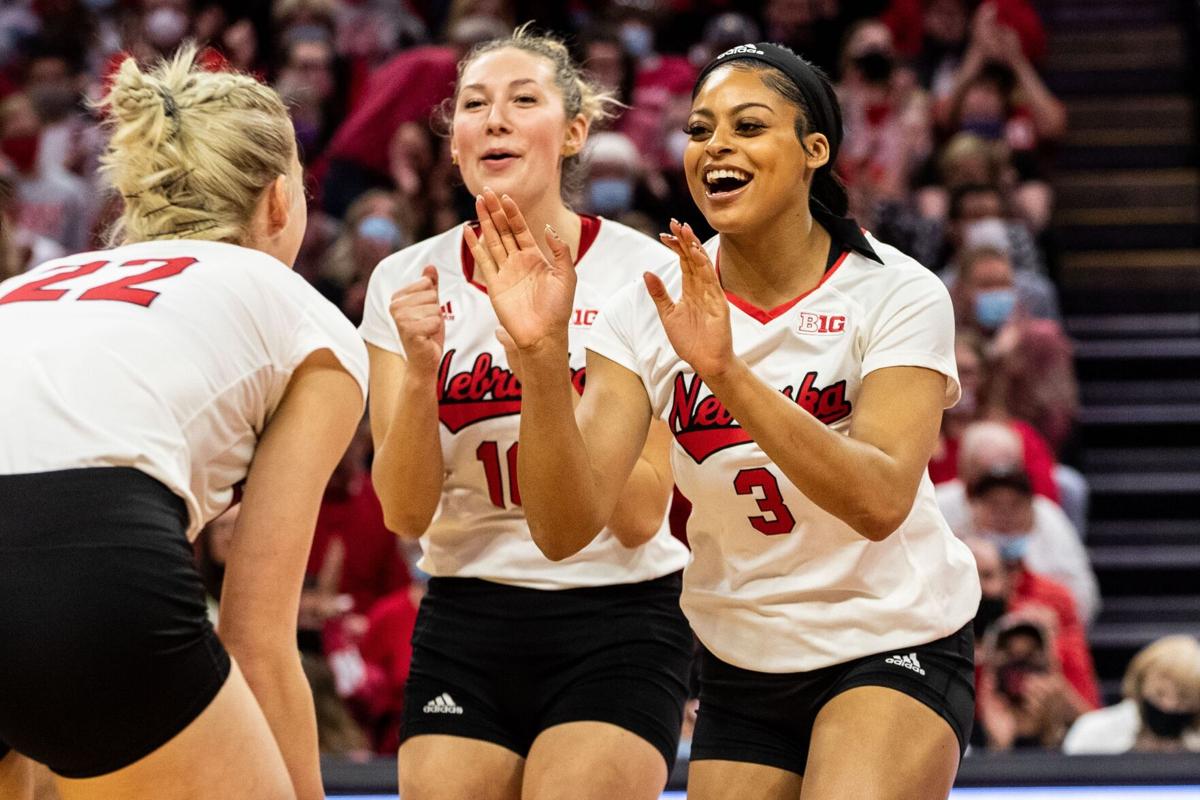 LINCOLN — Down 22-15 in the second set, Nebraska looked like it was in for another classic marathon battle against rival Penn State.
However, these Huskers' relied on the mantra of being bulletproof to mount a late-game rally. After NU coach John Cook called his second timeout of the set, he inserted freshman Whitney Lauenstein into the match and gave the players a few things he wanted them to work on to prepare for the next set.
The No. 11 Huskers flipped the set and won 10 of the next 11 points to win the set and eventually emerged with a 25-14, 25-23, 25-23 victory over 15th-ranked Penn State Friday night at the Devaney Center on Senior Night. With the win, NU has now won 11 of the last 12 matches against the Nittany Lions.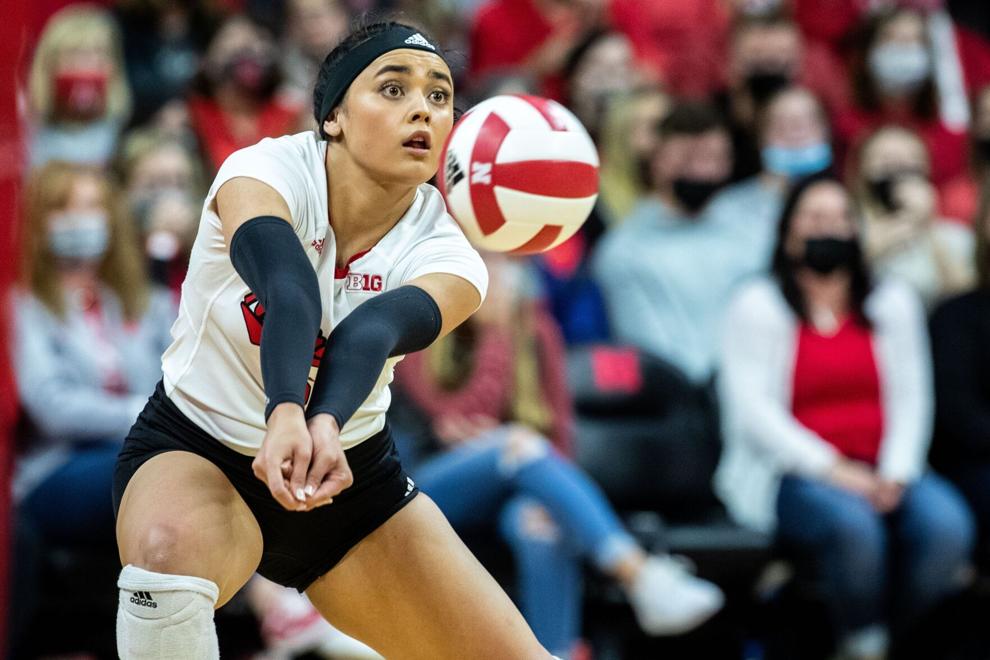 Early on in the second set, errors plagued the Huskers as their miscues accounted for 13 of Penn State's 22 points, including nine hitting errors. However, after the timeout, all the mistakes disappeared as NU cleaned up its passing and the Devaney Center crowd of 8,347 got into it.
"They just caught fire and then you could just feel the whole momentum shift," Cook said. "Our crowd was really into it ... Then Penn State made a couple of hitting errors and that's what great defense does to hitters. They start making errors. They played great defense against us, but we played a little better tonight. "
The Huskers (20-6, 14-3 Big Ten) limited Penn State to .088 hitting for the match. The Nittany Lions entered the match hitting a league-best .272 against Big Ten opponents.
The comeback started with a kill by senior Kayla Caffey before Lauenstein teamed up with senior Lauren Stivrins for a block. Another hitting error prompted a Penn State timeout, but it couldn't stem the tide as Madi Kubik trimmed the lead to three with a kill.
After Kaitlyn Hord recorded her first kill of the match, Lauenstein responded with a kill. The freshman opposite hitter said she relied upon her teammates to help get her focus on the court and try to block out the crowd and outside pressure.
"I just turned to my teammates and (Hames) was like, 'Come on, let's be Big Hit Whit tonight,'" said Lauenstein, who finished with five kills on eight swings and a .500 hitting percentage. "I was like 'Yeah, let's be Big Hit Whit.' I just look for my teammates to really bring me out of the tunnel vision you can have out there sometimes."
Stivrins and Kubik notched another block before perhaps the play of the match as Hames recorded a solo stuff against Penn State senior Erika Pritchard.
"When I blocked it, for a second I had to take a (moment) because I didn't think it happened and I maybe thought it ended on our side, but then I was like 'No, I blocked that," Hames said. "Then I turned around and I got hype and said a few choice words I shouldn't repeat online. My emotions came out on that one."
Stivrins tied the set at 23-all on the ensuing rally with a kill, before two Penn State hitting errors finished the rally and ended the set.
The tight finish to the second set was a stark contrast to the Huskers' dominance to start the match. NU served tough and used a strong defensive performance to run away with the first set. Penn State didn't record its first kill until the 15th rally of the match and trailed 10-5.
NU relied upon solid back-row defense, led by seven digs from Lexi Rodriguez, and a big block for four stuffs, three of which came from Stivrins. The Nittany Lions earned just one point on serve all set as they hit -.097 with just five kills, four of which came from Jonni Parker.
Cook called the first set the best performance he's seen time at Nebraska.
"The Huskers were fired up tonight. That first game was one of the best games I've seen in 20 years of how we played. I mean, we were almost flawless," Cook said. "That was some high-level volleyball going on."
Parker finished with 14 kills for Penn State (19-8, 12-5), but the next highest total was five from Hord.
In the third set, Penn State led 9-5 before the Huskers rebounded to take a 13-12 lead. The Nittany Lions broke the string after an NU hitting error, but neither team took a lead of more than one until senior Lexi Sun ended the match with an ace serve.
Kubik paced the Huskers with 12 kills, while Sun added eight kills. Senior middle blocker Kayala Caffey recorded seven kills on 11 errorless swings. Lauren Stivrins finished with six kills and seven blocks.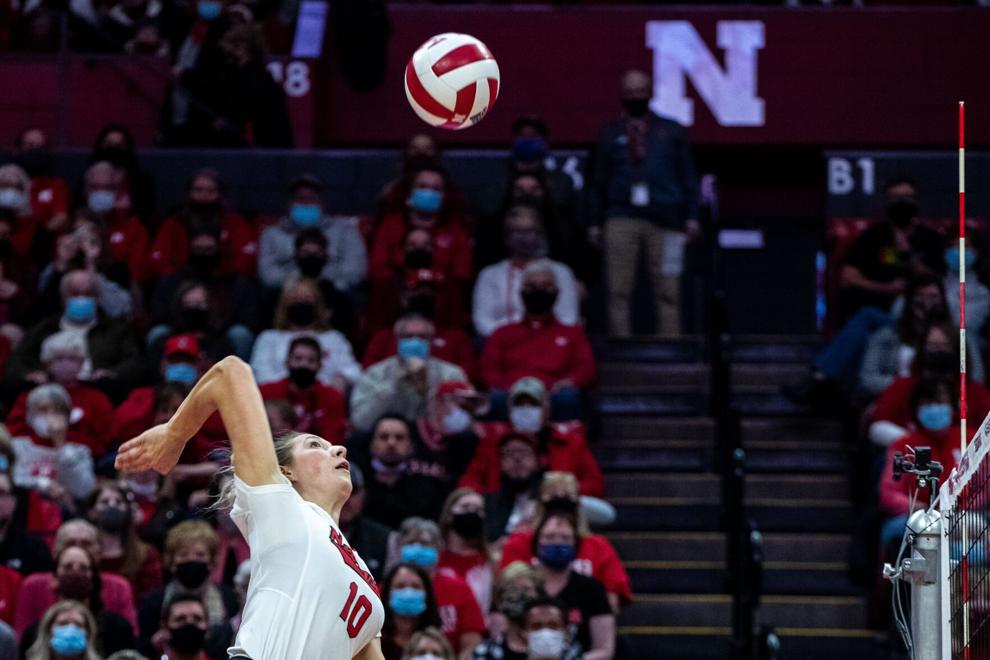 Hames finished with her 18th double-double of the season with 38 assists and a team-high 14 digs. Rodriguez and Akana added 13 digs apiece.
With the win, the Huskers will enter the final week of the season with at least a share of first place in the Big Ten. Wisconsin is also tied for first place and plays second-place Minnesota on Sunday.
NU will wrap up the regular season with road matches against Wisconsin and Purdue next week.
Nebraska's original home finale was scheduled against Rutgers on Saturday night, but the Scarlet Knights canceled because of non-COVID health reasons. The forfeit will count as a Big Ten win, but not in the overall standings.
Friday night's festivities were capped off with the Huskers' first senior night ceremony in front of fans in three years. NU didn't have any seniors on its roster in 2019 and just posted a video online during the spring season without any fans in the arena. Almost the entire crowd stayed to honor Stivrins, Sun, Hames, Caffey and Callie Schwarzenbach.
Hames said she was happy and sad at the same time celebrating Senior Day with a win, but overall she was glad she decided to play at Nebraska when she was 15 years old.
"The emotions of everything that was happening really fueled that tonight," she said. "Everyone was really emotional after and I think that was because there were so many emotions during the game, up and down. But overall, I just want to say I'm super grateful that I got to be part of such a special program and that I have such great teammates and they made this day so special."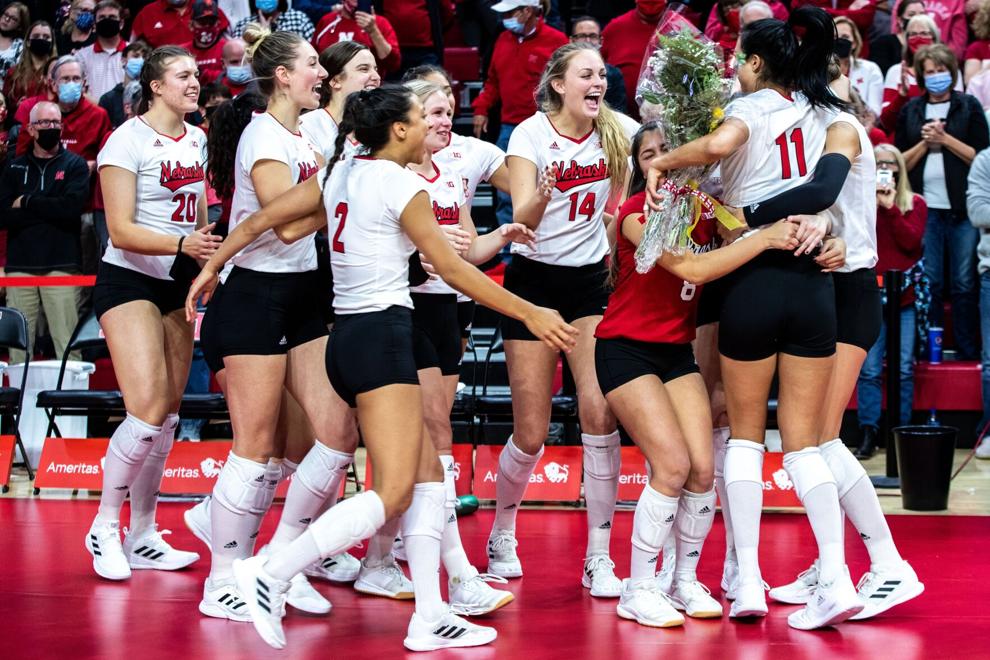 ---