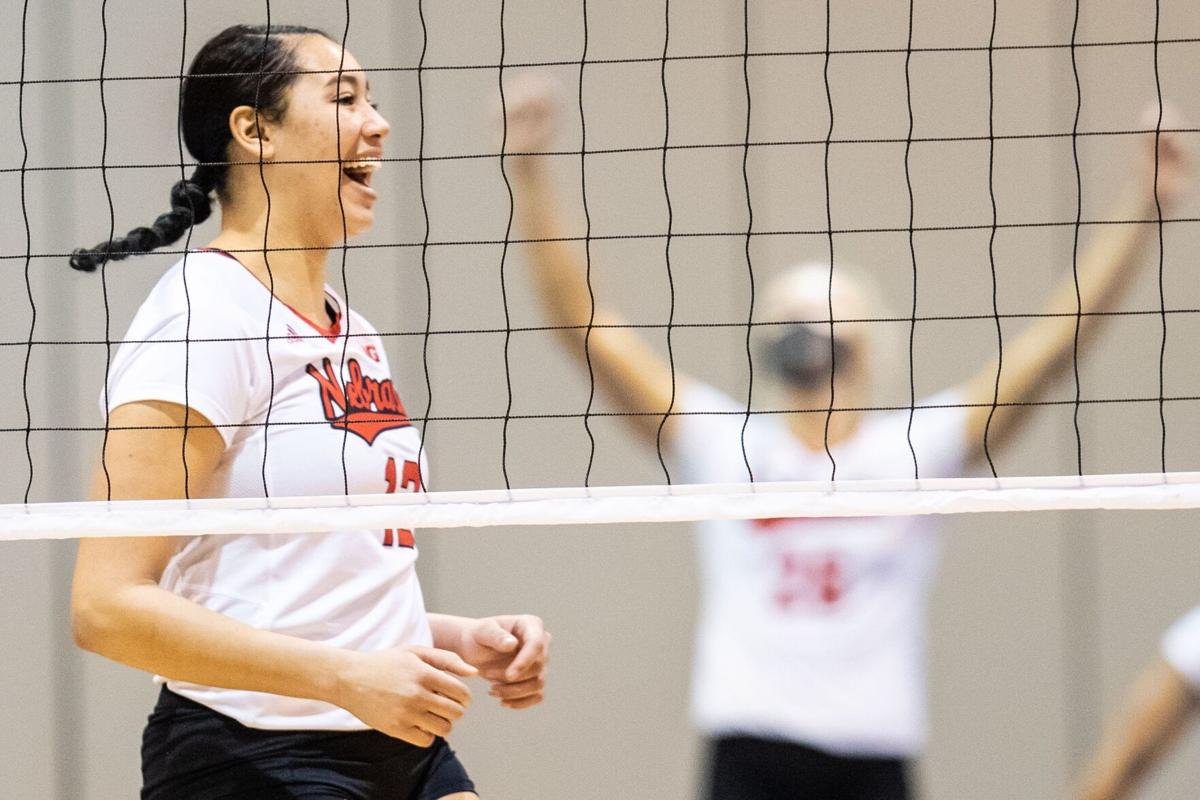 John Baylor was in Los Angeles. He wanted to be an actor.
Eventually, broadcasting looked like a more promising career. He liked sports. He was ready to work his way up.
Baylor accepted a job in his hometown, Lincoln, at KLIN. The station was part of the Husker Radio Network. The Huskers needed their first volleyball play-by-play man.
Twenty seven years later, Baylor has called five national championships, 12 Final Fours and 27 NCAA tournaments.
"I like to say I've had box seats to the greatest show on Teraflex," Baylor said, referring to the volleyball floor. "But now I have a recliner."
As Nebraska beat Texas State in the NCAA tournament on Thursday in Omaha, Baylor called the game from a most unusual place.
He was in a recliner, in the Husker Sports Network studios, at Eighth and P Streets in the Haymarket District in Lincoln. He followed the action on three TV monitors, one with a stat screen and another on his partner, Lauren Cook — who was calling from her house.
To be sure, this is an NCAA tournament like no other.
But could we get the same old result for an Omaha Final Four?
There have been three volleyball Final Fours in Omaha. Nebraska has played in all three, winning the title in 2006 and 2015 and losing to Penn State in an epic five-set semifinal in 2008.
John Cook's veteran bunch seemingly had its Omaha run taken away last year by the pandemic. But thanks to the NCAA, Omaha — and NU — are back in April.
"This is the golden age of Nebraska volleyball," Baylor said. "Every year you have a team with a chance to go all the way. It's pretty special stuff."
But like everything else this year, the Omaha factor is different.
The CHI Health Center has been like an old friend to NU volleyball. With nearly 17,000 Husker fans getting loud and proud, it's a home away from home.
This year, a lot of those best friends can't be there.
The Huskers will play Baylor on Sunday, in a regional semifinal, in front of just family members. If they advance to the regional final on Monday, they'll move to the big arena to face the winner of Penn State-Texas.
That will happen in front of about 4,000 fans, presumably most of them wearing scarlet.
Penn State coach Russ Rose and Texas' Jerritt Elliott would appreciate the moment. Both men know what it's like to face Nebraska in front of 17,000 rooting for the "visitors" to lose.
But this year, Wisconsin, Minnesota or Kentucky might not get the pleasure.
"Four thousand Husker fans can make a lot of noise," Baylor said. "Don't completely underestimate that."
True. But 4,000 is far different from 17,000 turning the national title game into a Big Red dance party.
What does it mean? Only that this week's regional rounds and Final Four matches have a chance to be wide open and unpredictable.
For instance, in a normal NCAA tournament, Wisconsin, Minnesota, Texas and Kentucky would all be hosting regionals this weekend. On their home courts in front of their home fans.
But all of those Sweet 16 matches will take place in a sterile, neutral convention center.
Then on Monday, with Final Four berths on the line, Elite Eight matches will be played in front of those 4,000 fans in the CHI Health Center arena.
But while those good 4,000 volleyball fans will show up to watch the best teams in the nation play, the atmosphere won't be anything like having home court.
The Elite Eight is typically a round where it can go either way. This year might be an opportunity that wouldn't be there most years.
"Volleyball typically follows a script," Baylor said. "There's just not a lot of upsets. You've had basically four teams with a stranglehold on the national championship dating back to 2012.
"But there is more parity than ever. It's easy to say that, but it's finally true.
"That was a phenomenal Utah team, and they couldn't make the Sweet 16. The Big Ten is loaded. Purdue could win the national championship. You're seeing a larger number of volleyball teams with a path to a national title than ever before."
And with 13,000 fewer Husker fans around, is that path even clearer?
Hard to say. Nebraska will still feel the love if it can get to the Elite Eight. But it might not work against NU's opponents.
"(Omaha) has not only helped them against a rival, it's been something that helps get them here," Baylor said.
"In 2006 they're down 2-0 in an empty gym in Florida to a really talented Minnesota team. Most teams would just tank. But Nebraska knew the Omaha arena was sold out for 11 months. They knew how painful it would be if they weren't there. They used it as motivation and gutted it out."
In 2015, Baylor said, Nebraska didn't have the best team. But something happened once the team got to Omaha. They swept a mighty Texas team in the final.
This year, Wisconsin looms as No. 1, followed by a group of several, including Nebraska, good enough to win. Who's going to make the plays?
The Huskers have one of their great teams. But this crazy year has been uneven.
They didn't get to play Wisconsin or Penn State, because of COVID. They looked flat in losing to Minnesota, then all-world in winning two days later.
In some matches, the veteran club has stumbled out of the blocks only to turn it on when it counted.
"They are a Swiss watch," Baylor said. "They are playing really well. It's a typical Nebraska team, peaking at the right time.
"A lot has to happen, but it's a Final Four team, especially with Jazz Sweet playing like she is. She's hitting above .300, and that changes everything. Teams have to focus on her.
"I'm not sure they have a Sarah Pavan or a once-a-decade talent, but there's a lot of synergy. They are a collection of great parts. You'd need a microscope to find a weakness."
But will the Huskers be without a familiar strength? In an unusual year, it's going to be an interesting week.
---