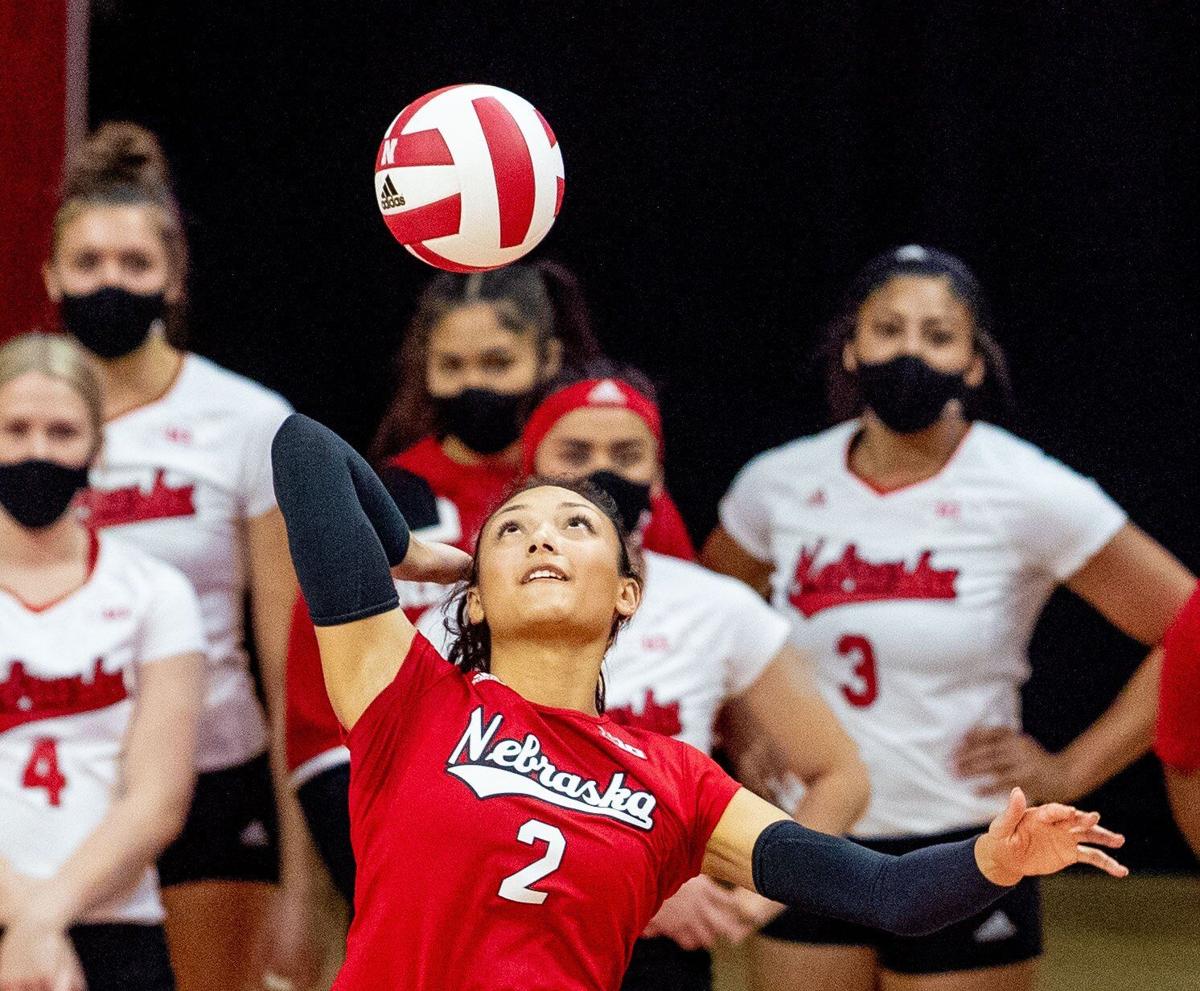 LINCOLN — At first, Lexi Rodriguez thought there was a mix-up.
Surely, the person from RAYGUN in her Instagram direct messages meant to send the offer for a personalized shirt to a different Nebraska volleyball player.
Nope, they had the right person.
Less than a week after RAYGUN owner Mike Draper reached out to Rodriguez, she had shirts that read "Lincoln digs Lexi" and "The Lex Big Thing" along with her name and number on the back. The freshman libero said she never would have imagined that she would have her own personalized apparel.
"Every single time I get some sort of deal, I'm just like, 'Wait, me? Are you sure you don't want someone else?'" Rodriguez said. "It's a cool opportunity."
Rodriguez along with junior defensive specialist Kenzie Knuckles and freshman outside hitter Lindsay Krause each released two shirt designs with RAYGUN last Friday.
Draper said even though RAYGUN, which is based in Des Moines and has a store in Omaha, doesn't specialize in sports-based apparel, it saw a good opportunity to reach new audiences with name, image and likeness deals. RAYGUN worked with athletes at Iowa and Iowa State in football, wrestling and women's basketball.
The agreement with the three NU volleyball players is its first one outside its home state, and Draper said he was looking for a culture fit.
"With Nebraska's volleyball program, in general, there's just like an energy around it that just kind of fully permeates everything," Draper said. "You can't explain why, but people want to be around it, and that's a little bit of what we look for."
Knuckles said she tries not to focus too much on NIL deals during the season, but this one didn't take too much work on her end. RAYGUN presented several ideas for designs last week, and she picked out the ones she liked best.
Knuckles said she was drawn to working with RAYGUN because it offers children's shirts. However, the kids' sizes sold out quickly because they were a limited run.
"We were super stoked with the kids getting sold out because I think that's awesome being able to sell merchandise to little kids," Knuckles said.
Draper said he hopes to do another printing once he gets more children's inventory in stock. He said he thinks the shirts are a great way for fans to support a player as well as their team.
"It's a light-hearted, funny way to connect with fans," he said. "I was thinking of my cousins, who came up through volleyball, and how much they look up to collegiate players."
Grinding away
The Indiana match on Wednesday night will be the Huskers' third match in six days with NU scheduled for a fourth match in eight days on Saturday against Illinois.
NU coach John Cook said he has talked to the players about getting the proper recovery physically by taking Monday off and getting enough sleep, but he's worried about their mental sharpness for the upcoming match.
"I'm concerned (Wednesday) night about how much gas is in the tank emotionally," he said. "Physically, they're fine, it's emotionally. That was a long trip (home from Rutgers). We talk about student-athlete welfare, and we shouldn't be playing on Sundays."
One NU player who is questionable for the Indiana match is Kayla Caffey. The senior middle blocker was not at practice on Tuesday and did not dress for Sunday's Rutgers match because of a non-COVID illness.
Honor for Hames
Nicklin Hames has received a multitude of awards in her career. The senior setter was an All-American last season, a two-time Big Ten first-team selection, a member of the 2018 All-Big Ten freshman team and a two-time freshman of the week honoree.
However, the one recognition she had not claimed was Big Ten setter of the week — until this week. Hames was honored after she averaged 11.3 assists per set in wins over Penn State and Rutgers.
"Nicklin does a lot. She's up there in aces per game serving. She's a great defensive player. She did a really nice job blocking against Penn State because they're very physical outside hitters. And she leads her team," Cook said. She had a really good weekend. I think people recognize Penn State's not an easy place to go in and win."
Hames was joined in the weekly honors by teammates Madi Kubik, who was the co-player of the week, and Rodriguez, the freshman honoree. This is the fifth time Nebraska has won three league honors in one week since 2007. It most recently happened on Oct. 24, 2016: Amber Rolfzen (player) Kelly Hunter (setter) and Justine Wong-Orantes (defensive).
---