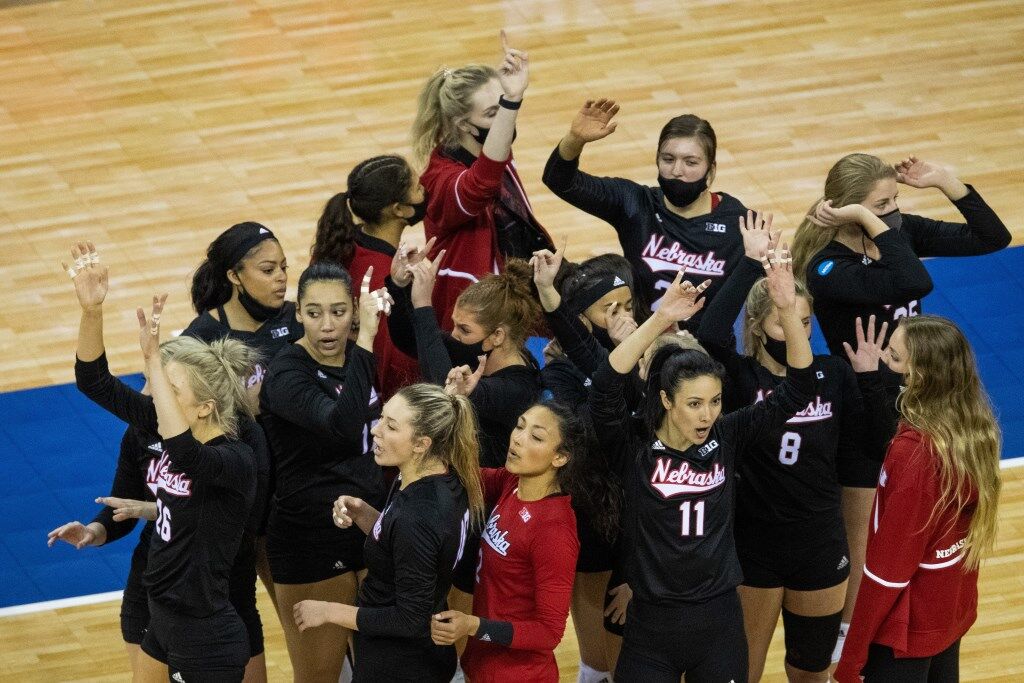 On the last day of the longest volleyball season, Nebraska dealt with one more unexpected obstacle before its regional final match against Texas.
Four COVID-19 antigen tests came back positive Monday for the Huskers, the first time that had happened all season. Those players then had to take the more accurate but time-consuming PCR test to confirm the results. While they waited, the players had to isolate hours before the biggest match of the season.
Eventually all tests came back negative, and the entire roster was cleared to play. NU coach John Cook said Texas also had a positive antigen test, and for a short time he was unsure if the match would be played.
Despite all the obstacles, Cook praised Nebraska's ability to remain disciplined and focused on finishing the season on its terms. On top of Monday's drama, the Huskers also battled through extended breaks between matches this spring after three opponents suffered COVID outbreaks in three different months.
"It's mind games, and they've done a really good job of handling it," Cook said. "I've seen stuff this year that I've never seen before with injuries, with emotional stuff."
Junior setter Nicklin Hames said the starting and stopping was the hardest part of the year. In addition to the pauses this spring, Nebraska also dealt with uncertainty in the fall after practices started in August, then stopped, before picking back up in October.
Throughout it all, the volleyball team kept a small bubble, limiting social contacts, attending classes virtually and grinding through new protocols and frequent testing. Hames said the adversity brought the Huskers closer together.
"I'm glad that I got to be teammates with all these girls and I'm glad I got to go through this pandemic and everything with them," she said. "I'm really proud of this team this year."
With the season over, the players will return home for the first time since last fall. First they'll finish up the semester and have end-of-season meetings with the coaching staff.
The final remaining piece of uncertainty will be what the Huskers look like when fall camp opens up later this year. NU's four seniors are eligible to return but haven't made any proclamations about their plans.
They might be ready to pursue other opportunities. Outside hitter Lexi Sun and middle blocker Lauren Stivrins graduated in December.
But they also might be drawn back to try to reach the national semifinals after falling a match short for the second straight tournament. Also, the NCAA could pass new legislation that would allow athletes to profit off their name, image and likeness, which could prove lucrative for several of the high-profile volleyball players.
Cook said he is open to all of the seniors coming back, but won't try to recruit them to do so. He wants them to be invested in the decision and not be persuaded to return.
"We've tried to not make that a focus or much of a conversation," Cook said. "So those (meetings) will happen this week."
There will likely be some roster turnover via transfers regardless of what the seniors decide. Nebraska has three scholarship seniors but is welcoming six incoming freshmen. That group, which was the top-ranked 2021 class, might be one of the best ever with the top three overall recruits and five in the top 20.
Three are already on campus. Outside hitter Ally Batenhorst (No. 3 nationally) and libero Lexi Rodriguez (No. 10) participated in practices, while setter Kennedi Orr (No. 1) is rehabbing a knee injury suffered last fall. They'll be joined in the summer by Omaha Skutt outside hitter Lindsay Krause (No. 2), Waverly outside hitter Whitney Lauenstein (No. 16) and Elkhorn South middle blocker Rylee Gray (No. 70).
Cook said he tried to involve the new freshmen during practices to help them acclimate to the level of play and training necessary. They also worked with the B-side to push the Husker starters.
"Those guys can bring it, I mean they're good," Cook said. "It's not like there's a very big drop-off over there."
---