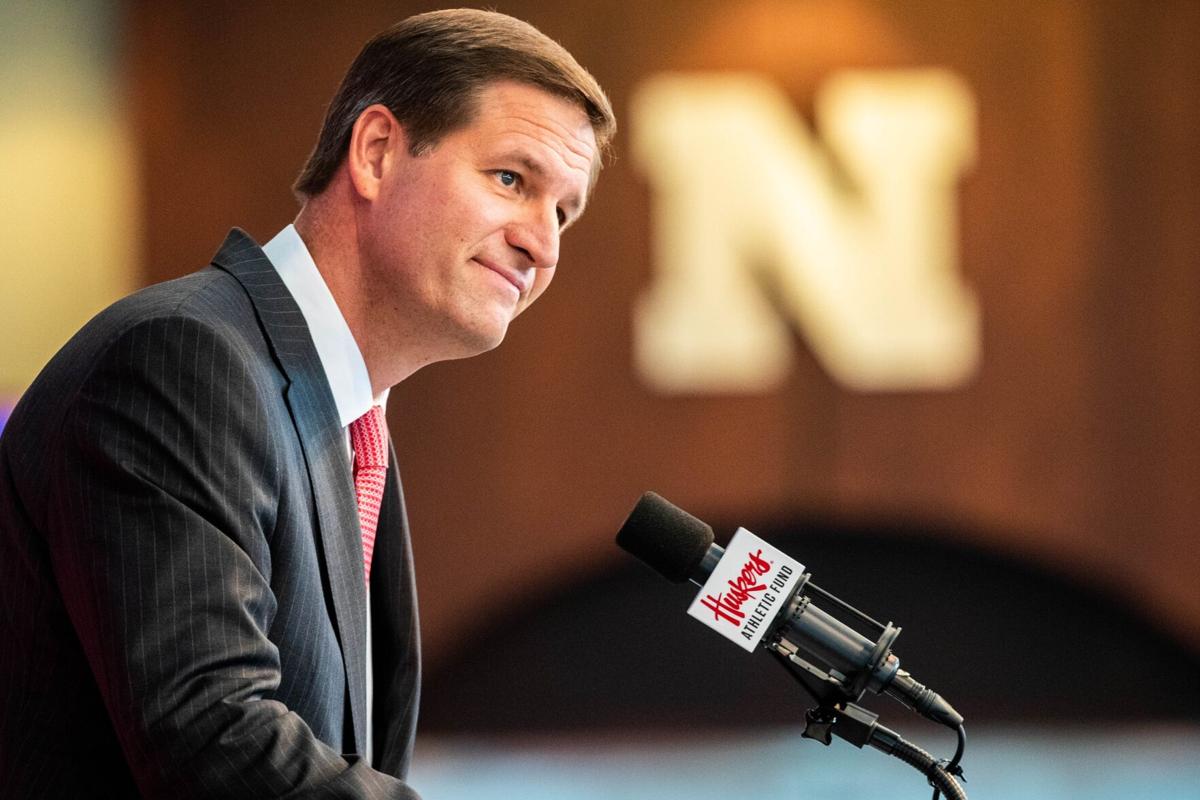 LINCOLN — Amy Williams had just arrived from Spearfish, South Dakota, and planned to be a doctor.
Trev Alberts was the biggest man on campus.
Their Husker athletic careers didn't cross paths in 1993 and bore few similarities. Williams spent most of her time near the end of the bench in women's basketball. Alberts won the school's only Butkus Award.
"For a freshman walk-on girl, small-town kid who was coming into Nebraska, I was 'whoa'  — most definitely enamored with the successes he was having," said the current women's basketball coach. "Not just as a football player. It was pretty obvious he was a good student. Just his approach to everything, it was impressive."
Last Wednesday, 28 years later, Williams sat among search advisory committee members who vetted candidates for the athletic director job Alberts eventually got. She was the only Husker coach on that committee, and she knew before the world did that former Athletic Director Bill Moos was heading for early retirement. University of Nebraska-Lincoln Chancellor Ronnie Green then tapped her to work on the 16-member committee.
The group met several times, Williams said. Meetings were in-person or on Zoom — Williams had to Zoom in when she was on the road recruiting. Each member — including tight end Austin Allen, one of two student-athletes on the committee — in essence, got a book on the 25 candidates. They had every fact imaginable.
The committee took multiple surveys, Williams said, and the group — which included Husker legends Ndamukong Suh and Jordan Burroughs — had a "healthy balance" of dialogue. Usually, Williams said, "alphas" emerge in a committee and dominate the room. Not this time.
Among the long list of qualifications, Williams said, a candidate who had an understanding of Nebraska — the state, the culture, the athletic department — became important.
"I wouldn't say it was the 'end all, be all' but I do think it was something that we talked about as a status chip," Williams said, "a positive thing for anyone who could bring that, as well as other important things, to the table."
Knowing Nebraska mattered, and it helped Alberts move to the top of the list.
"When somebody from out of state comes in and says, 'What makes Nebraska special?' it's kind of hard to explain it, you just have to be here to understand it," Allen said. "He's been here and he understands it."
For example: NU coaches have an appreciation — which football coach Scott Frost shares — for athletes in all Husker sports mingling together at a shared training table and academic center. When Williams talks to her women's basketball colleagues, they tell her football programs often isolate themselves from the rest of the department. Players eat and study alone.
NU is different, Williams said, and Frost and football administrator Matt Davison — both ex-Husker athletes — insisted the new football building prolong the experience Williams had.
"When you're in biology lab with Joel Makovicka," Williams said, "and we're in study groups and you're having lunch, sitting at the same training table with football players, the kind of camaraderie and unity of purpose that's developed when you have that type of environment on a daily basis."
Husker coaches, Williams said, want a "unified front." Longevity was important. Clarity from a leader, too.
"I think I can speak for all the coaches that we'd all really like to have leadership where we know what to expect," Williams said. "Stability can help with that, for sure."
Nebraska has had little of it in the athletic director spot recently.
While Alberts is the 14th A.D. in the school's 150-plus years, one staff member attending Wednesday's event noted that Alberts is the fourth since NU joined the Big Ten in 2011. Williams is on her third. She liked her first two — Shawn Eichorst and Moos — even if they couldn't have been more different.
"Shawn wanted to come to practice, often," Williams said of the person who hired her. "For him, that was a good reprieve, to be out of the office, to be around the athletes, to know them by name. I think that was healing for him, and I never felt micromanaged.
"But I also felt Bill's style was incredibly supportive. He had my back. We talked more in individual conversations away from game competition. Bill was more comfortable being out and about, shaking hands, meeting supporters. Shawn was really comfortable when he was able to be around the athletes and conversing with them and high-fiving them as he's walking through the training table."
Coaches, Williams said, can work with either style.
"But I do think, for the athletes, it means something to feel an athletic director's presence," Williams said.
Eichorst made that connection. When former NU President Hank Bounds commissioned an audit of Eichorst and the athletic department, student-athletes graded Eichorst highly.
"I try to go to every event I can when I'm in town," Eichorst said in June 2016, after the release of the report. One year later, Bounds rebuffed Green's request to extend Eichorst's contract. NU fired Eichorst in September 2017.
Moos did not try to go to every event outside of football.
"I've been on sidelines, I've been in locker rooms and I've been to a hell of a lot of practices," Moos said June 25 after announcing his retirement. "I don't need to do that, just like I don't need my chancellor in my staff meetings. If (coaches) thought they could be better with the boss sitting behind them, then I've got the wrong person coaching."
At UNO, Alberts was known for being present at sporting events.
On Wednesday, plugged repeatedly to talk about Husker football, Alberts noted he liked a shootout in women's soccer as much as anything else. He declined the bait to fully unpack the school's high-revenue sports, preferring to dial in on the department's culture and its need to reflect the place it represents: Nebraska.
"Think about what Nebraskans and our alumni all across the country represent," Alberts said. "They're tough. They're really hard-working people. They do the right things all the time. They do it the right way. They don't ever make excuses. Rarely do you hear Nebraskans make excuses.
"And most importantly is they never ever quit and stay together."
Before he said that in a press conference, he'd already spoken to the search committee first, and then the coaches.
Williams said Alberts aced the coaches' chat.
"He was amazing," Williams said. "He wanted to be heard by us but he also wanted to listen. It was an important step. He really nailed it. I think all the coaches heard what they needed to hear."
---