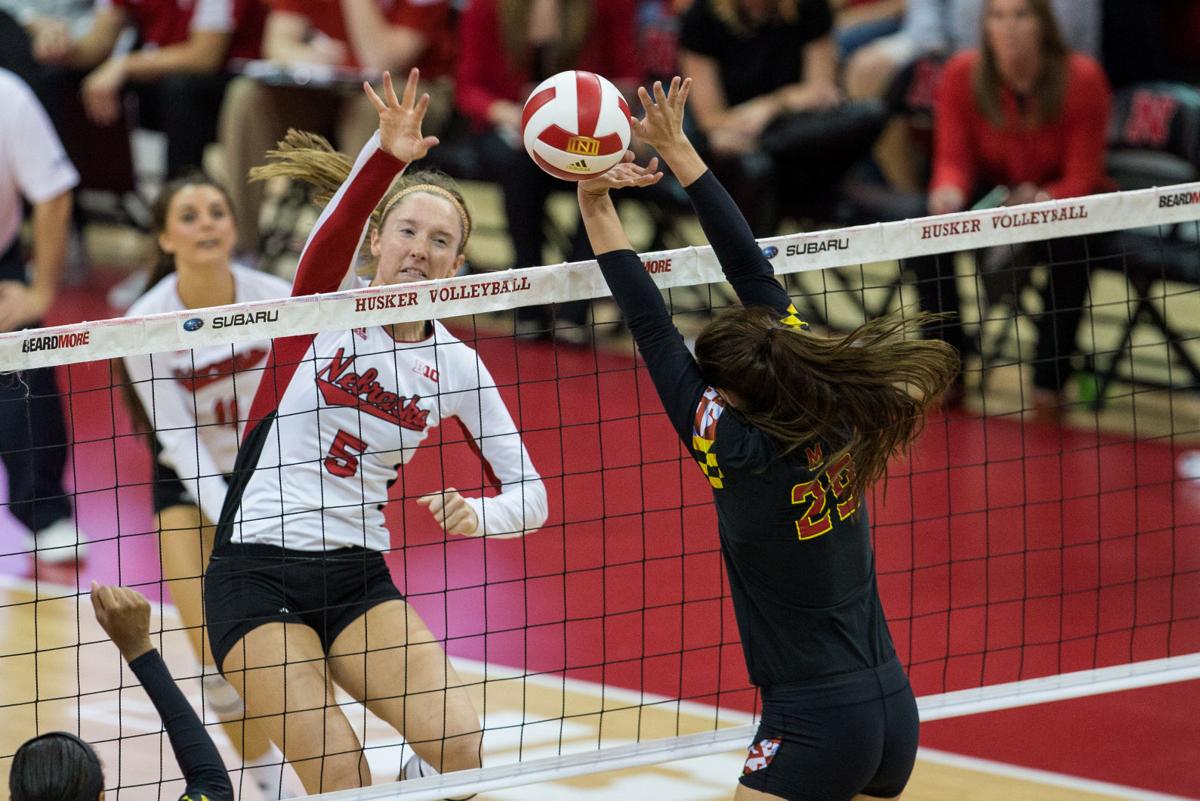 LINCOLN — On the third weekend of October, Nebraska's Big Ten championship appeared to be torpedoed when the Huskers lost back-to-back home matches to Minnesota and Wisconsin.
But as it turns out, while NU's conference title hopes took on water that weekend, they weren't scuttled completely. After league-leading Minnesota dropped a five-setter at Purdue on Saturday, the Huskers enter the final week of the regular season one game behind the Gophers in the Big Ten title race.
Junior middle blocker Amber Rolfzen said Monday that after the two home losses in October, the Huskers reassured themselves the Big Ten championship hadn't been put out of reach because few teams emerge from the league's challenging schedule unscathed. An eight-match winning streak has kept Nebraska (24-4, 15-3 Big Ten) within striking distance, and now the conference title won't be decided until this week when both NU and Minnesota play final regular-season matches.
"We knew it was still a possibility," Rolfzen said. "At the beginning of the season, we knew nobody was going to be undefeated in the Big Ten. It's very tough this year, as we all know with (seven) teams in the top 25."
The title picture may be cleared up on Wednesday when Nebraska, which moved up to No. 5 in Monday's AVCA coaches poll, hosts No. 18 Illinois at 7 p.m., the same time No. 3 Minnesota hosts No. 16 Ohio State. A win would ensure the Gophers no worse than a share of the Big Ten championship, and Minnesota certainly has the easier finale on Saturday playing at 10th-place Indiana while NU hosts defending national champion No. 7 Penn State.
The conference title isn't the only motivation for the Huskers going into this week, coach John Cook said. Nebraska checked in at No. 7 in the NCAA RPI ratings Monday, a metric the NCAA tournament selection committee has leaned heavily on in the past for tournament seeding. Two wins this week would boost NU's seeding prospects for a journey it hopes to end at the final four in Omaha next month.
"We want to continue to go into the NCAA tournament feeling good about ourselves," Cook said. "These are two home matches. We lost in five at Illinois last year this week, and we didn't play well against Penn State so I think there's kind of a chance for us to redeem ourselves."
The first meeting with Illinois this season was one of the Huskers' superlative performances. In Champaign, NU held Illinois to .108 hitting and outblocked it 13-7 in a 3-0 win on Oct. 17. The match might be most memorable for freshman Mikaela Foecke's five aces, three on consecutive serves. But what stuck out in Cook's memory Monday was NU's tenacious floor defense.
Junior libero Justine Wong-Orantes had 27 digs, and no Illinois player reached double figures in kills.
Cook wants to see that Nebraska team show up this week. One that serves aggressively and passes with more consistency.
Both areas could stand some improvement, Cook said, and if the Huskers put those parts of the game together against two top-20 opponents this week, it will leave him more confident about the next part of the journey — even if the week ends without a conference title.
"Some coaches say you can't get better this time of year. I disagree," Cook said. "I've talked to Coach (Tom) Osborne about this. You go back to work on fundamentals every week. You continue to pound those things and I think you can get better."
Hunter wins Big Ten honor
Redshirt sophomore Kelly Hunter was named Big Ten co-setter of the week on Monday for the second time this season.
The Papillion-La Vista South graduate led NU to efficient hitting marks in both wins last week. The Huskers had a .375 attack percentage against Indiana and hit .318 in Saturday's win at Michigan, with Hunter averaging 12.7 assists per set for the week.
Hunter shared this week's honor with Michigan State setter Rachel Minarick. The NU setter also was named the league's setter of the week after the first weekend of the season.