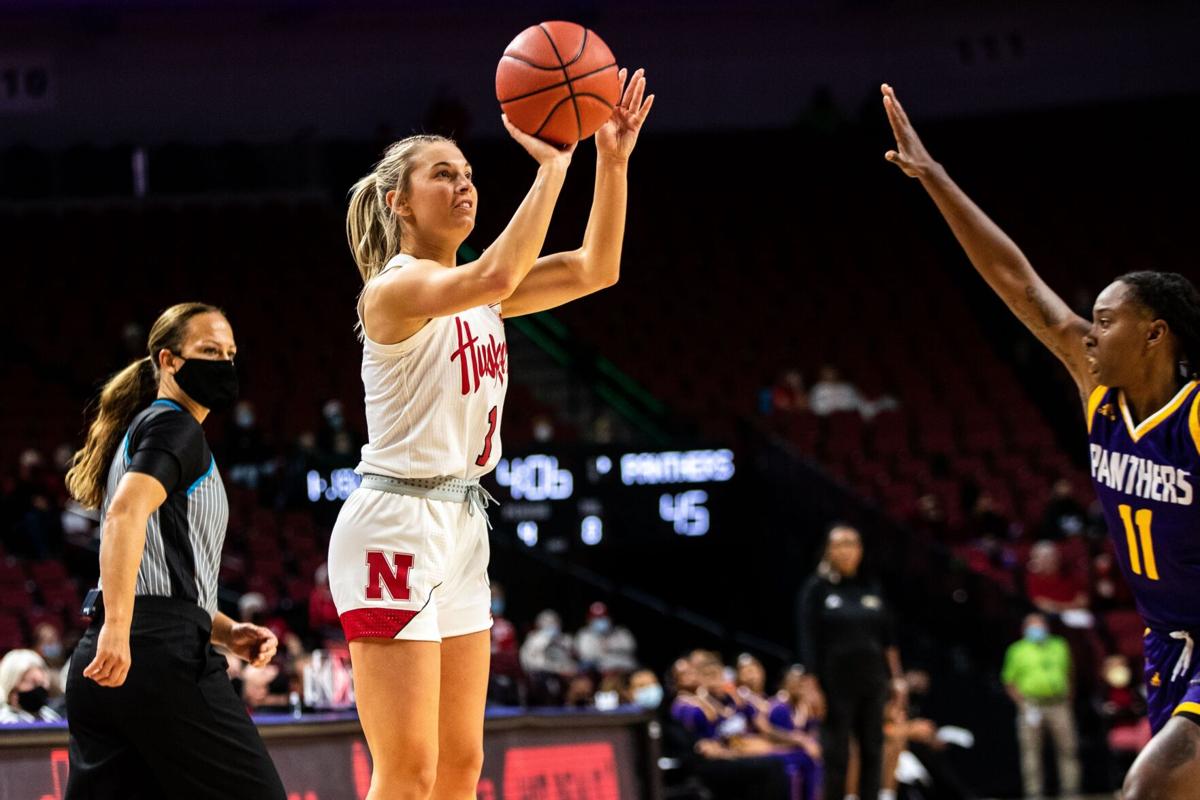 LINCOLN — Sam Haiby kept official tally while Jaz Shelley played it cool.
Twenty minutes is all Shelley needed to record 14 points, 10 rebounds and 10 assists last weekend for her first career triple-double at any level of the sport.
That fact is a little surprising, given how much international experience the sophomore Nebraska guard has had with the Australian national team, but it may not be her last triple-double. Just five games into her career at NU, Shelley has super-charged a Husker offense averaging 95.6 points per game as it heads to The Dana on Mission Bay Holiday Tournament in San Diego.
"I was a bit nervous coming into the season — a new role for me, a new team — and I didn't know how I was going to adapt," said Shelley, an Oregon transfer. "But the coaches have been so good with the offense that they've put in. They're trying to help get me through. It kind feels like I've been here for a while now, not just a few months."
Thank NU leading scorer Isabelle Bourne for that. She and Shelley were close friends on the Australian club basketball circuit, and remained so even when Shelley began her career with the Ducks. When Shelley decided to leave UO — where she was the lone Australian — Bourne stumped hard for the Huskers, whose coaching staff had tried to lure Shelley two years before.
"I went into the portal thinking, 'I'm going to look at my options,' but I always had Nebraska in the back of my head," Shelley said.
Shelley has become arguably NU's first true point guard since Rachel Theriot. Hannah Whitish and Haiby have capably filled the role since, but Haiby in particular is a natural scorer. Shelley can do that — she's shooting 54% from the floor and 3-point range — but she's equally comfortable in the distribution role. Shelley can run the floor when needed or gear back into a half-court offense, which is one reason her assist-to-turnover ratio is 5-to-1.
"It's pretty incredible," NU coach Amy Williams said. "I think that's what's special — to be able to play with pace and push tempo but not be sped up. We talk a lot about being able to play with pace and space and pace and poise. She's got those naturally, instinctively. She's played a lot of basketball at a high level, and I think that leads to a lot of high confidence."
Shelley also spent one year at Oregon playing with Sabrina Ionescu, the first woman or man in NCAA history with 2,000 points, 1,000 rebounds and 1,000 assists. Ionescu had 26 triple-doubles in her career, and the opportunity to play with her played a factor in Shelley's first collegiate choice.
"She really took me under her wing, taught me a lot, would shoot with me after practice," Shelley said. "I just learned a lot about the way she reads the game and how she's able to involve everyone else. The assists that she gets — she taught me which defender to look at if I want to make a certain pass or I want to get a person open."
The second year at Oregon — shut down during the COVID pandemic even more than Nebraska — was harder for Shelley. She wanted a "family-based environment" that suited her and a lot of Australian players, she said, who hope to develop deep connections 9,000 miles from home. Nebraska provided that and two Australian players, Bourne and Ruby Porter, who "have my back" for the occasional inside joke or Australian food night, when sausage rolls are on the menu.
"All three of us are thriving right now because we're around really, really genuine, nice, supportive people," Shelley said. "We'll say something different, have different lingo, we can back each other up."
» Drexel, NU's Friday night foe, won the 2021 Colonial Athletic Association tournament to advance to the NCAA tournament, where it lost to Georgia. Drexel finished 23-7 in 2019-2020, winning the CAA regular-season title. The winner of Friday's game will play the winner of the San Diego/Fresno State game on Saturday.
» Nebraska leads the nation in scoring, scoring margin, assists and free throw attempts, among other categories, although those numbers reflect, to some degree, the quality of NU's opponents as much as the Huskers' own success.
» In ESPN's latest Bracketology update, NU is a No. 11 seed and one of four receiving the "last byes" in the tournament. The women's event has expanded to 68 teams, mirroring the men's event.
» No votes in the Associated Press or coaches polls, however. The Big Ten, dominant early, has five teams in each: Maryland (2nd in AP and 3rd in coaches); Indiana (4th and 6th); Iowa (8th and 11th); Michigan (12th and 9th); and Ohio State (21st and 24th). Michigan State is receiving votes in both polls, as well.
---