LINCOLN — Nebraska women's basketball center Kate Cain knew she had to "step up" with forward Isabelle Bourne unavailable because of an ankle injury.
Cain and fellow team captain guard Sam Haiby stepped up and led the Huskers to a 63-55 victory over previously undefeated No. 15 Ohio State.
Both Cain and Haiby had near triple-doubles. Cain led the Huskers with 22 points, 12 rebounds and nine blocks. Haiby earned her second career double-double with 11 points, 10 assists and eight rebounds. Guard Whitney Brown added 14 points.
"A triple-double is such a special thing. You don't see it happen very often" Nebraska coach Amy Williams said. "To have two players in the same ballgame to put up a (near) triple-double is really special."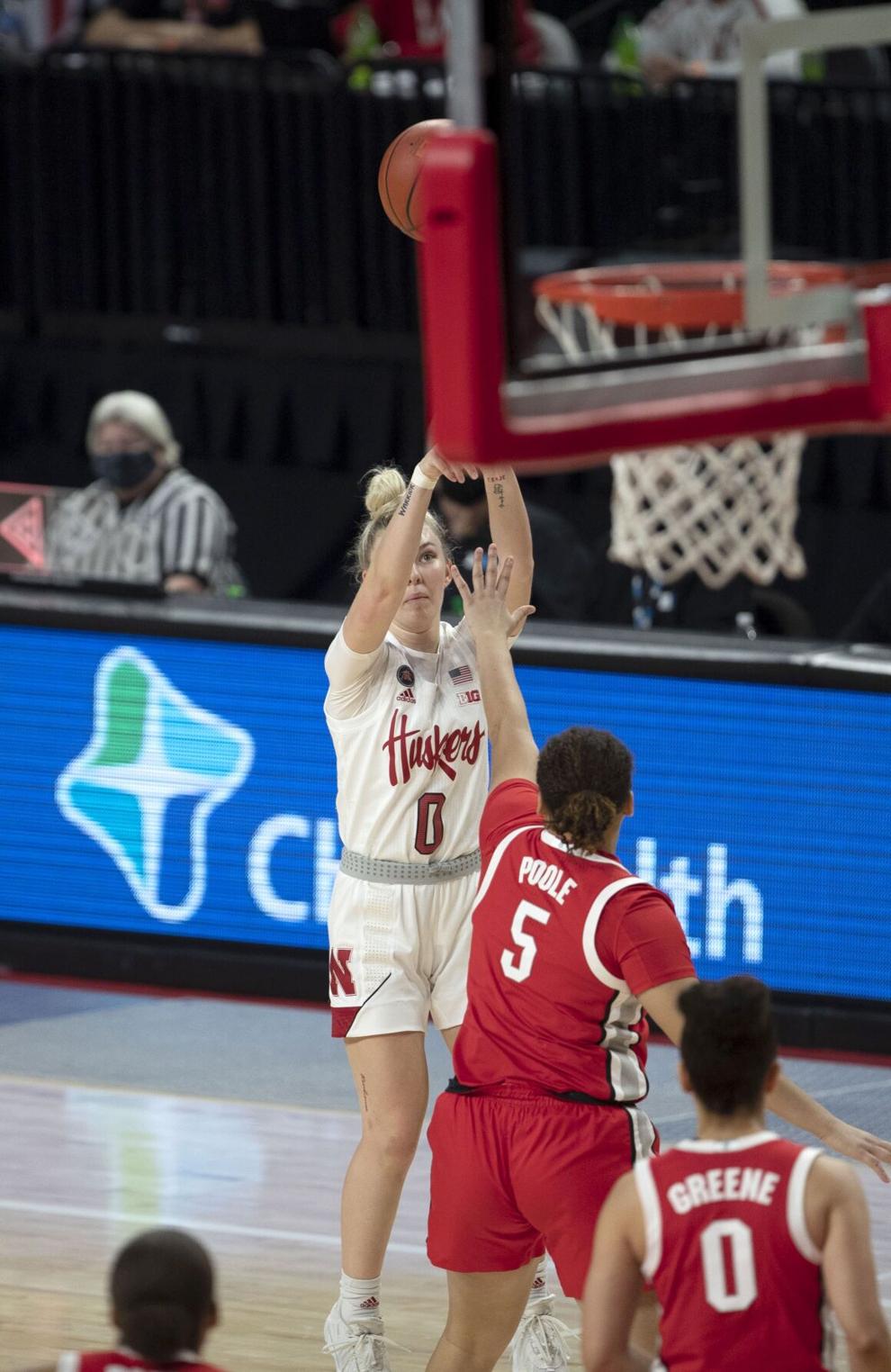 The Huskers' defense also continues to shock and frustrate their opponents' coaches.
Their newest victim? Ohio State coach Kevin McGuff.
The Buckeyes ended the first half with a 4-minute, 47-second scoring drought before guard Braxtin Miller hit a buzzer-beater to send her team into the locker room down 30-21.
Ohio State went 9 of 37 on field-goal attempts and 1 of 13 on 3-pointers in the first half. Guard Madison Greene, who averages 14.3 points per game, didn't score in the first half and finished the game with 11 points.
Nebraska earned its largest lead of the half thanks to guard Ruby Porter making a 3-pointer with 1:10 remaining in the half to boost her team to a 30-19 lead.
Cain headed into halftime with a team high of 11 points, while Brown had eight. Haiby had just four points in 19 minutes.
Nebraska's defense held Ohio State guard Jacy Sheldon, who averages 18.3 points per game, to 11 points.
The Huskers kept a comfortable lead until forward Dorka Juhasz sank a 3-pointer with 2:05 left in the game to shrink Nebraska's lead to 57-51. A Greene 3-pointer with 1:24 remaining closed the gap to 57-54.
Haiby responded with an aggressive drive, splitting Buckeye defenders, completing a layup and drawing a foul. She widened Nebraska's lead to 60-54 with 0:44 remaining after hitting her free throw.
"That was an ice-in-her-veins kind of moment," Williams said.
The 5-foot-9 guard is no stranger to these types of moments. Against then-No.15 Northwestern on Dec. 31, Haiby forced her way to the basket for a buzzer-beating, game-winning shot to send the Huskers home with a 65-63 victory.
Ohio State struggled to make shots fall, finishing 22 of 81 on field-goal attempts and 5 of 27 from 3-point range.
This was the Huskers' fifth consecutive game holding their opponent to fewer than 65 points. Before the matchup, Ohio State averaged 89.9 points per game and hadn't scored fewer than 78 points.
"I think we're genuinely playing for each other and just working hard day in, day out, even if we do have limited bodies — and we've had plenty of situations like that this season," Cain said. "We fall back on our training and our practices to be confident in our abilities. We're good to adapt. We like to win. What can I say?"
Nebraska adds the Buckeyes to its list of defeated ranked Big Ten opponents. NU upset Northwestern and Michigan State earlier this season, as well.
"This performance was the picture of how we would like our team to look," Williams said.
---
Nebraska women's basketball upsets No. 15 Ohio State