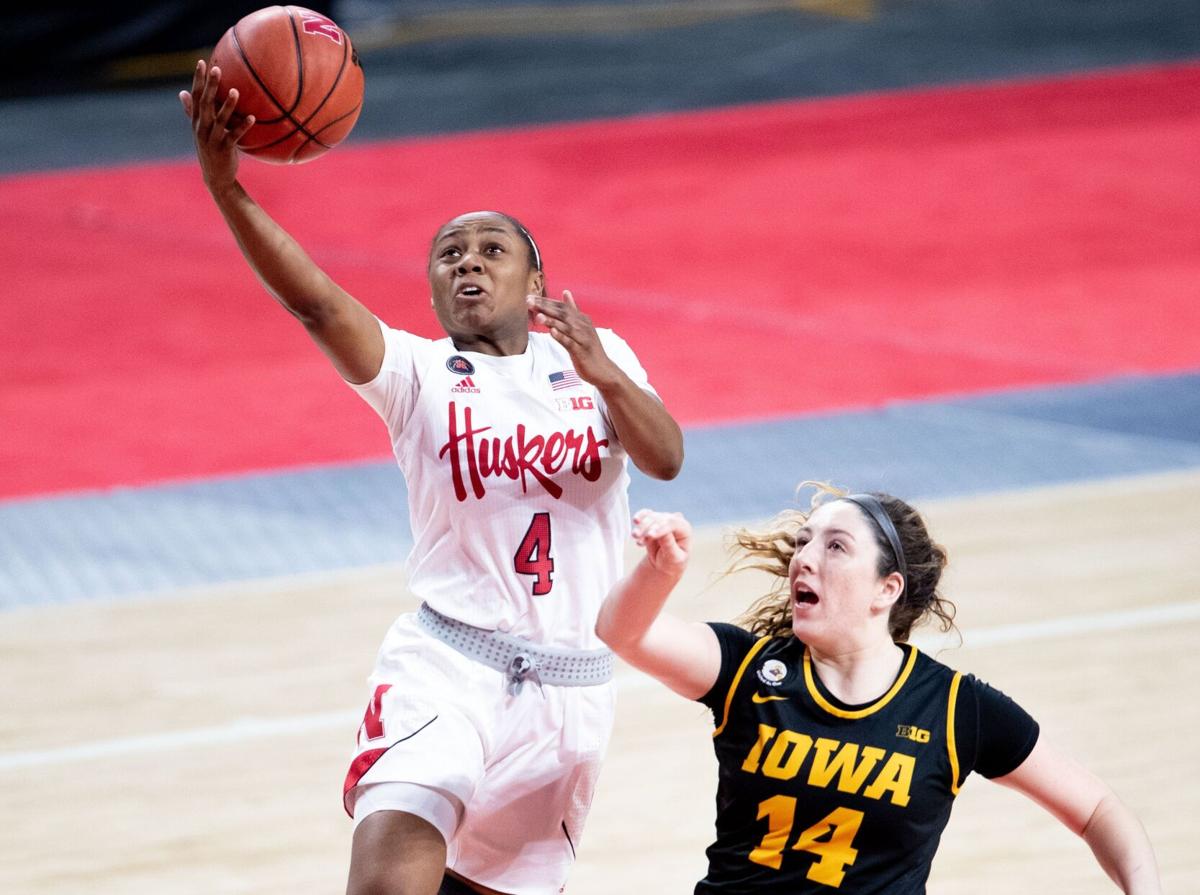 LINCOLN — Leave it to Nebraska guard Sam Haiby to spark a fourth-quarter scoring run and cut a 17-point deficit to four against Iowa.
Haiby ignited a 15-3 run with 4:05 remaining by draining two 3-pointers one minute apart. Guard Ashley Scoggin sank one of her own in between, and Nebraska cut Iowa's lead from 78-63 to 78-74.
But Iowa's Caitlin Clark buried a 3-pointer — and Nebraska's chances of a win — with 1:18 left to make it 81-74. Clark finished with a career-high 39 points, 10 rebounds and seven assists in her 37 minutes as Iowa won 88-81.
Coach Amy Williams said her team fighting back from a 17-point deficit showed its character.
"We're never going to die," she said. "We are going to continue to fight and fight and fight."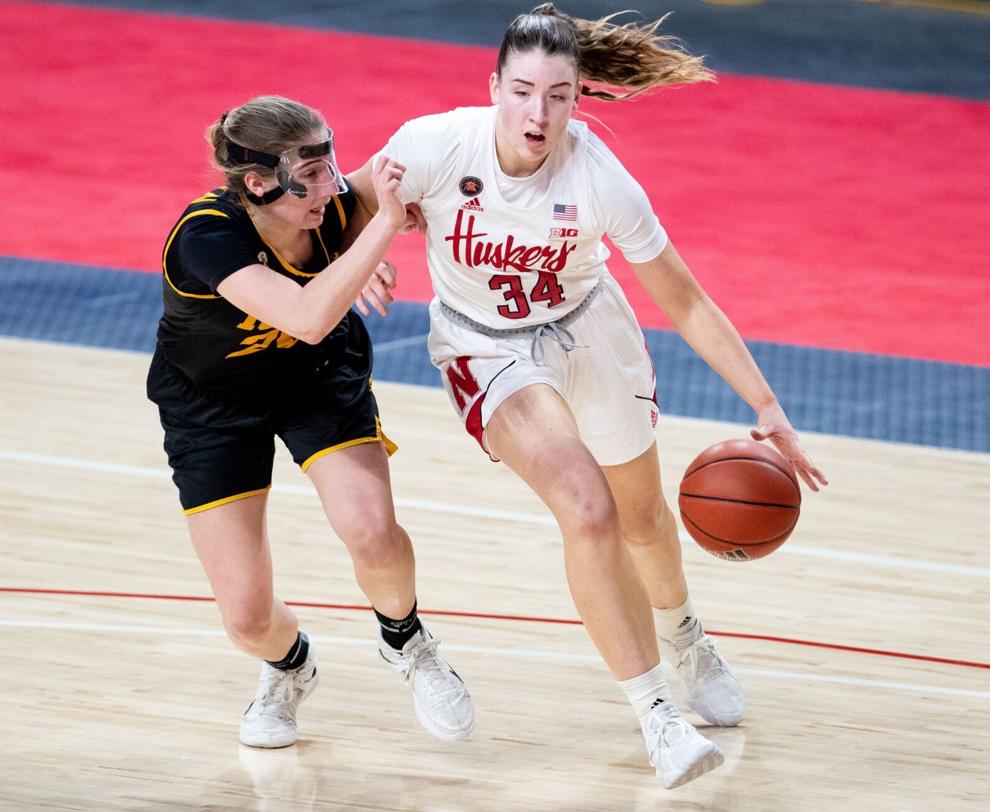 Haiby scored a team-high 28 points, including 13 in the fourth quarter.
"Sam had a lot of responsibility, not just leading us in scoring but trying to guard Caitlin Clark," Williams said. "I thought she did a lot of good things. It's just a hard job to contain Caitlin Clark."
When she wasn't scoring points, Clark was creating chances for her teammates.
"She's crafty with the ball," Haiby said. "I think that is the most difficult part. She's got long range from 3, so just keeping her in front."
Williams and her team knew that containing Clark was a steep challenge, but there were other Hawkeyes they struggled to defend. McKenna Warnock added 19 points and six rebounds.
"McKenna Warnock would hit huge shot after huge shot," Williams said. "Her 19 points, I thought, were really key."
Monika Czinano added 17 points and four rebounds for the Hawkeyes.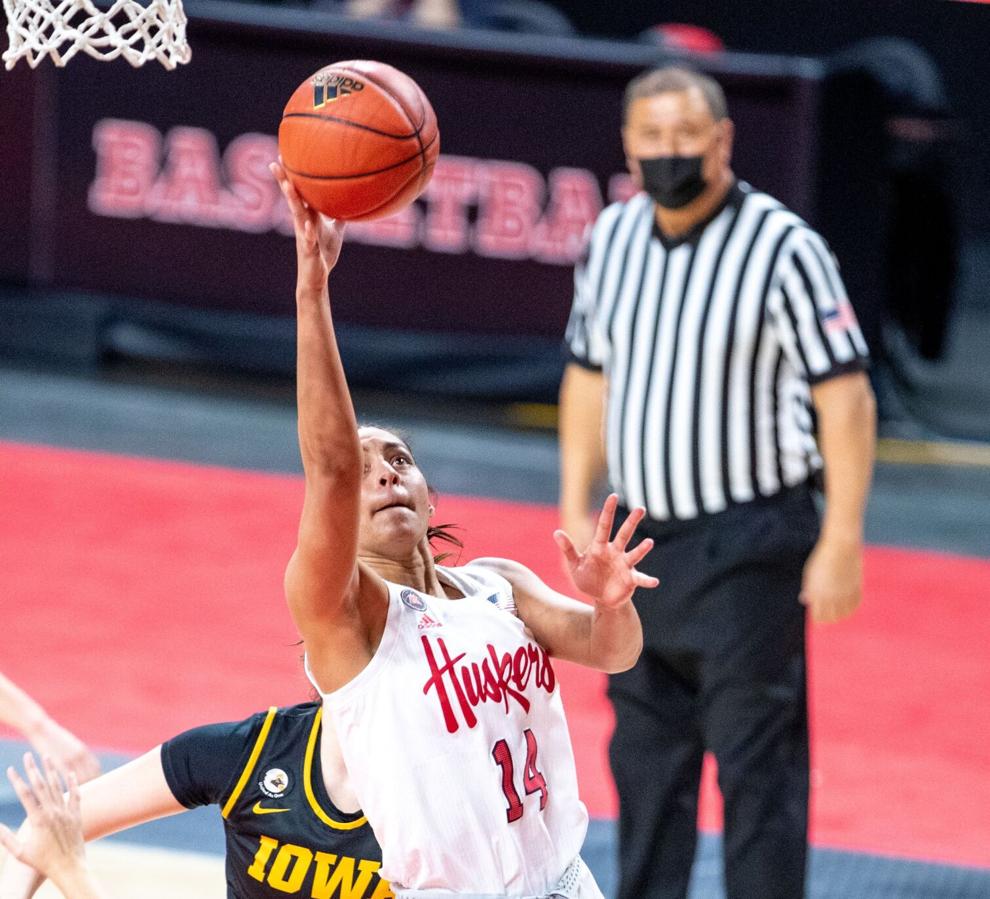 Second-quarter adjustments helped keep the Huskers in the game. Clark scored 13 points in the first quarter, including a long 3-pointer at the buzzer. She didn't miss a shot, going 3 of 3 beyond the arc and 5 of 5 from the field. Nebraska held her to five points in the second quarter.
Iowa shot 78% in the first quarter but 29.4% in the second. The Hawkeyes went 1 of 6 from the 3-point line in the second period. They finished the game shooting 50.8% from the floor.
NU started the game with back-to-back 3s by Haiby and Issie Bourne. Scoggin drained a 3-pointer of her own with 5:45 to play in the quarter, but Nebraska didn't hit another 3 the rest of the half.
NU's next 3 came from Ruby Porter with 2:38 remaining in the third quarter. The Huskers shot 26.9% behind the arc for the game.
Despite shooting 29% from the field, the Huskers kept the game close in the first half. Bourne's shot with five seconds left rimmed out, and Tomi Taiwo snagged the ball and drove it down the court for a buzzer-beating layup. Iowa headed into the locker room leading 41-35.
Iowa's largest lead came at 78-61 with 5:19 left to play after Clark sank a 3-pointer.
Bourne had 16 points and five rebounds. Forward Bella Cravens had 12 points and seven rebounds. After making a layup in the second quarter, Cravens landed awkwardly and limped off the court. She returned at the beginning to the third quarter.
Nebraska takes on Maryland on Sunday at Pinnacle Bank Arena.
---
Nebraska women's basketball falls to Iowa