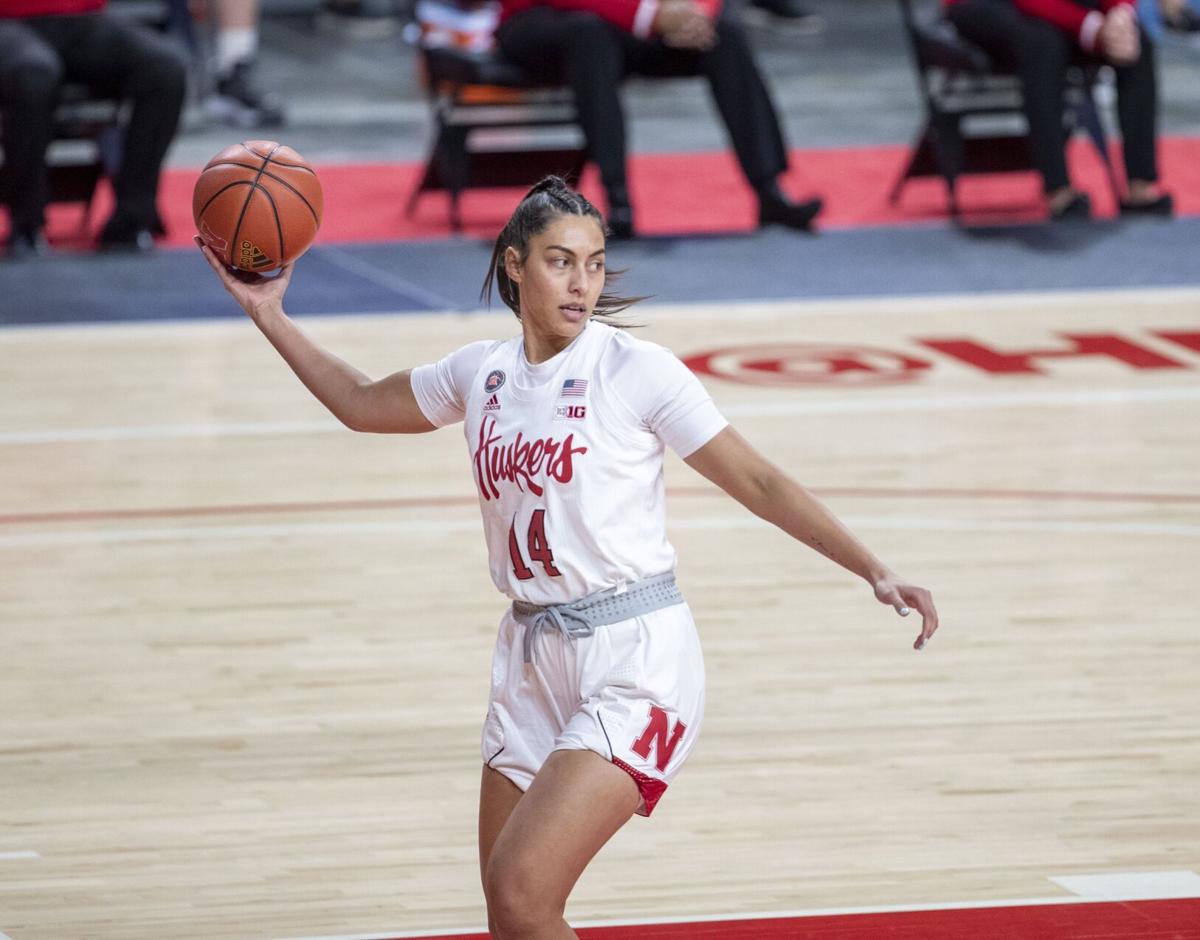 LINCOLN — Bella Cravens consistently comes barreling in to grab the basketball, almost as if her name is written on it.
So far, the transfer from Eastern Washington has exceeded rebounding expectations in her first season at NU.
"She just comes out of nowhere all the time. She's such an asset to this team," center Kate Cain said after the Huskers' 63-55 win over Ohio State Jan. 16. "Her ability to jump and find the ball, wherever it's at, whether it's on offense or defense, it's just so beneficial to our team."
Cravens became the team's top rebounder after a double-double (13 points, 11 rebounds) in NU's 84-68 victory over Wisconsin last week. She now has 114 rebounds on the season.
"I like to have at least a double digit each game," Cravens said.
She's done that five times this season. 
"Coach Amy (Williams) likes to call them energy pills, especially offensive rebounds," Cravens said. "It's a reset button. Just gives everybody those big boosts of energy, we get another 20 seconds to play offensively."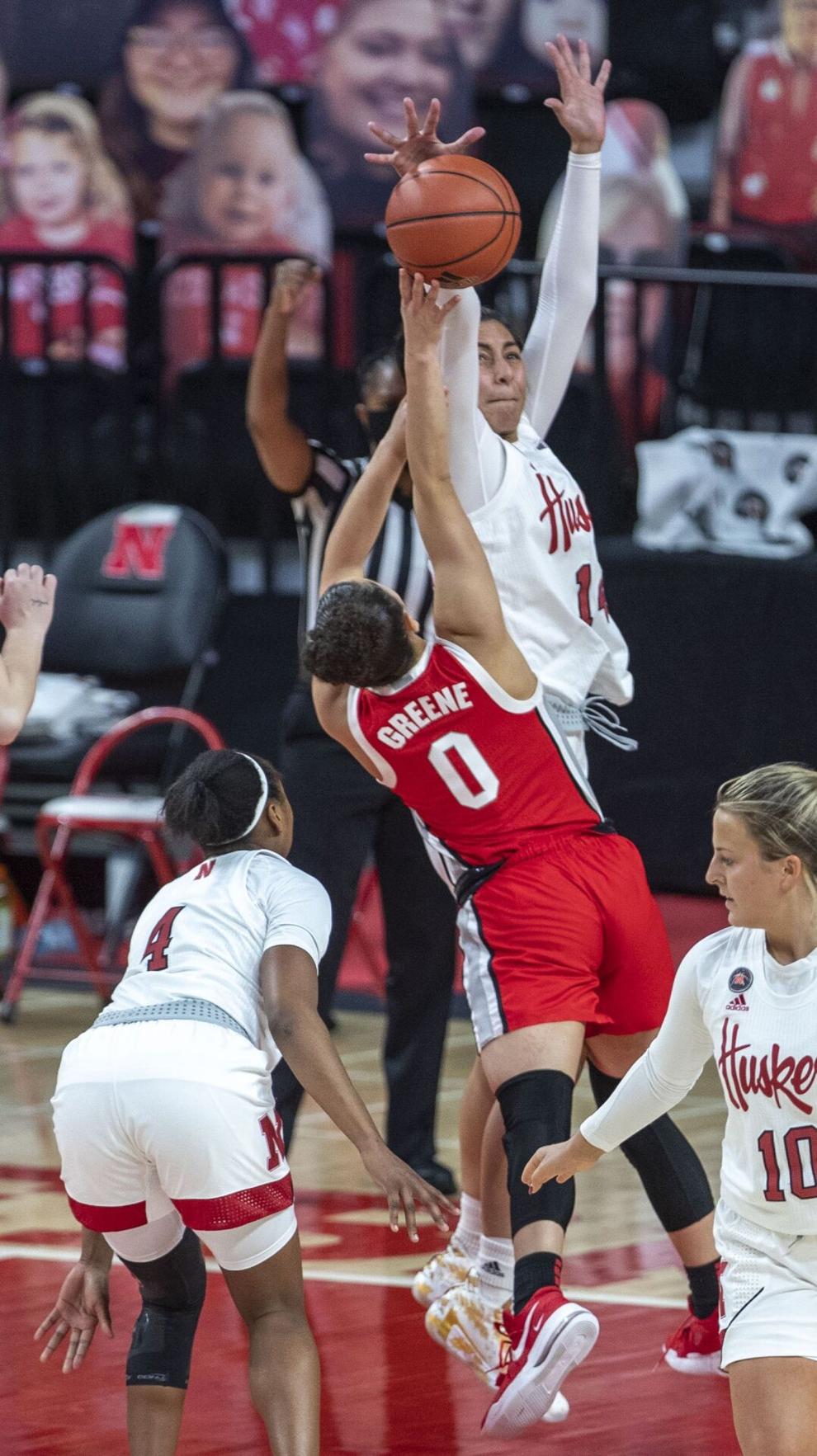 At Eastern Washington, the 6-foot-3 forward led the Big Sky with 8.5 rebounds per game. After earning all-conference honorable mention as a sophomore, Cravens entered the transfer portal. She was unable to visit Nebraska due to the pandemic but knew it was the place for her through conversations with Williams and her staff.
"In my recruiting process, one of the main things I was looking for was development," Cravens said. "I was looking for a program that would challenge me the most and really help me develop my game."
Since arriving in Lincoln, the Hawaiian said that she has become a more well-rounded player and expanded her knowledge of the game. Cravens played center at Eastern Washington but is a forward at NU, playing mostly on the perimeter but also posting up occasionally.
Cain, who has a team-high 46 blocks, said that she "genuinely loves" playing with Cravens, who has 21 blocks.
"Just knowing that she's there to block whoever else comes down, then if I come over to help she'll have my back," Cain said. "It's really a comforting feeling to be able to play with Bella. We have fun." 
Along with Cain, Cravens also leans on forward Isabelle Bourne for instruction and as a role model.
"I look to her if I have a question on offense, defense, anything like that," she said. "I know that everybody else does, too. I feel like me, especially, because she's a post."
While Bourne has missed the past four games with an ankle injury, the Huskers committed to stepping up to fill their second-leading scorer's place.
"You can really see it, (Annika Stewart), Ruby (Porter), Whitney (Brown), our three freshmen, I feel like they've all stepped up substantially, and I feel like it really shows," she said.
Cravens also said guard MiCole Cayton, who was recently cleared to play after offseason knee surgery, has elevated the Huskers. "MiCole's presence on the court is an energy pill itself," Cravens said.
After playing with six to eight available players, NU has added Cayton and early enrollee Kendall Coley, who played her first minutes against Wisconsin.
Next up, the Huskers (9-5, 7-4 Big Ten) travel to Penn State (6-7, 3-6) for a 5 p.m. tipoff Thursday.
The Nittany Lions consistently play zone defense, something NU has seen little of this season. Cravens said she is focusing on making adjustments to get to the glass.
"To me, rebounding is really just 90% effort," Cravens said. "If my shot's not falling, I know that I can always go and rebound. I try to focus on rebounding more than anything."