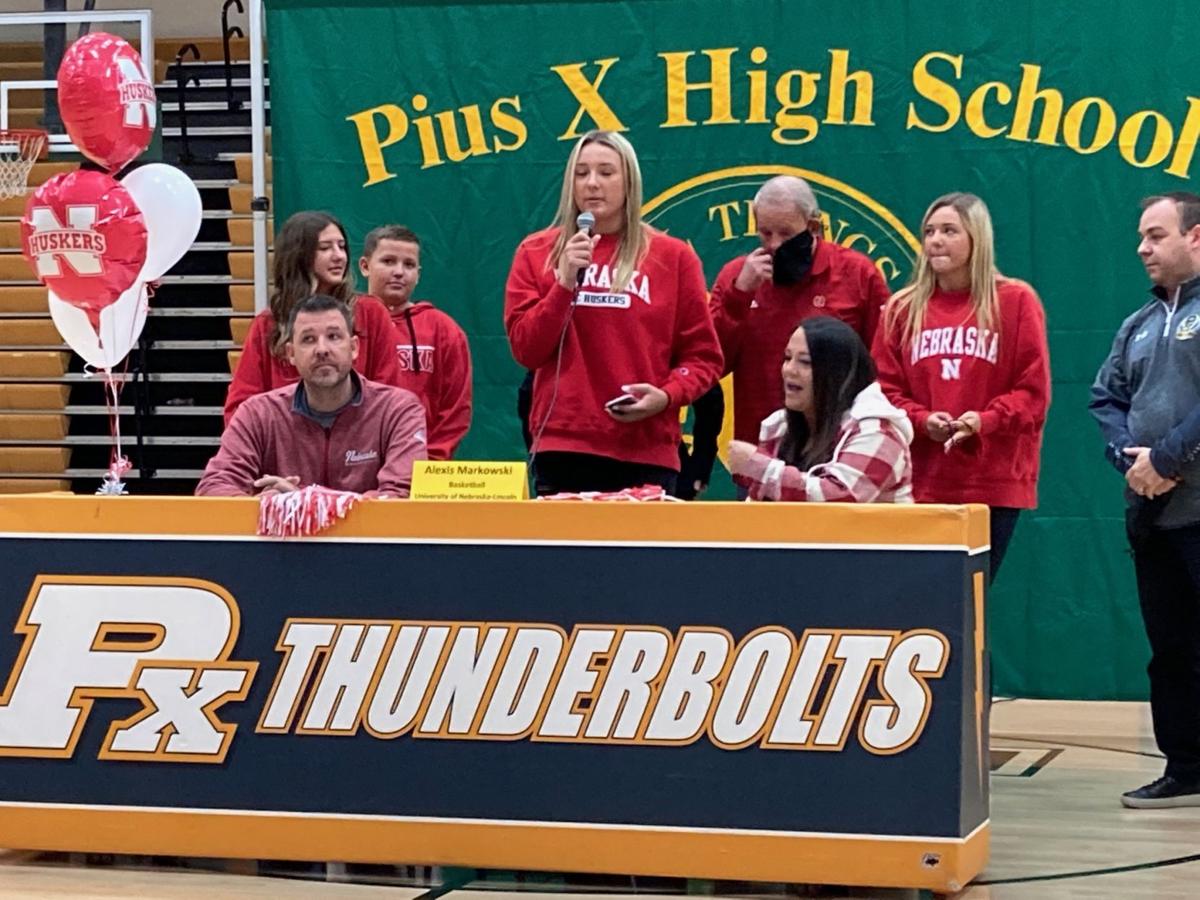 LINCOLN — When the pandemic shut down organized sports, the Markowskis moved the competition to a court attached to an elementary school. Every evening. Three-on-three.
Dad Andy on one team with his two youngest daughters. His oldest daughter, Alexis, on the other with her mom and younger brother. The family split most of the games and occasionally broke each other's hearts.
"Somebody would end up crying every night," Alexis said Wednesday after she signed a letter of intent to play at her dad's alma mater, Nebraska.
The games did more than establish bragging rights. They helped Alexis, a 6-foot-3 center who was committed to South Dakota State at the time, understand she wanted to stay closer to home. COVID-19 has robbed Husker athletics of plenty, including multiple women's basketball players from other states who had the same realization Markowski did, and stayed closer to their homes.
In this case, the pandemic worked in NU's favor as the Huskers landed the fifth and final piece of a top 25 recruiting class.
"We know that they are a group that can make an incredible impact on our program and the goals we have to become Big Ten champions," Nebraska coach Amy Williams said Wednesday.
Williams, coming off of a 17-13 season, probably wouldn't mind the quintet joining Nebraska right now after five of the team's top seven scorers left due to graduation, COVID-related transfers and, in the case of Taylor Kissinger, a career-ending injury.
As it is, Nebraska will have to imagine the group — ranked as the No. 21 class by ESPN — on the floor, as a unit.
Humphrey St. Francis guard Allison Weidner — whom Williams calls "crafty" — can play the point. Wheaton, Illinois, combo guard Kendall Moriarty, who hit 43.1% of her 3-pointers last year, has a "willingness to do all the dirty work," Williams said. Forward Kendall Coley (St. Louis Park, Minnesota) — the highest-rated prospect — is a "special talent" who can play all over the floor. Markowski played against her this summer and came away impressed.
"Watching her play — how competitive she is, a real leader on the court — is someone I'm really excited to play with, because she has a like-mindset," Markowski said.
The final two pieces are post players. Tatiana Popa is a 6-5 center whose dad, Constantin, played at Miami. And there's Markowski, who took three visits to Nebraska as a sophomore before committing to SDSU in May 2019. She was very good then, holding offers from SDSU, UNO and Colorado State.
Over the next year — particularly in the 2020 state tournament — she took her game to another level. She scored 80 points in three games of the Class A tournament, leading Pius to a state crown. That point total tied NU and Omaha Central standout Maurtice Ivy. Then Markowski had a strong summer on the AAU circuit.
"She played against some of the best post players in the country and continued to shine," Williams said.
In early August, Markowski, reflecting on how COVID-19 made her appreciate her family more, reconsidered her decision.
"She started to reflect on all the things she would miss with her siblings and grandparents, and how much easier it would be to stay in Lincoln," Andy said. As a former assistant at South Dakota, Andy had been on the other side of the call Alexis had to make to SDSU. It wasn't easy. But they reopened the process looking for a school to compare against the Jackrabbits.
Williams and her staff wasted little time.
Iowa State was in the mix, too, but Nebraska already recruited Markowski for years, the school was in her hometown, and her dad was a two-time Husker captain who started 60 games under Danny Nee. Andy said Wednesday he doesn't live his life through his kids and wants them to go wherever they want. He didn't want to steer Alexis. He just shared his experience at Nebraska.
"He had opportunities that a lot of college players didn't by playing at Nebraska," Alexis said. "Just the things he's told me about the way they treat you is something I'm excited about."
Some things have changed. Even in a pandemic, Pius held a signing day event complete with masks and families socially distanced while sitting on one side of the gym. Alex was flanked by her family as she spoke. Her little brother waved, which drew a laugh.
It was different than Andy's signing event in 1994 at Ord High, where he signed in the principal's office. Dad got nearly as many interviews as his daughter.
But Andy makes it clear: Alexis is better than he was. She wins a lot. She plays her best in big games — most of her 30-point contests last season, Andy said, were against ranked teams. Though Andy doesn't say it, Alexis' game shows her dad's coaching imprint.
She has post moves and a knack for positioning for rebounds. She's developed over time, especially, Alexis joked, from her time as a "little fourth-grader" when Dad wasn't sure she'd make the top Lincoln Lasers club team.
Alexis did. And became the top player in the club.
"It can be hard having your dad as your coach, telling you things maybe you don't want to hear," Alexis said. "But ultimately, in the end, it makes you a better player."
Especially in three-on-three. She's got her Dad's game handicapped, too — Andy just had shoulder surgery and can't run as well as he used to. She was raised to have an eye for the little details.
"I'm a competitive guy, my wife's competitive, our family's competitive," Andy said. "We can't even play UNO (the card game) in the house without somebody getting in a fight over losing. She's come from a competitive environment. In athletics — in life — if you're not willing to compete, I think things can get hard. And she's always been a competitor."