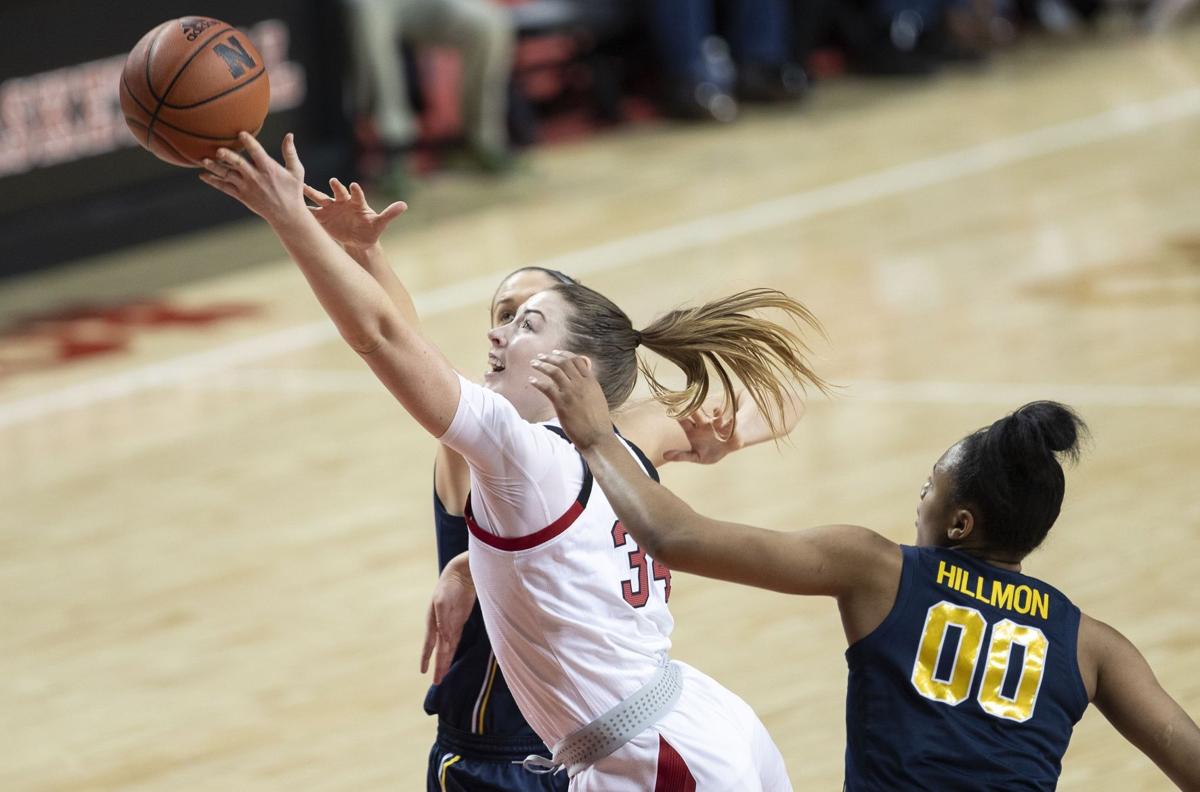 LINCOLN — Isabelle Bourne spent late spring and summer in her backyard, shooting hoops with her older sister. That basket got more work than ever because the sophomore was in COVID-19 quarantine and lockdown in her home country of Australia.
When she returned to Nebraska during the summer, almost everything about the team had changed.
Four of her teammates graduated. Three transferred. Another would retire from the sport because of chronic pain. In their absence, the Huskers added four transfers and three freshmen. A program that struggled to meet its expectations the previous two seasons was in the midst of a full-blown reset.
"It was definitely a shock at first — I was surprised to see some people go — but I'm really happy that, with this new team, everybody's gelled really quickly," said Bourne, who averaged 5.9 points and 4.4 rebounds per game as a true freshman. "Everyone's working well together, and I'm really loving this team."
Bourne needs to love it. She's one of the captains. Yes, as a sophomore. So are senior center Kate Cain and junior guard Sam Haiby. They are the three biggest contributors returning from a 17-13 team.
The trio have been in leadership development courses for months as part of a culture and chemistry overhaul from coach Amy Williams, the Big Ten coach of the year in 2018, when NU made a surprise run to the NCAA tournament. But the subsequent two seasons were full of close losses and behind-the-scenes frustrations.
Nebraska lacked vocal, bring-it-in leaders among its older players, and the younger stars who at times carried the team — like Leigha Brown — transferred out.
Bourne, who improved as the season wore on and earned more playing time, could see the problems.
"We just struggled with the leadership last year," she said. "We didn't have a big emphasis on it, so sometimes it didn't feel like we had someone to keep us accountable."
Williams spent the offseason — elongated by the coronavirus — reading and talking to other coaches, including volleyball coach John Cook, about how to create leadership. From various sources, she put together a plan she said works for her team. Bourne, Cain and Haiby all had to fill out captain applications, for example. They've done book studies. They've talked to NU's sports psychologists.
"We made some pretty dramatic changes with how we handle it," Williams said. "We're much more intentional, and it's new for us. It's one of the few benefits COVID gave us — a break time to step back, pause and evaluate the different ways and ideas to develop different or better leadership within the program."
Nebraska tends to have a team slogan. This year, it's FACT — Family Action Changes Things.
"It's very much a team-based game," Bourne said. "One person isn't better than anybody else. Everybody has a job to do."
In Nebraska's case, some players have had to pull multiple duties in practice. COVID-19 — and injuries — have hit the team hard. The frontcourt of Cain, Bourne, Bella Cravens and Annika Stewart have generally remained intact. The backcourt has been a medley of players around Haiby, who averaged 10 points, 4.4 rebounds and 3.3 assists last season. She will be asked to turn her dominant fourth quarters into 40-minute efforts.
"There's more days this year when Sam's on than not," Williams said. "That's going to be important for our team — that she's consistent. Sam's real comfortable not being the center of attention, and sometimes we have to remind her to stay aggressive. We're so much better when Sam's hunting for shots for herself."
Bourne for sure; Williams said she's excited for the growth of the 6-foot-2 forward whose shooting range has improved. Cain, the best shot blocker in school history, will be asked to add more offense. Stewart could be the best 3-point shooter among the posts, while Cravens, a transfer from Eastern Washington, has impressed the coaching staff with her athleticism and savvy.
"She finishes so well mid-post and high-post, a real soft touch," Williams said. "She elevates quick and can help us with rebounding."
The backcourt is a work in progress. There appears to be no good replacement for Brown, who left for Michigan and averaged 14.4 points per game last season.
Three-point shooting may come from junior college transfer Ashley Scoggin, who hit 40% last season, provided that she's not swamped by opposing Big Ten defenses. Once they're entirely healthy, Williams said, transfer guards MiCole Cayton and Nailah Dillard will be defensive stoppers who can run the court on offense.
The word is that sophomore guard Makenzie Helms, finally healthy from post-high school shin surgery, is back to form, too. Freshmen Ruby Porter and Whitney Brown, Williams said, give energy, while second-year guard Trinity Brady is more seasoned.
Williams isn't sure how it will add up. The team isn't playing until Dec. 4 at the earliest — COVID-19 has robbed the team of practice time — and she doesn't know the Big Ten schedule yet. The team's off-the-court chemistry is good, she said. On the court? That'll take time.
"It's very challenging to look big picture, at expectations," Williams said. "I just think this won't look like any other season. So to try and make a bunch of projections and predictions, when you don't know what games will be canceled. We can't even look at a conference schedule to say how many top-five conference teams we're going to play. It's a good time for us to not even worry about the big picture, not get caught up in that.
"The expectation for this team is to keep finding ways to get a little bit better."
Photos: Leading scorers for Nebraska women's basketball since 2000
Who has paced the Nebraska women's offense over the last several years? Find out in our gallery of the Huskers' top scorers since the turn of the millennium.