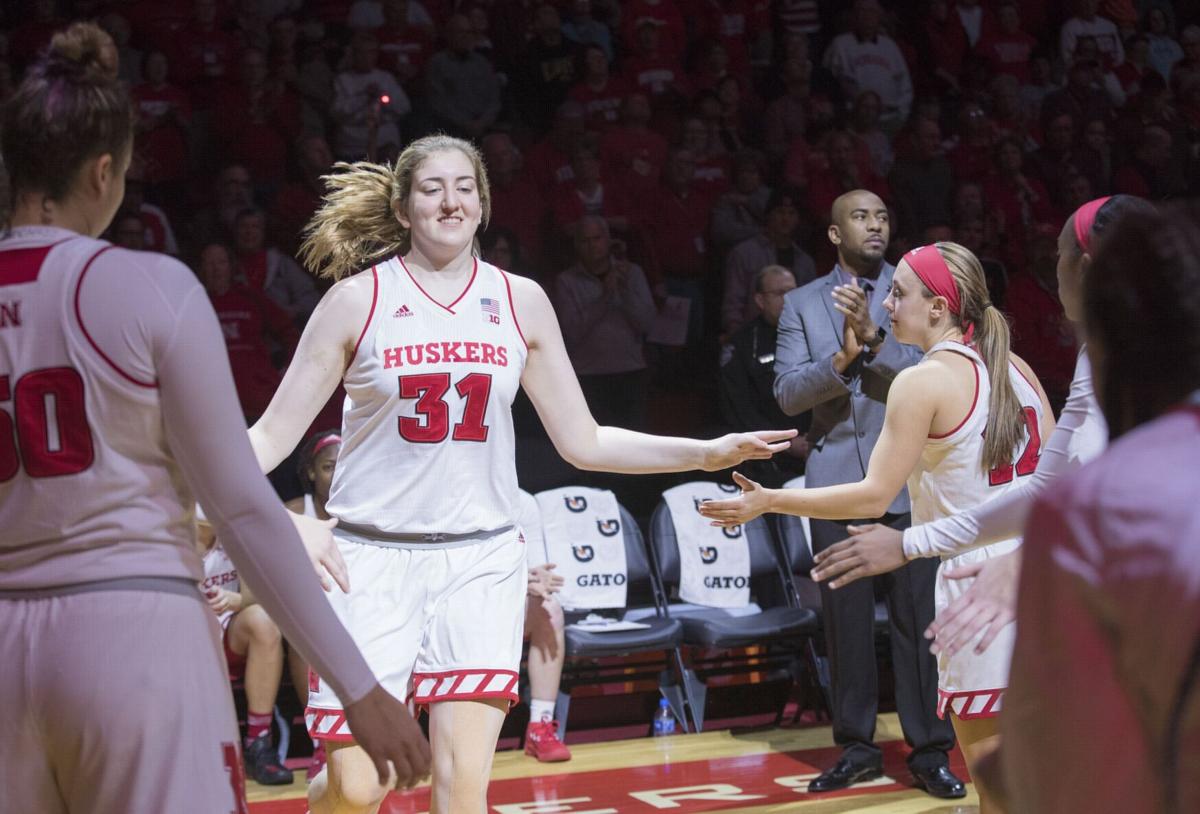 LINCOLN — Kate Cain had it all planned.
She was committed to play basketball at the University of Delaware, three hours from her family in Middletown, New York. Since her junior year of high school, she imagined herself playing for coach Tina Martin, and was excited to sign her letter of intent in November 2016.
Then everything changed, and the next step in her life that once seemed so sure suddenly was anything but.
It all happened in two months. Martin announced her retirement in April 2017, then Cain was released from her commitment. After two years looking forward to being a Blue Hen, she didn't have a team.
"I was really excited about it and all of a sudden, everything hit the fan and I had to make some big decisions really quick," Cain said.
Cain and her family squeezed in four official visits in 2½ weeks.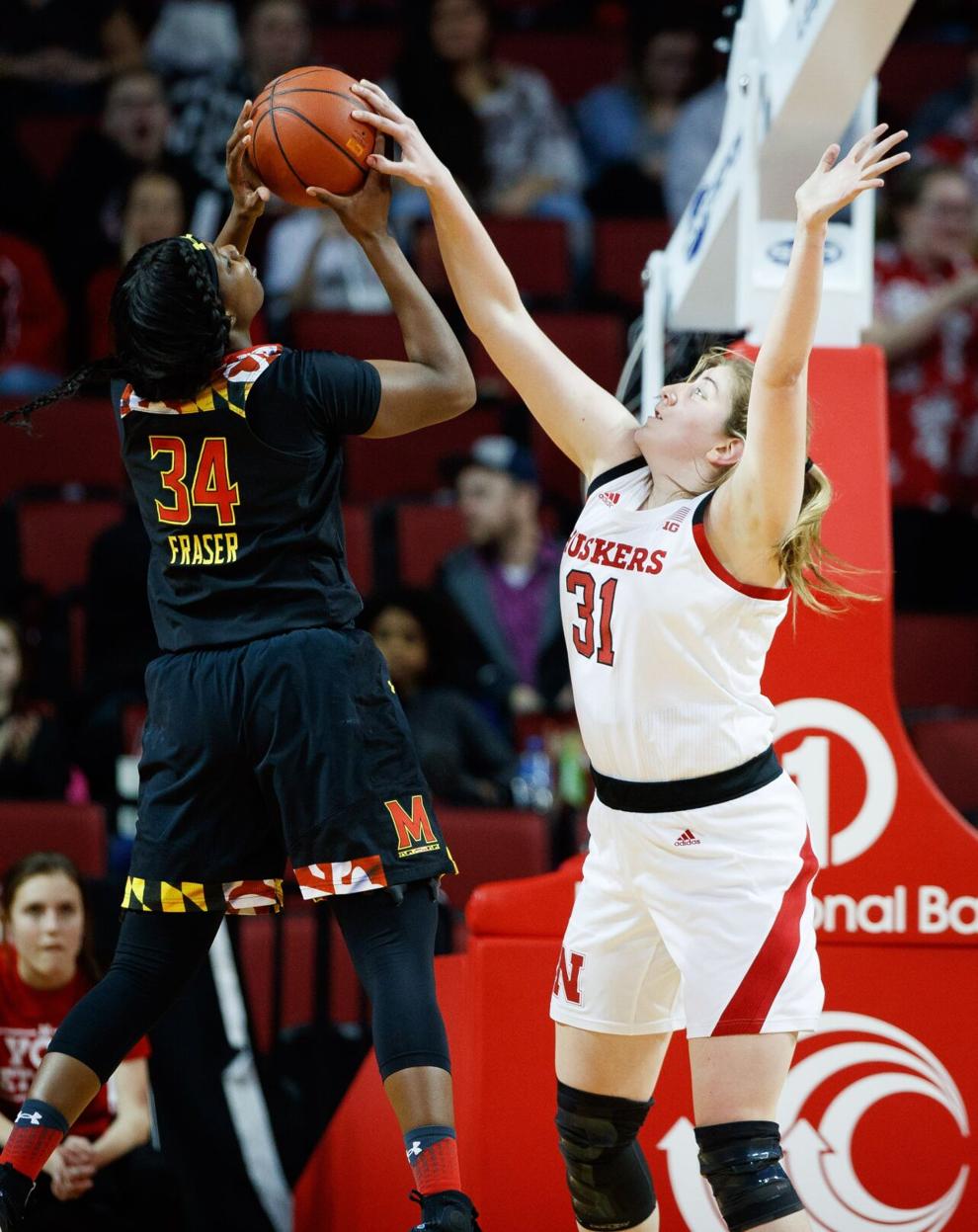 And the one farthest from her home, is where Cain landed. At Nebraska.
Four years later, Cain has seven program records for blocks, including NU's career leader in rejections — 344 and counting. While Cain has influenced the trajectory of many shots on the court, her coaches, teammates and university have had a similar influence on Cain's life.
She recorded the program's first triple-double of points, rebounds and blocks — as a freshman. Cain, who had 22 points, 14 rebounds and 11 blocks against Florida Atlantic on Dec. 19, 2017, doesn't remember much about the game, just how she felt.
"I remember afterwards, being like, 'Wow,' " Cain said. "It was a confidence booster. It was one of those things like, 'I can really play at this level' type of thing."
She continued to prove she was equipped to play in the Big Ten, recording more than 50 double-doubles, making the Big Ten's all-defense team in 2018 and 2020 and is a three-time Lisa Leslie Award preseason watch list nominee.
Cain's success should come as no surprise. She is a part of a basketball family.
Her mother, then Alison Martinsky, is still the second-leading shot blocker at Fairfield (Conn.) University. Her father Tim is the all-time leading scorer (1,872) at Manhattan College.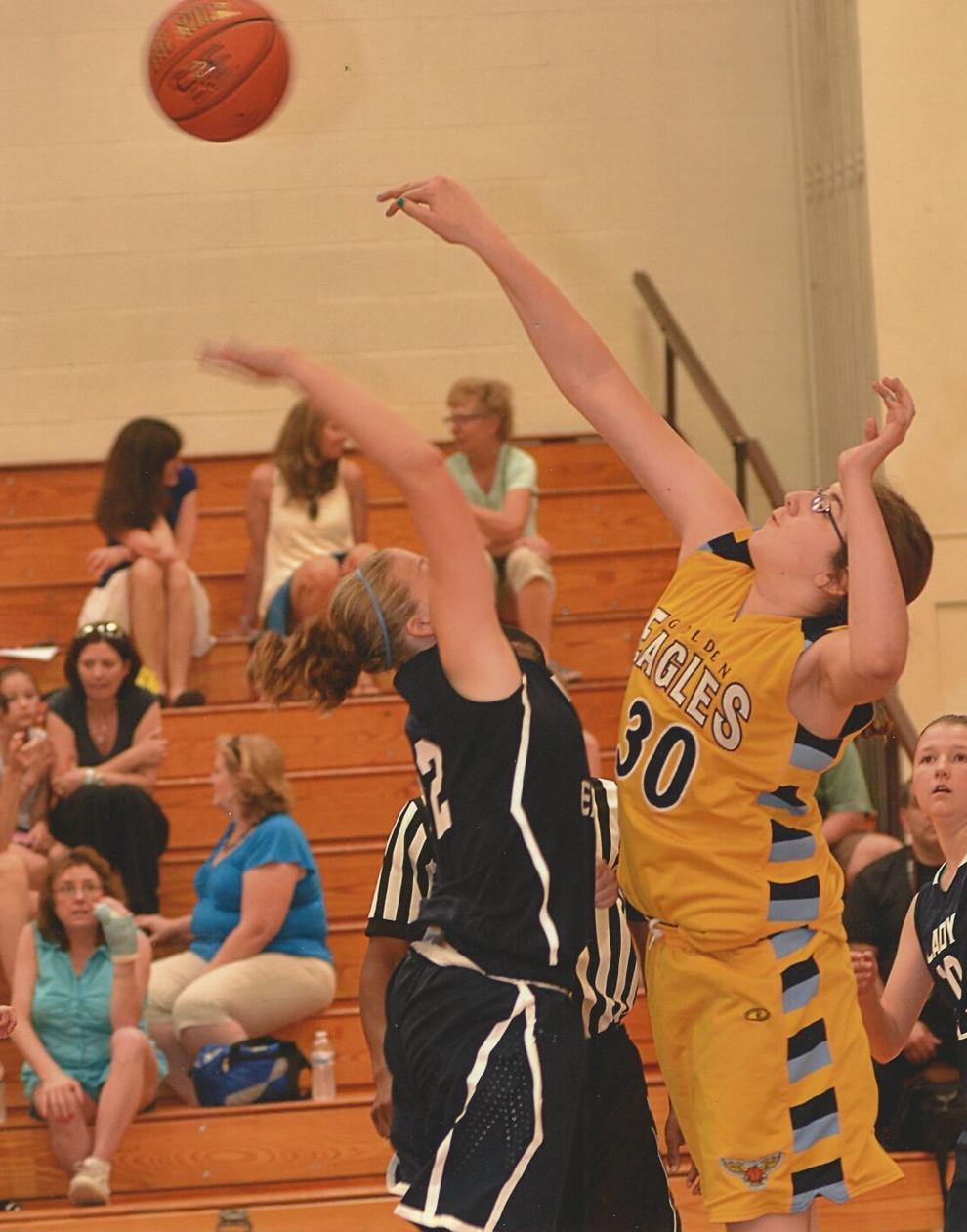 The Cain family looks the part, too. Kate is 6-foot-5, her parents are 6-7 and 6-3. Younger brother Chris is 6-8 and committed to play at Cornell next year. John, Cain's eldest brother, is 6-10 and was a minor league pitcher.
But being 6-1 in seventh grade, Kate's coordination needed time to catch up to her frame.
"I can't say that she was natural because when you have tall kids, the coordination comes together much later," Alison said.
Coordination came soon enough. She began playing with eighth-graders when she was in sixth grade. In seventh grade, she was on her high school's junior varsity and made varsity at Pine Bush High as an eighth-grader.
Alison coached Kate's team from second to fifth grades in a church league called Upward.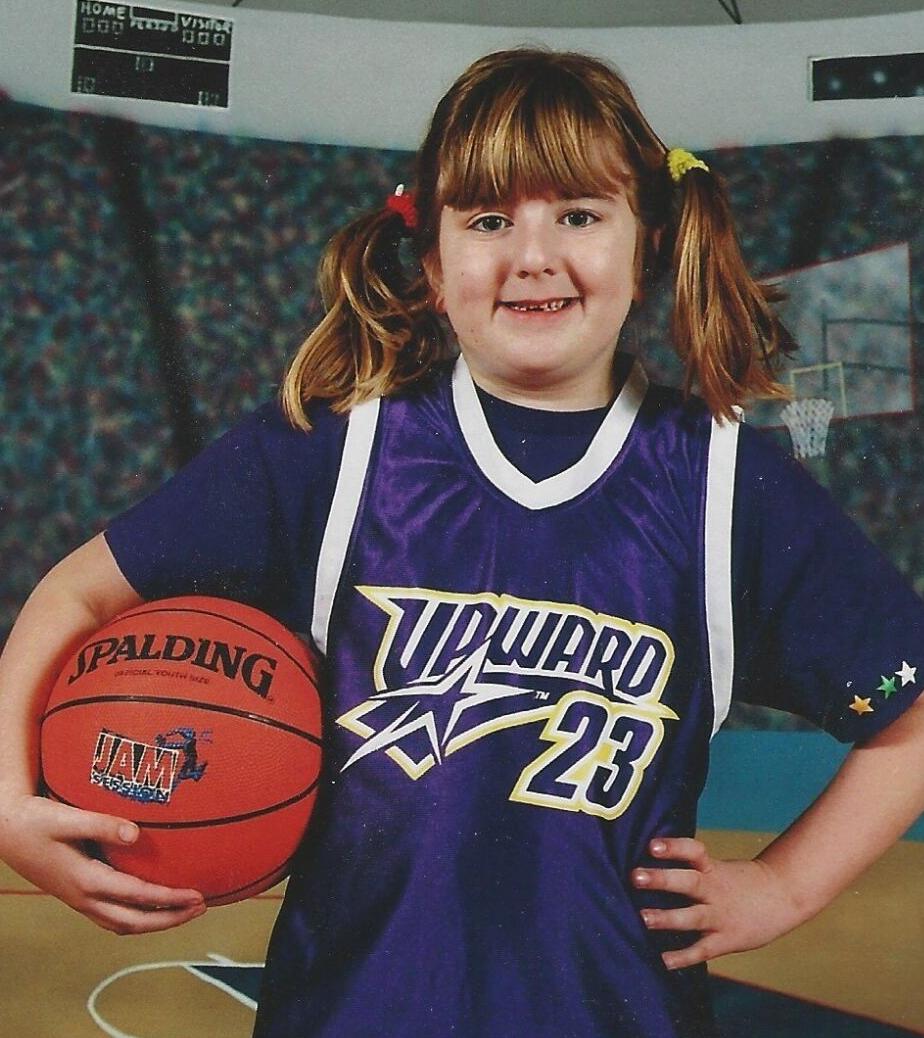 "My parents have done so much for me and my siblings, supportwise and being able to get us to practices and workouts and pushing us to do our best," Kate said. "I am so grateful to have parents like them — my brothers, too — it's such a good support system."
Her freshman year of high school, Kate met Stefanie Dolson, center for the WNBA's Chicago Sky, through a family friend. Dolson told John Reilly, coach of the AAU Hudson Valley Elite, about Cain's talents.
When Cain decided to decommit from Delaware, Reilly was the person who helped filter calls from numerous universities. He helped Kate narrow her visits to Nebraska, Dayton, Minnesota and Virginia.
As a senior, Cain averaged 25.2 points, 12.3 rebounds and 7.9 blocks while helping her volleyball team to the state finals.
What stuck out most to Cain about Nebraska was the coaching staff.
"They were really kind, genuine people which played a really big role because I really was looking for that sort of support within a coach," Cain said. "Also, I enjoyed the team and the campus. And the facilities obviously are incredible."
Cain also wanted to find a program that would utilize the big position and give her an opportunity to contribute.
"Out of all the schools I looked at, I thought I had a really good opportunity to have something special here," she said. "I never really could have imagined what my career would have looked like. But I thought I had an opportunity to be a part of something special."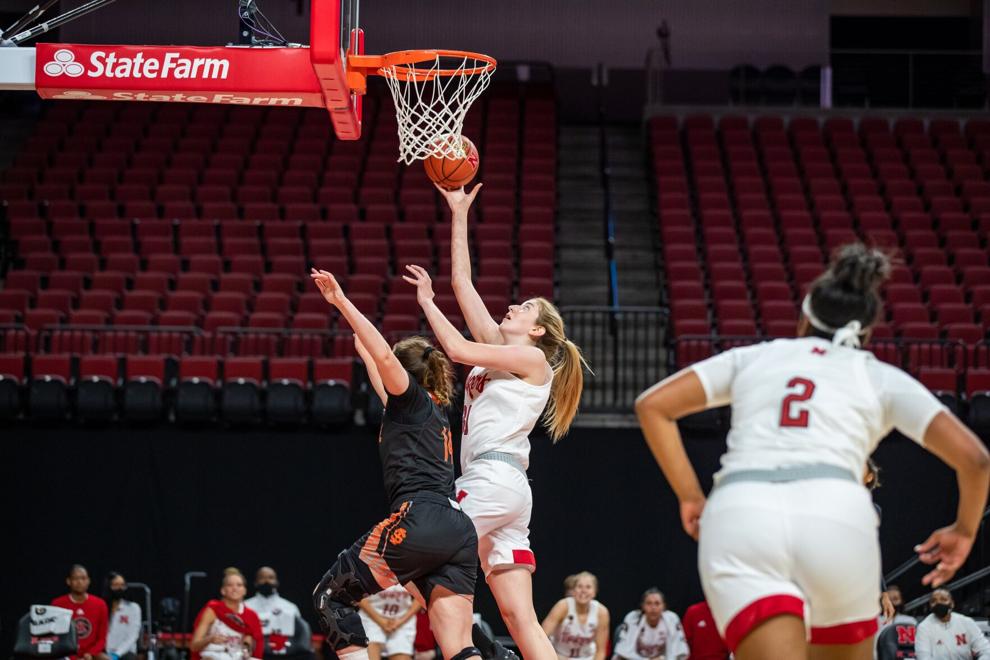 The support from Husker fans also blew away Cain and her family.
"You don't really realize (the fan support) until you're in Lincoln and you get recognized and then after a game you have little kids coming up asking you to sign posters," she said. "The fan base is so special here — everyone's so invested and it's really a cool thing to be a part of."
Cain built strong relationships with her coaches and teammates, too.
"Kate's definitely a big sweetheart," Nebraska point guard Sam Haiby said. "She's always there for you off the court. If you ever need anything, she's the person that you go to. We all love Kate so much and she feels the same about us, too."
Her mom proudly relates the story of Kate taking one of her teammates, who had a severe headache, to the hospital and spending the night with her there.
Kate said she feels blessed to have teammates who she trusts and enjoys being around. "Built-in friends," she calls them.
"I like being in a place and with people where I can feel comfortable and where I know people have my back," she said.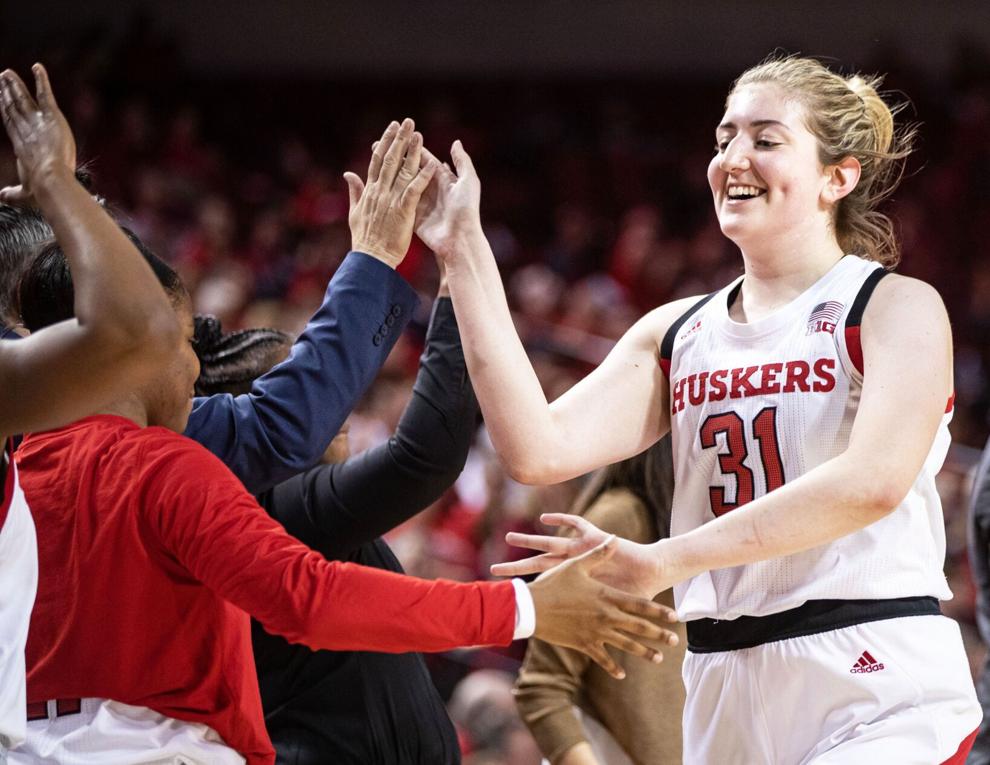 Being part of coach Amy Williams' first recruiting class, Cain helped create a culture and a standard of excellence.
"Definitely being able to have someone of her capabilities here for all four years has definitely helped our program become what it is today," Haiby said. "And hopefully become even better in the future."
Cain said her time at Nebraska has taught her how to face and overcome adversity.
"I've really been working on overcoming adversity and getting out of my own head with confidence whether it's on the court or in life in general and working to put everything I got out there, on the court, off the court," she said.
Cain, who earned her Master's in business administration, is projected to be a second-round WNBA draft pick.
"Even originally hearing that I was projected to get drafted at any point, it was one of those things where I was like, 'I could not have believed that I would have been able to reach this point,' " she said.
When Cain was little, her mother taught her to protect the hoop.
"I would always say that the paint area is your house and you don't let anybody put up a shot inside your house," Alison said. "And Kate took it to another level because she leaves the house, goes out into the yard and tries to block perimeter shots."
Cain found her place, her home, in the paint. And as she got more confident with her abilities and herself, she traveled outside of her comfort zone.
She is now ready to move on from Nebraska, her home for the past four years. She will leave a lasting legacy, but will take something much more valuable with her.
"In however many years, I'm not going to remember stats, but I'll remember stories and the experiences and my teammates and my coaches," Cain said. "I'm really, really excited to have been a part of this whole experience, and I'm very grateful to Nebraska as a whole."