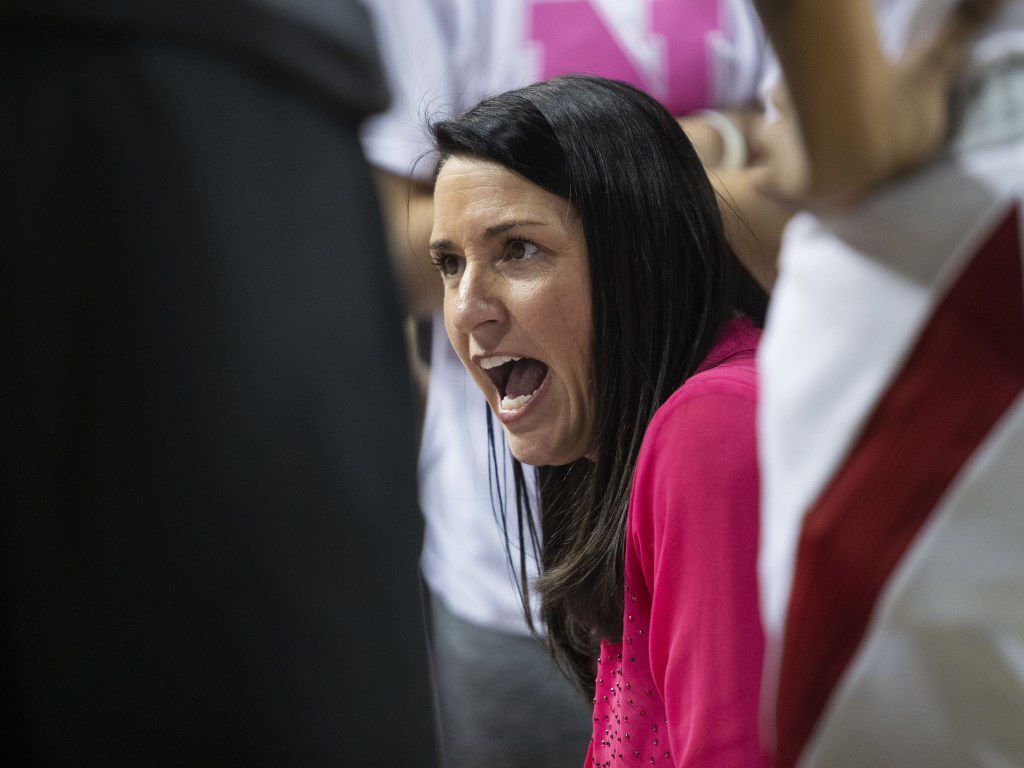 LINCOLN — It's probably not where coach Amy Williams wanted or expected to be in the fifth year of her tenure in Lincoln.
But the Husker women's basketball team is rebuilding in 2020-2021. There's no way around that when five of the top seven scorers from last year are gone and NU added seven new players — four transfers and three freshmen — in the offseason. Because of injuries and COVID-related issues, this group hasn't had as much practice time as Williams would like. It was only in a recent scrimmage against the team's volunteer male practice players that 10 Huskers participated.
Nebraska opens its season Friday against Oral Roberts (0-2) and can begin the smooth out the rough spots. There are bound to be a few, especially in the backcourt.
That's where point guard Sam Haiby, who averaged 10 points, 4.2 rebounds and 3.3 assists last season, is the lone returning starter. She'll have to carry the guards as they acclimate to more playing time or, in the case of MiCole Cayton, get back to full speed.
Who'll join Haiby in the starting lineup? It could be sophomores Makenzie Helms and Trinity Brady, two returning players who got their feet wet last season. Helms, in particular, is healthier than last season but has to develop an outside shot. Brady can score from multiple levels and likely becomes more of a cog this season.
Off the bench — at least early — likely comes Cayton, a talented transfer from California who's missed multiple seasons with knee injuries. She's getting closer to 100%. Texas Tech transfer Nailah Dillard, freshmen Ruby Porter and Whitney Brown and junior college transfer Ashley Scoggin are available, too
Scoggin may be a key piece of NU's 3-point shooting that for the moment looks shaky after the retirement of Taylor Kissinger and graduation of Hannah Whitish. Scoggin, who's had her own journey of knee injuries and surgeries, was a top 3-point shooter at Salt Lake Community College.
Williams called Scoggin a "gym rat."
"She has a different perspective because she has been through adversity with injuries," Williams said on her Husker Sports Network radio show Wednesday night. "Dating back to high school, affecting her recruiting, the timing of that injury. Her perseverance to fight through some issues — a surgery that was maybe botched a little, and a second ACL tear because of that — being in a position to have to come back.
"I think there are a lot of people who probably would have crumbled or called it quits."
Can Haiby and her backcourt mates duplicate the work of last year's group? That's a tall order.
Whitish was a four-year starter. Leigha Brown was the Big Ten's sixth player of the year before transferring to Michigan, where she's averaging 16.5 points on a Top 25 team. Nicea Eliely was also a four-year starter, not to mention an elite 6-foot-1 defender.
NU's frontcourt, though, should be improved. Center Kate Cain is back. So is sophomore Isabelle Bourne, arguably the team's most gifted player. She improved as last season progressed and could play more out on the floor this season than in the block.
That's because Nebraska added transfer Bella Cravens from Eastern Washington. Cravens is the player Williams didn't have in her first four seasons at Nebraska: a rebound-first, defense-second, score-third athlete who can keep opponents off the offensive boards. She'll help, as will freshman Annika Stewart, who could be one of the better 3-point shooters on the team.
The schedule, at least early, is manageable. Oral Roberts and Idaho State come to town within two days of each other. They're winnable, though Idaho State is one of the better teams in the Big Sky Conference. After that, Illinois — arguably the Big Ten's worst team — comes to town followed by a trip to Creighton. Williams hasn't beaten the Jays yet. But CU, too, is rebuilding, and 0-3.
After that? Well, Nebraska plays in the Big Ten.
As of Thursday morning, ESPN's Bracketology projects six league teams make the NCAA tournament — Nebraska plays those teams eight times.
Iowa, which is not among the projected tournament teams — it should be — can score opponents off the rails, and NU has two against the Hawkeyes.
There are eight five-star freshmen in the league, and none play for the Huskers.
But this year's sum could be greater than the parts. That was the case three years ago, when Nebraska made a run to the NCAA tournament and Williams won Big Ten Coach of the Year. The last two seasons, the parts were good but never quite gelled. Williams overhauled her leadership development program in the offseason to address it.
New organizational approach. Fairly new roster. A lingering question about outside shooting. Nebraska could be in for an occasionally bumpy transition year before a big, highly ranked recruiting class rolls into town, bringing a dose of size and needed young talent into the fray. 
"It's a good time for us to not even worry about the big picture, not get caught up in that," Williams said. "The expectation for this team is to keep finding ways to get a little bit better."