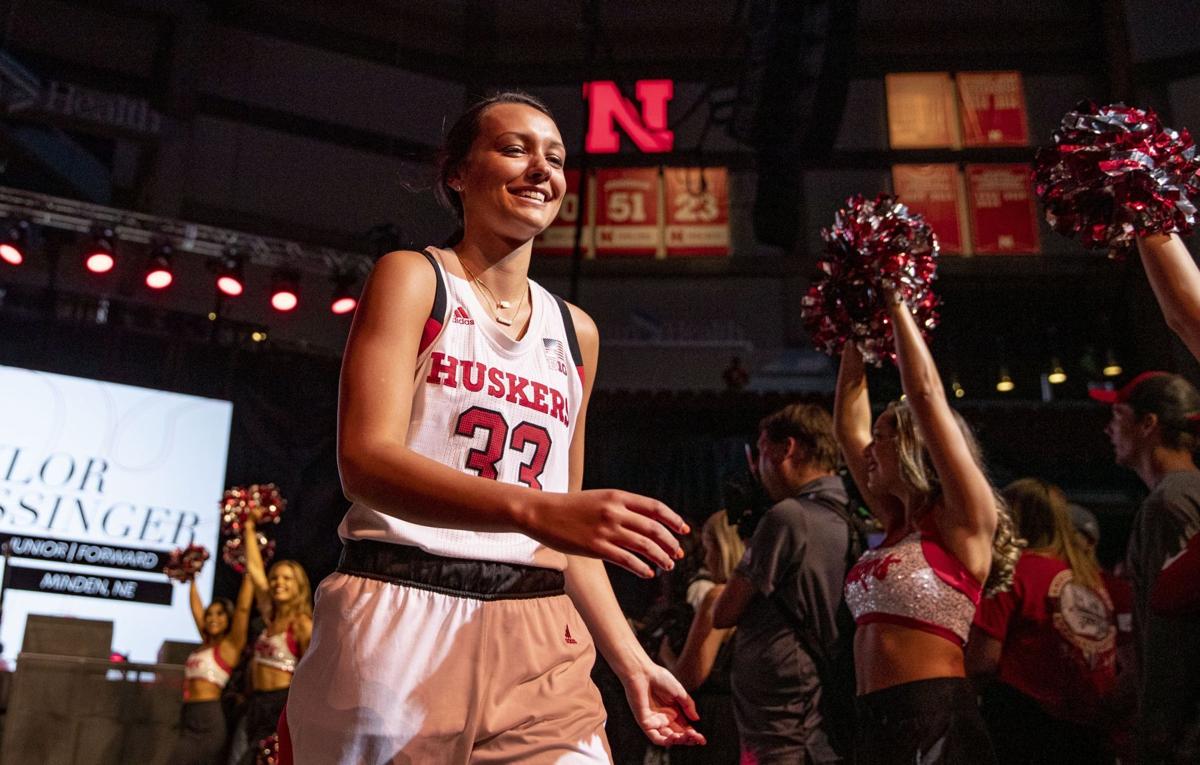 LINCOLN — One of the best 3-point shooters in Nebraska women's basketball history has decided to retire from the sport.
Minden product Taylor Kissinger, who has battled a variety of injuries in her career — most recently undergoing a major hip surgery — announced Tuesday that she wants to transition toward coaching after running into setbacks during her rehabilitation.
"I love basketball and I love Nebraska," Kissinger said in a statement. "It was always a dream of mine to play for the Huskers, and I want to thank Coach (Amy) Williams for giving me a chance to make my dreams come true. Injuries are forcing me to move to the next part of my life in basketball, which hopefully leads to a career helping other players achieve their dreams."
The 6-foot-1 guard finished her career with a school-record 40.4% shooting rate from 3-point range. Her second-to-last game as a Husker was a 19-point performance in a win over Duke. Kissinger hit six 3-pointers in the contest.
"We are obviously disappointed to see Taylor's playing career cut short by recurring injuries, but we are excited she will remain with us in a different capacity," Williams said. "No one is more passionate about being a Husker, and she still has so much to offer this program."
A five-star recruit, Kissinger appeared in 60 games — 31 of those were starts — over two-plus seasons. As a true freshman she was a key part of NU's NCAA tournament team. As a sophomore, she hit a school-record 45.6% of her 3-pointers with a trademark, over-the-head style that offered her deep range.
Kissinger battled various injuries. A knee injury kept her out of six games as a freshman. As a junior, she missed games while in concussion protocol and with the hip injury. Her participation was limited upon her return to the court.
Her retirement leaves Nebraska with yet another question mark, especially from a shooting standpoint. Kissinger, if healthy, likely would have been among NU's top scorers — and perhaps the top scorer — after Leigha Brown departed in the offseason. Now, the Huskers have eight guards — only one of whom, Sam Haiby, has ever started a game at Nebraska. Of that bunch, the best 3-point shooter is probably Ashley Scoggin, a junior college transfer who hit 40% of her 3-point attempts last season at Salt Lake City Community College.
Photos: Leading scorers for Nebraska women's basketball since 2000
Who has paced the Nebraska women's offense over the last several years? Find out in our gallery of the Huskers' top scorers since the turn of the millennium. 
Omaha World-Herald: Big Red
Don't miss a moment of Nebraska athletics.