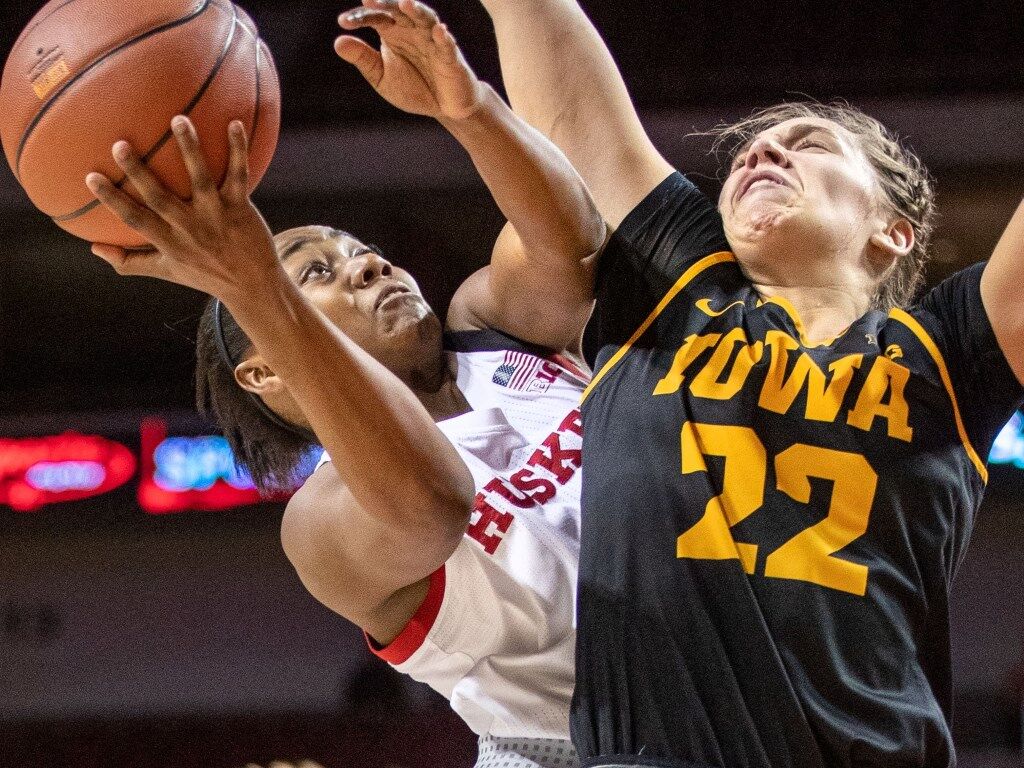 LINCOLN — One of Nebraska's biggest challenges this season is just up I-80 about 300 miles — the Iowa Hawkeyes.
The third-highest scoring offense in women's basketball will make the trip to Lincoln for a 7 p.m. tipoff Thursday.
The Hawkeyes score an average of 88.4 points but give about 80. NU, meanwhile, averages 66.9 points while allowing 67.6.
"We understand we're going to have to put points up on the board," coach Amy Williams said on Husker Sports Nightly. "We know that it does not play in our strength and favor to have a game in the 90s."
Nebraska's first priority? Contain freshman Caitlin Clark.
The 6-foot guard was the Big Ten freshman of the week for the ninth time in 11 weeks. Earning that honor one more time will tie her for the record set by former Husker Jessica Shepard in 2015-16. Shepard was eventually named the Big Ten freshman of the year.
Clark averages 25.9 points per game, fourth in Division I and second in the Big Ten. First is Michigan's Naz Hillmon, who dropped 35 points in Nebraska's 64-62 loss Jan. 7.
The Hawkeyes also shoot 78.4% from the line and know how to get there.
Clark isn't the only powerhouse on Iowa's roster. Monika Czinano averages 19.6 points per game and has the highest field-goal percentage (67.8) in the country. McKenna Warnock averages 12.4 points per game and shoots 45.3% behind the arc. On top of scoring, she averages 9.2 boards per game.
Since Williams took over at Nebraska in 2016, Iowa's offense has always presented the Huskers with a challenge.
"They've had a dominant post player and great guards that can all shoot it and they play fast," Williams said. "It's like as soon as you think, 'Oh, thank goodness, Kathleen Doyle's graduated,' well then they bring in Caitlin Clark.
"And as soon as you think, 'Oh, I'm so glad Megan Gustafson is gone and we don't have to guard her anymore,' then all of a sudden you're facing Monika Czinano."
Both Nebraska (9-7, 7-6 Big Ten) and Iowa (10-6, 6-6) are desperate for a victory. NU is on a two-game losing streak after dropping road games against Penn State 85-74 last Thursday and Rutgers 78-62 Sunday. The Hawkeyes have also lost two straight, most recently to then-No.17 Indiana 85-72 Sunday.
Nebraska struggled in its last few games to adjust and find rhythm with a larger rotation of 10 players. During its stretch of winning four of five games earlier this season, including three victories over Top 25 teams, the Huskers had seven to eight available players.
"Due to injury or whatever it might be, when rotations change and you start bringing more people into the fold, it just kind of changes the way you're using people," Williams said.
NU is transitioning forward Isabelle Bourne, the Huskers' second-leading scorer, back into the rotation after an ankle injury.
"We're playing Issie Bourne the majority of her minutes at that wing position," Williams said, "and it's kind of hard to get into a little bit of flow of knowing what kinds of things to expect from our team both offensively and defensively with her there."
Bourne had five points and six rebounds in 25 minutes against Rutgers. She accounted for four turnovers in her first start since Jan. 10.
"And when she was gone, then we had to make an adjustment — and there's an adjustment period — and then you figure out what we need to run offensively, what we need to commit to defensively to have success," the coach said. "And then as soon as you start getting used to that, things shift again," Williams said. "So there's a lot of adjusting that goes on."
The Huskers will need each player to step up and score against Iowa. Guard Sam Haiby has had six games with at least 20 points this season and is consistently coming in clutch.
"She's been a dangerous scorer for us all season because she's been able to couple some perimeter shooting but also being able to get into the paint and finish off-balance shots," Williams said. "But also to be able to get herself to the free-throw line."
Williams said her team also needs to slow down Iowa's "high-scoring volume, up-tempo" offense.
"We need to do our best to do what we can to try to control that transition offense for them and try to slow it down just a little bit and do our best to get back to get gritty defensively and finding ways to make it hard on each possession for them," Williams said.
---
Photos: Nebraska vs. Wisconsin