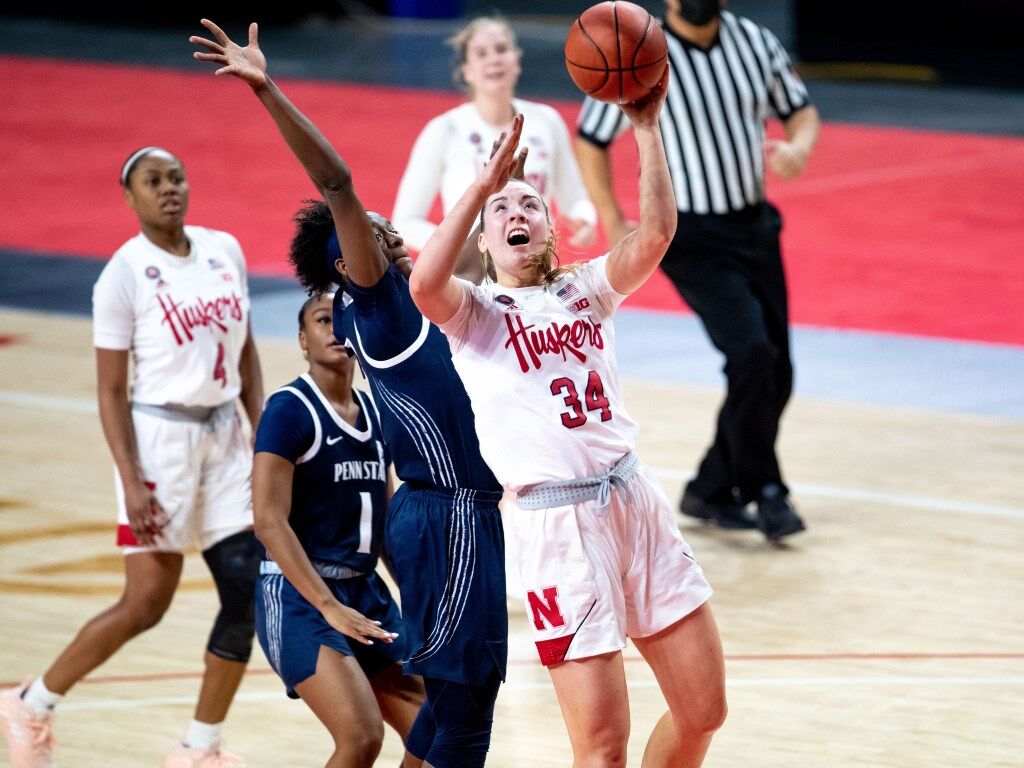 LINCOLN — Amy Williams said her team doesn't like to celebrate moral victories, but there are some experiences from this season that have the Huskers excited for the future.
The biggest of all — NU won five games against Top 25 teams in the Big Ten, including three that made the NCAA tournament, Northwestern, Michigan State and Rutgers.
Maryland, which beat Nebraska by 10 in a Big Ten tournament game that was close until the end, is a No. 2 seed in the NCAA tournament and routed No. 7 seed Alabama 100-64 Wednesday to reach the Sweet 16. Nebraska feels it's on the cusp of something great because it can compete with some of the nation's best.
"We don't like to celebrate small victories," sophomore Issie Bourne said before the UT Martin game in the WNIT. "But that just shows next season, we're right there and we are up there with the best of the teams in the Big Ten and can beat any team in the Big Ten."
Nebraska struggled all season with injuries, sometimes having only seven or eight available players. Guard Trinity Brady and transfer Nailah Dillard suffered season-ending injuries. Dillard's was before the season and Brady's during the second game.
Freshmen Ruby Porter, Annika Stewart and Whitney Brown played key minutes with a limited roster. Porter made 11 starts and averaged 20 minutes. Stewart scored in double digits eight times and averaged 2.9 rebounds. Brown, a walk-on from Grand Island, scored 12 points in her first start when Nebraska beat UT Martin 72-46.
"All of those players had incredible opportunities that presented themselves," Williams said, "and they took advantage of those opportunities and really found ways to shine, each one of them, in their own way. And so it's exciting to see them get that experience under their belt early in their careers."
Freshman Kendall Coley enrolled early at Nebraska because her high school basketball season in Minnesota was delayed because of COVID-19 restrictions. She joined the roster Jan. 19 and played 15 minutes against Minnesota in the Big Ten tournament.
Coley also had to play multiple positions because of roster limitations. Williams said she handled the situation with "grace."
"Everybody in our program and on our staff is excited about what's going to happen when she has a full offseason with our team, and an opportunity to really learn all of our defensive schemes and offensive plays and stuff from the very beginning, when we're teaching the intricacies of it," Williams said.
Williams said competing in four tournament games — two Big Ten, two WNIT — taught her players that physicality is "amped up twofold" and rebounding is even more important in the postseason. Nebraska hopes to capitalize on those lessons next season.
The Huskers were on the cusp of getting an NCAA tournament bid, so Williams said they'll focus on playing their best basketball consistently.
"We might have a fantastic road win over Northwestern and then turn around and lose a game that really we needed to win in order to continue to put ourselves in a position to be where we want it to be at the end of things," Williams said. "I felt like our kids were consistent with their effort, and that's a start."
Guard Sam Haiby went from averaging 10 points per game to 16.8 this season. She also led the team in assists, steals and free-throw percentage and was one of its top rebounders. Haiby's 24 points, nine rebounds and six assists against Maryland earned her national media attention, but also attention from her opponents in the WNIT.
Haiby scored two points in the first-round game against UT Martin and 20 in a 75-71 loss to Colorado. While she consistently contributes rebounds and assists, finding ways to get open and score on defense-heavy nights would provide NU with an extra spark.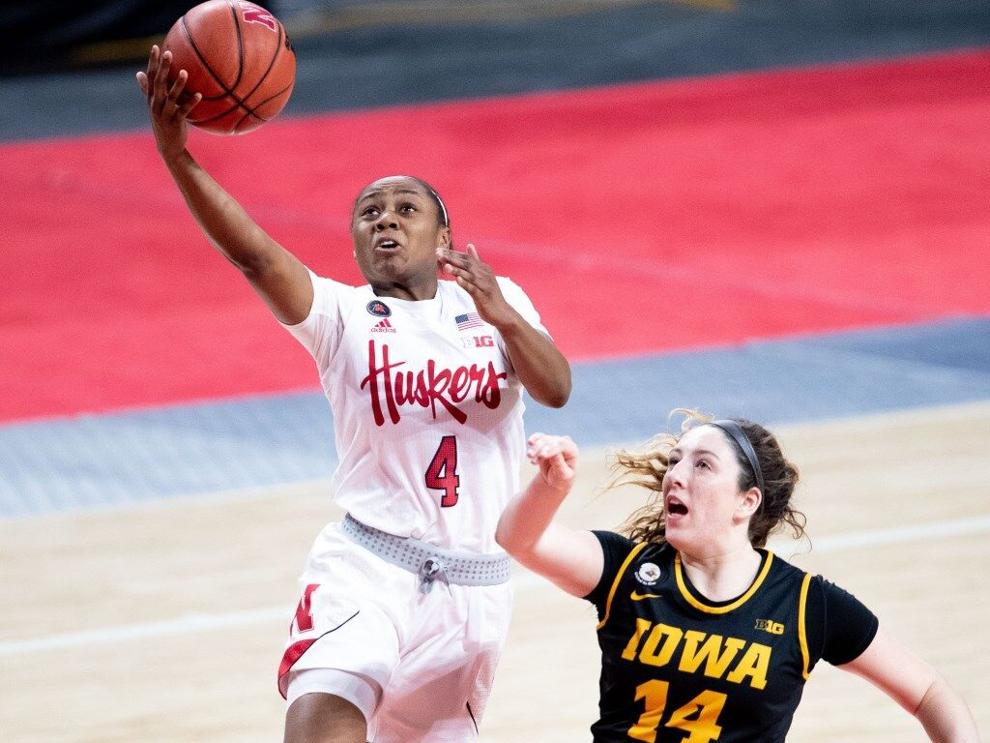 Nebraska's players had to keep their bubbles small as they played through a pandemic. They were tested for COVID every day and limited their interactions with others. Williams said they never complained.
"That created that camaraderie," Williams said. "People that are going through the same thing you are, doing the same things you are. There's definitely a closeness that comes from walking through that together. I definitely think that has led to our kids being just a little closer, tighter knit and in that position to be good friends through it all."
Nebraska's coaching staff is allowing its players a "well-deserved" break after a rigorous season. After that, the coaches will have conversations with all of the players about their futures in the program.
Nebraska had three players transfer last offseason and another, Makenzie Helms, left in December. Williams said she never expects a player to transfer, but recognizes it's a part of college sports.
The most immediate question is whether senior Kate Cain, a three-time Big Ten all-defense selection, will decide to use her extra year of eligibility or move on to potentially turn pro.
The Huskers could benefit not only from Cain's defensive skills, but she could also take incoming freshman Alexis Markowski under her wing.
"It's been incredibly valuable for Annika Stewart to be able to have Kate and learn from her and to be able to experience that," Williams said. "So I have no doubt that Kate, as a fifth-year player in the program, would continue to be as valuable to us as she has been in her first four years.
"But one way or the other, we're so grateful for everything Kate has already poured into the program and just going to be supportive of whatever she decides."
Williams said the locker room after Nebraska's season-ending loss was "pretty emotional," but her players were already looking ahead.
"We're really excited about going into next season," Bourne said, "and giving everyone in the Big Ten a run for their money."