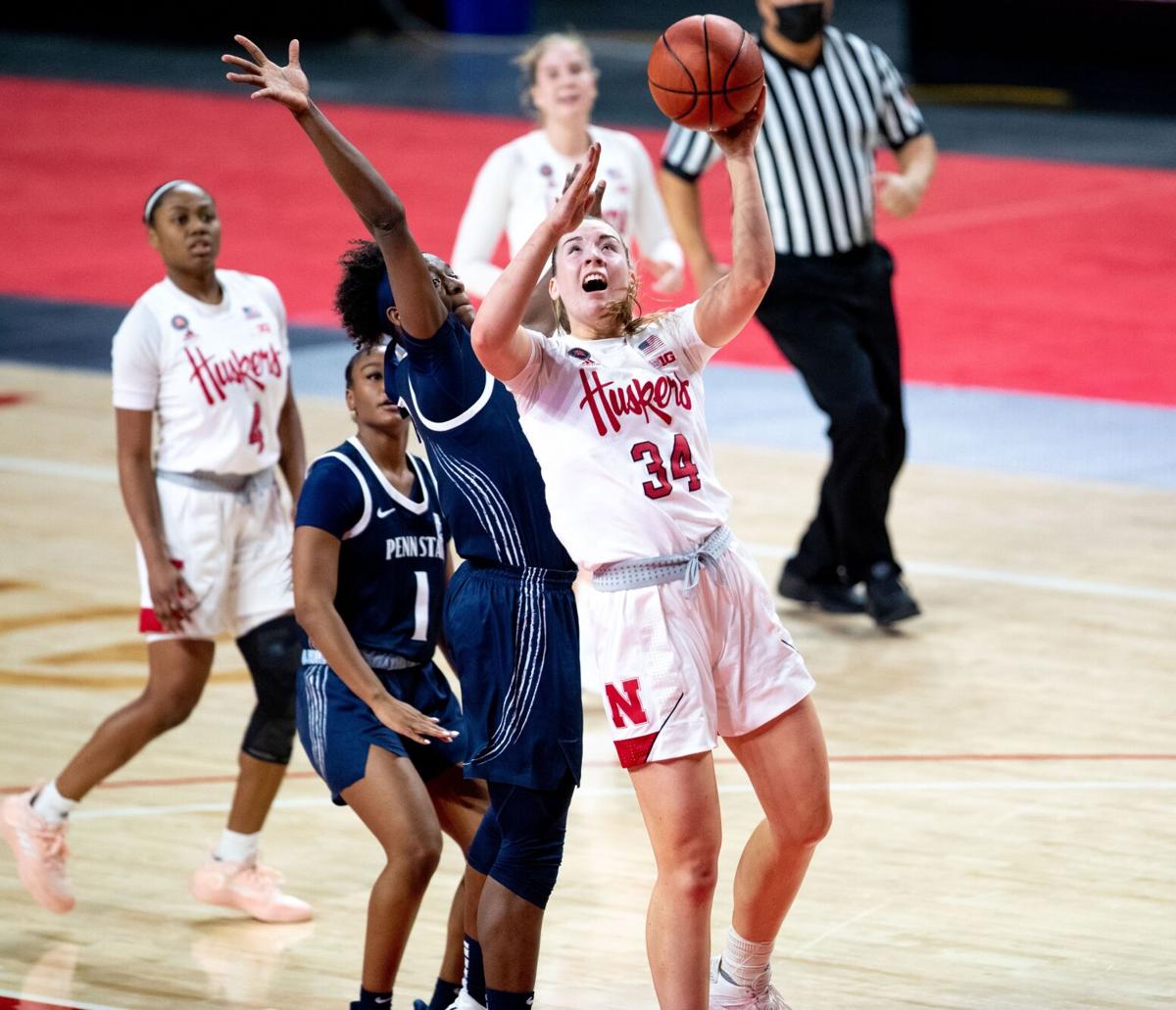 LINCOLN — Nebraska women's basketball early enrollee Kendall Coley knocked down the first 3-pointer of her career at Nebraska on a step back play.
On the next possession, Mi'Cole Cayton, who didn't play the first part of the season because of a knee injury, drained her own 3-pointer in a game in which every Husker contributed.
Nebraska dominated Penn State in a 87-72 victory with a complete team effort of five players in double-figure points and 13 3-point shots coming from six different players.
Not only did Issie Bourne put up her third straight double-double, but she also had one of her most well-rounded, versatile games this season, coach Amy Williams said.
In fact, the entire Nebraska team had its most complete game of the season.
"I told the girls in the locker room after our game that I felt like this was our most complete game, top to bottom," Williams said. "We had contributions in a lot of places."
After being defeated by Penn State 85-74 on the road Feb. 4, the Huskers made adjustments to slow down the Nittany Lions' tempo and contain Johnasia Cash, who scored 27 points and 19 rebounds in their first matchup.
"I know we've had 4 wins over ranked opponents," Williams said, "but to me, with the way we lost at Penn State and just knowing that there are some transition issues and matchup things we really needed to square up, I'm really proud of the way the team adjusted, and I thought maybe our most complete game."
Nebraska held Cash to a double-double of 17 points and 13 rebounds.
"It was a team contribution to make things as difficult as for her," Williams said. "She is a great player, and we feel fortunate to hold her to 17 tonight."
After struggling at the free-throw line against Penn State in the previous game, Nebraska went 18 of 26 to split the season series. The Huskers had nine turnovers, compared with the 28 takeaways Northwestern forced in their previous victory.
Ashley Scoggin added a career-high 18 points, 4 rebounds and 5 assists.
"Ashley has shown she is very capable of being aggressive looking for her shot," Williams said. "I thought that she had a couple of aggressive takes even to the basket. I told her and our team I thought maybe her best overall game as a Husker."
Sam Haiby scored 18 points, 8 rebounds and 6 assists. She also had a career-high four 3-pointers.
Both Nebraska and Penn State suffered from scoring droughts of over four minutes at the end of the first quarter. The Huskers' was ended by a free throw from Cayton, then Makenna Marisa drained a 3-pointer to give the Nittany Lions a 17-15 lead to start the second quarter.
Marisa racked up 21 points, 7 rebounds and 6 assists. Maddie Burke hit six 3-pointers and scored 20 points. Point guard Niya Beverley had 11 points of her own.
Scoggin and Bourne scored the first 10 second-quarter points for the Huskers. They traded leads with Penn State until Annika Stewart exploded with 3:30 left in the half.
Stewart spearheaded a 12-2 Husker run to earn Nebraska its largest lead yet of the game, 40-34, going into the half. The 6-foot-3 forward went 4 of 4 for 10 points, including 2 of 2 beyond the arc.
"That's huge to end the half on a run like that," Haiby said.
With 4:55 left in the third, Haiby took the ball down the court to the left side of the key and drained a 3-pointer to give the Huskers their largest lead of the game to that point, 54-45, and put them on a 7-0 run.
Coley and Cayton's 3-pointers put the Huskers up 70-54 to end the third quarter.
NU went 9 of 13 from the field and 5 of 5 from beyond the arc and completed 7 of its last 8 shots of the third quarter.
The Huskers shot over 50% inside the paint and behind the arc.
"I like that we had contributions coming from all different areas," Williams said. "I love the fact that I saw my team between our last game and this game working hard on 3-point shooting, coming in outside of practice and taking a lot of extra shots and repetition, and to see that pay off is fun to see."
"We were fairly efficient," she said. "It wasn't just 13 makes, but 13 makes on only 24 attempts is awesome to see."
Williams said that what makes the 13 three-pointers special is that everyone contributed.
"Sam hit four, and Ashley Scoggin hit four, but it was the 3 from Kendall Coley, a 3 from Mi'Cole Cayton and the Anni stretch and those kind of things that really make our team flourish," she said. "And when we can get those types of contributions from top to bottom, good things happen for us."