For Amy Williams, a basketball lifer, project No. 1 this season was helping her team get better at handling curveballs.
Such as a lineup she introduced this week in practice.
And a late switch from her beloved man-to-man defense.
Early results from Williams' project are promising. Her Huskers scored 15 of the final 20 points to defeat Illinois 78-72 Thursday night at Pinnacle Bank Arena in their Big Ten opener.
The Huskers (3-0) leaned hard on two regular lead actors: junior guard Sam Haiby, who finished with a career-high 33 points to go with nine rebounds, and sophomore forward Isabelle Bourne, who added a career-high 21 points and eight rebounds.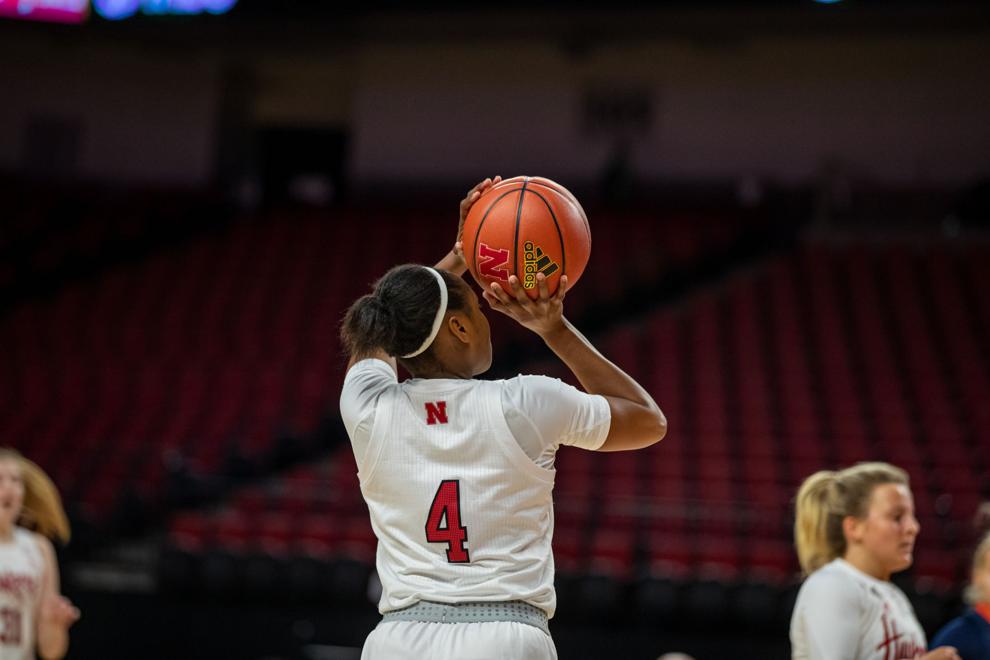 They also got a big lift from newcomer Bella Cravens, a transfer from Eastern Washington who delivered 16 rebounds to help NU win the board battle 47-35.
The 6-foot-3 Cravens earned her first start in the absence of sophomore guard Trinity Brady, who sprained an ankle in Sunday's win over Idaho State. Cravens started in the front court alongside Bourne and center Kate Cain.
Cravens said the team had practiced with that lineup for two days.
"It was another curveball thrown at us," she said.
Williams had to improvise because of a depleted backcourt. Two other guards besides Brady, transfers MiCole Cayton and Nailah Dillard, have yet to play this season due to injuries. And sophomore Makenzie Helms left the team this week.
It wasn't always pretty. The Huskers committed 17 turnovers to eight for Illinois. But Haiby delivered repeatedly, getting into the lane all game and hitting 9 of 17 shots from the floor and 14 of 16 from the line.
"I thought she made some great reads, really changed her pace and was able to attack off screens and get herself to the free-throw line," Williams said. "I thought she just really played with great pace and poise today."
So did Bourne, who bounced back and forth from the 4 spot to the 3 in the makeshift lineup. She was 8 for 13 from the floor and 5 for 6 from the line.
The Illini (2-2) bottled up Cain, the Huskers' other key veteran, holding her scoreless for three quarters. Illinois led 67-63 with 3:30 to go.
But the 6-5 senior went 4 for 4 from the line down the stretch and added a key rebound and blocked shot. "That showed some mental toughness," Williams said.
Williams made an uncharacteristic switch to a zone defense in the final minutes. The Illini went scoreless on six straight possessions.
"I think that destructed them on offense," Haiby said.
Haiby scored eight points in the final two minutes to finish with a flourish.
"It feels pretty good," she said. "But obviously the win feels better. Points don't mean anything if you don't get the win in the end.
"I'm proud of my team and the effort we came with tonight to get it done."
The next game for the Huskers is 5 p.m. Monday at Creighton, a team they haven't beaten since Williams took over as coach in 2016.
"We've certainly identified areas where we need to get better," Williams said. "We could make life easier on ourselves. But every game we're finding ways to get better."
Illinois (2-2, 0-1)...............21  19  14  18—72
At Nebraska (3-0, 1-0).......21  18  16  23—78
UI: Ephraim 4-12 2-3 11, Terry 1-4 1-2 3, Peebles 4-13 5-7 16, Rubin 5-11 3-4 13, Robins 0-1 0-0 0, Amusan 5-8 0-0 13, Lopes 1-3 0-2 2, McQueen 0-1 0-0 0, Nye 4-10 0-0 10. Totals: 25-71 13-20 72.
NU: Scoggin 1-6 2-2 5, Haiby 9-17 14-16 33, Cravens 1-5 1-2 3, Cain 0-3 4-4 4, Bourne 8-13 5-6 21, Brown 2-3 0-0 5, Porter 1-6 0-0 3, Stewart 1-4 1-2 4. Totals: 23-57 27-32 78.
3-point field goals: UI 9-23 (Ephrain 1-2, Terry 0-1, Peebles 3-8, Robins 0-1, Amusan 3-5, Nye 2-6), NU 5-15 (Scoggin 1-4, Haiby 1-5, Bourne 0-1, Brown 1-2, Porter 1-2, Stewart 1-1).
Rebounds: UI 35 (Terry 7, Rubin 7), NU 47 (Cravens 16). Assists: UI 16 (Peebles 5), NU 10 (Haiby 4).